Consisting of brothers Wesley and Keaton Stromberg and their buddy Drew Chadwick, you may know the band Emblem3 from 2012, when their career started on the hit TV show The X-Factor. You might know the guys from their big hit "Chloe (You're the One I Want)," which climbed the singles charts back in 2014. Or, maybe it's from their album Nothing to Lose, which debuted number seven on Billboard's Top 200 Chart. Maybe it's from opening up for Selena Gomez on her "Stars Dance" Tour, or appearing on many TV shows like Good Morning America and The View.
In June of 2014, Emblem3's career came to a fork in the road. Member Drew Chadwick decided to take a different path and left the band to become a solo artist. The group's loyal fan base was devastated with this change, as all the members of Emblem3 slowly started branching out to projects of their own.
Fans cheered the news that in September of 2015 the band's hiatus came to a close and the guys came back together. Now the band says they are "back and better than ever!" Through the years we have sat down with the guys at least a half dozen times. We have seen the trio go through their ups and downs. However, after we chatted with them this week, we could clearly see that Wes, Drew and Keaton are in a great place. There are new exciting things on the horizon. This is definitely music to fans' ears.
Your fans are super happy about the revival of the band. When did you guys realize you needed to start making music as a group again?
Drew Chadwick: We've been a band since we were nine or ten years old. We've taken a lot of breaks. In the past, we had some behind-the-scenes issues that could even be labeled as 'shady business.' We really wanted our contracts to die out. They did on September 1st, which is right around when we made the decision to get back together. Since then we have just been working on a ton of new music and have been getting ready for 2016. We're about to drop new music on Valentine's Day. We have been waiting since we took our hiatus, which was over a year ago, to release this new music. So we are really excited. It's really dope.
Since you guys joined forces again, how has it been doing what you guys do best, writing and recording music?
Keaton Stromberg: It's been amazing. Before we were a part of a major label. Now we are fully independent, which is really cool. We are writing and recording everything on our own. I am actually producing the music. Since we are doing it completely ourselves, the direction our music is going in is exactly what we want to put out. We are just really, really excited.
On February 1st you guys released your new song "Now." The response has been great. How does it feel that you have such dedicated fans, who have stuck by your side through all the ups and the downs?
Drew Chadwick: It is probably the best feeling ever. It's the greatest thing of all times. The reaction has been amazing. This song is for our fans, to explain to them why we took our break and to let them know we are back and better than ever.
Keaton Stromberg: You can download the song for free on YouTube. It will also be on our app that comes out this Valentine's Day, which is really cool. We are so stoked about that.
During the band's hiatus each one of you started different projects like The Balcony [a duo with Wesley with Kenny Holland], Never Getting Older [a band started by Keaton], and Drew you did a few solo shows. Would you say those ventures are just on hold for now, or are you leaving them in the past?
Drew Chadwick: I would say they are on hold for now. Emblem3 is now and is always number one and above all.
Wesley Stromberg: Yeah, Emblem3 has always been our first priority. The break was much needed and we all resolved our issues. As of right now, we are just focused on the future and how the band is back together. Emblem3 will always be our top priority.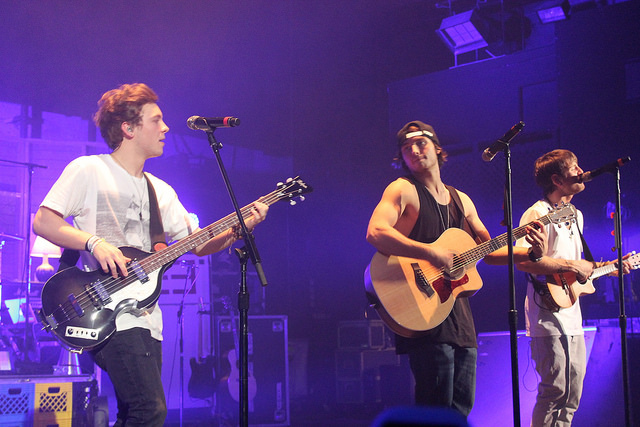 When looking back on your past album Nothing to Lose, which debuted number 7 on Billboard's Top 200 Chart, what would you guys consider to be your biggest goal when releasing new music?
Wesley Stromberg: Honestly, we want a number one single. We want to reach out to our fans and people outside our fan base. Try to gain new audiences.
Drew Chadwick: Yeah, I would say we want to take it as far as we can. We want to be the biggest band in the whole world.
Keaton Stromberg: I completely agree. There is no limit. We want to make Emblem3 as big as possible.
Who would each of you consider to be your biggest musical inspiration and why?
Keaton Stromberg: That's a really hard question!
Drew Chadwick: We were actually asked that in another interview today. I narrowed it down to Bob Marley, Tupac, and John Lennon, who are all pretty awesome.
Wesley Stromberg: I would have to say Drake and Sublime with Bradley [Nowell, the band's original singer, who died in 1996] because he was awesome.
Keaton Stromberg: It is so hard to narrow it down, but I grew up on indie rock stuff. Kind of like Death Cab for Cutie's style. I'm really into that.
This past weekend you guys sang the national anthem at the celebrity football game. How did it feel to finally get out there as a group again and sing such an important song?
Wesley Stromberg: It feels amazing. It was such an honor. To be able to sing that in front of anyone is amazing, but we were lucky enough to sing that song in front of celebrities, pro-ballers and hall of famers. It just felt so good to be singing as a group, in front of an audience again.
Did you guys get to play?
Wesley Stromberg: Yeah, we played in the game, baby! I was out there breaking ankles and kicking butt! I didn't get to score a touchdown, but I blocked pretty good. Jake Miller scored a touchdown. I was so jealous. But it's all good. It was a really fun time.
You guys have a surprise for your fans on this Sunday, which is Valentines Day. Can you give us any little hints about what your fans can expect?
Drew Chadwick: They can expect new music. We are so excited. We worked really, really hard on this.
Keaton Stromberg: There are going to be tour dates released on that day, as well. All of this information is going to be available on our brand new app, which will be released on the Appstore and Google Play for all Android and Apple devices and every other device you can possibly think of. All you will have to do is search "Emblem3" and download it. It is free and will be out on Valentine's Day.
When can we expect you guys to hit the road again?
Keaton Stromberg: I'd say early Summer, but everyone is going to have to wait until Valentine's Day to know the exact dates. We are super stoked to be back on tour. We cannot wait.
When we tweeted we were doing on interview with you guys and our Twitter blew up asking if we were going to do fan questions, so we have a few of them right now. What has been your favorite memory since X-Factor?
Drew Chadwick: Wow, that's quite the question!
Keaton Stromberg: Let's see... I would probably have to say singing at The Staples Center in front of 20,000 people was one of the most fantastic memories for me.
When can your fans expect another music video or cover?
Keaton Stromberg: We don't have an exact date yet, but we have some music videos coming out pretty soon after our app drops.
Drew Chadwick: Yeah, like Keaton was saying we will be releasing some acoustic videos on our app. Make sure you keep an eye out for that!
Describe your new music in three words.
Drew Chadwick: I am going to say funkadelic.
Wesley Stromberg: Hmmm... that's a tough one. I'm going to have to go with climactic.
Keaton Stromberg: You can just say that it is going to be out of this world!
What are your favorite songs at the moment?
Drew Chadwick: I've been bumping "My Humps" by The Black Eyed Peas. But in all seriousness I've been bumping "Only God Can Judge Me" by Tupac like everyday!
Last question: Do you have a message for your supporters?
Drew Chadwick: Honestly, we are eternally grateful for your unending support and unconditional love. We will be bringing new music to you guys until our dying day. We just cannot thank you all enough! We love you guys!