If I had to describe Emblem3 in one sentence, I would say: Emblem3 is a group of three socially responsible guys who are stealing the hearts of girls around the world, and oh yeah… they can sing too!
This statement perfectly describes the musical trio, known as E3 to millions of adoring fans. The group consists of brothers Keaton and Wesley Stromberg and their friend Drew Chadwick. Until stepping on to the stage of X Factor in late 2012, they were just three California boys who loved making music together. Since that day, life has been a whirlwind.
Immediately following the show, E3 signed on the dotted line with music mogul Simon Cowell's Syco Records and Columbia Music. Several months later, the guys released their first hit single "Chloe (You're the One I Want)," which quickly became an anthem to millions of "regular" girls everywhere. Their follow-up single "3000 Miles" was reminiscent to the great rock ballads of the past, and was also a hit with their fans. Their album Nothing to Lose was released in July 2013. Using a mixture of sounds – including pop, rock and even a little rap and reggae – the boys of Emblem3 have a great sound and will continue to mature as musicians and writers for years to come.
Having just returned home from opening for the US leg of Selena Gomez's Dance Star Tour, there will be little time to relax for these three extremely busy guys. E3 are embarking on their first headlining tour in just a few weeks. Emblem3's #BandLife Tour 2014 will be stopping in 24 U.S. cities, as well as two stops in Canada, the Atlantis resort in the Bahamas (jealous!) and in Lisbon, Spain. (See full tour list below.)
We have connected with the boys in Emblem3 several times before as they were passing through Philly. Just yesterday I checked in with Drew and Wes by phone (though Drew did most of the talking while Wes drove) as they were enjoying a day in the brilliant California sunshine before heading out on the road again for #BandLife. Beyond the fact that they really are talented, these guys also have lots of other important things to say.
Hey guys! This is Debbie from PopEntertainment.com. How are you?
Drew Chadwick: What's going on, Debbie? We're pretty good. Me and Wes here just kicking it in his car. We are driving down Highway 99 on our way to the Sequoia National Park. We're going to do some soul searching out in the great Mother Nature.
Oh nice! I can't even tell you how jealous I am, as I'm sitting her in Philly with 10 inches of snow outside.
Drew Chadwick: Oh girl! You need to get your butt over here to the west coast! It's really nice. Honestly, it's like heaven on earth!
Things have been crazy for you guys since we last sat down, before your CD signing at the Best Buy in Fairless Hills, Pennsylvania. Things certainly don't seem to be slowing down, either.
Drew Chadwick: Oh wow! That was the last time we saw you, Debbie? Nice! Well I'm glad that we are connecting again.
How excited are you guys to be heading out on your first headlining tour in a few weeks?
Drew Chadwick: If you were here right now, you could see on both of our faces that we're freaking happy. We are so excited. We're going to go hang out with and see our amazing fans. I need to find a way to describe how much we appreciate and love them and how excited we are to hang out with them. They're just honestly really f-ing cool. I don't want to say the f-word because you're a girl and it's not cool, and I don't like to say curse words around girls. So I'll just say they are really f-ing cool.
We also get to bring our best buddies that we grew up with out on the road on our tour bus. We're going to film everything and remember the first tour for the rest of our lives. Then when we're old and gray, we'll have footage of our glory days.
Your song "3000 Miles" perfectly depicts the feeling of being on the road so much. Since you guys will be touring for several months to come, what will you do to keep grounded and to try to avoid feeling homesick?
Drew Chadwick: Since we're bringing our best friends, we're basically going to party the whole time. We also have our gym trainer coming out on the road too. He's also a life coach, so he's going to get us up early. We'll have to do cardio every morning. He's going to weigh us every day and have us on a really good, healthy, organic diet. We'll just be hanging out with our best friends, going from city to city and meeting up with our fans. Probably partying after shows with fans. I have to be honest. We want to hang out with them. We're like best friends with our fans and we love them. We just want to hang out with them.
Wesley Stromberg: The whole thing is going to be great. It'll be like a big camping trip! (laughs)
Are there any towns that you are really looking forward to visiting along the tour?
Drew Chadwick: It's hard to pick favorites, but I'm for sure looking forward to Montreal, Toronto, the California cities. Obviously Philly! (laughs) I'm pretty sure we're playing Philly right?
Yes you are!
Drew Chadwick: I'm glad because Philadelphia fans are WILD! It's always good to reconnect with them. They have the wildest signs that they bring to our shows with the dirtiest, sexual things written on them… It's kind of cool. (laughs) I won't repeat anything specific that we've seen. It's just wild though! But really, we're looking forward to all of the cities because our fans are there.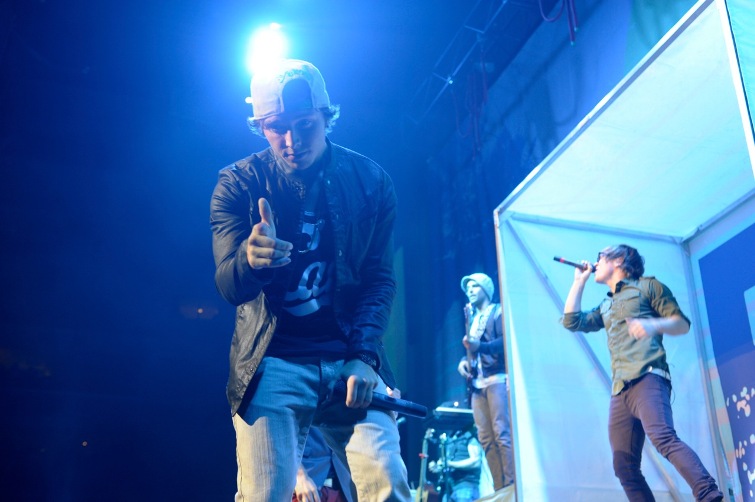 I see you guys have been in the studio lately. Will you continue writing and working on new songs while on the road?
Drew Chadwick: Oh yeah! Me and the guys just finished recording a song that we've been working with the label on. We're so stoked to share it. I'm awesomely enthusiastic about being able to share it with our fans. Me and the guys want to engineer and produce while we're out. We have the equipment and we've chosen like nine new songs that are really sick that we can't wait to produce and share with people. We just want to get in to the studio and do it with a professional.
What other artists inspire you?
Drew Chadwick: Other artists? There are so many… Macklemore, Lorde, basically all the indie artists. Well not just indie artists, but a lot of artists that have a #1 hit just because they are so unique and so cool. I love seeing indie artists kill it. It's super cool. It's like beating the machine, I guess you could say. We definitely like music with heart. Well thought out.
You guys have a serious connection with your fans online as well as, through things like #TeamInspire. What was your inspiration behind #TeamInspire?
Drew Chadwick: Our fans are not just fans. They represent an entire generation. There's this new generation called the Generation of Awareness with kids from my age down to 12 or 13. Kids who grew up with access to the internet, with unlimited information [and] this extra knowledge that generations before us didn't have. We are aware of things that are happening on this planet outside of America. We are aware of third world countries. The environment… I could go on about this for hours. (laughs)
Basically it's a generation of people coming together to say, "You know what? We give a fuck." We want to go sustainable. We want to live in harmony with each other. We want to care for people. We want a brighter future, not taking advantage of the planet. Being one. It's just the beginning of it because down the line – especially in the future when we keep going and get bigger and bigger and eventually up there on top – then we can have a lot of input over millions of people. We can come together and start something, because obviously we need to make some changes. Our current system of production is just not working.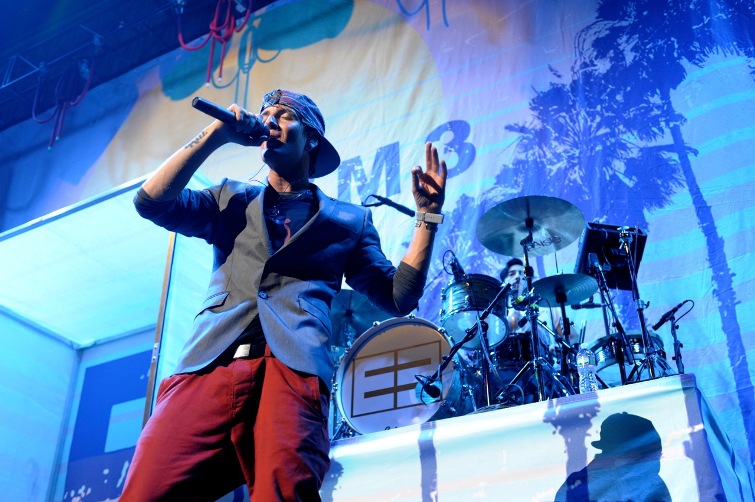 I handle a lot of the social media for PopEntertainment.com and follow you on Instagram and Twitter. I really enjoy reading how serious you are about things that matter like nature, animals, equality and inspiring others.
Drew Chadwick: Oh man. I am so happy that you even recognize and appreciate that. That really means a lot to me.
I had to laugh last week when you posted about people missing your selfie because they unfollowed you due to your political beliefs. Does that really happen?
Drew Chadwick: Yeah, yeah. I just had recently posted a bunch of things, like one after the other about political stuff and all the stuff that's been happening. Like in Iceland, they overthrew their government and it was never put on the news. I guess some people are like, "Hey, I didn't follow you for this political stuff." Most people are scared of it and want to hide from it. But every time I lose followers, I gain them right back with other people that follow me because they respect the things that I'm saying rather than being scared of them. You can't run from the truth.
I know you've talked about it recently and we've all been concerned about what's happening in Japan to the innocent dolphins. If you could speak directly to the Japanese government, what would you say to them about the horrific atrocities they are allowing against these beautiful and peaceful marine animals?
Drew Chadwick: I would let them know that they are basically killing angels. I don't know where to begin. I sat back yesterday morning, frustrated and almost in tears. I was about to buy a plane ticket and go to Japan. I want to do something, but since I'm so far away, I feel like I can only promote the awareness about the killing.
My idea is that since they are going to be having the Olympics in Japan in 2020, we need to start connecting to people who organize the Olympic events. We need to set up a plan – a video boycotting the Olympics happening there – and we should distribute that all over the internet. Let it go viral. Everyone needs to know about this. It could work.
They claim that it's a tradition and it has been tradition for thousands of years. Whatever. But no, they're turning into a machine. It's not a tradition anymore. That's like the Native Americans saying that they can net the rivers because it's tradition. Net all the fish and then sell them to the government.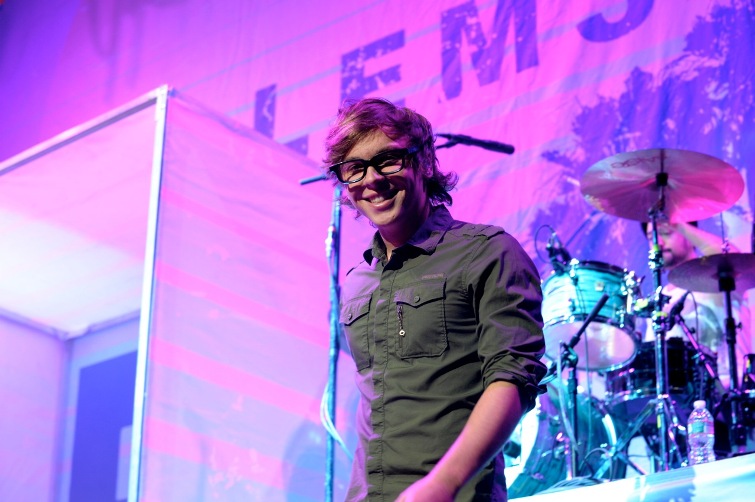 Another huge issue for kids in our society today is bullying. Sadly it is in the headlines a lot lately after disastrous outcomes. My eight-year-old daughter is dealing with being bullied at school. What would you say to your fans who are the victim of a bully or even sometimes might be a bully themselves?
Drew Chadwick: I think that bullies seek to fill their own insecurities by making others feel insecure. I actually wrote an essay on this. It's online somewhere. It's called Bullies #bulliesareinsecure. You can read all about it. Basically they feed off fear. If you're shrinking, hiding or afraid and scared, that makes them feel good. [If you use] Your body language – holding your body, your spine erect with your expression outward and showing your confidence – then bullies will be afraid. They're not going to fuck with you if you show that you're confident. So, it really lies with you loving yourself. If you love yourself. If you're feeling healthy. If you feel good and you're radiating this powerful energy then they're not going to screw with you. But if you're scared, you can attract the bullies to you, if you have low confidence and all.
We asked our followers online if they could ask you guys a question, what would it be? We got lots of funny answers, but selected this one by WESISMYHOTMESS on Instagram.
Wesley Stromberg: Ha-ha. That's awesome.
So, WESISMYHOTMESS would like to know - Are you guys ticklish? And she says she does not mean that in a dirty way.
Drew Chadwick: (laughs) Yeah, we all are. I mean, I don't like getting tickled, but I do at the same time. When people find my tickle points, man, like I turn in to a totally different person. (laughs again) I'll just turn in to a little kid again.
Emblem3's #Bandlife Tour
02/08 Emo's Austin, TX
02/09 House of Blues Houston, TX
02/10 House of Blues Dallas, TX
02/12 Skyway Theatre Minneapolis, MN
02/14 Eagles Ballroom Milwaukee, WI
02/15 Rosemont Theatre Rosemont, IL
02/16 Egyptian Room Indianapolis, IN
02/18 Métropolis Montréal, QC
02/19 Sound Academy Toronto, ON
02/21 Tower Theater Philadelphia, PA
02/22 MGM Grand at Foxwoods Casino Mashantucket, CT
02/23 House of Blues Boston, MA
02/25 The Wellmont Theatre Montclair, NJ
02/26 The Paramount Huntington, NY
02/27 The Fillmore Silver Spring, MD
03/01 The Tabernacle Atlanta, GA
03/02 The Fillmore Charlotte Charlotte, NC
03/04 Revolution Fort Lauderdale, FL
03/05 Ruth Eckerd Hall Clearwater, FL
03/07 Ryman Auditorium Nashville, TN
03/08 Uptown Theater Kansas City, MO
03/09 Brady Theater Tulsa, OK
03/12 San Jose Civic Auditorium San Jose, CA
03/13 Grove of Anaheim Anaheim, CA
03/14 The Marquee Tempe, AZ
03/15 Club Nokia Los Angeles, CA
03/22 Atlantis Grand Ballroom Paradise Island, Bahamas
04/06 MEO Arena Lisbon, Spain