It's quite an adventure to catch a pop sensation early on the ride to stardom. This past Wednesday I had the opportunity to speak with the members of Emblem3 at their album signing for Nothing to Lose, which was just released on July 30.
However, for a band who had just released their debut album the day before, the word on Emblem3 was already out. Brothers Keaton and Wesley Stromberg and best friend (and honorary brother) Drew Chadwick first turned heads on the TV series X-Factor. They were signed up to super-producer Simon Cowell's record label. Now their single "Chloe (You're the One I Want)" is climbing the charts and getting played on iPods and radios all over.
So at the Best Buy in Fairless Hills, PA (the suburbs of Philadelphia), I walked past hundreds of committed fans who had been waiting in line for hours to get the new album signed. These same fans had to come the day before to get a wristband just to be able to wait in that long line. If that doesn't prove that these fans are dedicated to the boys, I don't know what does!
Oh, I know! A fan sending the boys a puppy on their doorstep. It was a Westie Terrier that the band actually kept and named Sampson Stromberg. He even has his own Instagram and Twitter. Check it out! The perks of stardom.
I had the chance to listen to the whole CD soon before getting to talk to the guys. I was really impressed. The tunes have a way of making me want to hear more and more as the next song starts to play. All the songs are so catchy, they get stuck in your head. (In a good way!)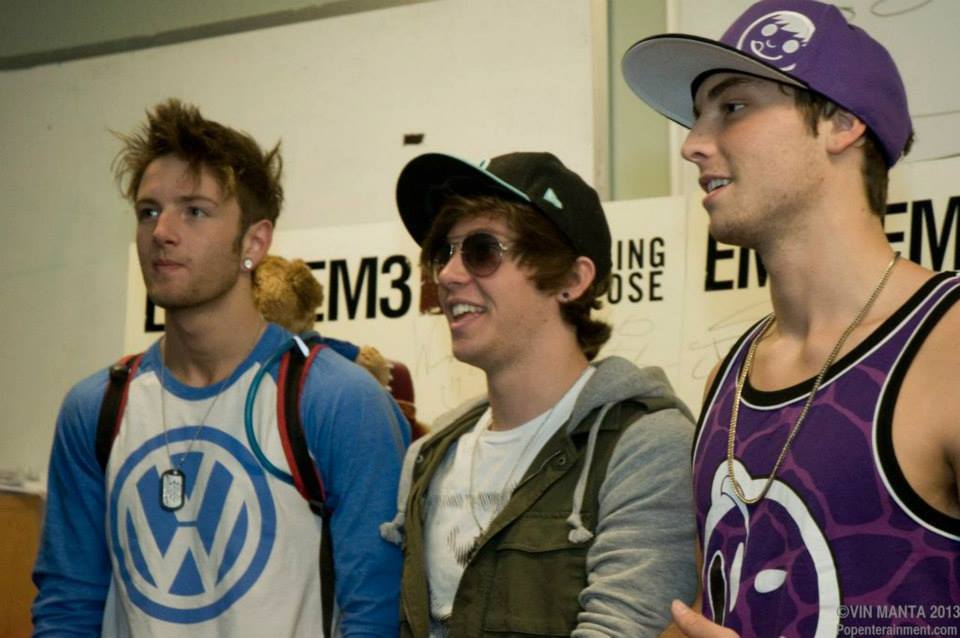 There's a bit of reggae, a bit of rap. It's all very contemporary, with many of the songs having an island beat shining through. The guys say that was influenced by their lifestyle back in California. This makes sense, because in Cali you can't get enough of the chill lifestyle, summer breeze, beach waves and bright sunshine.
For the record, their favorite beach is Huntington Beach. (I'll wait a bit while all the girls book their trips.)
It seems Emblem3 still think they are back in California just chillin', living life like they did before their journey with X-Factor began. It is all because of how unassuming they are. The whirlwind of new stardom doesn't seem to have gone to their heads at all.
Drew Chadwick told me one girl had started to cry when he had tried to be incognito (with his hood up) as he walked through all the screaming fans to reach the bathroom. He didn't know why. I laughed and told him its most likely because she was so happy to see him.
He did not seem to think so when he said, "I feel like my fans build up an image in their head and get disappointed when they see us."
So do these guys know what it was like to be star struck? Not according to them. They said that they wouldn't be dazzled if they met a hero or even just someone they looked up to. Clearly the guys don't know what is going through all the minds of these screaming fans, who are mostly girls.
Then again, maybe they do. After all, lots of their songs are about girls. Are they about certain particular girls?
"'Jaden' is," Chadwick confessed. "'Jaden' is completely about a girl named Jaden." She must know the song is about her, with a name so unique.
Keaton Stromberg continued, "I am sure you are asking about Chloe. That's what everyone wants to know."
Well I wasn't necessarily asking about "Chloe"; just all of them in general. Chadwick said that the songs aren't always all about a certain girl, necessarily. Some of them are just a "mental idea. Kind of like a story."
What makes the guy so likable to their fans? Their down-to-earth personalities? To gain an insight, we played the "Coke or Pepsi" game, a game where I say two words and they have to quickly choose between them.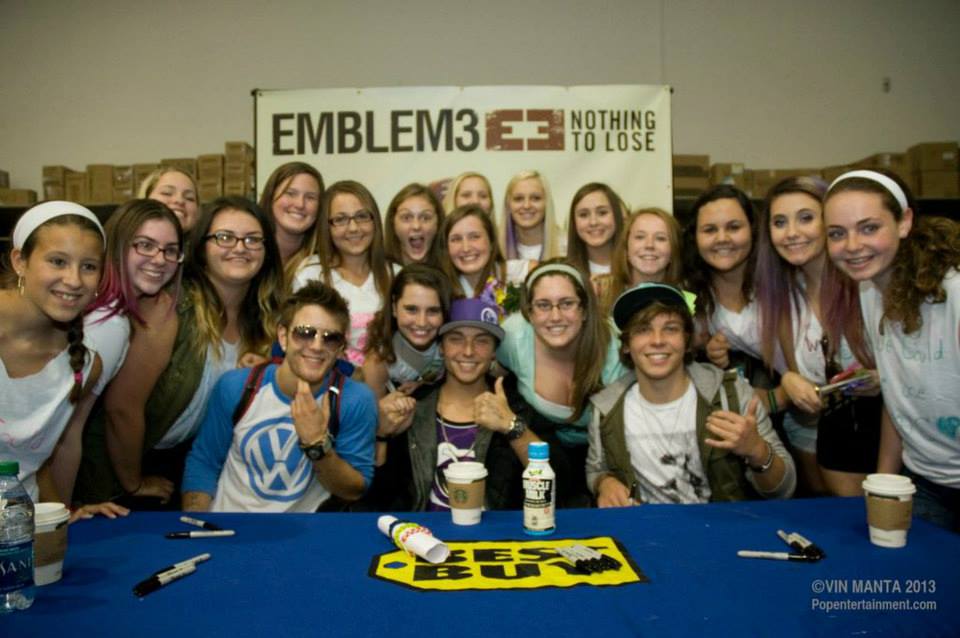 And now for the lightning round!
Coke or Pepsi?
Drew Chadwick: Pepsi.
Keaton Stromberg: I don't know! Both!
Wesley Stromberg: Pepsi.
iPhone or Android?
Drew Chadwick: iPhone.
Keaton Stromberg: iPhone.
Wesley Stromberg: iPhone.
Blonde or brunette?
Drew Chadwick: Depends on the personality.
Keaton Stromberg: (laughs) Ehh, both! I don't know.
Wesley Stromberg: Blonde.
Sweet or sour?
Drew Chadwick: Sweet is better than sour. Sour usually isn't a pleasant sensation.
Keaton Stromberg: Sweet.
Wesley Stromberg: Sweet.
Facebook or Twitter?
Drew Chadwick: Twitter.
Keaton Stromberg: Twitter.
Wesley Stromberg: Twitter.
Blue or brown eyes?
Drew Chadwick: Depends on the soul inside. I've seen beautiful eyes with a sad personality.
Keaton Stromberg: Brown.
Wesley Stromberg: It's different, if something else shines through. I'd say brown.
Day or night?
Drew Chadwick: Night.
Keaton Stromberg: Day.
Wesley Stromberg: Night.
Boxers or briefs?
Drew Chadwick: Briefs.
Keaton Stromberg: Briefs.
Wesley Stromberg: Briefs.
Cat or dog?
Drew Chadwick: Dog.
Keaton Stromberg: Cat.
Wesley Stromberg: Dog.
Summer or winter?
Drew Chadwick: Winter.
Keaton Stromberg: Winter.
Wesley Stromberg: Summer.
Romantic or adventurous?
Drew Chadwick: Adventurous. Why cant it be both? You can be romantic and adventurous.
Keaton Stromberg: Adventurous.
Wesley Stromberg: Both!
See? I asked "blue or brown eyes?" and Chadwick quickly said "Depends on the soul inside. I have seen beautiful eyes with a sad personality." You don't expect an answer as sincere as that from the average pop star. Was he being diplomatic, or is this why everyone loves him?
When I asked the boys "brunette or blonde?" Chadwick confessed that it's different with everyone and it depends on the personality. It seems like he really is genuine. They make themselves so likable and open to everyone. That may be a key to their success. Then there is their talent....
The boys enjoy being clever in deciding on the names of their songs. They named their song "Spaghetti" because they knew that it would "stir the pot of curiosity for people to ask questions." Keaton Stromberg laughed and continued to share, "Spaghetti is also pretty awesome."
The food and the tune. "Spaghetti" is a terrific song and it really has nothing to do with pasta if you listen.
Emblem3 lived in Washington state before they moved to California. This dramatic move is what their song "3,000 Miles Away" explores.
Keaton Stromberg said, "For me it's about missing my home of Washington state."
Chadwick agreed it's about "not being home until you feel love."
Wesley Stromberg further explained, "It could be anything for anyone. It's just for missing home. It works for everyone: the people going to college, or to a new job."
Before Chadwick and the Stromberg brothers perform on stage, they perform a little ritual. The guys do a type of group handshake. They called it "Flower Power," and it's the one they do in Power Puff Girls. Who knew that the show was still around until the boys informed me that it still plays on Cartoon Network?
On the rare occasion there is some down time on tour, the guys like to chill. Keaton Stromberg likes to play video games; just what every regular boy wants to do to relax. Wesley Stromberg likes to go on long runs. Drew Chadwick enjoys going on adventures.
So, when the boys are on a long run or an adventure, do they like to be noticed or do they keep a low profile? They mostly agreed they like to keep a low profile. This is their relaxation time. They get the whole celebrity thing while performing. But then Drew smirked and said, "Well, it depends on the type of adventure."
What about the type of adventures where they collaborate with other musicians? Who would be awesome for Emblem3 to work with? Not surprisingly, the guys don't take the idea all that seriously. First Chadwick laughed said he wanted to do work with Keaton Stromberg. Same with Wesley Stromberg, who wanted to do music with "Drewzy" (aka Drew Chadwick).
Hmm, aren't there any people outside of the band they'd like to work with?
"I want to collab with Barney," Keaton Stromberg told me as he laughed. "He has a pretty cool song. Massive hit!" Now that would hit #1 on the charts.
Okay, fellow band members and purple dinosaurs. Anyone else? They say The Teletubbies are another group they would like to jam with. Well, no one can say these guys don't have a sense of humor. They seem to be a bit more than mischievous.
Which may have contributed to all of their success on X-Factor. Did anyone try to discourage them from auditioning?
"No not really," Chadwick said. "More than anyone, [it was] just ourselves. We didn't think we needed it. We wanted to take the harder way and perform in clubs and restaurants. But then we thought that would be stupid [not to take advantage of the exposure]."
Yes, breaking their backs on the club circuit or getting millions of fans on TV. Doesn't seem like a tough choice.
Did they know it would all turn out like this in the beginning? Could they see the huge following from the show, the hit single, the CD release, the screaming girls?
"Only the future can tell," Keaton Stromberg said. "We just wanted to make it round by round. We were focused on the now."
They still are. The future is now. And if the Best Buy full of hysterical fans is any indication, the future is looking awfully bright for Emblem3.
CLICK HERE TO SEE WHAT EMBLEM3 HAD TO SAY TO US IN 2014!
CHECK OUT THE MUSIC VIDEO FOR EMBLEM3'S "CHLOE (YOU'RE THE ONE I WANT)!"
Email us Let us know what you think.