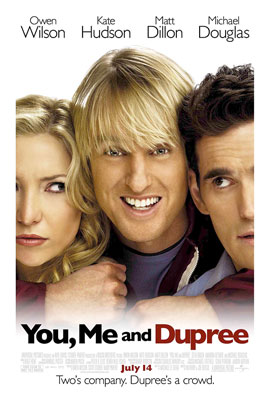 YOU, ME AND DUPREE (2006)
Starring

Owen Wilson, Kate Hudson, Matt Dillon, Michael Douglas, Seth Rogen, Amanda Detmer, Ralph Ting, Keo Knight, Todd Stashwick, Bill Hader, Jason Winer, Suzanne Ford and Lance Armstrong

.

Screenplay by Michael Le Sieur.

Directed by Anthony and Joe Russo.

Distributed by Universal Pictures. 110 minutes. Rated PG-13.
You, Me and Dupree
Back in the mid-70s, Saturday Night Live had a classic parody of horror films called "The Thing That Wouldn't Leave!" with an annoying, self-centered slob (played by John Belushi) visiting a couple (Bill Murray and Jane Curtin) and completely ignoring or missing all of their hints to get him to go. The skit was short – it probably didn't run much more than a minute long – but it was a hysterical look at social mores.
Now, about thirty years later, You, Me and Dupree has stretched that old sketch out to just under two hours. It's still a very funny idea, though it worked better in sketch form. You, Me and Dupree has some really good parts, but overall the much briefer original skit had more pure laughs.
Matt Dillon and Kate Hudson play Carl and Molly, a newlywed couple who are madly in love but already have little cracks starting to show through. There is a certain amount of tension due to Molly's father (Michael Douglas), who is Carl's boss and honestly takes great glee in emasculating him on a regular basis. He pays for their expensive island wedding, buys them a house which Carl could never afford and plays passive-aggressive games with his job.
This tension is ratcheted up when Carl allows Dupree (Owen Wilson), his arrested-development best buddy, to stay with them when he loses his job and apartment. Dupree is an immediate disaster and drives Molly crazy, he is childish, sloppy and sexist, he walks around nude, constantly breaks things, comes into their bedroom without knocking and has bowel problems.
Molly tries fixing Dupree up with a nice librarian at her school out of sympathy for Dupree (and out of that newlywed compulsion to fix up all their single friends, because misery loves company.) Turns out that the librarian is not quite as innocent as she believes and Dupree nearly burns the house down trying to seduce her. Then when she blows him off, he becomes a whiny, lovesick loser.
Through an odd filmmaking technique, this supposed love of Dupree's life is never actually seen – you do catch her legs or see her from the back a couple of times, but otherwise the film seems to be hiding the woman who has so taken Dupree. This just makes the whole thing even harder to buy – Dupree seems more like the love-them-and-leave-them type, it's tough to picture him as a pathetic stalker even without the fact that they are coyly refusing to let us see what he sees in her.
However, as the movie goes on it takes some strange turns – Carl starts to lose trust in his best friend, Molly goes from hating him to respecting him and a comedy about an annoying houseguest downshifts into a cautionary tale about putting one's job before their relationships.
None of these characters are in the least realistic, nor are their reactions to their predicaments, but if you shut your mind to the ridiculous aspects of the movie, You, Me and Dupree is a fun enough film. (7/06)
Jay S. Jacobs


Copyright ©2006 PopEntertainment.com. All rights reserved. Posted: November 19, 2006.