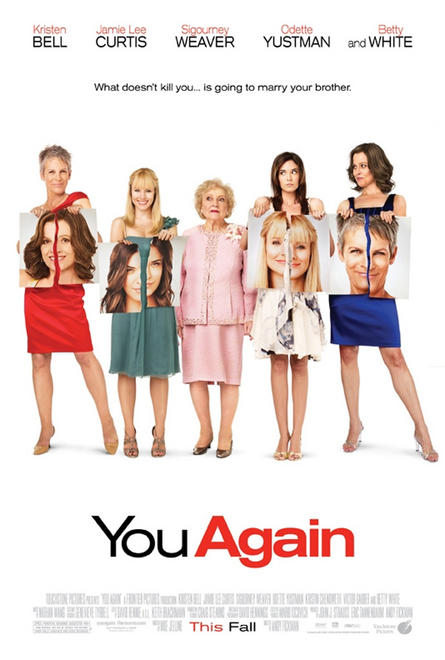 YOU AGAIN (2010)
Starring Kristen Bell, Jamie Lee Curtis, Odette Yustman, Sigourney Weaver, Betty White, James Wolk, Victor Garber, Billy Unger, Kristin Chenoweth, Kyle Bornheimer, Sean Wing, Christine Lakin, Meagan Holder, Patrick Duffy, Reginald VelJohnson, Cloris Leachman, Dwayne Johnson, Daryl Hall and John Oates.
Screenplay by Moe Jelline.
Directed by Andy Fickman.
Distributed by Touchstone Pictures. 105 minutes. Rated PG.
You Again
Kristen Bell had better look out. Her career started with such promise – between Veronica Mars and Forgetting Sarah Marshall she looked like a smart, beautiful and funny talent on the rise.
However, now she is following up the nearly unbearable romantic "comedies" When in Rome and Couple's Retreat with an even worse one and suddenly Bell's name on a movie poster seems more like a warning than an invitation.
You Again goes stunningly wrong – and honestly it is hard to tell why. There is an extremely talented cast and a marginally clever premise – how did it all go so far awry?
It isn't a good thing that the movie that You Again reminded me most of was another recent Disney failure – Old Dogs with John Travolta and Robin Williams. With the talented actors – and there is a very good cast including Jamie Lee Curtis, Sigourney Weaver and Betty White – saddled with some of the worst lines in their long careers, you almost feel sorry for everyone involved. In fairness, You Again IS better that that astounding failure – but not by all that much.
It does share Old Dogs' sheen of flop sweat, though. All the actors are working overtime to try to disguise the fact that You Again is supposed to be a comedy and yet none of it is really funny. Very little of the movie even reaches the more modest aim of being kinda amusing. Mostly, it just feels sad.
You Again is all about its high concept story idea – to the point that little niceties like story coherence and character consistency are just tossed out the window.
Bell plays Marni, a formerly-tortured high school nerd who moved away from home and has blossomed into a gorgeous and successful businesswoman. She is invited home for her brother's wedding when – wait for it! – it turns out that the woman he is marrying is Joanna (Odette Yustman), the very same girl who made Marni's life hell in school.
This transparent coincidence is unlikely for several reasons. First of all, what are really the chances that Marni would not know who her beloved brother was engaged to before the wedding week – despite the fact that Joanna has been accepted into her family as another sister? Also, there is a flashback scene of the brother and sister in high school in which he offers to protect her from the bully, so he obviously knew what was going on at the time and should know of the powderkeg of a situation he is causing. And finally, if this girl bullied his sister mercilessly, she must have known it would come back to haunt her. So why did she not just own up to it?
However, if you are looking for any kind of plot sense then you're at the wrong place.
Instead, despite the fact that Marni has become a smart, savvy and beautiful adult, as soon as she sees Joanna she is suddenly the mousy, pimply shy girl again. Apparently Marni has never learned that living well is the best revenge. Therefore, Marni tries ineffectually to get revenge on Joanna while only she seems to be getting hurt and humiliated.
Her mother (Jamie Lee Curtis) tells Marni to pull it together – until (another huge coincidence alert!) Joanne's aunt shows up and turns out to be mom's own high school nemesis (Sigourney Weaver). From then on, mom acts even more pathetic and needy and ridiculous than her daughter.
A huge part of the problem is that the movie tries to have it both ways with its antagonist characters. Are they still evil or was it all a huge misunderstanding? Do they hate the family or are they jealous?
For example, depending on the whims of the screenwriter, Yustman's bully claims to be horrified by her former acts of meanness and at the same time seems to revel in them – like the scene where she smugly cranks the song "We Are the Champions" on the radio, a song she knows that has hurtful memories for Bell's character.
Is it because she is a complex, contradictory character, or is it because screenwriter Moe Jelline knows there is no story otherwise?
I think we can safely say that the answer is the second option.
However, just by shoehorning events into a screenplay doesn't change this problem. You Again is a story not worth telling.
Jay S. Jacobs
Copyright ©2011 PopEntertainment.com. All rights reserved. Posted: February 8, 2011.

Copyright ©2011 PopEntertainment.com. All rights reserved. Posted: February 8, 2011.