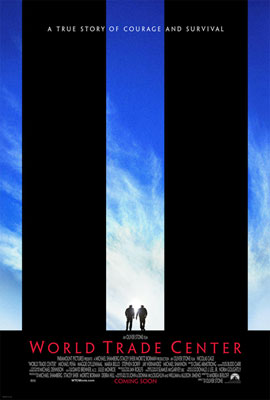 WORLD TRADE CENTER (2006)
Starring

Nicolas Cage, Michael Peña, Maggie Gyllenhaal, Maria Bello, Stephen Dorff, Jay Hernandez, Michael Shannon, Donna Murphy, Patti D'Arbanville, Nicholas Turturro,

Nicky Katt, Nick Damici, Jude Ciccolella and Frank Whalley.

Screenplay by Andrea Berloff.

Directed by Oliver Stone.

Distributed by Paramount Pictures. 128 minutes. Rated PG-13.
World Trade Center
In early 2006 when the coming attractions trailers for this movie and United 93 started showing in multiplexes I swore that I would never see either film. As I've discussed in the review for the other film; there are very few things in the world which I feel are off-limits for entertainment purposes, but the terrorist attacks of September 11, 2001 are definitely one of those.
I did avoid both of them in the movie theaters, as did most people – the audiences also seemed to think it was too soon and too painful, although World Trade Center did fairly well, certainly better than United 93. However, both got good critical acclaim and the prevailing feelings were that both of them were done tactfully and without any type of exploitation.
Therefore when duty called and United 93 was released on video and I was asked to review it, I steeled myself for the experience and found it was a very well-made – if obviously depressing and sad – film, just as I expected. Now World Trade Center is on video and I am in the same place. Part of me wanted no part of it, but I decided to try and discuss World Trade Center for its merits as a film and not for the horror which inspired it – which is of course impossible.
I almost never say this, but I think it is best to watch these two films at home. At home it is not quite so overwhelming. You can take a break if you want to. You can turn on all the lights. I was a little sad actually, to find how familiar the story of the attack on the World Trade Center had become in my life. Five years of seeing footage regularly on the news and documentaries steeled me for this movie more than I would have expected.
Of course, part of that is because unlike United 93, which drew its power from the immediacy of placing us in the middle of that doomed airline, World Trade Center softens the blow by going in a totally different way. It really mostly focuses on a very limited group of the people who were affected by the tragedy, essentially telling the story of two transit authority cops (Nicolas Cage and Michael Peña) who were trapped below the rubble of the towers and their wives (Maria Bello and Maggie Gyllenhaal) who are desperate for word on their conditions.
Because of this, we don't see most of the horrific images which have been burned into our psyches – or at least we see them from a different perspective. For example, that horrific moment when each of the towers implodes upon themselves are experienced from far underneath the rubble – so instead of seeing the horrifying footage yet again we see how it must have been for two men who were stuck far below the wreckage so that they could not see what was happening, just experience the horrific roar and the falling debris.
Director Oliver Stone does an incredible amount of detail work here. As someone who was in the Twin Towers several times, it was almost shocking how they have captured the look and the feel of the place. In one scene, they are in an area with shops in the bottom of the complex and I was remembering when I was there – before it came back with a rush that of course that place I had been is gone. This was just an incredible simulation of it. Signs, shops, structures, even the famous skeletal remains of the tower entrances – they got it all right.
Interestingly, with one of the most conspiracy-minded directors in modern Hollywood, World Trade Center consciously avoids all the theories abounding around the collapse of the buildings. They briefly show the collapse of the third building of the complex which was not hit, but they do not acknowledge all the questions swirling around that. It was undoubtedly a conscious choice on Stone's part, and while I think that there are some very valid questions about what happened on that day, it is probably the wise choice. Stone is trying to pay tribute to the beauty and strength and valor of New York and its people with this film, not stir things up. There are other, more appropriate avenues for that kind of discourse.
I'm still sorry that this film ever had to be made, just because it should be a nightmare that no one in the world had ever experienced. While Oliver Stone does pull his punches a tiny bit here, the film is a powerful tribute to the people who showed bravery and selflessness in the face of unmitigated horror. (8/06)
Jay S. Jacobs
Copyright ©2006 PopEntertainment.com. All rights reserved. Posted: December 17, 2006.

Copyright ©2006 PopEntertainment.com. All rights reserved. Posted: December 17, 2006.