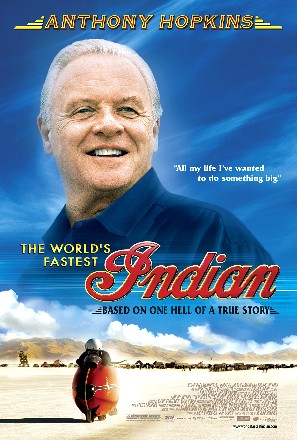 THE WORLD'S FASTEST INDIAN (2006)
Starring

Anthony Hopkins,

Jessica Cauffiel, Patrick Flueger, Saginaw Grant,

Diane Ladd, Christopher Lawford,

Aaron Murphy, Paul Rodriguez, Annie Whittle

, Chris Williams, Chris Bruno, Carlos LaCamara, Patrick Flueger and Bruce Greenwood

.

Screenplay by Roger Donaldson.

Directed by Roger Donaldson.

Distributed by Magnolia Pictures. 126 minutes. Rated PG-13.
The World's Fastest Indian
The World's Fastest Indian is a tiny bit manipulative, a little naïve, a bit broad and just a hair corny. It is also an amazingly enjoyable film -- much more so than most people will imagine when this sweet, quiet, small film makes it into their multiplexes.
The film is a long-simmering labor of love by director Roger Donaldson -- the Kiwi native who has made a name in the States with films like No Way Out, Thirteen Days and The Recruit. Donaldson had originally made a documentary on Burt Munro, the subject of this film, in the early 70s. Over the years he has always wanted to turn the story into a feature.
The World's Fastest Indian is not only a love letter to its inspirational real life character, it is also an ode to two countries (the United States and New Zealand) and the basic goodness of human beings.
It almost seems like this movie takes several genres -- the fish out of water, the road picture, the inspirational sports story -- and whips them up into a satisfying puree.
The film is firmly anchored by a wonderful performance by Anthony Hopkins as Burt Munro, a crotchety but basically good man in his late 60s who traveled from his native land to the United States during the age of Aquarius to try to set a world land speed record on a vintage (almost 40-years old even then) and retooled Indian motorcycle. The character of Burt allows Hopkins to give in to some of his broader tendencies and still feel 100% realistic. It's the best role Hopkins has had in years.
Even though it is a true story it seems sometimes a little idealized, but that is okay, it works for this story. We never know if this is exactly how it all happened to Burt Munro or how Burt Munro would have us believe it happened, and again it doesn't matter. Big subjects like the Vietnam war and transvestitism are looked upon by Burt with constant good humor, removing any real controversy from them. For example, in one scene Burt gives a ride to a soldier out on leave, and he tells a story of dropping agent orange with a certain wistful beauty -- instead of the horror or irony most films would use. Of course we now know the dangers of what he was doing, but at the time he was just a soldier in love who was proud of doing his duty as an American. Burt doesn't judge him, so we don't either.
Even though it is in the sixties we see no hippies, no dissent -- but that is because we are looking at the time through Burt's eyes, not our own. Donaldson has refused to give the movie a Hollywood gloss and the film is all the better for it's determination to let this enjoyable, quirky little story speak for itself.
When Burt finally makes it to the Utah Salt Flats to try to attain his dreams, there is a sense of accomplishment, a sense of camaraderie that is all too rare in these days of sport as business. All of the people who are there were only present because of the love of competition. They all supported each other and helped each other to succeed. Reminding the world of accomplishment just for accomplishment's sake -- this may be the most amazing aspect of this wonderfully offbeat drama. (1/06)
Jay S. Jacobs
Copyright ©2006 PopEntertainment.com. All rights reserved. Posted: January 13, 2006.


Copyright ©2006 PopEntertainment.com. All rights reserved. Posted: January 13, 2006.