Copyright ©2005 PopEntertainment.com. All rights reserved. Posted: June 6, 2005.
Tom Wopat had the nerve to forge a solid show business career that boldly defied the odds. Born and raised among seven other siblings on a dairy farm in rural Wisconsin, he is now – you'll never guess -- a veteran Broadway actor and singer who has played Carnegie Hall and has interpreted the urbane, sophisticated song stylings of Harold Arlen. This is illogical enough, but the path along the way is even more unlikely.
Does he appreciate or acknowledge the irony? All he has to say on the matter is, "Everybody comes from somewhere!"
Wopat was handed every opportunity to tighten the noose on his own career when he landed the role of Luke Duke on The Dukes of Hazzard back in 1979. That this series was hardly a critical favorite is putting it mildly; however, it was instantly taken to America's bosom, feeding a critical jones for car chases and Catherine Bach in her Daisy Dukes. Like most actors on immensely successful shows, Wopat was gunning the pedal directly toward Typecastville, with a limited role that should have served as an albatross for the rest of his born days.
Not helping matters much was his strong-silent-type good looks plastered all over posters, lunchboxes, fan magazines and T-shirts, first as au current and now as retro kitsch. True to Wopat's consistent ability to surprise, the cornpone show, which should have lasted a season or two tops, ran for years in prime-time, and then forevermore in syndication. It has since become a tasty ingredient of our pop culture, saying howdy to new generations of fans and constantly reinforcing Wopat's association with the character.
In what should have been a final nail in the coffin, in the late 70s he landed on the cover of TV Guide as one of the medium's hot hunks of the moment (along with Erik Estrada and Greg Evigan).
"It boggles the mind," he says of his Dukes experience. "I forget about it on occasion, and it's brought back to me pretty quickly, usually. It was like high school. I had great deal of fun doing it; we had lots of laughs and formed great relationships. It's been twenty years since it's been off the air."
His fifteen minutes of fame should have long-since expired, but Wopat would have none of that. Instead, he reinvented himself more times than Madonna: he replaced James Naughton in a Broadway production of I Love My Wife (he would replace Naughton three more times on the Great White Way). Broadway audiences took an instant liking to Wopat, and the honeymoon continued to the current day, taking along his triumphant turns in such crowd-pleasing classics as 42nd Street and Annie Get Your Gun (co-starring Broadway baby Bernadette Peters).
"Working with Bernadette Peters was really, really amazing – a high point of my career," he says. "Our last show, on September 1, 2001, I will remember for the rest of my life. She is an amazingly talented performer."
There were unlikely, ironic stops in between, such as an ill-fated turn as a host of a struggling variety show on the now-defunct TNN cable channel ("There was a finite number of viewers and we reached the finite number of viewers," he explains.). He also appeared as Cybill Shepherd's tomcatting first husband in her extremely well-written but short-lived 90s sitcom. Throw in a TV movie here and there, and a few successful country albums, and you have the improbable career of Tom Wopat.
Now, he continues to push the envelope even further, with his first non-musical role on Broadway. The revival of David Mamet's 1984 pot-boiler, Glengarry Glen Ross (The Royale Theatre) is a simmering shark tank of a story, about back-biting real estate agents and their prey. The dialogue is typical Mamet (tough and dirty, but somehow lyrical), and the actors are powerfully first class (Alan Alda, Liev Schrieber, Jeffrey Tambor, Gordon Clapp, Jordan Lage and Frederick Weller).
He says, "There are so many fine actors out there these days. In this show alone, you have Alda, Schrieber, Tambor, Lage and Clapp. That's number one stuff. Fred Weller, who is probably the least well known in the bunch, is maybe the most consistent night after night. He
smacks you right in the middle of the nose, as far as the acting note goes. This is really an interesting and diverse group, all with different styles and different approaches to how it works. But it all came together. It's been a very synergistic experience."
Wopat plays James Lingk, a quiet, mild-mannered man who inadvertently becomes entangled in a slightly shady real estate deal. We feel his remorse as he makes an awkward, wimpy attempt to back out of the agreement, at the insistence of his unseen wife. It's a new type of role for Wopat; a far cry from the solid, strong leading man of his musical projects.
He says, "It was a conscious choice to do a non-musical and to play a part that is so different than what I usually play. [My characters are] usually very assertive. Here I am very submissive. Here I am very much a 'William Macy' kind of guy. There is not much speaking for this character so you have to make as much of it as you can. Coming from the Midwest, I know these guys."
This is probably why he has been so successful as a country-music artist as well. Country audiences relate to him, know him. He says, "The country stuff was an outgrowth of The Dukes of Hazzard. It seemed like a natural progression. At the time, country was really kind of middle-of-the-road back in the early 80s. If James Taylor and the Eagles came along in the early 80s, they would have been country acts, not pop acts."
Once he completed his run in Annie Get Your Gun, he was approached to do a standards recording. The result was a well-received CD called The Still of the Night (Angel Records), featuring such classics as "Let's Fall In Love," "Baby, It's Cold Outside," and "Makin' Whoopie."
In his follow-up collection of Harold Arlen songs, called Dissertation On The State of Bliss (Hyena Records), he claims in his liner notes, "I consider myself a singer. In the pursuit of this particular calling, I've been challenged, humbled and thrilled, often at the same time. One of those times occurred with my recent immersion in the music of Harold Arlen."
Perhaps it's no coincidence that Wopat could relate to Arlen, who penned the most representative song of the 20th century, "Over The Rainbow." Wopat has spent a life time not just matching the yearning mood of that song, but making those yearnings reality.
"I've always kind of prided myself on doing a bunch of different things," he says. "The range of things that I do has always been fairly satisfying to me. This is obviously something new – doing a drama – doing a David Mamet play. Doing the jazz and the Harold Arlen has been a real source of satisfaction for me. It's really terrific music. At my age, for some reason, it appeals to me, it fits well, and audiences really will buy too. They seem comfortable with me singing this type of stuff."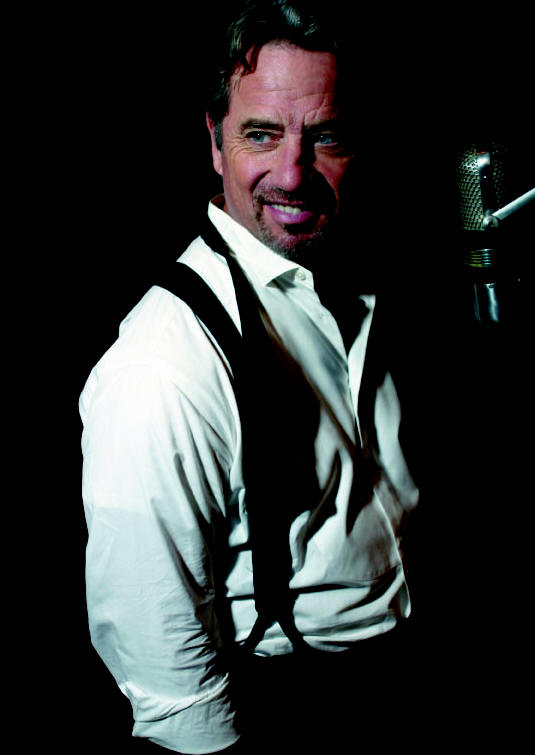 His private life remains private, but is just as surprising. He has five children from four previous relationships (his oldest daughter is graduating from Harvard University). He is a city boy now, with an apartment in Manhattan, but he keeps from getting too urban-cynical by remaining a huge sports fan (his wireless laptop tells him which professional baseball games are being played each day) and getting around town on a bicycle (and sometimes a motorbike). He also stays true to his rural roots by keeping a cabin in the wilds of North Jersey.
Would he ever sing "Goodbye Yellow Brick Road," where the dogs of society howl, and go back to the farm?
"Probably not," he says. "The family farm is a thing of the past. What I grew up on doesn't really exist anymore. You can't afford to, with the rising cost of land. The only dairy farms right now are the factory farms, where they milk a thousand cows. I guess these days I am primarily a New Yorker. "
So if he wasn't being the toast of Broadway, what would have been the road not taken?
"Construction maybe," he muses.
His future remains firm on the boards in New York, but he still has some reservations. He says, "The only thing that I'm fairly disappointed in on Broadway is the state of the new musical. That's been a constant situation for the last twenty years. It's hard – really hard to write something like that and to come up with the money to produce something like that. It's takes a certain vision and a lot of faith in the people who are involved in the creation and production of the musical. So the big hits generally are revivals and plays. The acme of our profession as far as stage acting goes, is Broadway. These are the best productions you can find."
Wopat makes singing appearances at such Manhattan landmarks as The Zipper Club and Birdland, surrounding himself with his musical trio. Obviously, he has associated himself with the very best and brightest in his other ventures, but who has influenced him?
"I look at people who are honest in what they do," he says. "Andy Griffith is a really interesting actor, and he had quite a film career before he did television. I like that kind of sincerity and truthfulness."
Like the General Lee on The Dukes of Hazzard, be prepared for a Wopat wild ride to come, with some unexpected leaps, screeching turns and sudden, surprising stops in unusual places.
We'll keep you posted.
Copyright ©2005 PopEntertainment.com. All rights reserved. Posted: June 6, 2005.