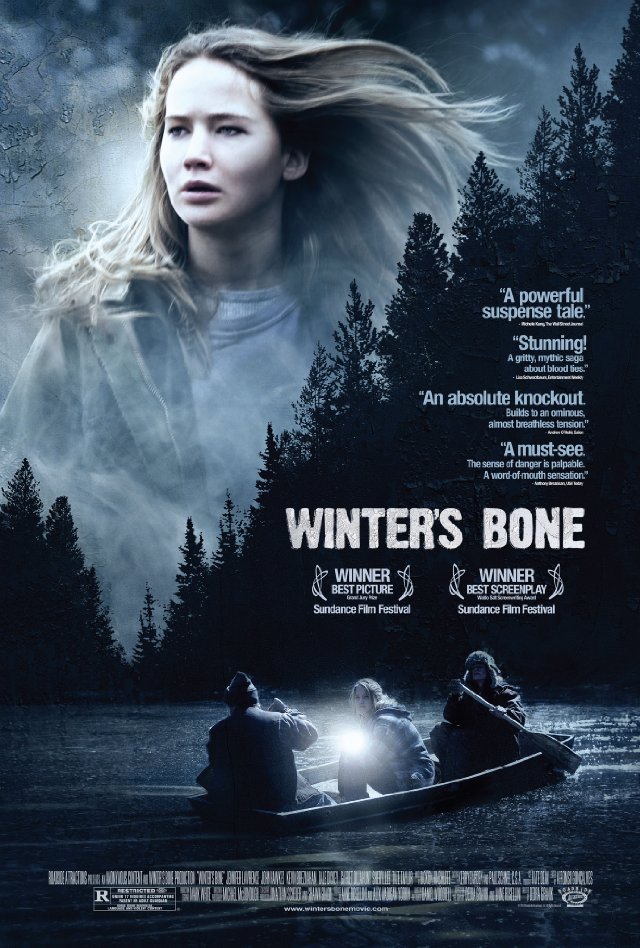 WINTER'S BONE (2010)
Starring Jennifer Lawrence, John Hawkes, Lauren Sweetser, Dale Dickey, Kevin Breznahan, Shelley Waggener, Isaiah Stone, Ashlee Thompson, Garret Dillahunt, Sheryl Lee, William White, Tate Taylor, Casey MacLaren, Valerie Richards, Beth Domann, Cody Brown, Ronnie Hall, Cinnamon Schultz, Russell Schalk and Brandon Gray.
Screenplay by Debra Granik and Anna Rosellini.
Directed by Debra Granik.
Distributed by Roadside Attractions. 100 minutes. Rated R.
Winter's Bone
Winter's Bone has a chilly, sordid lived-in feel that isolates it from most Hollywood product. A downbeat, violent and dirty look at life in the underbelly of the new South, it also includes one of the best new performances of the year and enough intriguing twists and turns to make it necessary viewing for fans of realistic indie fare like last year's Frozen River.
That great new performance comes from Jennifer Lawrence, a teenaged actor with skills well beyond her years. She plays Ree Dolly, a seventeen-year-old girl who grew up in trailer-trash Missouri and now has to care for her younger brother and sister and her mentally unstable mother. Her father is in the wind – once again apparently on the run to avoid prosecution for his part in the local meth trade, a shadowy and dangerous vocation which seems to be the dirty little secret of pretty much everyone in the area.
Ree has been taught by a whole life of hard lessons to ignore what is going on in the ramshackle shacks and barns around her. However, when a sheriff's deputy lets her know that if her absentee father does not show up for his trial, they will lose the rundown family home, which dad had used for collateral. As the house is pretty much all the family has and she can't imagine raising the kids and caring for their mother while they are all homeless, Ree takes it upon herself to track down her dad – despite the fact that extended family, friends and neighbors strongly try to convince her that she is best off not knowing what has become of her father. She is lied to, cursed and beaten, however Ree will not give up until she has saved her home.
As you can tell from the description, Winter's Bone – which was based on a novel Daniel Woodrell – and surprisingly written and directed by women – is a dirty, sad, depressing, violent film. Yet with its amazingly realistic sense of place and quirky, fascinating characters it is also an intriguing and touching one.
This is made all the more impressive for the mostly unknown cast. The only real "name" actors here are in supporting roles – Garret Dillahunt as a perhaps-corrupt lawman and Sheryl Lee of Twin Peaks as one of the dad's exes. However Lawrence and her castmates have a world-weariness and a realism that is all too rare in films.
The Ozark Mountain world of Winter's Bone is not one you would probably want to visit in real life, but from the safety of a theater, the area exerts a strong, narcotic fascination and dread.
Film doesn't always have to show the beauty of life. Sometimes it is more important to impart the squalor and dismay of an existence – and the eventual small triumphs. On this level, Winter's Bone succeeds brilliantly.
Jay S. Jacobs
Copyright ©2010 PopEntertainment.com. All rights reserved. Posted: August 3, 2010.


Copyright ©2010 PopEntertainment.com. All rights reserved. Posted: August 3, 2010.