A new book reveals that the sensational multiple-personality story was just that ó a story.
In 1973, Flora Rheta Schreiber wrote about the treatment of Sybil Dorsett (a pseudonym for Shirley Ardell Mason) for multiple-personality disorder (sixteen separate personalities in all!). The disturbing book touched a nerve in the culture and raised questions about the nature of self. Meanwhile, that same year, another girl had personality troubles of her own in The Exorcist. The psychotherapy industry salivated, taking furious notes. The Exorcist went on to earn its own lore, and Sybil helped to create a new psychiatric diagnosis (itís known today as dissociative-identity disorder). Since then, the Sybil story has nurtured a cult of obsessed fans.
The book sold six million copies. An NBC miniseries, starring Sally Field and loosely based on the book, was seen by one-fifth of the country when it first aired in 1976.
However, Sybil was not all she seemed to be. In her new book, Sybil Exposed [Free Press], investigative writer Debbie Nathan sheds light on how the famous multiple personality case was fabricated, exaggerated and bent to the will of the bookís author, the patientís therapist [Dr. Cornelia Wilbur] and even the patient herself. This trio of ambitious people rigged and concocted an incredible fiction that reads like fact.
Here, Debbie Nathan gives us a peek into what went down and what went wrong.
Why did Sybil cause such a ripple in the popular culture?
One reason was the sense of power in women, that they could overcome any kind of adversity, that they can make use of untapped talents that they didnít even know they had. That was a powerful thing. It also made people much more aware of child abuse and the secrets of family troubles. On the other hand, it also gave women the feeling that the only way that they could express themselves was through the splitting of their personalities into a lot of different parts. So it had good and bad effects on the culture, but it was extremely powerful. Emotionally, it was an incredible read back then, but itís only an incredible read if itís true.
Multiple personalities were nothing new when Sybil debuted, but it seemed new.
Multiple personalities were always present in western culture ó the idea of being possessed, these different people whom you canít control, as beings inside you. Itís a very central attitude in Christianity, particularly.
So the story was exaggerated and shaped so that it could be more sensational. Thatís nothing new, is it?
It happens now in journalism. We see all these scandals with memoirs. And in journalism, we have all these young reporters who are exaggerating like crazy. Sybil might have been one of the first examples of that. [Author Flora Rheta Schreiber] did pretty solid work, but in her research, she couldnít get what she wanted out of it. It was just too late. She already had the fortune from the advance, and she had sugarplum fantasies of fame. It was a really sexy idea. Of course, the therapist had a lot of ambition because of her upbringing. Her father was a famous chemist and she had started out as a chemist under his thumb. But she ultimately did not become a chemist; she became a psychiatrist and she was always looking for the next big thing in psychiatry. This was definitely the next big thing. I mean, how are you going to walk away from that once you believe in it? Nothing was going to contradict her ambitions.
Sybil herself, while troubled, didnít suffer from multiple-personality disorder.
The patient herself bent every which way the wind blew. She was a very suggestible person and she depended on the love and support of these women, particularly the psychiatrist. I imagine she had some of her own ambitions. She was willing to be manipulated at the same time that she was manipulating them. It was a very interesting dynamic.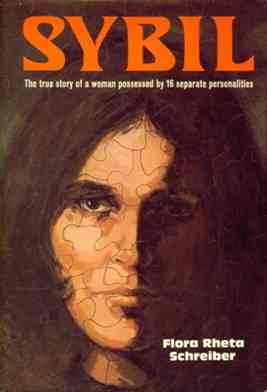 In the book and miniseries, Sybil had a monster mother from hell, but it wasnít quite like that in real life. But did child abuse play a role in the real Sybilís troubles?
Nobody is saying that terrible things donít happen to kids. My book doesnít suggest that. What it does suggest is that itís pretty hard for things to happen to kids on a large scale without anybody noticing and without kids remembering what happened to them. Her mother wasnít a schizophrenic. She was probably depressed. She had a clinical diagnosis from about 1912, what today would be known as depression. She would probably go into deep depression occasionally. For a little tiny child, to be around a depressed mother, itís probably a very bad experience. It creates detachment problems. She grew up in this very repressive religious background and she was an artistic kid. I donít think it was a happy experience growing up with that mom, but the mom clearly wasnít a monster. There is no evidence of that at all.
Did all three women get what they wanted?
I think the psychoanalyst did. What she wanted was fame and she got fame. But I donít think the other two did so well. I think in some ways, Sybilís story was a curse for the journalist. She took the straw and she spun it into gold. Then, the next time around, she was expected to write a bestseller that would do equally well. She couldnít really do that. She spent a couple of years spinning her wheels. She gets a huge advance to write about anything she wants, but she canít figure out whatís going to sell. Her need to write a really sensational bestseller made her see herself as a lay psychoanalyst. Shirley Mason herself was ruined by this. She was a teacher doing well. She lived on the border of West Virginia and Ohio and she had a good job that she was very happy with. She had to give all that up because of the fear of people learning who she was. She ended up in the shadow of the psychoanalyst for the rest of her life. She was like a little mouse. She ended up dying alone.
What lessons should we learn from the Sybil hoax?
The story is so bizarre that it is more sexy than enlightening. Yet itís telling us how to think about ourselves, particularly for women. When you read stories that are so bizarre that they are not like you or anyone else you know, you should step back and ask, ďwhatís going on here?Ē Second opinions should be encouraged. Fortunately, we live in an age now where we are critical; we go on the Internet, we look up information. We have all these places now where we can go and check what we are being told. We need to be constantly critical of medicine.
Email us Let us know what you think.