It's not often that over 30 years into your career, you get to do some of your most interesting, acclaimed work. However, that is exactly where Susanna Hoffs finds herself.
That may seem a weird thing to say, because back in the 1980s, Hoffs was a big time star. As arguably the most visible singer of the multi-platinum girl group The Bangles, Hoffs was the voice behind such huge hits as "Manic Monday," "Eternal Flame," "In Your Room" and "If She Knew What She Wants." She also sang with her bandmates Vicki Peterson (guitar), Debbi Peterson (drums) and Michael Steele (bass) on the group vocal smashes "Hazy Shade of Winter" and "Walk Like an Egyptian."
However, at the height of the band's popularity, the group fractured due to some internal stress, greatly due to the fact that Hoffs seemed to be getting more attention than the other band members. Hoffs released the marginally popular solo albums When You're a Boy and Susanna Hoffs during the 90s. She also married popular film director Jay Roach (the Austin Powers movies and the Meet the Parents movies) and became a mom.
In the very end of the decade, the Bangles got back together. They released their first album in over a decade with 2003's Doll Revolution, and then last year the band put out Sweetheart of the Sun, to some of the best reviews of the already-critically-acclaimed band's history. Also in the past decade, Hoffs has released two duet cover albums with power-pop God Matthew Sweet (with a third on the way). "She's delightful," Sweet told me recently. "She's a lot of fun. We really did those records for fun... We're like two kids when we work together. What else can I say?"
Continuing her recent spurt of activity, Hoffs recently released Someday, her third solo album. This lush love note to 60s pop has also been turning heads and inspiring some of the most glowing reviews she ever has received. Hoffs seems rejuvenated by the DIY looseness of recording under her terms. This extended to the brief tour she had promoting the album. At her first show in Philadelphia, she learned that she had lost her rhythm section for the first three nights of the tour. Instead of freaking out, she shared this fact with the audience and enjoyed the wild, anything might happen vibe of a spectacular show done on the fly.
Soon after she got off the road for the tour, Hoffs gave us a call to discuss her career, her new music, her old faves and her new outlook.
This is the first solo album that you have done in fifteen years, and also the first one you have done when you were together with the Bangles. How did you decide which songs you wanted to keep for yourself rather than do with the group?
That's a good question. A lot of the songs that ended up on the last two Bangles records were songs that I had intended to do [solo]. I didn't expect to be making Bangles records, so I just threw whatever songs [out] that I thought Vicki and Debbi might like, and in the case of Doll Revolution, Vicki, Debbi and Micki. We were all just throwing into the pile for consideration. Anything we thought the other members would like and want to record. So that's what happened. "Something That You Said" was a song that I'd written with Charlotte Caffey [of the Go-Go's]. Another song we wrote, "I'll Never Be Through With You," ended up on Sweetheart of the Sun. Those were songs I'd been intending to end up on a solo record. I wasn't really holding anything back, I guess. I had thrown in "November Sun" [for Doll Revolution.] Part of it was with so many singers in the Bangles there's kind of a... I don't want to say quota, but we try to balance it out so that everyone has approximately the same amount of songs to sing. So "November Sun" for whatever reason just didn't make it into the final batch [for Doll Revolution]. In the case of that song, I do remember when Sweetheart of the Sun was happening that I thought, "Hmm... I wonder if I should throw that one back into the ring for the Bangles." I thought there's something about that song. I feel like there is a delicateness about it. I think it really wants to be on a solo record. In a way, that song was the light at the end of the tunnel. It was always there as a beacon for this solo record. I'm glad I kept it in a secret little spot, because it informed all the other songs. There was something in the naturalness of it. How it felt when I wrote it and how it felt to sing. That seemed to say that this is meant to be on a different kind of record than a Bangles record.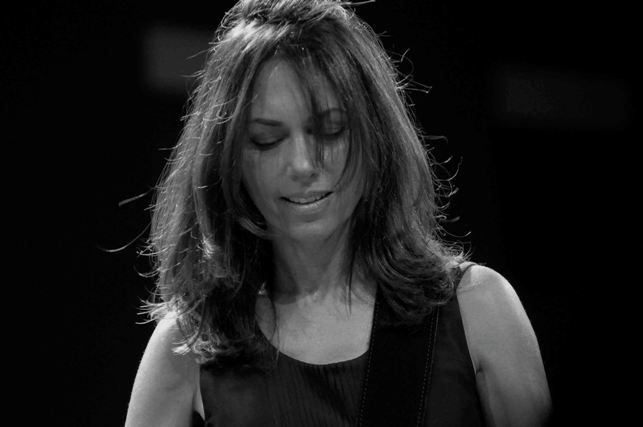 I really loved all the old-school touches you had in "Always Enough," – it almost felt like a Burt Bacharach production. "Picture Me" was a little bit more psychedelic. How difficult was it to give Someday a retro vibe and still make it feel contemporary?
When we were working on the songs initially, they were very sparse presentations. It was just [co-writer Andrew] Brassell and me and guitars. [Producer] Mitchell [Froom] came in and would just sit at the piano. We really worked on these bare bones versions of them. Figuring out the best arrangements in that setting – just two guitars and my voice and the piano. As we were working on preparing and rehearsing more of the songs as the whole picture started to come together, Mitchell had this thought. He was thinking, from a producer point of view: What should this record sound like? We started talking about [the fact that] we wanted to make a modern-sounding 60s record. It became the theme. It was undeniable that the 60s have been a big influence on me. No matter what I do, it just seems to come through. It wasn't like I thought: I'm going to make a 60s sounding record. The reality is that's my touchstone for everything. It just is. It's what I get the most excited about, thinking about those songs and how they inspired me to want to be an artist in the first place. I still look to those recordings as the highest bar of what I strive to get to emotionally.
Who were some of the acts that inspired you to do these songs or even in general in your career?
The thing that really brought the Bangles together was mutual love for the Beatles. That will always be true for everything I do. In the case of this record, I was channeling a bit more of my inspiration from the female vocalists that I grew up listening to and who became my vocal teachers as a little kid. (laughs) That would be Dusty Springfield and Dionne Warwick. My mom had all of those records of her singing the Burt Bacharach/Hal David songs. Then Linda Ronstadt and Lulu and Petula Clark. Those voices. Diana Ross and the Supremes. Those were the people that I was singing along to – along with Joni Mitchell and Bonnie Raitt in the 70s. But, really those girl singers of the 60s were the ones that really caught my ear as a kid.
What was the first record you ever bought?
The first record? Either Carole King's Tapestry, James Taylor's Sweet Baby James or [Crosby Stills Nash & Young's] Déjà Vu. Those were among the first three that I bought.
What was the first concert you ever saw?
That's an odd thing. My parents and I wandered into the Troubadour [in LA] when Judy Collins was playing. My mom says she took me to see Donovan at the Hollywood Bowl, but I don't remember it. I do remember we were eating at Santana's and we just wandered in and Judy Collins was playing. That was one of those records my mom played constantly during the 60s.
What music do you put on when you are in a bad mood to cheer you up?
The Beatles usually work. Sometimes I like more rock stuff – I'll listen to the Stones or Led Zeppelin. You know what always gets me in a good mood? "It's Not Unusual" by Tom Jones. That is just like so happening. His mojo just shines through everything. That performance is so incredible.
What record would you say you have listened to more than any other in your life?
I would say Beatles records. Probably Revolver and Rubber Soul.
What song do you most wish that you had written?
"Here Comes the Sun."
What song can automatically make you cry when you hear it?
Wow. You know what? Sometimes classical music. I was listening to Bach the other day on the airplane. "Joy of Man's Desiring." That piece will make anybody cry. It's so beautiful.
Brassell co-wrote almost all the songs on the album. How did you start working together?
My niece, Miranda Hoffs, grew up outside of Nashville. She was living in Nashville and going to Vanderbilt University. She was very, very much a music fan, a music lover, an avid club [goer], a person who went to see live music almost every night of the week. Brassell was playing in a band and she knew him from the indie club music scene in Nashville. They were friends. When she moved out to LA, he contacted her because he was thinking of maybe relocating. Having played music in Nashville since he was a teenager, he was curious what it was like to be a musician in LA. He arrived and we just adopted him. The whole family did, the Hoffs-Roach clan, because he was a really nice person and he was very determined to figure out a way to be a working musician. For me, it was a reminder of what I was like in my 20s. In a way, it was such a healthy distraction. It ended up being incredibly fortuitous that our paths crossed. In my normal mode [I'm] being a mom and running my household and coming in and out of town all the time. The Bangles were always going out and doing gigs around the country and in Europe and Australia and very busy, actually. Having just released the record Sweetheart of the Sun, that was around the time that Brassell was here. I just saw this person with this singular focus on writing songs. He was just a person who would wake up in the morning and write a song. It ended up he needed a place to stay, so we had him stay in our guest room. It was like songwriting camp, unexpectedly, because he was not only observing my family life, living as a member of the household here in the guest room, but he was around at times when things were quiet in the evening, sitting in the living room with his guitar. I just found myself going in there and sitting down with my guitar. That's how the whole thing happened. It was very organic and unexpected.
How did Mitchell Froom get involved with the album?
I just ran into him. He lives very close by. We ran into each other in our little neck of the woods here. It's kind of a small town, at local restaurants. Vonda [Shepard, the Ally McBeal singer who is married to Froom] and I would run into each other as well. We were just friendly. Then I happened to be at this Ron Sexsmith/Caitlin Rose show at Largo. I was there to see Caitlin mostly and Mitchell was there to see Ron. It ended up being just a moment to chill out and talk and catch up. I'd just written this batch of songs and I was really excited about them. I introduced him to Brassell. He called me a couple of days later and said "I want to hear those songs you were talking about." So we went over with just a couple of guitars because we hadn't even recorded them or made demos or anything. That's how that happened.
You were saying at your show at World Café in Philly a couple of weeks ago that you wrote "Raining" with Mike Campbell [of Tom Petty's Heartbreakers] many years ago. How did that originally come about and when did you realize that you had to record it?
I actually pitched that one to the Bangles, too, for Sweetheart of the Sun. In the end, it all worked out the way it was meant to. I had rediscovered it around the time of making that record, maybe even a little bit before. I was keen to revisit it. I worked with Mike in 1989 right as the Bangles were winding down. [The band broke up from 1990-1999.] I really loved working with Mike and then we just drifted into our different world and the song just kind of sat there. I'm not really sure why, but I guess it was all for a reason. I had always in the back of my mind remembered how much I liked it. I wanted to figure out a way to sing it again. I showed it to Brassell and he really liked it. We just started jamming on it. Then I went to see this other artist that Brassell was friends with, this girl Tristen, at the Echo in Silver Lake. Benmont Tench [another member of the Heartbreakers] was there. I said I'm working with Brassell. We came upon the idea of doing a club show doing some of my older songs that I've been hanging onto all these years. One of them was the one I did with Mike. Benmont had played on the demo of it, so he kind or remembered it. He said, "You've got to call Mike. He'll be so happy to hear from you." I said I'm too scared, I'm too shy, I haven't seen him in years and years. He said, "No, no, no, definitely call him." I got up the courage to call him and he answered right away and it was great. He didn't quite remember how the song went, so I sent him a little .MP3 of it. He said, "Yeah, yeah, yeah." He encouraged me to refresh it, reinvent it a little bit, since it was... well you can do the math, it was written in 1989, so it had been sitting there for a long time. That's what we did. Brassell and I presented it to Mitchell and he said, "I love it. Let's do it." So it ended up on the list.
Between Someday and Sweetheart of the Sun you have released two albums and done two tours in just over a year. Previously you went years between releases. What do you think has led to this spurt of activity?
Well, the Bangles were definitely wanting to do another studio record. Because our lives are always so complicated... just to get the three of us in a room together with everybody's families and life and just juggling and multitasking, it's always complicated. That record took way too long to make. We started it in... oh, I don't remember, I want to say early 2010 and we didn't get it done until midway through 2011, but that's cool. So we finally got that record done. Again, it just takes longer with the Bangles things. When I started writing the songs with Brassell and luckily ran into Mitchell, and we had our team together, I didn't want to waste any time. I also didn't want to take a long time making the record. Mitchell's whole plan of action was very, very fast and efficient. Having just spent a year and a half making Sweetheart of the Sun, I thought, you know what, I have this little break between tours and Mitchell's available and Brassell is here. We needed some songs, so we just thought we've got to get four more songs written in three weeks. And we did. We just kept the pressure on. That's why this record was made so quickly. It was just the right time. The stars aligned in my little universe here, my little creative universe, and it came together. Then there was this bit of a delay because my record was done and ready to go right when the Bangles were heading out on tour in the Fall of 2011. I just wasn't sure how in this day and age to put out a record. So I decided to just do a distribution deal. The record business is so different. There is something kind of nice about it. I have to admit, I kind of like the way that it is. I like the independence that I can experience as an artist. I mean, you saw the show where I didn't have my rhythm section.
I did...
This whole journey for me is realizing what I can do and how I can do things with a lot less structure than I thought that I needed. I can throw myself out there in front of people and if I keep my wits about me and just open my mouth, sound comes out. If someone hands me a guitar, it doesn't matter if I've never played that guitar and it's almost the size of my entire body. I can figure out how to play it. I can do it. That show that you were at was very special for me, because I really was terrified. Once I got out there, I just realized, wait a minute, this doesn't have to be so scary. This can be fun. I can do it.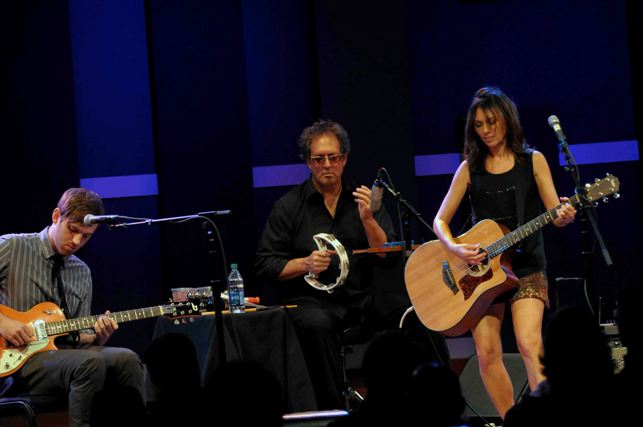 It was great the way you told the audience your rhythm section wasn't there and the crowd was getting into it being a looser show.
It was really a great night. I'm actually really happy that so much of it was documented and available for viewing on YouTube. Because it really was a trial by fire and yet it was such a lovely night. It will always stay in my memory. The whole tour was like that, interestingly. Every single show was different. Every single show had its own energy, it's own set list, ever-changing. There's something really refreshing about that for me.
What do you think of the current state of the music business? The label system the Bangles came up in is obviously broken, but young acts do have many more outlets to get things out there. Do you think that a band like The Bangles could have gotten an audience in this atmosphere?
Wow. I don't know. The Bangles were so much a part of the 80s and the culture of the 80s. MTV and being on the label that we were on. I don't know how it would have been. The Bangles were a very determined group of women, so I think that we would have had some kind of career. I don't know if it would have ended up the way that it did. I don't know if we would have had quite the exposure. We had records that were played on Top 40 radio and videos on MTV, so we had access to the mainstream of where people heard or saw music in that time period. (laughs) But, again, we were very determined. We were a hard working little club band for years. Honestly, I was happy doing that, too. I've always felt happiest playing clubs. I would have been fine no matter which way it ended up. We did somehow get lucky in terms of just the mass exposure and having songs like "Walk Like An Egyptian," "Manic Monday," "Eternal Flame" and "Hazy Shade of Winter" that got a tremendous amount of exposure through radio and video.
Now going way, way back, obviously the band had gotten some acclaim with the Fawlty EP and All Over the Place, but it was when Different Light and "Manic Monday" were released that things just really took off. How surreal was it when after years of trying to make it you were suddenly all over the radio and TV?
It's pretty crazy. You don't really feel it for a while. Your lifestyle doesn't change much. Then all of the sudden you realize you're playing bigger places. There's more pressure. It's harder to say no. It's harder to stop. It's hard to slow down. It's pretty high energy. Looking back, it's exhausting, because you're just on the move all the time. You're in one hotel room, another hotel room. You're always going from point A to B. Onwards and upwards. I think it's good that happened to me when I was young. (laughs) It would be hard to maintain that sort of momentum and movement. I'm very happy, I guess I should say, at doing things at the pace that I'm doing it and feeling a sense of control. A little bit more control over how things go. I think [the old lack of control is] partly the nature of being in a band. It's partly the nature of being tied to a giant record company and having your life connected to a tremendous amount of other bands and a lot of other people with a lot of agendas. It's just a lot of pressure. I'm glad that it happened when it did, but I don't necessarily crave it now.
Both Vicki and Debbi told me that you were the first to suggest that the Bangles originally reform after being apart for about a decade. In fact, I was at that first show you all did at the House of Blues in LA.
Oh, you're kidding. That was so cool.
How did the reunion come about in your eyes? When did you start missing it and how did everyone go about getting it done. I know Vicki and Micki were the last holdouts.
It was a long slow process of getting everybody onboard. Everybody had drifted into their autonomous lives. Vicki was ensconced in the New Orleans music scene. Very heavily ensconced, in her life with the Continental Drifters and actually it went beyond New Orleans, they toured a tremendous amount, Europe and... She was really loving the life as a musician as a part of that collective which was full of so many talented people. That wasn't an easy thing, to transition back to the Bangles with everything that brought up and the perception of the Bangles as an 80s band. In the end what brought us together was the idea of the creativity that exists between us and the potential for that in terms of songwriting and recording and new material. It was a series of phone calls. Even prior to Vicki opening her mind to it, Debbi and I had gotten together. The fact that both of us were young mothers at that point in the 90s brought us together and was just a fun reunion of the two of us – just sharing what that was like. I was working on what I thought was going to be a solo record. Debbi wanted to help me with some songs. We just got together creatively and had written a bit. Again, those songs ended up (chuckles) – "Under a Cloud" was during that time period. "Ride the Ride," which ended up on Doll Revolution, was a song that Debbi and I had just been working on thinking it would end up on a solo record of mine. Then, finally Micki came back, and that was because my husband Jay [Roach, the director of the Austin Powers movies] needed a song for a particular scene in The Spy Who Shagged Me. We happened to be all sitting there, not Micki, but Vicki, Debbi and I. He said, "Look at this scene. Can you guys write something for it?" That's how "Get the Girl" came about. When we went in to record it, Micki joined us. That was the beginning of the regrouping, the reformation of the Bangles.
Michael retired from the band a few years ago, which was really the only major lineup change since she joined after the Fawlty EP all those years ago. When working on and touring for Sweetheart, did it take a while to get used to being a trio?
Well, not really, because we had done quite a bit of touring before then. We had done a couple of tours of Australia. We had done a tour of Europe and there was a woman named Abby Travis who was sitting in for Micki. We never felt we wanted to replace Micki, because even though we'd had different female bass players over the years, the Columbia years in the 80s were really the four of us. So, Abby stepped in. But after a little run with Abby, we started working with Derrick Anderson. Our longtime keyboard player Greg Hilfman had been with us as our touring keyboard player since the late 80s. So, we'd had guys on the stage with us before, so it just solidified the idea that Vicki, Debbi and I were the ones that had started the band back in 1981 in my garage. The night we met, we became a band. It was always the three of is. It's definitely a little bit going way back to our beginning, as opposed to the heyday of the Bangles [with] Micki... when we were on Columbia Records and it was the Bangles as we knew it from that version of it. But the three of us maintained the history, going back to the very, very, very formation of the band.
I spoke with Matthew Sweet a few months ago and he said that you and he were in the early phases of doing an 80s album which he hoped to get finished after you had released and promoted the solo album. What is happening with that?
I know. Another album that is long overdue, yes. My focus, now that I'm home, is to finish that up and get that out next year. And before I forget, I definitely wanted to let you know that you'll be seeing a little press release about this. Over the summer, I went and recorded some covers for myself, just for pure, pure love of singing them. I have a little EP that I'm going to put out in two weeks to time with the season, just a fun labor of love called From Me to You. It's just a little group of 1960s songs I love. One of them, "All I've Got To Do," the Beatles song, I think I sang at the World Café show you were at. It will be available on iTunes.
CLICK HERE TO SEE WHAT VICKI PETERSON OF THE BANGLES HAD TO SAY TO US IN 2003!
CLICK HERE TO SEE WHAT DEBBI PETERSON OF THE BANGLES HAD TO SAY TO US IN 2011!