"I've always had a love for theater," says Henry Simmons. "Out here in Los Angeles, it's more geared towards movies and television."
With a career that is just over a decade old, Simmons has made significant inroads on both TV and the movies. The strikingly handsome actor turned heads for five seasons on NYPD Blue and two more on the recently cancelled series Shark, as well as appearing in several movies. However, growing up in the New York area, Simmons had missed the immediacy of the stage – both as a spectator and as an actor.
Many people feel such a sense of loss when their lives move on, but surprisingly few are willing to put their time and money to rectifying the condition. Recently after returning home for Christmas and catching up on some plays, Simmons returned to work on his then-current series Shark with James Woods. He started discussing his trip with his co-star Sophina Brown and was surprised to find she was a Broadway baby, too.
"She was like, 'Oh, you go to see theater?'" Simmons recalls. "It turned out that she loves theater as well… During the process of work on Shark, she's become one of my best friends. She's absolutely wonderful. Smart actress. Smart woman. When we found out the show wasn't coming back, we both had this hunger to do theater and said, 'You know what? Let's produce something of our own.' We started to tackle projects and plays that we normally wouldn't have a chance for. We were going to get the most growth and the most challenges at that."
Brown introduced Simmons to a small theater company that she was involved in. It is called The Playground. The Playground quickly became a passion for both actors. The first fruit of this passion is about to reach the stage, with Simmons, Brown and Rick Wasserman (of the TV series Swingtown) starring in and producing a run of Harold Pinter's notoriously difficult play Betrayal – which tells of a love triangle destroying three people's relationships. What makes Betrayal different is the time structure, the play starts at the end and works backwards to the beginning.
Betrayal is playing at the Matrix Theater in Los Angeles from July 10 to July 27, 2008.
It is interesting that Simmons has found this passion, because growing up he had no clue that he would ever try acting. The son of an IRS agent and a school teacher who grew up in suburban Stamford, Connecticut, he was a business major in college as well as a basketball star.
It was his coach who first opened Simmons' eyes to the idea of acting.
"He knew I had a love for classic movies," Simmons recalls. "I don't know how he found out, but he knew it. Just out of the blue one day – and I think it was really an act of God – he said, 'You should take an acting class.' I looked at him like he had three heads. I mean, it just came out of the blue. I thought about it and I thought about it and I said, yeah…. He kept saying, 'Hey did you enroll in that class yet?' and I'd say no. Finally I did and I loved it."
Still, after graduation, Simmons took the sensible road and joined a Fortune 500 company in a ground-floor position – and he hated it. Simmons quickly realized he wasn't built to be an exec. Soon he was going on auditions for acting roles during his lunch hour. Eventually he was ready to take the leap. He quit his job and decided to give everything to acting. It wasn't easy – during the first year Simmons was nearly destitute.
"I'll tell you; really that was one of the most difficult periods of my life," Simmons recalls. "Here you are. You go all your life and you train. You go to school saying; okay what I'm going to do is I'm going to get a career where I can be comfortable. Especially in New England, [which is] pretty conservative…. When I do this job, I realize comfort does not translate into happiness."
That was not the only thing which did not translate into happiness for Simmons. He spurned offers to become a model, saying he was uncomfortable with just posing in front of a camera with nothing else to do. In fact, Simmons is refreshingly down-to-earth about his chiseled looks, humbly saying "thank you for that" when I referred to him as a handsome man – almost as if the idea had never been brought up before.
Eventually things started to go Simmons' way, and ironically it was basketball that gave Simmons his first two big breaks. He got a role in the Tupac Shakur movie Above the Rim. Soon afterwards, he got the opportunity to appear in a bit on the long-lived series Saturday Night Live.
"That came about because [of] friends of mine from a movie," Simmons says. "It was a basketball movie and they were supposed to play basketball in this particular skit. They asked me to come along. I said, yeah, I don't want to do any extra work. But I needed the money, so I sat in. A basketball player at the time, named Derrick Coleman, broke his ankle the night before. So the day of, [the producers] said, 'Would you mind filling in for him?' Saying his lines and everything. Yeah, sure! That was my first stint on television."
Soon afterwards, Simmons was hired to be on the daytime drama Another World. He ended up on the show for two years – playing Tyrone Montgomery. He was thankful for the experience, but also thankful to move on.
"I think it's a twofold thing," Simmons says. "It can be helpful [for an actor], but it also can be hurtful. I went in there with a conscious decision to really take the work seriously and try to break down each script and try to work at it from that point of view. Also, it helped me in terms of learning how to work with learning how to work with cameras and things like that. And different directors."
It also gave Simmons the courage to make a huge step. He moved to Los Angeles, deciding that was where he had to be if he really wanted to make it. The risk paid off handsomely. Soon Simmons was brought onboard one of the most acclaimed dramas of the last decade – ironically one named after the place Simmons had just left. Simmons was the latest detective on the classic police series NYPD Blue.
"I tell you, every time I talk about that show, I smile," Simmons says. "I'm so proud of it. I lived in New York for so many years and I came out here with nothing. I was blessed. Within the first four months I got that audition for NYPD Blue. Everything happened from there."
Of course, NYPD Blue had been filming for several years before Simmons joined the precinct. This put Simmons in the interesting situation where he was a newer character having to fit in on an established show. However, Simmons never really felt the learning curve or the need to fit in.
"I'll tell you why," Simmons recalls. "It didn't because of the caliber of actors, directors, writers, producers…. To this point, to this day of all the things I've done NYPD Blue is where… and no slight to anything else… it's just where across the board from the top of the ladder to the end of the ladder, where everything was top caliber. Everyone was so passionate."
It also gave Simmons the opportunity to work with one of the great actors on television, Dennis Franz, who played Det. Andy Sipowicz through the run of the series. Later, after Blue ended, Simmons had the opportunity to work with yet another great actor, spending two years with James Woods in the series Shark. Simmons appreciated the opportunity to work with these talented men, and the chance to learn from them.
"From Dennis Franz, I've learned preparation and being in the moment," Simmons says. "I've learned a lot by seeing him work. He's very much in the moment and very much about the character. With James Woods I've learned many things – not just from an actor's perspective, because the thing about James is he doesn't look at things just from an actor's perspective. He looks at things from a director's perspective. It's much more effective as an actor when you can look at things from different perspectives. When you approach a scene… not in the work that you do at home, but I'm talking when you're actually on set… you [can] approach things from even the audience's perspective. He's very attuned that way."
Simmons was also grateful for the two years spent on Shark, which was a huge hit in its first season but then surprisingly was cancelled after the second – despite respectable ratings. Still, he wouldn't trade the experience.
"Shark was wonderful," Simmons says, enthusiastically. "It was absolutely wonderful. It was nice stepping into a show that was actually growing and wasn't already established. It was nice to be involved with something where there was an energy. Where people were hungry to find their way. It was very rewarding. Particularly with the caliber of actors I worked with there and the relationships I've gained with those people."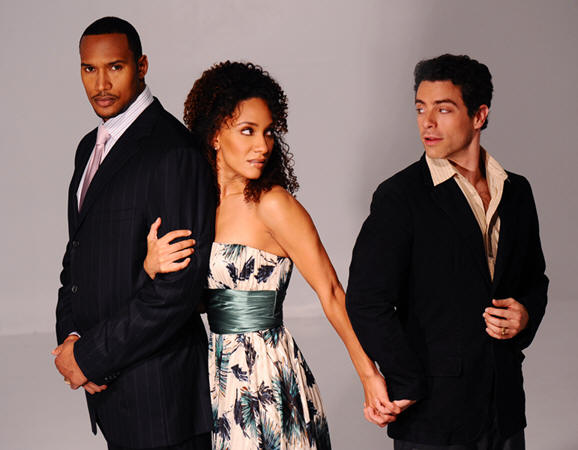 One of those relationships led to the Playground. Just because Shark was off the air, Simmons and Sophina Brown were not ready to stop working together.
"Sophina was already involved with it and I now am involved with it," Simmons says. "It's growing. It's been a while, but it's now growing. We don't have a tremendous amount of actors, so we had to get a play that was low in cost and didn't have a lot of players in it."
The script they settled on was Harold Pinter's Betrayal – a play which Simmons acknowledges he was not all that familiar with when they chose it.
"Honestly, that's one of the reasons why we chose it," Simmons says. "I didn't want to do something where I was comfortable with, that I had already done or even experienced in some way. I wanted to do something that was completely foreign to me. All of us did.
"We came across this play. I was like: oh, yeah, this is great, this is great." He laughs. "It wasn't until we start with the rehearsal process that the director and the actors – all of us – we realized wow, this is much more difficult than it appears on paper."
Simmons plays Robert, a married man whose wife Emma (played by Brown) has an affair with his best friend (Wasserman). It is a complex study of human emotions; none of the characters react as you would assume they would. Some of the great actors of our time have played the role. Ben Kingsley did the role in the movie, following up his Oscar for Gandhi. Other actors who have played the role over the years have included Roy Scheider, Daniel Massey, John Slattery, Hayden Adams and even the playwright Pinter, himself.
However, Simmons is not concerned about comparing with previous performances. In fact, he says, the Playground's version of Betrayal is unique on a very simple level.
"I think our play is significantly different from anything that's ever been done simply by the dynamics," Simmons says. "You know, two people of color and someone not. That dynamic alone, I think, sets us apart from everyone else. Personally, me being an African American, I certainly don't act as an African American. There are things that I bring to the role from my own experiences… or I should say, not my experiences, but my own perception that makes mine different than anyone else's."
Betrayal is a pretty dark play. Simmons has also tended to take very dramatic roles on television. Yet, surprisingly, most of Simmons' work in films has been in comedies – including Are We There Yet?, Madea's Family Reunion, Something New and Taxi.
In fact, that distinction is such a surprise that it even surprised Simmons.
"Hey, that is interesting," he says, surprised. "I never even realized. I didn't realize that. That's pretty good. You know, I think my heart goes towards drama, but I love comedy as well. I really love comedy because it's a different color. As an actor, whatever picture I want to paint for me – on my canvas of work – I want many different colors."
It's no real surprise to those who know him, though.
"Among people that are really close to me, I'm very silly," Simmons says. "These characters I play are very serious and they're tough guys at times, but I'm silly. I'm a silly guy. I'm just loose and laid back."
One dramatic film that Simmons has done was the indie South of Pico, for which he recently won Best Actor from the American Black Film Festival. Right now, the film's release is up in the air, but Simmons hopes it sees the light of day.
"I don't know about its release," Simmons admits. "I'm not sure yet. I think it's very tough with independent films. This one is a straight drama. It's very dramatic. It's about four people from different walks of life. Their lives come together and are intertwined based on one tragic event that takes place. These people are pretty much in a crisis of their lives and this one event that takes place brings them all together in some way."
Simmons realizes that he has been lucky to do what he loves as a career and he does not take that for granted. He tries his best to help causes that touch him – either through money or spreading the word. Lately he has been active in helping the Santa Monica Rape Treatment Center.
"I think if somebody knows my name or recognizes me, I think it helps if I can speak about certain things that I'm passionate about. Because, like the Rape Treatment Center – I really didn't know anything about it until other celebrities talked about it."
Another thing Simmons is passionate about is the condition of the United States. While he does not consider himself to be an overly political man, he has done his part to help in the 2008 Presidential elections.
"From the very beginning I've supported Obama and I've been to a lot of fundraisers," Simmons says. "I'm on their website. I mean I wouldn't say that is a cause, but the direction of this country is something I'm passionate about. I'm not Alec Baldwin in any way. I'm not. Alec Baldwin is very knowledgeable and I really admire him, in terms of his stance. I'd like to stay in the background and try to promote things that way."
For now, though, the main thing he wants to promote is The Playground. Theatre is not just a passion for Simmons, with a possible looming actor's strike; it is a good alternative to stay busy during any down time.
"Well, that's the goal," Simmons says. "Honestly, the goal for the Playground is to do one or two plays a year. This is our inaugural play that we are producing and putting up, but that's the goal, to do one or two plays a year. In terms of the strike, we'll just have to see. But we're also looking at something later on this year."
In the meantime, Simmons enjoys playing a wide variety of roles. For a man who people just naturally notice, though, Simmons likes the idea of blending in. Not that he is against the idea of taking leading roles. However, that is part of his master plan.
"I think at some point… yes, I would like to do leading man work. Yes. For this reason – because I think in doing leading work it offers more opportunities to do character work. That's ultimately what I love most, the character work."
Perhaps that is the best way to describe Henry Simmons. He is a character actor in a leading man's body.
Features Return to the features page