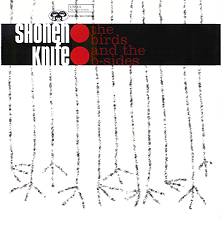 Shonen Knife-The Birds & The B-Sides (Virgin)
The idea of three Japanese girls who are obsessed with American kitsch culture picking up instruments and pounding out pop tunes may seem strange to some, but Shonen Knife have put together a nice little body of work.
On this collection of B-sides, cover and live tracks, the band shows an infectious zeal. This is shown early on with a quirky cover of the Carpenters' "Top of the World," the dinky guitars and even the band's pidgeon English vocals somehow accent the giddy joy of a new love.
Problem is about halfway through these 18 songs, you realize a little Shonen Knife goes a long way, and by the time they end up with live English language versions of early indie hits like "I Wanna Eat Choco Bars" and the tribute to like minded American pop group "Redd Kross," they've pretty much lost you.
Jay S. Jacobs
RETURN TO RECORD REVIEWS MENU
Copyright © 1996-1997 PopEntertainment.com All rights reserved. Revised: January 31, 2016.
Shonen Knife-Brand New Knife (Big Deal)
After a short, fairly unproductive internship with Virgin Records, everybody's favorite Japanese rock-pop girl group is back in the indie ranks.
I'd like to say Brand New Knife is a return to form for the band, but that would only be partially true.
As always, the tunes are upbeat, the guitar chords are so cute you almost want to pet them, and the pidgeon English lyrics raise a smile. But the songs, while good, don't exactly push the envelope. The opening track, while perfectly pleasant, has to be the least forceful song with a title like "Explosion!" in history.
Songs like "Fruits and Vegetables" and "Frogphobia" continue the band's fascination with weird lyrical concepts, and seven Japanese bonus tracks fit in pretty nicely.
While it is a very pleasant listen, in the long run, Brand New Knife is a slightly below average Bangles album with accents. (5/97)
Jay S. Jacobs