PopEntertainment.com > Feature Interviews - Theater > Feature Interviews - Actresses > Feature Interviews P to T > Rebecca Schull
Rebecca Schull

On the Naked Stage

by Ronald Sklar
Copyright ©2008 PopEntertainment.com. All rights reserved. Posted: April 21, 2008.
It never fails to shock us when a beloved TV character takes a sharp left turn and makes daring choices.
Rebecca Schull, for instance. Her name may not be instantly recognizable, but she has that face that makes you feel like you've seen it a million times. And you probably have. She's best known for her portrayal of Fay, the kindly former flight attendant and surrogate mom, on the hit NBC series Wings. She was also seen in Analyze This and its sequel, Analyze That, as well as the chilling classic, United 93.
However, she reveals a compelling darker side in her self-penned stage play "On Naked Soil: Imagining Anna Akhmatova." With Schull in the lead role, it's featured for a limited engagement at the Theater for the New City in Manhattan.
The story, based on the life of the beloved Russian poet, is set in Russia under the paranoia and stifling repression of the Stalin regime. Akhmatova loses both her husband and son to a random intrusion and arrest by the secret police. Despite some initial hope, her family is never to return.
Left alone to fend for herself, for the rest of her life, she finds her voice – and even warm friendship – in the wake of her unbearable loss.
Her grief, which would naturally be indescribable, is somehow brought to a vivid boil by Schull's skilled writing and acting.
"She was a genius of a poet from the time she began," Schull says. "As soon as her first book of poetry was published, she was acclaimed. She just was a brilliant star. It was like somebody like Byron appeared. She was recognized from the very beginning. But it was a different kind of poetry and there was no doubt that the life that she lived through that horrible era had a profound effect on her.
"I think she very seriously considered herself a witness to that time. She felt obligated to write about it. Of course, the writing always had a very personal tone. It's not like she ever wrote an overtly political poem. It was just what this cruel age did not just to an individual, but to an individual who represented millions of people. It wasn't just her tragedy. [The Russian people] all lived through it, but they didn't all make great poetry out of it."
Yet Schull successfully did just that, bringing the story together from both fact and fantasy.
"It's not meant to be a documentary," she says. "That's why the title has the word 'imagining' Obviously, I used a lot of information from her own autobiographical notes, and from other people's memories about her. To this day, she is a great heroine and a great personality in Russia. She was one of their great poets. A lot of people have written about her. I used a lot of that material to put it together however I did. I never felt that it was a documentary. It's not. There are a number of scenes that are completely invented and there are many scenes that have some of her stuff and some invention."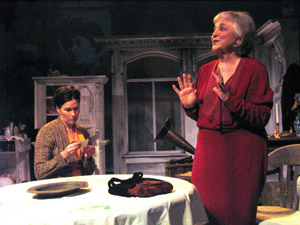 The subject is seasoned with a flavor that is not as easily identified in the Western World. Here in America, we don't mourn for poets. And the closest we get to worshipping great wordsmiths with a frenzied passion is with our rock stars.
"The status of poetry in that country is something that we absolutely can't grasp," Schull says. "It's just so integral to the lives of people there, and not just intellectuals. It's just sort of something in the Russian soul. I can't imagine that in this country, that the death of a poet [would cause such a stir]."
Schull herself had been causing stirs in unexpected ways most of her life. She had written a children's book about the Federal government, as well as a book on Ghandi. She raised three children and was bit by the acting bug relatively late in life.
"My husband went to take a job in Dublin as a sales manager for a company," she says, "and I went with him. I just started taking classes at this little Stanislavsky studio because I was past 40 at the time, and I had no thought of making a profession of it. I was also a journalist for some of the Dublin papers and I wrote some about theater in Dublin."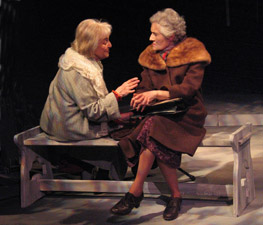 Was acting a passion for her?
"I wouldn't even say that," she replies. "I would say that it was a fantasy for me, that it was something that I would have liked to have done [earlier on]. Growing up, I think acting meant being a movie star, and I didn't have that kind of ego and I didn't have that kind of drive."
Yet, her years as Fay on Wings have won her instant recognition and millions of fans all over the world.
"That was wonderful," she says, lighting up at the mere mention of the series. "That was just wonderful. The most terrific group of people, and the producers were great."
Including, sadly, co-producer David Angell, who was a passenger on one of the planes that perished on September 11, 2001. Ironically, Schull would play a part in United 93, the acclaimed film that "imagined" that fateful day.
However, despite her many roles in film and in theater, it was the power of television that made her a household face, if not a household name.
"I really appreciate it a lot," she says. "I consider it a great compliment. People stop me on the street. They say how much they love the show and how much they love me. It's very nice to be recognized, because nobody ever stops the creators of the show on the street to tell them how terrific it was. Or the writers. To me, it's just a bonus."
Email us Let us know what you think.
Features Return to the features page.

Copyright ©2008 PopEntertainment.com. All rights reserved. Posted: April 21, 2008.
Photo Credits:
#1 ©2008
Jonathan Slaff
. Courtesy of
Jonathan Slaff & Associates

.
All Rights Reserved.
#2 ©2008
Jonathan Slaff
. Courtesy of
Jonathan Slaff & Associates

.
All Rights Reserved.
#3 ©2008
Jonathan Slaff
. Courtesy of
Jonathan Slaff & Associates

.
All Rights Reserved.
#4 ©2008
Jonathan Slaff
. Courtesy of
Jonathan Slaff & Associates

.
All Rights Reserved.