It's the third season for the popular TNT police drama Rizzoli and Isles, and that is a very special time for star Sasha Alexander, who plays the brilliant-but-socially-inept medical examiner Maura Isles.
Believe it or not, despite having eye-catching stints on such previous series as NCIS, Dawson's Creek and the short-lived Presidio Med, this is the first time that Alexander has played a character for three seasons. (She did return to NCIS - which she left to explore other opportunities - a couple of times for the third season in flashbacks.)
However, now she feels perfectly comfortable where she is - in the morgue's office of the series based upon Tess Gerritsen's hit series of mystery novels - and she wants to see how the story ends.
The third season takes place on the heels of a stunning cliffhanger - her best friend, cop Jane Rizzoli (Angie Harmon) has just shot Maura's long-estranged gangster father. The new season will explore how the two friends heal from this trauma and also look at the search for Isles' birth mother.
Despite the fact that Alexander was suffering from a little bout of laryngitis, she was kind enough to recently have a conference call with us and a couple of other media outlets to preview the third season of Rizzoli and Isles.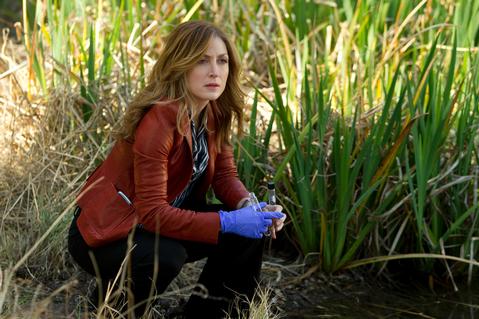 What fears did you encounter when you thought of filming season three, as opposed to the other seasons? Was there something different you felt going in?
I was really excited because I feel like season two ended with such a strong emotional and intense moment between Maura and Jane. So I was curious to see where we would begin season three, and we started just moments after. Maura is reeling from the shock and, obviously, the anger she's feeling that Jane shot her father. It's really great. It's really fun to play that side of Maura and to have it be that kind of that intensity. [It] was exciting to see where it was going to go.
What characteristics of Maura are closest to Sasha, yourself?
Kindness. I think Maura's kind. I think she's generous and polite. I would definitely say those are some of my better qualities. I'm not as much of a brainiac as she is. I certainly don't have as big of a vocabulary. (laughs) Those are the similar qualities. And I like the fashion.
The dynamics between you and Angie are phenomenal. What do you attribute that to personally as opposed to on screen?
Personally, a sense of humor. We both share a similar sense of humor. We have a lot in common in real-life: in terms of our families and being mothers and all that. I think that we bring those things. And having heart. Having a respectful relationship as women and bringing that to the screen. Wanting that to be to the screen. Wanting it to be a positive relationship between these women. I think that attributes to sort of the way we play the characters.
Now you mentioned earlier that having your best friend shoot your father - even if he was estranged - is kind of a tough thing to get over in a friendship. Are the ramifications of that act going to be explored throughout the entire season, or do you think that they'll be able to put it behind them?
No, they wrap up pretty quickly. At the end of the first episode they get to the bottom of what the crime was, and what actually happened. So I think that that clarifies a lot for both Jane and Maura. But they're not completely ready to say they're sorry because there's a lot of miscommunication between them. That leads into the second episode. Korsak (Bruce McGill), Frost (Lee Thompson Young) and Angela (Lorraine Bracco) all get involved in getting them back together. They end up in a life or death situation. And so their friendship will kind of come back by the end of the second episode. They really earn their way back. I like the way that it all comes together. It's not wrapped up immediately, but they're back together very quickly. Quickly enough.
You did some nice work with Jacqueline Bissett. She's had such a long and respected career. What is she like to work with?
Oh she's a wonderful woman. She's has a really enormous sense of humor. She's so beautiful. And she's not like at all fake and done up for a woman. She's just lived, and she's just... she's gorgeous and a really funny, funny lady. I like her a lot. I had a good time working with her.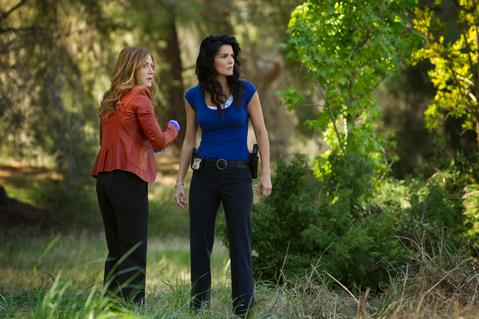 I was reading in an earlier interview that you'd done before the first season, that you hadn't read Tess Gerritsen's books before getting the job. Have you caught up with the series since you've starting playing Isles?
I have. I have a few more books left to read, but yes, I've read a lot of them and I love her writing. I'm a big fan of the books and what she's created and of her, personally. She's really an amazing lady. So, yes.
Judging by the way last season ended, the dynamics between you and Jane are going to be completely different. How did you approach playing the character going into the new season?
Well, Maura's going to get much tougher this season. I think all this stuff with her family has really - it's changing her in a different way and its toughing her up. She's in a moment of self-discovery; of figuring out who she is; where she came from; and finding her biological mother is a big part of the first part of this season. I think all that brings on a lot of emotional stuff for Maura that is very new. But she's going to toughen up. I think that Maura's been compartmentalizing certain parts of her life. Now ever since Paddy Doyle entered the picture it's opened up this whole new part of who she is. And so we're going to see a tougher Maura. I still think a really funny Maura, and none of the comedy is going to go away. But I think a tougher Maura.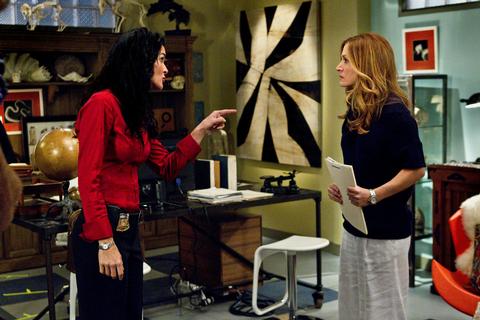 With everything that you have going on how do you find balance and handle it all? I mean, personally and professionally, where do you find the balance in your life?
Oh gosh, you know what? I think I speak for every working mother when I say that it's just difficult. I feel like when it rains, it pours. You get a job you that love and a character you love, but I'm at that time in my life where I'm building my family. So I have little kids at home, and a husband that I love and it's really challenging. I don't really have five minutes to myself unless I'm driving to or from work. (laughs) That's why I have laryngitis today. It's really challenging, and I just try to take it day-by-day. I try to stay happy when I'm at work when I'm working, and when I'm home really be with my family and be present and with them. I have very little time for social time with my friends and that can be really tough, but it's the way it is right now. When we're not shooting, I have more time. So you just kind of take it day-by-day.
What makes Maura memorable to you as opposed to other characters that you have portrayed?
Well I just love Maura. I love who she is. I love what she does for a living, and how her mind is; how she thinks; I love the comedy in her; I love that she's off-beat; that she has a bit of, I think, Asperger's where she's just socially a little awkward. Physically fun to play somebody whose priorities are not just being liked, and being interested in whatever you might expect a woman like her to be into. I like her. I think she's a good person. And she's interesting to me. It's always very unpredictable what's happening to her and all the mysteries that are unraveling about her life are really exciting. Emotionally this season, it's really pushing it much further for me. I enjoy her. I feel like she's not boxed in. I felt like other characters on other shows were very boxed in, like: don't be too sexy, don't be too funny, don't get too angry. On Rizzoli & Isles we don't have that problem. We have a woman writing the show and she's like, "Get angry. Get funny. Don't worry about it. Play all colors, and all complications of women that we are." I like that.