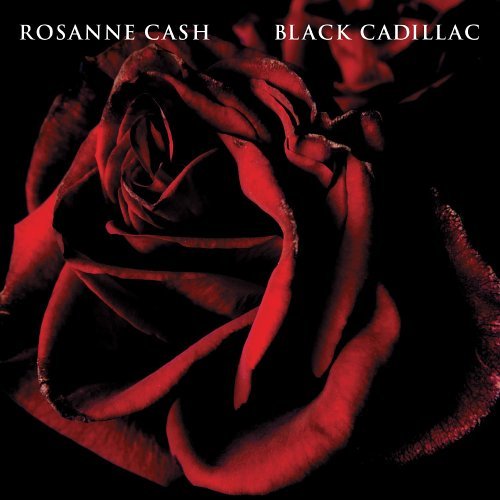 Rosanne Cash-Black Cadillac (Capitol)
The past few years, since the release of Rosanne Cash's last album The Rules of Travel, have been hard ones for the singer. Not only did she lose her legendary father (Johnny Cash died in September 2003), she also lost her mother (Vivian Liberto Cash Distin), her beloved step-mother (June Carter Cash) as well as a troubled step-sister (Rosie Nix Adams). So it was a particularly dark period for one of the most devastatingly introspective singer-songwriters in popular music.
These deaths cast a shadowy pall upon Cash's new album. It is not exactly mournful but it does infuse the disk with a gravity and introspection that reaches deep even for the artist behind arguably the most poignant CD of the last decade -- the 1990 masterpiece Interiors. Still, beyond just the sorrow this album throbs with love, passion, joy and loss.
Perhaps inevitably, the album starts with her father's voice, a disembodied Johnny urging her, "Rosanne, hey, come on..." This stark moment segues into the title track, a surprisingly muscular sounding guitar line over such heartfelt lines as "It was a black Cadillac that took you away..." "It was a black Cadillac like you used to drive..." However the song isn't in any way morbid, it is instead a loving tribute to her father, complete with mariachi horns playing subtle tribute to Johnny and June's landmark "Ring of Fire."
The album switches gears musically from the rock-tinged "Radio Operator" to the implacably sad "House on the Lake." There is great joy and reminiscence in "God Is in the Roses." And Cash's lyrics are even more bitingly caustic than ever. Just look at this couplet from the devastating "Like Fugitives" -- "It's a strange new world we live in, where the church sends you to hell, and the lawyers get the money for the lives they divide and sell." Then she is smart enough to follow this with the almost upbeat escape of "Dreams Are Not My Home."
The one tiny slip up in the album is still an amazing song. "I Was Watching You" is a gorgeous meditation on the 50 years Rosanne and Johnny had together, though musically, the song is just a hair too reminiscent of Aimee Mann's "Wise Up." Which is certainly a great tune to draw a comparison to, however Cash's music has always kind of stood in it's own little world. The vocals and lyrics are so exceptional (and the singing, by the way, is nothing like on Mann's track) that it is almost disorienting that the piano run feels so familiar. However, knowing Cash's stubborn artistic integrity I have no doubt that this was a complete coincidence -- two brilliant singer songwriters sharing a flash of inspiration.
So many artists become maudlin when looking at mortality, but Cash will not stoop to such cheap emotionalism. The songs of Black Cadillac have a lived-in, heartfelt familiarity, a resignation, a deep memory of joy and a quiet, ever-bonding love. Sad, yes, but in the way that life is sad -- this pulls the heartstrings because life is sometimes tragic, not because a tragedy is necessary to make an audience feel. In doing so, it becomes one of the most heartfelt musical meditations on death since Lou Reed's Magic and Loss and Tom Waits' Bone Machine over a decade ago. Maybe ever.
Many children of iconic parents struggle in their shadow, however though she graciously pays tribute to the people she loves here, Rosanne Cash is the rare example of a child who is completely worthy of the name. In fact if you get technical, Rosanne's voice is greatly superior to her father's and her talent of painting a lyrical picture is even slightly better. This is not meant in any way as a dismissal of Johnny's talent -- he was a brilliant artist -- this is just an acknowledgement of the incredible talent of his oldest daughter. Black Cadillac is yet another shining gem in the career of an artist who has many of them in her back catalogue.
(

1

/0

6

)
Jay S. Jacobs
Copyright © 2006 PopEntertainment.com. All rights reserved. Posted: January 20, 2006.
Copyright © 2006 PopEntertainment.com. All rights reserved. Posted: January 20, 2006.