PopEntertainment.com > Feature Interviews - Music > Feature Interviews A to E > Rosanne Cash
Rosanne Cash

The Rules of Returning

by Jay S. Jacobs
Copyright ©2003 PopEntertainment.com. All rights reserved. Posted: April 2, 2003.
It's sometimes funny the changes life puts you through. In 1990, Rosanne Cash was on top of the world. Her album, Interiors, was a crowning achievement in a career that had been on the fast track for over a decade.
Cash had to overcome the blessing and the curse of being the daughter of Johnny Cash, an iconic figure in country music. She became a country music star with her 1981 album Seven Year Ache and its crossover success title track. She never looked back, penning and recording classic Music City hits like "I Don't Know Why You Don't Want Me," "Blue Moon With Heartache" and "It's Such A Small World," her duet with then-husband Rodney Crowell. Her music won her accolades and twenty-one Top 40 Country singles... fifteen of them went Top 10. Her marriage to singer/songwriter/producer Crowell had also made her Music City royalty. But Rosanne Cash never felt comfortable being boxed into the country niche. Her songs embraced rock and roll, doo wop, blues and folk as well as country.
Interiors topped many best album lists in 1990. The album may have been greatly inspired by the fracturing of her marriage to Crowell, but it was also significant for signaling her divorce from country music. At least the country music that was coming out of Nashville. Interiors dug deeper than the country programmers who were pushing songs like "Achy Breaky Heart" and "Friends In Low Places" were willing to look. Highly autobiographical (though Cash has often insisted it isn't quite as true to life as everyone assumes), Interiors was a brilliant, introspective album more on the par of something from Bob Dylan, Leonard Cohen, Bruce Springsteen or Tom Waits than Faith Hill or Leann Rimes.
It was followed up by the lovely (and significantly more hopeful) album The Wheel, which was also the first album she had produced by her soon-to-be husband John Leventhal. Three years later, she released 10 Song Demo, which was exactly what its title suggests, ten demos of new songs. And then, there was nothing. Seven years have passed since 10 Song Demo... ten since her last complete studio album... What happened to Rosanne Cash?
Cash had started working on the album that would become Rules of Travel in 1998. As always, life comes in and complicates the best laid plans. Rosanne got pregnant. Her father was also in ill health. (ed. note: soon after this article was published, Rosanne's stepmother, June Carter Cash, passed away.) Then, through a medical problem, Cash lost her singing voice for an extended time. The fact that she couldn't sing wasn't going to stop Rosanne from writing, though. She wrote the critically acclaimed short story collection Bodies of Water, a children's book and many magazine articles.
But now Rosanne Cash' voice has returned and she has come back with an album that deserves mention with her classics. Now that Rules of Travel is finally coming out, Cash is getting more rapturous critical notices. It's almost like she had never left. Cash was kind enough to sit down with us to discuss the voyage that led to Rules of Travel.
I'm sure you're probably getting a little tired of talking about this, but because of a polyp you could not sing for a few years. How frustrating was that and did you worry you may never sing again?
It didn't worry me at first, because I was pregnant. I was mostly concerned with having a baby and taking care of this baby. So, I didn't really think much about it. I wasn't in a mode where I wanted to work a lot, anyway. Also, I knew a lot of singers who'd had vocal polyps, so it didn't seem like such a big deal to me. But, it was complicated, because they thought the polyps were hormone related from my pregnancy. The doctor cancelled my surgery, and we had to take this gamble of seeing if my voice was going to come back. I was very frightened of the surgery. It [had] just happened with Julie Andrews, and she lost her voice. So, it was kind of scary. But, it wasn't really until the end of the second year that I thought, "wow, I might not ever get my voice back.' That became a dark night of the soul. That was painful.
When did you know you would be able to sing again?
It was towards the end of 2000. I started being able to hold a note. And then, I had maybe four or five notes. And, then I had an octave. Then, I saw that maybe I had a couple octaves, but I didn't have much stamina. I started working with a vocal therapist, and he got my voice back in shape.
In the time between albums, you have been very busy as a writer of prose, releasing an acclaimed short story collection with Bodies of Water, a children's book and magazine articles. How did it feel to do well in a different medium?
It is tremendously satisfying. Annie Liebovitz is doing this book on roots musicians and she asked me to write an essay for the book. I just wrote it and I met with the editor and it's all finished. I feel as proud of that essay as I do of any song. It's tremendously fulfilling. But, there is something so special about songwriting. Fitting that poetry into a three-minute framework and the melody… that's a discipline. That's wonderful.
I think "Rules of Travel" is a terrific single, it could make a really interesting sort of left-field hit.
From your mouth to God's ears.
At this point in your career with all the respect you've gotten, do you still think in terms of getting hits?
Not on this record. I don't have any illusions. There is not really much opportunity at radio for a record like this. Or, for a woman my age, for that matter. (Laughs) You know what I mean? It's not really geared to the kind of music I do. But there are formats. There's AAA. There's alt-country. There's the public stations that are playing it, which is nice. It just means I have to be more creative in trying to deliver it to its audience.
I'm a huge fan of the Odds' Bedbugs so I was sort of surprised after listening to the album a few times that "Beautiful Pain" was written by the Odds' leader Craig Northey, particularly because the song sounded so much like one of your songs. How did he get involved in the album?
We love the Odds, too. We are huge fans. John asked him if he would write something for me. He sent us "Beautiful Pain." I was struck, too, by how ME it sounded. He really got inside me. It was almost disconcerting.
There are also songs by Jakob Dylan & Joe Henry and Marc Cohn on the album. I saw in an interview that you said that you would have preferred for half the songs on Rules of Travel to be written by other people, which was sort of surprising for such a respected songwriter. Why did you feel that way?
At that time. Right now I'm glad that I only took three outside songs. But when we started to get the material together, I had reached saturation point with me. (laughs) You know? I just didn't want to deal with my thoughts and my feelings. I wanted some relief. But, I don't feel like that now.
"44 Stories" is a lovely song. I've heard you are doing a book with the same title. How is the idea of sharing your life as a series of short stories appeal to you?
I was thinking, what was one of the most profound expressions of love? To me, it would be if someone wanted to know all of your stories. Every year of your life. They would go to any lengths to hear those stories,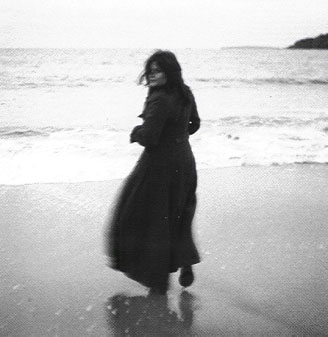 and would respect them, and listen as carefully as they possibly could. That's kind of the idea that inspired the song. I love mixing up my genres. I'd already started to write this book, so I thought, well, I'm going to call it 44 Stories.
Over the years you have performed with your father live occasionally, but I believe "September When It Comes" was the first time you had recorded with him.
That's right.
Why did you decide to work with him on this song, and what was it like?
I didn't plan it. In fact, I recorded the song by myself. At the end, John said, "You should ask your dad to sing on this." I resisted for a long time. He said it several times. He would keep bringing it up every few weeks. I said, no, it's just an invitation for people to think it's a novelty and I'm using my dad. He said, "No, it's this song." I decided he was right. So I asked my dad and he did it. Its kind of… it's really important to me now. I'm so happy we did it. At this point, I really don't care what other people think about it. I'm just so happy I shared that with my dad.
I know that most of the songs were written before the World Trade Center tragedy, but as a New Yorker do you feel that affected the course of the recording of the album?
Sure, it affected me. It affected the life that I brought back to the project when we began to finish it. Also, I wrote the verses to "Rules of Travel" after 9-11. That line, "When do the walls tumble down/Into the sky, into the stars and the ground." That was directly inspired by that.
"Western Wall" was also on 10 Song Demo. I remember at the time that album was released it was said that you may be recording all the songs from that album again. Obviously, many things happened in your life after that, but why did you decide you wanted to try this song again?
Two reasons. First, you know, it's lifted exactly from 10 Song Demo except it has a new guitar line.
Okay, I didn't realize it was quite that close. I'll have to listen to the older version again.
Yeah. It's just a new guitar solo. Two reasons. One, John said, "You know it's one of your best songs and not that many people heard it on 10 Song Demo, it really should have another chance to get out there." I agreed with that. And two – what was going on in the world. I'm not an anti-war protest writer. I mean, I certainly am anti-war, but I haven't written about it so directly. I thought, God, I'd love to put a song that had a sense of compassion between cultures and kind of a spiritual framework. Just a gesture of compassion.
It's been years, at the very least since before Interiors, since your music has been thought of as country music. Even when you were working in Nashville, you never really fit the mold, going off in directions like rock and pop and R & B in albums like Rhythm & Romance and songs like "Seven Year Ache" and "I Wonder" and "Pink Bedroom" and "Never Be You." The surprising thing is for as button-down a music scene as Nashville has been and still often is, they do seem to have opened up a bit more to experimentation. Do you think that more open-minded artists like yourself and Steve Earle and Dwight Yoakam helped open that door?
I don't know that it is more open. I mean, look at the backlash that Steve Earle got for Jerusalem. People thinking that he was writing a pro-Taliban song, for the love of God. Or look at the backlash the Dixie Chicks got; just for exercising their right as Americans for freedom of speech.
Well, I was speaking more musically than politically. Like for example, and I know these are bad cases in point, but look at Shania Twain and Faith Hill. They are being sold as country artists, but they really aren't. They're pop singers.
They are pop singers. That's what I think... that country radio plays pop records now. Does country radio play Lucinda [Williams] or Steve Earle?
Not really, they're mostly in AAA.
Isn't that interesting? They're more country than any singer today…
Or even your father's "Hurt," which is a brilliant single by one of the giants of country music, and country stations won't touch it.
It's fascinating, isn't it? The radio formats and what they're called don't actually reflect what they play.
In the end, how would you like people to see your music?
It's a little dangerous for me to get outside myself and think about how I want people to see me. Because that takes me out of being authentic… But, I would like them to see that I'm a serious writer. Basically, that I respect and belong to the tradition of singer-songwriter.
Email us Let us know what you think.
Features Return to the features page

Photo Credits:
#1 © 2003 Stephen Danelian - courtesy of Capitol Records
#2 © 2003 Annie Liebovitz - courtesy of Capitol Records
Copyright ©2003 PopEntertainment.com. All rights reserved. Posted: April 2, 2003.