PopEntertainment.com > Feature Interviews P to T > Jeremy Piven
Jeremy Piven
Busting Out Into A Hollywood Leading Man
By Marcie Somers
Copyright ©2006 PopEntertainment.com. All rights reserved. Posted: January 16, 2006.
It's 10 a.m. in Los Angeles and Jeremy Piven's day has long since begun. He's had several meetings and reviewed his lines before he heads to a rehearsal for his hit TV show, Entourage. After that, he's off to the American Music Awards. In the midst of it all, he still has not eaten. With his phone constantly ringing, the tea that he made earlier sits cold on his kitchen counter -- Jeremy Piven is a pretty busy guy. And it's no wonder that he is.
After appearing in film and television for over two decades playing supporting characters, he has finally become a leading man. In the HBO hit Entourage, he plays talent agent Ari Gold. This break-out performance earned Piven a 2005 Emmy Award nomination for Outstanding Supporting Actor in a Comedy Series. He was also recently named one of People Magazine's Sexiest Men of the Year. And for the first time in his career, Piven is playing the main character in two upcoming films, Lucky 13 and Smokin' Aces.
"For the first time in my life, I'm number one on the call sheet – I'm the 40-year old virgin," he quips.
Piven, who is indeed forty, takes his newfound fame in stride. "I've been at this for a while now. I think if I were younger, I would be distracted by all of it or think that success defines me in terms of being seen in a certain light," says Piven. "What it boils down to, is that essentially, I'm a stage actor from Chicago who has been working all my life to do my thing. And while I have more options as an actor than I've ever had, none of this is lost on me. It's such a gift to be where I'm at now."
Growing up in Evanston, Illinois, Piven, the youngest of two children, was surrounded by the theater. His parents, Joyce and Byrne Piven ran The Piven Theater Workshop – a training ground for some of his peers, including Rosanna Arquette, Joan Cusack and good friend, John Cusack, with whom Piven has worked with in numerous films, including Serendipity, Grosse Pointe Blank and Say Anything.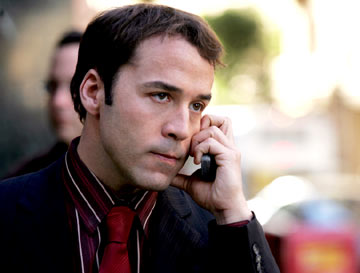 As a boy, Piven was encouraged to express himself creatively. This meant appearing in his parents' productions. This did not always appeal to the young Piven who loved football and preferred to be outside tossing a ball than quoting Shakespeare.
His mother Joyce recalls, "He didn't like to come to the theater, because football was his passion, so it meant lots of negotiation to get him to come to the workshop! But from the moment he walked into the room, he was 100% committed to the task."
Being in a theatrical family, meant also, on occasion, having to come home to a house with no furniture. "Because we were a small theater, and didn't have much money, we would sometimes take the furniture from our home and use it as a prop. Jeremy would come home from school and think the house had been robbed," says his mother with a laugh.
Yet, despite the strong influence of theater at home, Joyce hoped that her son would have broader horizons and that he would become anything but an actor. "We struggled sometimes and we didn't want that for Jeremy."
However after seeing their son act in a Shakespeare production in college, his parents realized that being on stage was a natural career path for their son. Piven recalls, "I remember my parents coming to see me play Marc Anthony in Julius Caesar in college. After my performance they came up to me and said 'you have to act, this is what you need to do for a living.' It was also in college studying drama, when I realized how fortunate and lucky I was to have had the training and support I had growing up. I had always assumed that every kid had a loving family that was passionate about theater and was encouraged to express oneself creatively. My parents gave me a great gift."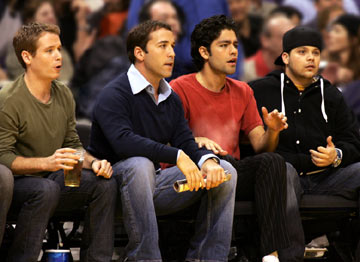 Says family Rabbi Arnie Rachlis, who officiated at Piven's bar mitzvah, "Jeremy grew up in a very unique home. In a way, his parent's workshop was a temple–they were the rabbis and their students were their congregation. They created a spiritual community through art and that's what Jeremy grew up with. Jeremy was a beneficiary of this. He learnt what it was like to be a part of a team and connect with people. He comes from a family whose philosophy is that acting is a higher calling."
The imprint of his parents' influence extends to his older sister Shira, a theater director who lives in New York with her husband Adam McKay who wrote and directed the Will Ferrell hit, Anchorman: The Legend of Ron Burgundy.
Since 1986, Piven has appeared in over 40 films including Runaway Jury, Old School, Black Hawk Down and Very Bad Things. He was also a regular on Ellen and The Larry Sanders Show and in 1998 had his own dramedy, the short-lived but critically acclaimed Cupid. But it was really his time spent working on The Larry Sanders Show that stands out in his mind. "It was such an incredible experience watching Garry Shandling and his people create a world that he knew so much about. I was constantly in awe. I felt more like a student than anything else."
Despite appearing in film and television, his passion is still the theater. Piven continues to perform on the stage, most recently in the critically acclaimed off-Broadway hit Fat Pig. "I love the theater. I believe my best work is done in the theater," he says. Piven compares the experience of performing onstage to the perceived experience of his childhood sports idol, NFL running quarterback Walter Peyton. While acting and athletics may seem worlds apart, Piven believes that "acting is such a momentous sport and when I'm on stage, I have the chance to get that momentum all at once. Plus, I pick up the energy from the audience – it's a great feeling."
"The greatest challenge for me is when I have to play a character that is totally unlike me, such as Spence Kovak from the Ellen show. You bring a bit of who you are to every character and highlight different parts of yourself. Certain characteristics may lay dormant, but you have to find the energy to pull it out. That's what you do as an actor and for me is one of the most exciting aspects of acting."
Piven, who lost his dad to cancer several years ago, wrote a script about a father and son relationship. It was loosely autobiographical and Piven found the process to be extremely cathartic. Pausing to reflect, one of Piven's fondest memories of time spent with his father was when they sat and watched It's a Wonderful Life together.
"I remember I was in high school and it was very late at night. I was in the middle of watching It's a Wonderful Life and my dad came downstairs and wanted me to go to bed. But after he found out that I hadn't seen it before, he told me I had better stay up and watch it. So I stayed up until dawn, with my dad, watching the movie while it snowed outside. It was a beautiful moment and is something that really stands out in my mind. I'll cherish that moment forever."
The influences his father had on him are clear. Rabbi Rachlis says Piven bears a physical resemblance to his father and is sure Byrne Piven would have taken such pleasure in his son's tremendous success today. Piven's own identity is deeply rooted in his father's passion and work. "My father was hanging lights in his theater, performing and doing it all in a 99-seat theater until he passed away. This is where I come from. This is my journey."
Having achieved success as an actor, where is a man of his talent to go? Half jokingly, Piven says, "Starting with a nice Jewish girl, would be nice." That shouldn't be too hard!
Email us Let us know what you think.