You have to wonder what it is like on Father's Day at Michael C. Hall's house. It certainly couldn't be as bad as it is for his characters.
Hall first burst into our consciousness when he played David Fisher, a gay funeral director who is haunted by the memory of his disapproving father in HBO's hit series Six Feet Under. Then for the past five years, Hall has been known as serial killer Dexter, who was mentored in "the code" of his deadly trade by his adoptive old man.
Now Hall is starring in the comic drama Peep World – playing the responsible son of a large, squabbling family. He must throw a 70th birthday party for his father, despite the fact that the obsessive businessman has never been there for his children and always had an antagonistic relationship with all of them.
So all the characters with daddy issues are just a coincidence, right?
"I don't know where I come down on the coincidence front," Hall good-naturedly acknowledged to me recently at the Andaz Hotel in West Hollywood. "But I can't deny that those three characters – two of which have obviously occupied a great deal of my time and focus over the last decade – have fundamental issues with their fathers. I think that's a universally relatable dynamic for any man – whether the father is absent or present or some combination." He laughed. "So, yeah, I think I am compelled by those kinds of stories."
And America has been compelled by Hall's stories for the past decade. The man has only been a lead character in not one but two of the television series most responsible for the cable revolution of the past decade. Six Feet Under lasted for five very popular and critically acclaimed years. Dexter is soon to start filming its sixth season.
However, in recent years, as much as Hall has enjoyed his television work, he has been stretching out into feature films. Last year he co-starred in the Gerard Butler action film Gamer. Now he has two new films coming out – the first of which is Peep World.
Peep World – despite its scandalous title – is actually the drama of an extended family reaching a breaking point. Hall stars with Rainn Wilson (his Six Feet Under co-star), Sarah Silverman and Ben Schwartz as the Meyerwitz siblings, a group of 30ish losers who have grown up in the shadow of their domineering father (Ron Rifkin).
The film is an intriguing mix of comedy and drama, as is suggested by the stand-up heavy cast (beyond comedians Silverman, Schwartz and even Wilson, the cast also includes Judy Greer, Stephen Tobolowsky and even has a narrative voiceover by Lewis Black.)
It was a fun experience for Hall to work in a film with such strong comic overtones – because while both of his series do have some funny parts, the comedy was mostly very dark.
"Someone like me was probably drawn to it because of some of its comic elements," Hall said, "and some of the more comically minded actors – or actors who are more associated with being comic – were drawn to it because of its dramatic elements. Acting is acting. You just play the situation. There are things that are inherently fraught with tension and drama in this, and there are things that are inherently funny. It's just our job to try to tell the truth."
However, after five years of playing a serial killer, it must have been something of a relief to play an overwhelmed businessman with a non-deadly secret, right?
"The time I spend playing someone who is so uniquely afflicted with all this darkness… not that Jack [Hall's character in Peep World] doesn't have his own afflictions… but it's nice to play a person where there wasn't some kind of internal chaos he was dealing with," Hall laughed. "He was dealing with external chaos. He's just a guy. That was appealing."
Just a guy… but he's a guy with a rather crazy family. When the Meyerwitz clan finally does connect for the uncomfortable reunion, the movie is fraught with simmering hard feelings but also some truly wicked satire.
"It was lighter and more free-flowing laughter," Hall agreed. "When we were shooting that dinner scene, there was a refreshing lack of preciousness or sacredness about it. We were all laughing and joining in on that. Cracking up and cracking each other up. Then it would be time to do the scene. That energy, while you turn it off – we're obviously not laughing right now, we're in the midst of a very awkward dinner – really informed a sense of collective participation."
The dinner was awkward for many reasons with this dysfunctional family. Despite the father's ultimate responsibility for some of the problems, each of the other Meyerwitzes brings their own baggage to the room.
Much of this baggage has been outed by the youngest son of the clan, Nathan (Ben Schwartz), who has written a best-selling novel (named Peep World, hence the movie's title) which is very blatantly based on his family. Nathan's book exposes many of his siblings' deepest, darkest secrets under the guise of fiction.
Because of the book, sister Cheri (Sarah Silverman) – who is made out as a bitchy wannabe actress – is suing her younger brother. The book intrudes on her life even more when a movie version is being made, literally filmed right outside her apartment. And to add insult to injury, the actress who is playing her character in the film is their dad's latest girlfriend.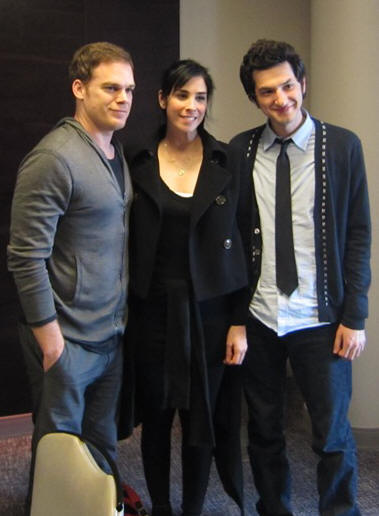 The oldest brother is Joel (Rainn Wilson), the black sheep of the family, an ambulance-chasing lawyer who is in debt to a loan shark and constantly working on losing get-rich-quick schemes.
Hall's character of Jack is trying desperately to keep the peace with his family. At the same time he has to save his faltering business and his strained relationship with his pregnant wife, Laura (Judy Greer). Much of the strain is due to the book, in which Jack's deepest, darkest secret is revealed.
The book Peep World has ripped out the frayed thread the family had holding them together. Yet, as Joel's cop girlfriend (Taraji P. Henson) points out, it was just a book: she has cousins who had shot each other and gotten over it.
"I think it is misplaced anger, misplaced frustration," Hall said. "Not that it's not justifiable to be angry with Nathan for what he's revealed, but I think all of these characters in a different way struggle with a sense of having been deprived of something or missing something. It has a lot to do with their father. The fact that Nathan wrote this book has a lot to do with the father. The frustration with Nathan is ultimately the frustration with the father. That's what reveals itself at that dinner."
We never learn all of the things that Nathan writes about Jack, but we do learn the main thing. Jack's dirty little secret? As suggested by the title of the book (and the movie), it turns out that he sometimes visited those little booths in the back room of an adult book store – the kind of booth that are surrounded by embarrassed-looking men, the hushed sounds of moaning behind closed doors and the acrid smell of ammonia.
And while Jack certainly isn't the first guy to frequent porno shops, the idea of this indiscretion getting out to the world horrified him. Particularly he wanted to shield his pregnant wife, who was trying to believe his protestations that Nathan made this part of the book up for effect. This pretense is blown up when she follows him and catches him in the act.
As an actor, once he got the role, Hall "wrote out a page of what I imagined would be the most damning, upsetting passage from the book. Just to have a sense that everybody around me had read that and was projecting back onto me.
"It was a description of Jack, in that place and in that state, and the master he was serving. What Jack is caught doing in and of itself is like… well, you know… it's not the worst thing in the world," Hall laughed. "But I think the fact that she sees him there suggests that whatever was written that included that kind of information in the book was true – and everything else that was questionable or that she wanted to believe wasn't true was also true. We don't really know what those things are, but they're obviously not so evil that she's not willing to leave the door cracked for him to open up and walk back through in the end of the movie. At least start to."
The healing for the couple, oddly enough, starts on the night of the family dinner. Despite her original protestations, Laura agrees to accompany her husband to the affair and act like nothing is wrong. As she sees how he is treated by his father and family, the seed of forgiveness is planted in her.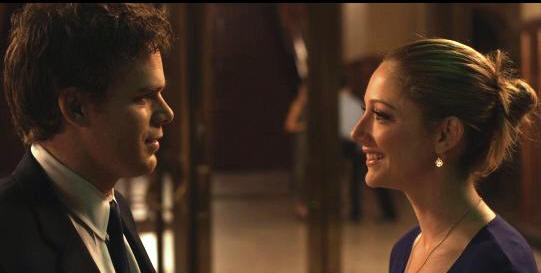 "It is two steps forward, one step back," Hall said. "Or one forward, two back. I'm sure there will be other slip-ups and speed bumps, but I do think that it's a day in Jack's life and in the life of his marriage that will go down as a real big one. I mean, walking away from the business is huge. Standing up to his father on behalf of himself and his siblings is huge, in terms of his relationship to his father and to himself and his relationship to the rest of his family. So, it's a big day. And having secrets that he's been burdened with keeping, to have them revealed is horrifying on the one hand, but it also relieves things to a degree."
Even though they were having problems in reel life, Hall had nothing but nice things to say about the real life actress who was playing his wife.
"Judy is a great comedienne," Hall said. "She's also – not that they're mutually exclusive – but she's a wonderful actress, so present and emotionally available and intelligent and just great."
Nathan's character made himself into a superhero in the book while making all the others look bad, which hardly seems like a familial thing to do. It almost makes you wonder if the character of Nathan really thought out how his family would react to having their dirty laundry outed like that.
"He must have on some level known," Hall acceded. "But we have the ability to lie to ourselves and to believe the lie and to tell ourselves whatever story we need to tell ourselves so that we can do whatever it is that we're compelled to do. That was probably in play with Nathan."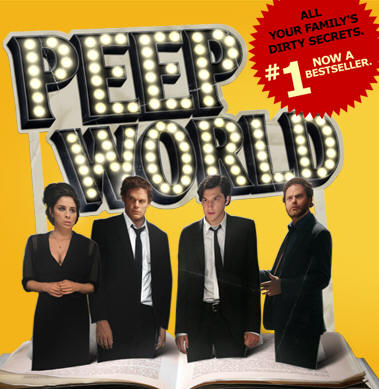 Hall – who is in real life an only child – does feel that if he were in the position, the possibility of forgiveness would not be out of the question.
"With time and communication and heartfelt acknowledgement of the suffering he caused, I think, yeah, forgiveness would be possible."
Another odd quirk of Jack's character was that he was obsessively reading a biography of Adolf Hitler, which some would say was a bit out of character for the man. Ironically, a few years ago, Hall narrated a documentary on the life of Hitler. However, he insists the Hitler connection was a coincidence.
"I didn't lobby for the Hitler thing," Hall laughed. "I think the Hitler thing is about a fundamental desire to escape, so he escapes into this history. [It may be] also, a fundamental desire to maybe punish himself, so he escapes into this account of a man who exterminated his own people. It has to do with some weird manifestation of Jack's self-loathing. I don't know, it did make some kind of weird sense to me."
Jack's older brother Joel was played by The Office star Rainn Wilson, with whom Hall had worked years before on Six Feet Under. Hall was happy for the opportunity to work with him again.
"It was nice to reconnect with Rainn," Hall said. "Worked with him on Six Feet Under and actually even knew him before that. We both went to NYU grad school. He graduated before I got there, but he directed a show while I was there and I knew who he was. Yeah, it was great."
Of course, Hall still has a strong connection with all of his Six Feet Under co-stars, like current Parenthood star Peter Krause.
"Peter, still when I see him, feels like a brother. We were a family when we did that show. We were playing a family and we were a creative and working family. It was great. He was my brother in that, you know?"
It's so rare for an actor to be a hit on a single popular TV series and Hall has now spent the past decade as a huge part of two of the most respected series on television, with five seasons of Six Feet Under and now Dexter leading into its sixth season.
"It's like I've got shit on both my shoes," Hall laughed. "It's phenomenal. It's beyond anything I ever imagined for myself. As far as a successful career goes, I don't think I ever went beyond hoping I'd get to work on good material with good people and go out to dinner and not think too much about how much the entrees cost. That was my fantasy of success. A lot more specific than that, I didn't really think about it. Frankly, as these cable television programs have emerged, those are jobs that didn't even exist when I was in school. The idea that you would commit to a character that was open ended and evolved and changing all the time, with all kinds of new characters coming in and out, new scenarios… the idea of doing television for a long time was, I guess, appealing in one sense, but from a creative standpoint I imagine that the ultimate would have been just spinning your wheels, telling the same story again and again and again – whereas this one continues to unfold."
It is rather surprising now that as Dexter's next season starts later this year, it will have been on the air even longer than Six Feet Under was. For such a dark and disturbing story idea, that is a bit of a shock. Hall himself was never sure quite how far the series might go.
"I certainly knew that Showtime was behind it and the trajectory of the first season looked good," Hall said, "and that if we succeeded we'd probably be called on to do a second and maybe a third. I thought the show would be well-supported and we'd do more than one season, but I didn't anticipate that it would turn out to be as broadly appealing as it has.
"I go back in May to start shooting season six. We'll go until late October and the show will air in mid-October. I have a sense of the broad strokes of what's going to happen." He pauses briefly and teasingly, then smiles. "I'm not telling you."
Before he had done Six Feet Under, Hall was best known as a theatrical actor. The one negative, perhaps, of his success in television is that it has severely limited his time to get back to his roots in live performance.
"Aside from getting on stage and doing a play between shooting the pilot and the first season of Dexter, I haven't been back," Hall admitted. "But I can't imagine that I won't. I'm just not sure exactly when or what."
In the meantime, Hall is branching out more into films. Beyond Peep World, he also appeared in last year's Gamer. He has also recently finished his next film role, East Fifth Bliss.
"It's a movie based on a novel by the same name about a guy, Morris Bliss," Hall explained. "He's 35 years old. He's still living in his East Village apartment with his father. His mother – his father's wife – died back when he was in high school. His life is just sort of stalled for nearly two decades. I guess the movie starts with this post-coital scene with Morris and a very young girl and that is sort of the thing that blows his world up and gets him moving."
Hall is enjoying the filmmaking process, and yet it is a bit of a change in process to the television work he has been doing for so long now.
"There's a discernable beginning, middle and end to the span of work – to the story you're telling." Hall said. "At the beginning it's not this open-ended commitment. It's very different in that way. After having played David Fisher for five seasons and Dexter five going on six and maybe beyond – a film feels like you get so many fewer brushstrokes to paint the picture with. Hopefully, it appears fully fleshed out, but it feels more like a sketch."
Email us Let us know what you think.