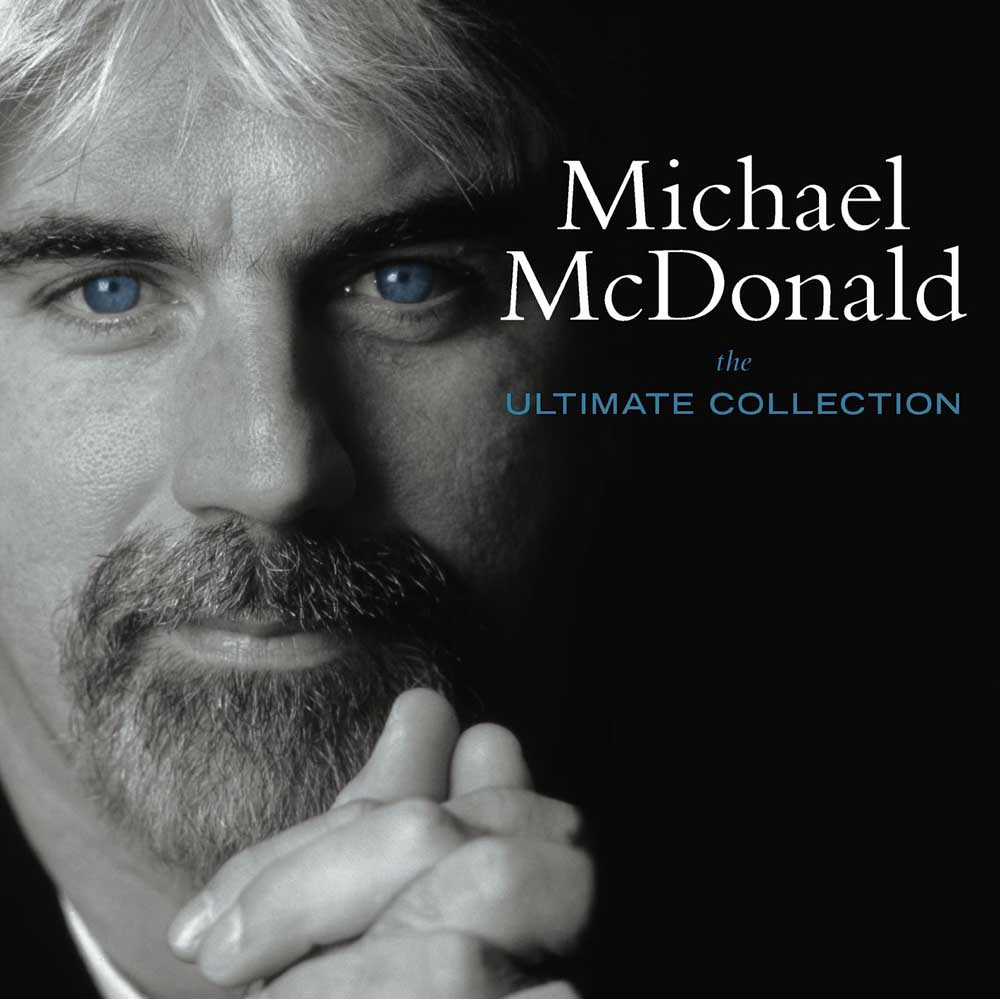 Michael McDonald
-Ul

timate Collection
(

Warner Brothers/Rhino)
It makes perfect sense, somehow, that the cover of this album has a near black and white closeup of Michael McDonald. The only color that really grabs you in the shockingly limpid blue pool of the singer's eyes (and I type that with a staunch record of heterosexuality, to paraphrase George Costanza.) This is, indeed, the face of blue-eyed soul.
Michael McDonald has had a long and winding career that is worthy of that supple elastic voice. He first gained notice as a sweet and delicate backing presence in the ironic jazz-rock of Steely Dan. Then he single-handedly transformed the Doobie Brothers from a biker-rock band to a polished soul unit. In the years after he became a celebrity-backing voice for hire, propping up such songs as Christopher Cross' "Ride Like The Wind," his wife Amy Holland's lovely cover of "Let Me Go Love" and tunes by a huge cross section of then popular acts like Elton John, Carly Simon, Joni Mitchell, Bonnie Raitt, Rickie Lee Jones, Lauren Wood, Gary Wright, Jimmy Webb, Stephen Bishop, Tim Moore, Little Feat and many more.
He went solo when the Doobies called it quits in the early 80s (hot on the heels of one of their most popular albums, Minute By Minute, which featured McDonald's classic title track). In fact, word at the time was that McDonald was greatly responsible for the split, and he embarked upon a problematic, but mostly interesting solo career. He traveled from early solo smashes and hit duets to starting the downward spiral of popularity and getting desperate enough to do a Doobies reunion tour to a short-lived label with actor Jeff Bridges to finally reaching the point where he is specializing in Motown cover versions.
This is the first collection that covers both McDonald's solo and Doobie careers, and it is a good fit because it is all anchored by THAT VOICE. Honestly, the Doobie songs tend to be a little stronger than the solo ones, but both sides of McDonald's career have their fascinating wrinkles. So you get a few Doobies classics like the forementioned "Minute By Minute," "Takin' It To the Streets," "Real Love" and "It Keeps You Runnin'," all of which you know by heart -- as you should. The one kind of surprising Doobies pick is there I guess to show off his songwriting skills. It is his songwriting collaboration with Carly Simon on "You Belong To Me," but honestly Simon's hit version of the song was always much superior to the Doobies' take.
The solo singles are an interesting lot, too, although there are a few more rough patches. Minor hit "No Lookin' Back" (McDonald obviously liked dropping his g's) is a surprisingly hefty piece of driving white-boy rock-soul while AC favorite "Take It To Heart" feels a little bland in hindsight. His recent hit version of Marvin Gaye and Tammi Terrell's "Ain't No Mountain High Enough" is pitch perfect, but it seems too much an imitation. Much more unexpected was the James Ingram duet "Ya Mo B There," which is still a funky throw down twenty years later.
The movie soundtrack tune "Sweet Freedom" (from the Billy Crystal/Gregory Hines buddy cop film Running Scared -- no kids, that's not a typo...) is a terrific tune but sounds a bit too late-80s. It is a little dated when it could be timeless. However there is no moss at all on the gorgeous Patti LaBelle collaboration (it's hard to call it a duet, because McDonald sang along to a tape of LaBelle's vocals and the two singers never met until long after the song was recorded.) "On My Own" is still one of the all-time great break-up songs, with simply perfect songwriting and production by Burt Bacharach and then-wife Carole Bayer Sager.
The biggest surprise of this compilation, however, is the fact that it points out that McDonald's greatest collaboration was not with the Doobie Brothers, wife Amy Holland or even Patti LaBelle or James Ingram. It was the writing collaboration that he had with fellow late-70s-early-80s pop star Kenny Loggins. Together, they wrote the two best songs on this compilation. One of the songs was Michael's true Doobies breakout moment, the spectacularly smart and self-aware "What A Fool Believes." That song still retains a polished luster that has not been worn out by over twenty-five-years of the song being overplayed on adult contemporary stations.
Even better, though -- in fact, shockingly the finest moment on this already quite fine disk -- is "I Gotta Try." Pretty much forgotten as the not-quite-a-hit (it peaked at 44 on the Billboard charts) follow-up to McDonald's premiere solo single "I Keep Forgettin' [Every Time You're Near]," this song is quite simply one of the most melodic, stirring pop tunes of the era. At the time I never understood why the good-but-not-great "Forgettin'" became such a huge hit while "I Gotta Try" barely got noticed. Twenty-two years of hindsight make this slight even more baffling. "I Keep Forgettin'" was a nice little update of the Leiber and Stoller classic, but "I Gotta Try" had the chops and the hook to be an all-time classic all on its own.
Sort of like the guy who sang it. (8/05)
Jay S. Jacobs

Copyright © 2003-2005 PopEntertainment.com, All rights reserved. Revised: February 20, 2018.