Musical theater thrives on change and actor/singer/songwriter Matt Sax wants to help usher in a new generation of musicals. His first musical Venice is a collaboration with longtime friend Eric Rosen. (Sax wrote the score, Rosen handled the book.) Venice weaves traditional theatrical music with rock and hip hop to take us to a whole new world of the future.
The play is the politically charged story of revolution brewing in a not-too-distant-future city named Venice. (No, it is not Italy or California, this is an imaginary Venice). Sax co-stars with a talented group of stage vets to bring the story to vibrant life.
A couple of weeks before Venice opens its New York Public Theater run (from May 28-June 23), we caught up with Sax at a preview concert for the show at Joe's Pub in Greenwich Village.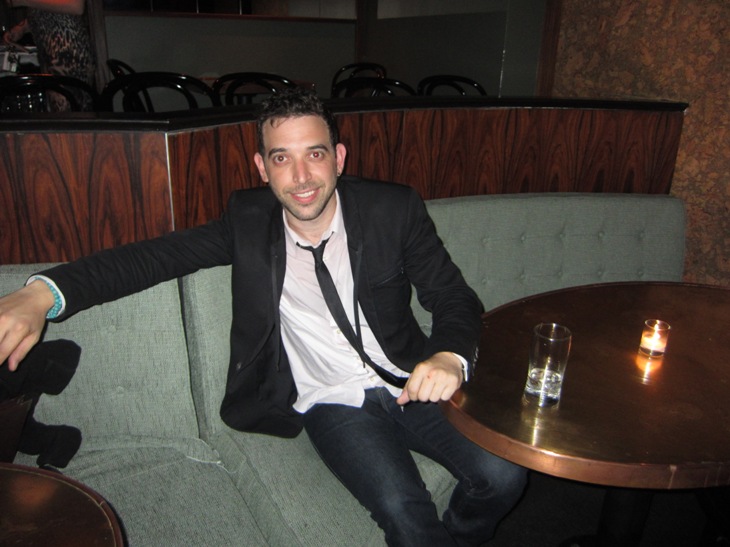 Musically Venice is quite diverse, with aspects of rock, hip-hop and traditional theatrical score. Were you looking to experiment with styles?
The thing about me is that I don't have any very specific training. So I write whatever feels good or whatever comes to me in the moment. That's a very freeing thing and it's also kind of a scary thing. This is the first musical I've ever written and it's been a really interesting experience. We've been working on it for five years, so I've gotten to learn how to write a musical by writing this musical. It's been very fun. Personally, growing up, I listened to all different types and styles of music. I grew up here in New York and was lucky enough to see all of the shows growing up, so that is absolutely part of my vocabulary. But also growing up in New York, I grew up listening to hip hop. That was part of my vocabulary as well.
What were some of the musicals you saw growing up that inspired you to try to become part of this world?
The first musical I ever saw was The Secret Garden. I was blown away. The musicals that inspired me growing up were Hedwig and the Angry Inch, for sure. Hedwig was a huge inspiration for me and my one-man show (which was called Clay). And Bomb-itty of Errors, I don't know if you remember that. It was down at, I think the Bleecker Street Theater. It was like four guys rapping, doing A Comedy of Errors (by William Shakespeare). Then, obviously, I was a Rent kid. I went and saw it a million times. A few others as well. That was always a part of my vocabulary. It's what I've wanted to do since I was six years old.
You mentioned A Bomb-itty of Errors, and of course Venice is loosely based on Othello. So, when did you decide you wanted to make a musical variation of Othello? What is it about Othello and Shakespeare's work in general that it can so readily be re-imagined for the modern world?
It's interesting, because I honestly believe that Shakespeare was very, very lyrical, himself. The way he twisted, bent and created words is really similar to the way that lyricists are doing that today, hip hop lyricists. That was obviously a natural connection. I also grew up with a very strong Shakespearean background, because I was performing in Shakespeare plays since I was in middle school, through high school, through college. It always resonated. Those are, to me, the very epic stories. The very big stories. I believe that any story that is on stage needs to be raised to the level of ghosts and Gods, or else it's not worth being told. It's not worth investing in creating a musical. I think when Eric [Rosen] and I started writing this, we knew we wanted to have it inspired by Shakespeare to a certain extent. For us, the jumping off point was Othello, because that was something that really spoke to us at the time. It could have been anything at the time, but we were just very drawn to that. Our collaboration has really centered around our love of Shakespeare and our love of music. We also come from a performance studies background in Chicago. I went to school at Northwestern and so did he.
Okay, I was going to ask you how you two started working together.
Yeah, we both come from this performance studies background, which is the adaptation of literature to the stage. We have that aesthetic. The thing you didn't see tonight is that the show itself is very, very visual. We do a lot of inside-out storytelling and interesting ways. It's obviously narrative driven, narrator driven. When I was in college, Eric was a few years older than me. We had a common mentor, this guy Frank Galati. I was performing my one-man show at school. Frank dragged Eric to come see it at college. We met and we started working together then.
They say that theater is a constantly evolving process. How has the show changed since you debuted it in Kansas City and then in LA a few years ago?
Honestly, I think you're never done with it, right? You always, always want to work more and more and more on it. Like I said, the process of learning how to do it by doing it was what we kind of did. It's really exciting to feel like this is the story we always intended to tell. These are the songs we always intended to present. And, yes, we have like a million songs, probably two CDs worth of music that won't be used for this show. But we needed to get those to get to these. You know what I mean? We needed to write those to understand what worked about them and what didn't work about them. What didn't work about them led us to the songs that are in the show, precisely.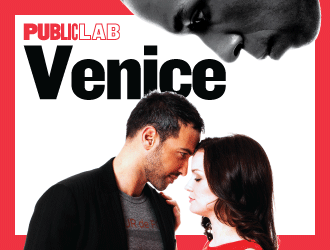 New York is sort of the Holy Grail of the theatrical world. And being from New York, you appreciate that more than most.
Oh, my goodness. Yeah.
How incredible is it that you are getting his chance with the Public Theater? How did it come about?
I've always dreamed about working here. It's amazing. When I was a kid, I'd come here and I'd feel like: one day. One day I'll work here. I know Eric feels the same way. One day I'll climb those steps at the Public Theater. And here we are. To feel like we're in this moment right now and as a relatively young theater artist, I feel really blessed and really lucky to be able to have this experience. I can't even imagine a better place for it. The subscriber audience that exists here at the Public is our target audience. The way they have shepherded our development of this show and the way they have supported us, I couldn't imagine a better place to be. Plus, as a kid I was like one day I'll do it. And now, here we are.
After this Public Theater run what are the plans? Are you going to try to get the show to Broadway, or continue touring with it?
I think it depends. We'll see. We'll see how it goes. Obviously, we want to do it for as long as possible. It's all of our dreams, that you've created one thing or multiple things that can live on. We hope that we've told an universal enough story that that's the case. And I have a few other projects that I am working on right now.
What are your other projects?
I've got a musical that I am working on with Center Theatre Group in LA called Up and Adam. That's based on the real-life superhero community. You know, people who live at home with their parents, but go out at night dressed in costumes and legitimately fight crime. That's what I'm working on next. I think Eric and I are going to work on something together again as well, because we have such an amazing relationship. He's been an amazing collaborator. He's one of my best friends in the world. We've really grown up together. We've been working together for almost ten years now.
CHECK OUT HIGHLIGHTS OF MATT SAX AND THE CAST OF VENICE IN THE SPECIAL PREVIEW CONCERT AT JOE'S PUB, MAY 11, 2013
Email us Let us know what you think.