PopEntertainment.com > Feature Interviews - Actors > Feature Interviews K to O > Joe Mantegna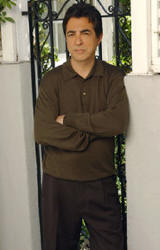 joe mantegna
one of us
by jay s. jacobs
Copyright ©2004 PopEntertainment.com. All rights reserved. Posted: February 10, 2004.
When Joe Mantegna was a student at the Goodman School of Drama in Chicago, he would to pick up a play and turn the page that listed the original cast. It always fascinated him. Who originated these roles? What did they do later? Did they become a star or stay relatively obscure? He always thought that it would be the greatest thing if someday an acting student could open up a book and see his name.
All these years later, he has met and surpassed his dream. Mantegna has worked in every aspect of the industry: from acting on stage, television and film to writing, directing and producing.
As an actor he won a Tony as real estate salesman Ricky Roma in the Pulitzer-Prize-winning David Mamet play Glengarry Glen Ross. He also played super-agent Bobby Gould in Mamet's celebrated Broadway run of Speed-the-Plow (with Ron Silver and Madonna). His long and fruitful relationship with Mamet also led to performances in the play A Life In the Theater and the films House of Games, Things Change and Homicide. Mantegna has been in other terrific films like Searching For Bobby Fisher, Bugsy, Liberty Heights, Queens Logic, Alice and The Godfather Part III. As anyone with such a long career, he also worked in some less-than-brilliant ones (hello, Bodies of Evidence and Baby's Day Out.) However, even when the material wasn't really worthy of him, Mantegna's talent stood out. He received raves for playing Dean Martin in the HBO movie The Rat Pack, and was nominated for an an Emmy for starring in the TV mini-series Mario Puzo's The Last Don. He wrote the play Bleacher Bums, a tribute to the long-suffering fans of his beloved Chicago Cubs, which has been produced for television twice (in 1979 on PBS and 2002 on Showtime). In 2001, he tried his hand at directing a film version of Mamet's Lakeboat.
Now he is conquering series television. His show Joan of Arcadia is deservedly one of the biggest hits of the 2003-2004 season.
The funny thing is, when he was a kid on the south side of Chicago, Mantegna never even considered acting. He wanted to be a baseball player. In high school, he became obsessed with the movie West Side Story. (In one of those coincidences that make life endlessly entertaining, Russ Tamblyn, one of the stars of that film, is the father of Amber Tamblyn, Joe's co-star in the popular series Joan of Arcadia.) When his high school put on a production of West Side Story, they held open auditions. He and a baseball buddy decided to try out on a dare. Mantegna nervously sang to the auditorium. He was blinded by the footlights, so he couldn't tell who was watching or what kind of reaction he was getting. When he finished, there was a nice round of applause. Mantegna didn't get the role, but he got the fever.
"I didn't get cast in the play," Mantegna laughs, "but I was so devastated by that fact. I couldn't figure it out. Why am I so devastated? Four hours ago, I didn't even know there was a drama department in the school. Now, I'm devastated that I'm not a part of it. That told me something. This is something I've got to look into. And I did. They made it easy for me. The drama department was very vibrant at that time. They were looking for new people, and the guy that ran it at the time was very supportive. I really haven't looked back since then. They put me in the drama class, and that's the path I've taken."
Soon Mantegna had thrown himself into drama clubs, acting schools and theatrical troupes. It was in those heady days that Mantegna met and became friends with a writer who would go on to be arguably the greatest playwright of our time, David Mamet. "I never lose sight of how fortuitous that was," he says humbly. "You can't make that happen. That was the luck of the draw, that he and I occupied the same time and place, to come together and work together and be friends and colleagues. That's a lucky break for me."
The real break was playing the king of the salesmen, Ricky Roma, head cheese in a depressed real estate office in Glengarry Glen Ross. With that character, Mantegna was a force of nature. Roma oozed charm and hucksterism. You knew he could con his mother, and you knew that he would too. The role won Mantegna a Tony award. Ironically, some people started thinking that he was that character.
"It would be funny" Mantegna says. "Guys would come backstage and there'd always be those guys that said, 'If ever you need a job, I could use a guy like you.' I understood where they were coming from, but I also knew in my heart that I wasn't that guy. I don't mean that in a negative way, like I disliked the character. I loved Ricky Roma. I thought he was heroic, in fact. I thought that was the way to play him. You had to play him with supreme… you know, what other people would call sleaziness I'd call confidence. Every attribute that maybe somebody would find distasteful about him, I found as an attribute. I feel that takes a unique personality. In other words, those are the super-salesmen. Those are the con men. Those are the guys that have that kind of chutzpah… And I don't. That's why I really don't play cards or gamble. Because I'd crack. But Ricky Roma doesn't. It's fun to play that, because you can tap into that side of yourself to play the role. But I think once they got to know me for more than ten minutes, they'd realize, okay, he's not really that guy."
As Mantegna's reputation on the stage continued to grow, he began getting supporting roles in films like The Money Pit, Compromising Positions and ¡Three Amigos! But it was Mamet who provided Mantegna with his film breakthrough, playing con man Mike in House of Games. At that point, Mamet had written several well-received screenplays like The Verdict, The Postman Always Rings Twice and The Untouchables. There was a bidding war for the new screenplay about a psychiatrist who finds herself drawn into the world of con artists. Mamet accepted much less so that he could make his directorial debut. Mamet also resisted the Hollywood idea of populating the film with well-known actors. Instead he used people he'd worked with in theater like Mantegna, Lindsay Crouse (Mamet's then-wife), J.T. Walsh, William H. Macy and Ricky Jay. At the time, Mantegna wasn't sure if it would strike a nerve. It was a relatively moderate hit when released, but over the years has grown a reputation as a classic.
"It really has become like a cult film," Mantegna agrees. "I get asked about that film more than anything. People who are passionate about it are really passionate about it. All over the world… I did a film in France a couple of years ago, and it was playing again first run at a theater there. I liked its script, because I like much of David's stuff. It seemed, it was right in the pocket there. It was in that realm of Glengarry and Sexual Perversity in Chicago and a lot of the things that he had written, in the sense this is just a real solid, good script, with interesting characters and dialogue."
These roles have led to a long and impressive career. Since 1979, Mantegna has appeared in nearly eighty films or TV movies. Mantegna loved the lifestyle; flying into a new city somewhere around the world, moving into a hotel and learning his lines, then moving on to the next project. In the last few years, this life was starting to wear on Mantegna. He was getting tired of living out of a suitcase. He wanted to put down roots.
"I've spent the better part of the last twenty-five years doing a lot of traveling," Mantegna explains. "Doing different things all over the place. And it's been great. I've loved it, but I have a wife and two children. A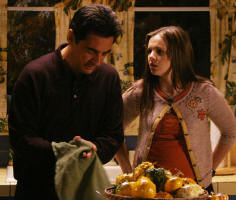 nd one of my children has autism, which just complicates things a bit. When they were small and my wife really had no other responsibilities, except taking care of the family and all of us, it wasn't that big a deal. It was fun. Hey, we're going to Moscow. We're going to Italy. We're going to Toronto. We're going to New York. I did plays and movies and whatever all over the place. [Now] they're both teenagers. All of the sudden, that reality hits in. That phase of our life is over. There's no more, 'daddy's going to spend January and part of February in Montreal.' They're not going. All of the sudden, I started to make that realization that I didn't like it. The work did not compensate for me living in a hotel by myself for six weeks."
Mantegna thought that it might be time to try doing a series. Mantegna already had some experience in television. Beyond doing many TV movies, he'd done two mini-series of The Last Don and a series of movies for A&E as Robert Parker's well-known detective Spenser. And of course, he had a recurring voice role on The Simpsons as mobster Fat Tony.
"I love it," Mantegna says. "I've been doing [The Simpsons] for about ten years now. Who knew? There's now a Fat Tony doll, which cracks me up. But you feel honored that they asked you to do a voice. I like the show, even in those early stages when he was still in the second season, which is when I first did it. You go in and you do the character and have fun with it. The fact that they bring you back and keep writing for the character, it was very satisfying. I think the writing has maintained itself. I wouldn't be surprised if some day, they put the Simpsons in the Smithsonian. It's become part of our culture, those characters."
For years, CBS head honcho Les Moonves had been contacting him every year as pilot season came up. Mantegna always politely declined, but said that he hoped Moonves would still be around when he was ready to make that jump into series work. Mantegna had a long discussion with his good friend, Dennis Franz. For ten seasons, Franz has made a career starring as Detective Andy Sipowicz on NYPD Blue. Franz assured Mantegna that series work was wonderful. So in 2002, when Moonves asked Mantegna if he'd be interested in a new series about the Supreme Court called First Monday, he was finally ready.
"I remember distinctly," Mantegna says. "I was shooting a thing. It was dead of winter. I was by myself. That was when I made the decision. I had an offer to do a third lead in a major film, but it took a lot of travel and rehearsal. Then I got offered First Monday. I was fascinated by the Supreme Court. That was almost like a cathartic moment in the hotel room where I said, what the hell am I doing? I reached that day that I always thought might happen, where I say to myself I don't want to do this anymore. I'm looking for some stability. I want to stay home. I want to work on something that gives me some logic to it and maybe some longevity."
First Monday, which also starred James Garner, Charles Durning and Linda Purl, debuted on the air at about the same time as Sally Field's similarly-themed series The Court. Neither show lasted long. Still, Mantegna got his feet wet. Moonves offered him a development deal. He started working on an idea with a young screenwriter, but that fell apart when the writer's contract with a movie studio precluded him from working on the project. Mantegna read some pilot scripts, but none of them really grabbed him.
"Then I get this script, Joan of Arcadia," Mantegna says. "I've been with the same agent for over twenty years now. I trust his taste and input. He read it first. He said, read this one. I'm not going to say anything, but just read this one. I looked at the title and right away I went, 'oh, I don't know…' I figured I had it all figured out. Yeah, okay, chick talks to God. I'm not ready to do Touched By an Angel II. I started reading it and all I can say is right around page six it was like, Hello! It took this little turn. Then I started really getting into the style of the dialogue. The writing. As I dug down [I had a feeling I get] whenever I read Mamet, or I felt the same way when I read the script for Searching for Bobby Fisher. This is something else… This doesn't go into the pile with the ninety percent of the scripts you get."
Mantegna decided that he wanted to meet with creator Barbara Hall, who also had written for ER, Chicago Hope, Northern Exposure and had developed the series Judging Amy.
"We had a meeting, just her and I." Mantegna recalls. "There was nobody else attached to this thing. In fact, from what she explained to me, this project was in limbo. [It] was really something she wrote because she felt she had to. She was moved to write this thing, but she never dreamt that CBS really would go for it. We talked for a couple of hours and she starts talking about metaphysics and religions. Obviously, this was not just like somebody who had this whim of, like, hey, I think I'll write this series about a girl who talks to God. I was so taken by her intelligence and her passion and where her head was with this. Then [there was] the writing itself, because to me, that's what it's all about. If it ain't on the page, it ain't on the stage. At the end of the meeting, I said to her, I'm going to roll the dice with you, honey. Win or lose, I'm with you on this. I think if we shoot this thing and there's just a pilot, so be it, we made a nice little 49-minute movie. Let's do it. I'm in."
That little 49-minute movie was just the beginning. In the series, Mantegna plays Will Girardi, a cop in the fictional city of Arcadia. Will has just moved his family there to become Chief of Police. As much as he relishes being a detective, he hates the politics that go with the new position. He has seen much evil in his job, but he does truly love his family. The family has gone through its share of hardships. The oldest son, Kevin (Jason Ritter) has been involved in a car crash and been paralyzed. (Actor Ritter looks spookily like his father, late television star John Ritter.) His wife Helen (Mary Steenburgen) has taken a job at the high school, but she is unfulfilled as an artist and her worries and guilt about the accident are causing her a crisis of faith. Youngest son Luke (Michael Welsh) is a brilliant but shy boy who always feels like he is overlooked. Daughter Joan (Amber Tamblyn) is experiencing typical teenage girl problems: peer pressure, body image, high school politics and the like. If her life isn't complicated enough, God starts to visit her and give her cryptic tasks to perform.
One of the reasons the show works so well is that they all feel right as a family. The teasing, the petty arguments and the deep love all feel extremely realistic. Mantegna readily credits the sense of truth to the talented ensemble cast.
"It really couldn't be better," Mantegna says. "What's funny is they're relatively unknown, but all three of them are very savvy. In Amber's case, you are talking about someone who worked on a soap opera for eight years. If that's not the best training ground for an actress, I don't know what is. Michael, as young as he is, has been acting since he was a little kid. He's just a consummate professional and knows the ropes. Jason, of course, it's in his family. He's been doing it. They're just three great kids, too… just unaffected. We don't even talk about the business. It's all about our lives and stuff. And Mary, you couldn't pick a sweeter, more wonderful woman. I think the casting has been done so well, in the friends and the other roles. You like to think that quality stuff is going to draw quality people."
The cool thing about Joan of Arcadia is that although it is a very spiritual show, it is not necessarily a religious one. It does not look at issues with one incontrovertible answer. The show works in the gray areas of existence. It's not all love and beauty. The show does tend to tap into the dark side, mostly through the character of Will and his work. It acknowledges the evil that man does as well as the good. The show does not offer pat answers, but it does try to explore the condition of mankind and therefore find a balance.
"That's intentional," Mantegna explains. "If you're going to believe in a God, then you also have to equally believe that there's a flip side to this. Whether you want to call that the devil, or you want to call that bad karma. We know it exists. For every Mother Teresa, there's a Jeffrey Dahmer. Why is that? What goes wrong? Where's the imperfection and who's going to win? There's good and evil going on. We have cops. We have robbers. So, by having this character in this world, it gives us the opportunity to tap into the dark side. We always enjoy the episodes where there are parallel stories happening. There was an episode which was about finding your voice. I was dealing with a hate crime, where a man was attacked because he was supposedly gay. You find out it's really because the son was gay and the father couldn't handle that and he took it out on the priest. It paralleled the other story with Amber helping a boy with a stutter find his voice. He wasn't good for debate, but he was good as a writer. The two stories crossed and intersected. There's a lot of thought put into that."
The show is also takes a somewhat radical turn, because Will and Helen are a long-married couple who still seem very much in love with each other. They have been through a lot together and may fight or disagree, but in the end they know that they will always be there. We're not talking the family-values police idea of a pure all-American family. This is a family that has faults and problems and loves each other because of these foibles, not just despite them. Real individuals like these are welcome in a TV atmosphere where Fear Factor is on at 8:00 at night and Janet Jackson flashes the world at the Super Bowl.
"Television has taken a turn." Mantegna says. "It's funny, just today on Good Morning America they were talking about it. People were e-mailing in saying 'there isn't a show we can watch anymore, hardly, where you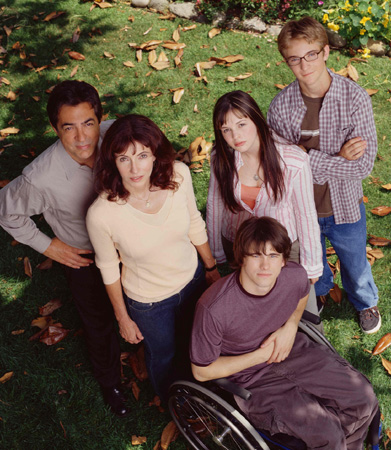 can sit down with your daughter or your mother and watch it.' Everything is violence, sex… When I grew up, on television there was a nice cross-section of things. There was the stuff that at the time was thought of as a little edgy. It was on late. You had the family shows in the family hours. I guess you really start to appreciate it when you have kids of your own. Before, when you're single or it's just you and your wife, you watch as show and you laugh at it. All of the sudden, you got a three-year-old sitting next to you...
"I mean, believe me, I'm not for censorship. I spend a lot of time in Europe and I see their attitude is a little different. You can show all out there. As long as you do your job, people know what to separate, what's proper behavior, where to do it and when to do it. But we're still in somewhat a Puritanical society in a lot of ways. Because of it, we're almost like not educated enough to a point to kind of accept things. So, we titillate in a way and kind of go to the other extreme. Like, okay, we'll show you. We're gonna hammer you over the head. We're gonna show you some nudity here or say these words there or this much violence here… just to show you we can push the envelope. But, it's almost gotten to the point where you're pushing the other stuff out. So it's almost unique to see a show where you have a family as the core of it, and they're actually functioning. It's not a single mom. It's not a single dad. There are problems within the family and stuff, but they're still working it out together. Ironically, this Friday's episode is the one that's going to be dipping into that other side. In fact, the episode is called 'A Night Without Stars' and we really show things come to a boil on all different aspects within the family. Because those things happen. We're not trying to say there's always going to be a little problem and then we solve it. Sometimes it's big problems. But, the point is, you can you work through them. It doesn't always have to end in divorce. Or murder. Or separation. Or, you know, whatever…"
Instead, Joan of Arcadia finds its niche by exposing us to a world which is similar to the one many of us inhabit. With fondness and surprising humor, the show explores the dynamics of day-to-day life in the new millennium, with all the complications and benefits involved. It looks at good people trying to make their way in a world that can sometimes be overwhelming, or boring, or confusing.
"These are the things that go on in people's lives," he explains. "You almost have to put in some of the mundane, in other words. That's why it always amazes me that there are so many cop shows. You talk to the real cops and they say ninety percent of it is paperwork. You talk to cops who've been policemen thirty years and have never pulled their gun once. That's why I like the scenes where we're just in the kitchen having breakfast, because it's the interaction between people. The chaos. You find the order within the chaos of, in our case, five people. Yes, we're a family, we're a husband and wife and three children. But they're still five different individuals with their own problems and their own agenda. They're all different. One guy's in a wheelchair. One kid is a genius. The girl is going through what she's going through, that she can't even share with anybody. So, it's all of that. And that's what life is."
For Mantegna, it is just another interesting twist in a long and respected career. He never wanted to be DeNiro or Schwarzennegger or Gibson. He just wanted to act and do it well. Joe Mantegna is rightfully proud of what he has accomplished over the years.
"I was having problems with one of my cars," Mantegna says. "It's an old car, from the 70s. I took it to this mechanic somebody suggested. And the guy did a fantastic job. Fixed everything. This guy's now my hero. Because here's a guy who does what he claims he can do. He did a perfect job of his passion of life, to fix these old cars. It's the same thing. I love what I do. If at the end of the day, people look at it and say, oh, yeah, I liked his stuff, or for the most part I liked his stuff, or I've enjoyed watching some of the things he's done, that's all I can hope for. I was never driven to be Babe Ruth. I always make that baseball analogy for show business. If you become Babe Ruth, you become Babe Ruth, or you become Barry Bonds or Sammy Sosa. But the goal is to play in the major leagues. That I've done. That I'm doing. That's the joy. That's what's great."
Email us Let us know what you think.
Features Return to the features page

Photo Credits:
#1 © 2004 Courtesy of CBS Broadcasting, Inc. All rights reserved.
#2 © 2004 Courtesy of CBS Broadcasting, Inc. All rights reserved.
#3 © 2004 Courtesy of CBS Broadcasting, Inc. All rights reserved.
Copyright ©2004 PopEntertainment.com. All rights reserved. Posted: February 10, 2004.


Copyright ©2004 PopEntertainment.com. All rights reserved. Posted: February 10, 2004.