Copyright ©2010 PopEntertainment.com. All rights reserved.
Posted: August 31, 2010.
When Melissa Anderson won the role of Mary Ingalls on the NBC-TV series Little House on the Prairie (beating out two hundred other child actresses), she was asked to lose five pounds and sign a seven-year contract.
The good news: Anderson hit the big time. The heartwarming family show would become a monster hit for its entire run, from 1974 to 1983. In subsequent years, reruns and DVDs would mint the series as a pop culture staple for the Seventies generation and the unborn yet to come.
The irony is clear: spoiled modern kids who watch the show are transported to the 1870s, where they chill with an unspoiled family representin' the American prairie. The episodes are laden with happiness and tears, but not a single luxury. The after-school-special pleasure of each life lesson is not lost on its legions of fans: family first, work hard, be kind to animals and others, attend church, keep your barn clean, stand up to Nellie, and don't fall asleep with the lantern burning.
The bad news: Melissa's character, Mary Ingalls, would be put through her melodramatic paces. America tuned in, week after week, to see just how much big trouble one little girl could handle.
Mary suffered the very lowest depths of tragedy and indignity, with permanent blindness tacked on at no extra charge. Anderson, as a result, was a miracle worker, accepting every challenge the writers could throw at her: fire, water, rabid raccoons, unaffordable Christmas gifts, an unattainable leather-bound dictionary, snotty classmates, shifty drifters and every classification of nature unleashing her savage fury. But wait, there's more!
The series may have centered around the younger sister, Laura (commonly known as Half Pint and played by the other Melissa, Melissa Gilbert), but Anderson's is the character we remember. Her tribulations would make even Job look up to heaven and say, "Enough! Enough! What are You doing?"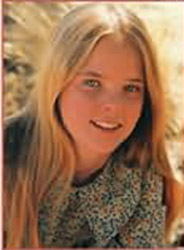 In seven years, Mary from the Prairie became TV's reigning Queen of Pain. Nice work if you can get it. As a result, she was the only cast member to be nominated for (and win) an Emmy.
"I'm lucky that there even was a character to play, because in the book, there isn't much of one," she tells me from her home in Montreal. "Laura [Ingalls, author of the Little House novels upon which the series was based and the story was centered] was a quite older woman when she wrote the books. She was remembering the best of her life. The characters of Ma and Mary didn't factor in a lot. There was a lot of Laura and Pa and Laura and Jack the dog and Laura and Mr. Edwards, but there wasn't a lot of Mary. I'm fortunate that they discovered that I could act."
Her talents being appreciated came about as a result of a classic TV Catch-22.
She says, "I couldn't show [the writers] what I could do unless they wrote me something to do. And they weren't going to write me something to do until I showed them what I could do. Eventually, I was able to prove myself in the first year, and then I got some really great meaty episodes."
Meaty, that's for damn sure. She stirs that prairie stew in her new memoir, The Way I See It: A Look Back at My Life on Little House (Globe Pequot Press). The book covers her season-by-season experiences on the show from its unlikely premiere in 1974 to her weary but victorious departure in 1981.
The book is a tell-all, but the tell is not totally all.
"I wanted to be able to tell my story, but not in the way so many other memoirs seem to be," she says. "[Other memoirs] are sometimes very mean and there is always a villain somehow. I wanted to show that the experience that I had was quite good. I wanted it to be honest; it's not a completely rosy picture, but nothing terrible has happened to me and I don't blame anybody for anything. That was really important to me, and my publisher was good about that. They agreed with me. It's a truthful but not hurtful story."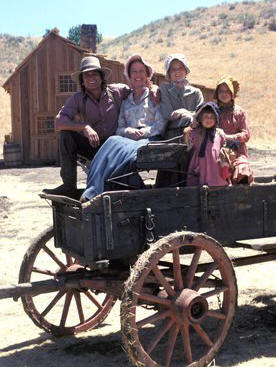 Despite the fact that she was a child star, Anderson could not be shoe-horned into the usual unhappy ending that had befallen so many other TV actors of that era.
"I was raised well as a kid," she says. "A lot of people ask me, 'How come you didn't get into trouble?' Frankly, I was just too afraid. I didn't want to get into trouble. I was afraid of the consequences. And I was a good kid overall."
However, there was one single regret.
She says, "The one thing that was missing from my childhood, the one thing that I didn't focus on enough as a child, was a regular life, having a regular childhood. However, I loved what I had. I loved working professionally. I wanted it to be my career so that life was fantastic. But when I became an adult, I strived for 'regular.' That's what I wanted. I wanted to make sure that I was treated however I was for me and not for what people perceived me to be. That's what is kind of nice about the book. I think people can read the book and know me.
"A lot of child actors go through this and it's hard to balance. I had a pretty normal life, but you never know if people are your friends for the right reasons. When I had my own kids, I was out of the business, removed; I only worked occasionally so that my kids could have a really normal upbringing. I certainly didn't want them to become actors, and I know that they're not going to be. You want something a little more stable for your children. It's nice for me to have kids and live a regular kind of life through them."
These days, she lives a peaceful existence as an ex-pat in Montreal. Married to TV producer and screenwriter Michael Sloan, and with two children still in the house, she is living the dream of the "regular."
Born and raised in California, she had been working as an actress since she was nine. Her big break came with Little House, but a prior one-time appearance on The Brady Bunch set her forever in pop culture stone. She guest-starred as Millicent, the first girl to kiss Bobby Brady. However, like the prepubescent Bobby, she herself saw skyrockets happen when her own series took off and the covered wagon started to move.
"By the beginning of the second season, we were recognized all the time," she says. "I knew I wasn't going to have a regular life then. I did have to learn how to always be good to the fans, even though as a kid, it's awkward. It's awkward as an adult too. Fans mean well. You mean well. You're walking along and sometimes people stop and stare and point. It's easier if they just come up to you and get it over with and talk. As a kid, it was magnified. It was a little harder. But you get good at it. I also got good at walking and looking straight ahead. Not looking around and slowly walking. You need a direction and you're focused on it and you go, and people don't notice you as much."
With the adjustment to celebrity, she was often misunderstood.
"People thought I was aloof," she says, "but I was really just shy. I was serious about what I did. I wanted to do a great job."
One of the people who had no doubts about her ability was the late actor/producer Michael Landon, who was already a huge television star when he put the series together and played her TV Pa.
"I was friends with him and worked with him up to the year before he died," she says. "He came to my wedding. He got sick right after I had my daughter. All those years I was close to him."
However, even father-daughter relationships on television mirror reality. Anderson was shaken when it was revealed that the married Landon was having an affair.
"He went in and out of favor with me occasionally," she says. "When you hold someone in such high esteem, you can't believe it when they fall. And I don't think I was the only one. But it taught me a great lesson very early on that I had to work with him every day, no matter what. He was my boss and I did love him. He was a great guy and a great person in my life, like a big brother to me. So I had to get over it and move on. I had to accept it as part of life. He's not perfect, and he never said that he was. When I was writing about this in the book, the Tiger Woods thing was happening. And I thought, Mike Landon was nothing like Tiger Woods. We all build them up, even me. He was big in our minds."
Anderson credits the success of the show to the determination and vision of Michael Landon.
She says, "Every little girl growing up certainly reads and loves those Little House books. They're simple. It's longing for that simple life, simple but so difficult too. Look at how hard it was! But we had the added plus of Mike Landon.
"People ask me all the time if I think the show would be a hit now, and I think no. The audience is too sophisticated now in the sense that the stories would move too slowly. To air a show like ours, it has to be at a slower pace.
"I don't know if people want to invest in something that's slower now when you're so used to everything being fast. And without Mike Landon, it wouldn't happen. The whole reason that Little House sold as a pilot and went to a series was because of him. It certainly wasn't the rest of us. I mean, we were all fine, but he was a huge star with great charisma. Recently they tried to redo that new Little House show and it didn't work out."
Surprisingly as well is the relationship (or lack thereof) of Anderson and her TV sister, Melissa Gilbert. They did not exactly stay in touch.
"We were so different," she says. "That happens so often on series television, when you are literally thrown together. Sometimes you might have something in common with somebody, or a lot of things in common, but most times you don't. We were pretty good at what we do, I guess, because we were such a great family on screen, but we really didn't have anything in common. We never fought. We always got along. But we just never had anything in common. We've never really been close."
Still, they had us believing. And more so, Anderson had us believing that she was blind, to the point where fans still believe to this day that perhaps the actor and not the character had lost her vision.
"Mary went blind in the book," she says. "When the pilot sold and we were going to series, [the "Mary going blind" plot point] was always in the back of my mind, but I thought, no, they won't do that to me. And then I started hearing rumblings about it in the third season and I thought, 'oh, this is terrible! They are going to write me out. If the character goes blind, that will be it. What am I going to do?' And I was miserable.
"I finally got the courage up to talk to Mike Landon at our wrap party. And he said, 'Trust me. It's going to be great.' And he was right. It was great, for a while, certainly for the first year and maybe most of the second year. But after that it was a little limiting."
Though expertly played, the blind sister thing got a little old; besides, Anderson had visions of other projects. She was already starring in afterschool specials and prime-time TV movies, as well as her share of Love Boat's and Fantasy Island's.
"I fulfilled my seven-year contract," she says of her final departure from Little House. "I did two episodes during the eighth season, but I couldn't take it anymore – I couldn't take another tragedy. I was just there for audience recognition, so they know I didn't die. It was either feast or famine. Either I was involved in some horrible tragedy, or nothing. And the blind thing was just too limiting. So I bid farewell. It was fine. It was an easy, gradual way out.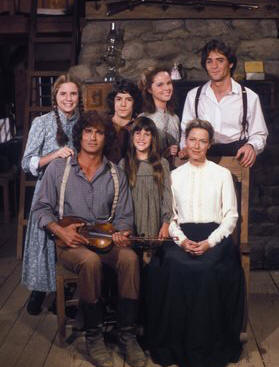 "Actually, I started out the seventh season doing [the theatrical film] Happy Birthday to Me in Montreal. And I was here for eight or nine weeks. I was always working on something else. Whenever I wasn't being used on Little House and there was enough notice, I could do a movie of the week or an after school special or a Love Boat or this or that. I got really used to not being there every day, especially in the last year. That was good because it made it easier to go."
One of the proudest moments of her career came as the result of a guest-starring stint on the acclaimed CBS series The Equalizer, starting in 1986.
"It was my favorite job," she says. "They were so well-written. I'm usually so hard on myself, but I was really proud of my work here. I was happy with what I did in those episodes. It elevates your game. You're going to be better, because the material and the actors and the material are all so good. I also loved it because it was shot in New York."
A far cry from the Prairie, but her heart is still warm for those open spaces and fond memories.
"I'm constantly surprised at its impact," she says of the series which made her famous. "It really is surprising to travel around and see all these people who love the show so much. I don't know why I'm surprised, but when you're part of it, you don't think about it. I'm very happy to have been a part of something that's so special to so many people."
Features Return to the features page