PopEntertainment.com > Feature Interviews - Music > Feature Interviews F to J > Macy Gray
Macy Gray

Glad She's Here

by Jay S. Jacobs
Copyright ©2007 PopEntertainment.com. All rights reserved. Posted: May 11, 2007.
When she was in college, Macy Gray didn't really like her singing voice. She was into film and songwriting and playing, but she would have never seen herself as a front person.
Funny, looking back now, with Macy Gray widely believed to be one of the most intriguing and individual voices in soul music. She took the world by storm with "I Try" – an intriguing soul ballad that was one of the biggest smash hits of 1999. Literally you couldn't pass a radio that year without hearing her voice lamenting "I try say goodbye and I choke. Try to walk away and I stumble…"
That single made her debut album On How Life Is a best seller. In the years since she has had other hits like "Why Didn't You Call Me?" and "Sexual Revolution," a few more acclaimed albums and has even appeared in several movies, but her profile has never been as high as with that first salvo.
Now, four years after her last album The Trouble with Being Myself, Macy is returning to the fray with her latest CD, Big. It is the first album on the new label from long-time friend and collaborator will.i.am of Black Eyed Peas, who also produces many of the songs on the album. Friends and admirers like Justin Timberlake, Fergie, Natalie Cole and Nas also lend their talents to the platter.
Gray was nice enough to check in with us and tell us about her new album and her career.
How did you originally get into music?
I started taking piano lessons when I was a kid, when I was seven. When I went to college, I hung out with all the musicians. All my boyfriends were always musicians. I just kind of gravitated towards it when I got older.
I had read that early on you were a little self-conscious about your singing voice. Looking back with all of the acclaim you've gotten as a vocalist does it surprise you?
Oh, yes, it's a huge surprise. I never thought that I was a great singer. Not now [I don't feel that way] but in my twenties [I did].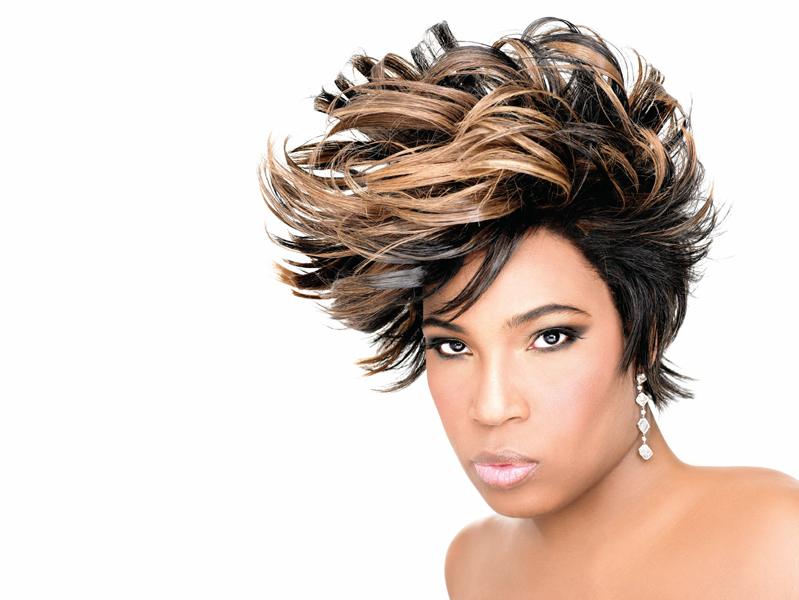 It took a real while before On How Life Is caught on. In fact, I remember hearing "I Try" on the soundtrack to an old Jennifer Aniston movie called Picture Perfect at least two or three years before the song became a hit. How surreal was it when the song and the album became so huge?
It was amazing. I wasn't even really aware of it. I was on tour in Europe, so I wasn't even aware that anybody knew who I was. Then I was in New York and I got mobbed in a Gap. I took my son to get a jacket at the Gap and all these little girls mobbed me in the store. I had no idea that anybody even knew who I was.
Now you've definitely had some hits since then, but none of them have been quite as monster huge as "I Try." I've thought several of your songs should have been just as big; "Sexual Revolution," "Why Didn't You Call Me?" and I know this was not released as a single, but maybe my favorite was "Love Is Gonna Get You." Do you think about singles or just put your music out and if it catches on, fine?
Yeah, I do. I definitely just do music that I like, you know? Of course, it's my livelihood, so I have to make money. So, I want people to like my songs. I want for somebody to remember it and to be successful at what I do. But when I go in the studio, I'm just focused on making the greatest song I can make. I don't really know how to like… Some people I guess know how to go in and write a hit. I don't really know what that means all the time. So, it was just like, do I sing, you know?
You had worked with Black Eyed Peas years ago when they were still fairly unknown on "Request Line." How did you get hooked up with them? And years later, how did the idea of will.i.am being so involved in Big come up?
Well, I met Will at the studio a long, long time ago. We just became instant friends. He was a really big fan of mine, for some reason. He hung around my room a lot. He ended up doing some remixes on my album. We toured together. So, we've known each other for a really long time. I left Sony and he had just gotten his own imprint, so the timing was just perfect for us to hook up again.
Surprisingly, working with will.i.am sort of moved your sound into a more old-school r&b sound and less of a current one. Was that feeling of classic soul something you were looking for on the new album?
Not really. We just wanted to make… he said he wanted to do something that focused on beats and melodies, you know? Originally, I was just going to make the album with him, but I got into working with other producers, so what we started out with changed a little bit. But, no, it was never an idea to make it classic soul. We just wanted to change music and do interesting things.
I don't believe Fergie was with Black Eyed Peas yet when you originally worked with them. How was she to sing with on "Glad You're Here?" I was also really happy to see that you worked with Natalie Cole, who is one of the great singers out there on "Finally Made Me Happy." You also have Justin Timberlake and Nas on the new album. How did they all get involved and what were they like to work with?
Natalie, I'm just a really big fan of. That song that she's on, I felt like the way that she does her harmonies on her older records that it would be perfect for that song. I called her up and she was down. I think she came the next day. Will introduced me to Justin Timberlake. I was out on tour with the Peas for about a week, just hanging out with them on their bus. Fergie was in the studio hanging out with us and she got on the song "Glad You're Here." So, it was all really natural, you know?
Musically the album is rather diverse, there is very sixties pop like "One For Me," more traditional ballads like "Slowly," "Ghetto Love" is more hip hop, "Everybody" is kind of disco, "Treat Me Like Your Money" has a strongly new wave musical pulse and lots of songs like "Okay" have a strong r&b vibe. Were you looking to experiment with styles on the album?
Yeah. Like I said, we didn't really have a plan, you know? We knew we wanted to do something different. The key is always who you're in the studio with. So it was just a matter of getting the best musicians and working with people like Justin and seeing what would happen, you know? With a collaboration like that it was like going out on a limb. Trying different stuff.
"Strange Behavior" is a very funny song, particularly considering its subject matter (a wife kills her husband for the insurance money.) Between that and "I've Committed Murder," is there something we should know?
(laughs) No. I just think love and murder is really interesting. I think people who kill the people they promised their lives to is a deep, interesting topic. I don't know, it always comes up in my albums. But I haven't killed anyone.
In the album, it seems that when the subject turns to love that there are more happy songs than heartbroken ones. As a singer, do you find happy relationships more interesting than troubled ones?
No. Right now I'm with someone who I think is a happy person. I don't know. It depends. It's not like he… well you know, you kind of fall for who you fall for.
You have done a good amount of work as an actress in Training Day, Domino, Idlewild and you played yourself in Spider-Man. I know you had actually been involved in filmmaking before music. How did you like acting and are you looking to do more film work?
Oh, I like it. I don't like it as much as making music. But I like it and I love the movies I've done so far. I'm really proud of my little resume that I have. I think I'm going to do another movie next year, but my natural thing is music. I'm always going to stick with that.
In the end, how would you like people to see your music?
Oh, just as something really great and really special. Like a good pile of music. Something you don't forget.
Are there any misconceptions you'd like to clear up?
I don't even know what people think of me anymore. I haven't done press in so long. I have no idea what peoples' perception is right now.
Email us Let us know what you think.
Features Return to the features page.

Copyright ©2007 PopEntertainment.com. All rights reserved. Posted: May 11, 2007.
Photo Credit:
#1 © 2007 Geffen Records. All rights reserved.
#2 © 2007 Geffen Records. All rights reserved.
#3 © 2007 Geffen Records. All rights reserved.
#4 © 2007 Geffen Records. All rights reserved.