PopEntertainment.com > Feature Interviews - Music > Feature Interviews K to O > Lobo
The Lowdown on

LOBO

by Ronald Sklar
Copyright ©2007 PopEntertainment.com. All rights reserved. Posted: April 23, 2007.
Coming through the static of the waning days of AM music radio in the early 1970s was Lobo. Though many mistook him – if they even thought of him at all – as a vocal group instead of an individual performer, Lobo (real name: Roland Kent LaVoie) took the money and ran, leaving a brief but beautiful stamp on an era grooving on anything-goes pop music.
His quickly strung pooka-bead-necklace of hits include the amazing but unjustly forgotten "I'd Love You To Want Me" and the defiantly passive aggressive "Don't Expect Me To Be Your Friend." If you weren't yet born when these joints were hits, get yourself reborn, find 'em and download 'em (legally, of course). You'll be glad you did.
His signature song, however – the one that struck the chord with the public – was "Me and You and A Dog Named Boo," which easily, merrily topped the charts when left-field pop songs like these were welcomed and invited by hippie and teenybopper alike.
Led Zeppelin and Black Sabbath may have been selling the albums, but Lobo was moving the singles by the freight train. While other soft rockers like James Taylor and Gordon Lightfoot were reaping in all the respect, Lobo was ringing the bell at the top of the charts on a consistent basis.
His mournful but centered voice made deep, sharp teethmarks in the bubblegum, and his moment on the charts came and went just as sharply.
Although he is barely remembered in the States, his Type-B-personality music has found an enthusiastic new audience in Asia, thanks to a reissue of his hits there.
We caught up with Lobo to find the former groovy guy now a retired grandfather, living the AARP life in Florida. Though not exactly the lifestyle we expected, we at PopEntertainment are dedicated to keeping Lobo's music alive and – like his performing name (meaning lone wolf in Spanish) howling.
What is up with you these days?
I am mostly retired now but still tour in Asia every now and then. I never was much of a touring act but I do enjoy the Orient.
A retired Lobo?
For the last thirty years, I have been happily married, invested in many small real-estate deals, owned orange groves, fished for almost every fish in the Gulf, maintained a fifteen handicap, bought many German cars, autocrossed a Porsche, been to hundreds of sport-car races, enjoyed the slots in many casinos, raised three successful children, lost parents, helped birth grandchildren, babysat grandkids, done my own yard work, maintain rental properties, clean my own pool, and always tried to make my wife happy. And as a way of financing all these activities, gone to the mailbox to get writer checks... that's how I have been retired. Oh, and yes, occasionally toured.
Where do you call home now? Where did you grow up?
Florida has always been my home.
How did you come up with the alias Lobo? Most people – including me – always thought it was the name of a band and not an individual performer.
Lobo was just one of a long list of names. I had decided not to use my real name for recording and it was the favorite of my producer, Phil Gernhard.
What are your impressions of touring the country? Is it a difficult life?
My impressions of the country are based on personal travels, and the USA is the best place in the world to live. I think touring as a way of life would be a very hard life.
Do you remember the first time you heard your music on the radio?
The first time I heard my music on the radio was when I heard "Boo" on WLS, a huge AM station in Chicago. It had 50,000 watts and I was in Florida at the time. It was and still is the defining moment of my life.
What was the soft-rock era of the early seventies like for a performer like yourself? You seemed to be in the right place at the right time, but did you ever feel the need to put aside the mellow, heartfelt songs and instead rock out?
I was never really a rocker myself but I love any kind of music if it is good.
How does it feel to be loved by fans of songs that you wrote so long ago? How does it feel to touch the lives of so many people all these years later?
It never ceases to amaze me when I get e-mails from people who still listen to my music. The strangest part of it is how true to myself I was as I look back on the way I lived my life. I really am sort of a loner who has strong feelings about what I believe in. My take on life is pretty much as the Taoists believe…. life is like floating down a stream and you should enjoy the ride and not over think every situation. My song "A Big Red Kite" expresses this feeling.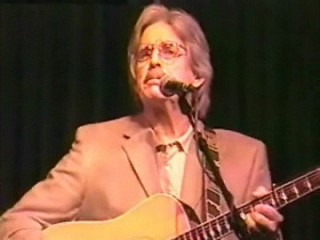 In the years since your string of hits in the early seventies, did you ever explore a new career, or were you always writing and performing?
No… It's very hard to relate to any other career because sooner or later someone would figure out who you were or are (I still can't figure if I was or if I still am Lobo) and then your relationship with people would change. Yes I still write and record.
You had a hand in the success of Jim Stafford's "Spiders and Snakes" and "Wildwood Weed." What was your association with Jim and do you guys keep in touch?
Jim was from my home town of Winter Haven, Florida. He called me to ask if he could play some songs for me that he had written. He did and we got him a deal with Curb [Records].
Regarding your MCA hit, "Where Were You When I Was Falling In Love?": it never appears on any compilation CD, and there were several. Why is that?
I don't have any idea. I didn't write it so don't have any information on it.
What is your opinion of popular music today?
The music part is good. The non-music – rap and hip hop – I hope will soon self destruct.
How is the recording industry different now as opposed to when you were creating hit singles?
The biggest difference is this: in the seventies you wrote or were given a hit song and a single was sent to radio. If it was a hit, you put out an album. Today, an album, a video and millions of dollars go into an act at the onset. There are a lot of songs on the radio that are not hits but mere advertisements for the CD.
Who are your major influences on your music and performing?
The Beatles on the music. No one on performing.
If you weren't a singer/songwriter/performer, what would you be doing with your life?
"I'd live in a van down by the river" to quote Chris Farley.
Check out more about Lobo -- and what makes you think you shouldn't? -- at www.fansoflobo.com.
Email us Let us know what you think.
Features Return to the features page.

Copyright ©2007 PopEntertainment.com. All rights reserved. Posted: April 23, 2007.
Photo Credits:
#1 © 2005 Sam Vetovich. All rights reserved. Courtesy of fansoflobo.com
#2 © 1971. All rights reserved. Courtesy of fansoflobo.com
#3 © 1973. All rights reserved. Courtesy of fansoflobo.com
#4 © 2004 Sam Vetovich. All rights reserved. Courtesy of fansoflobo.com
#5 © 1979. All rights reserved.