Sometimes it's so damn good, it's meant to be revived — not just the play itself, but the lead actor perfectly channeling the main character. In this case, it's Tony Lo Bianco reprising his Emmy-award-winning performance as former New York City mayor Fiorello La Guardia in The Little Flower. The off-Broadway production at the Dicapo Opera Theatre is adapted from Paul Shyre's 1984 play Hizzoner!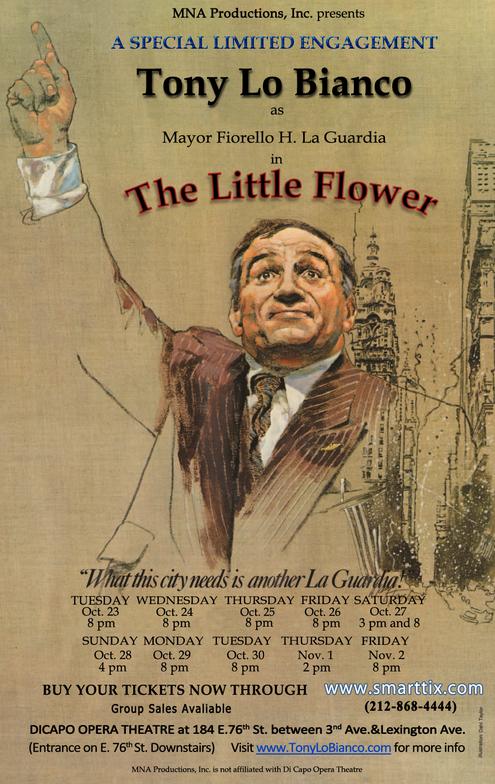 "He was a diminutive little guy, but it was his spirit that always excited me," Lo Bianco says of the beloved mayor. "It's his honesty, the sacrificial life that he led. It's his inspiration, his feeling and compassion. He spoke and fought for the people of this country."
Of Italian/Jewish heritage, La Guardia (nicknamed "Little Flower") was the rare Big-Apple Republican who appealed to the vast diversity of the metropolis. He stood a mere five-feet tall, but his outspokenness and unorthodox governing style became the stuff of New York legend (major airport named after him? Check!).
Lo Bianco adds, "When he became mayor in 1934, he cut his salary in half, and it's not because he was a rich fellow. He came from very meager means. He was just a fellow who cared about making things right. He became kind of a symbol for America during its worst times. He was a fourteen-year Congressman, and during those times, he introduced things like the five-day, 40-hour workweek, unemployment insurance, regulations on banks. He was really an innovator."
Lo Bianco knows a little something about innovation himself. Born in Brooklyn, he made a name for himself in blue-collar roles, especially in the Seventies, with the NBC series Police Story and the film classic The French Connection.
"The French Connection was my second film," he says. "I was always fortunate to get a job. I was fortunate to have been from Brooklyn and to have surroundings that made me understand the human condition. That's the story of my life, actually: watching and learning and pulling from history. If I walk down the street, to me, the street is my teacher. History is also your teacher, and the further back you can go, the richer your warehouse will be. Life to me is the biggest teacher of acting."
Get tickets! Click here: www.tonylobianco.com/The-Little-Flower.html
WATCH A PREVIEW OF TONY LO BIANCO IN THE LITTLE FLOWER!
Email us Let us know what you think.