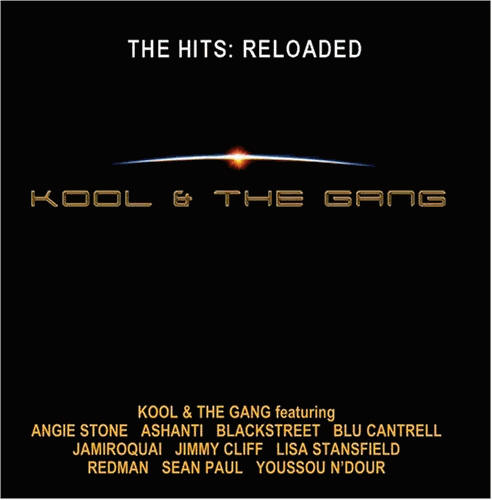 Ko
ol and the Gang
-
The Hits: Reloaded
(

Sanctuary

)
It's always a bit of a double-edged sword when an older band records with young, hip artists. On one hand, it is nice to see a group who blazed trails to be given their props from the generation that grew up listening to them. On the other hand, it seems a bit desperate, like a past-its-prime act is trying to ride on the coattails of other artists and are relegated to being sidemen on their own CD.
Kool and the Gang were one of the innovators of hard-core funk in the early 70s with hits like "Hollywood Swinging" (which INXS totally ripped off for their 1987 hit single "Need You Tonight") and "Jungle Boogie" (which got a renewed life when Quentin Tarantino used it in Pulp Fiction.) They really hit their stride in the hit-laden years of 1979-1987, when they took on a smooth new lead singer James "JT" Taylor. They have not really had a hit since 1987, when Taylor left for a pretty unproductive solo career. No one has ever really bought into the band with a new voice, and a short-lived return of Taylor also did not seem to take.
So now, seventeen years later, Kool and the Gang are back. As a novel attempt to get over the lead singer problem, they have a whole bunch of lead singers. Almost every song on the album is a remake of a Kool and the Gang classic with one or more guest artists taking lead vocals. (The final song, "Jazziacs at the Kool Jazz Cafe" is a funky throw down that does not have any guests taking the spotlight from the Gang.)
The good thing is that, for the most part, the songs are good enough that they are hard to muff, and the guests are appropriate to the tune. The songs that work best are probably the ones that are most faithful to the originals. Angie Stone does a divaish makeover on "Jones vs. Jones." Ashanti's version of "Cherish" is better than anything on her last album. Jamiroquai does a wonderfully bouncy take on "Hollywood Swinging." Blackstreet shimmers on the lesser known quiet storm ballad "No Show." Jimmy Cliff and Bounty Killer do a fun reggae rethink of "Ooh La La (Let's Go Dancing)." Perhaps most impressive is a simmering "Too Hot" which reminds us how much the world needs to hear more of the missing-in-action vocal fireworks of Lisa Stansfield.
It doesn't always work out that way, though. The songs that don't succeed tend to be when they try to be something the band just aren't. For example, Method Man's original rap that just barely touches on the song "Jungle Boogie" doesn't click at all, though it may be appropriate in the context of one of Method Man's CDs (no, it would probably suck there too). Sean Paul and Spanner Banner's dancehall deconstruction of "Ladies Night" also just does not connect... though it does hold together a little better than "Jungle Boogie."
Overall, though, The Hits: Reloaded is surprisingly well done. Musically, at least, Kool and the Gang remains a hot little unit. If they have to have the kids come on board to get us to take a listen, at least once we are there they show us they can still take the kids to school. (11/04)
Jay S. Jacobs
Copyright © 2004 PopEntertainment.com. All rights reserved. Posted: November 12, 2004.

Copyright © 2004 PopEntertainment.com. All rights reserved. Posted: November 12, 2004.