PopEntertainment.com > Feature Interviews - Actresses > Features Interviews F to J > Kathryn Hahn
Kathryn Hahn

Pictures of Lily

by Deborah Wagner
Copyright ©2007 PopEntertainment.com. All rights reserved. Posted: February 18, 2007.
Have you ever met someone and just instantly known that they were special and that you could become fast friends? Well, that sums up speaking to Kathryn Hahn. This talented actress, now in her sixth season playing Lily Lebowski on NBC's popular Sunday night drama Crossing Jordan, is as friendly and sweet a person as she is an excellent actress. Her positive energy and zest is contagious to those she meets.

Though acting has always been her love, Hahn is now cherishing her exciting new role – as a mother to 3½-month-old Leonard. Calling the experience "heaven," Kathryn and her husband (and cast-mate) Ethan Sandler are enjoying every moment of the wonderfully challenging new role as parents.

Though not everyone will know her by name, most will recognize her face. Hahn's impressive body of work continues to grow since being discovered by a NBC casting director while performing in a theater festival. After being flown to Hollywood to read for the part of Lily, Hahn landed the role she loves so, which has also professionally helped to open so many doors for her. Now with film credits like How To Lose a Guy in 10 Days, Win a Date With Tad Hamilton, Around the Bend, Anchorman: The Legend of Ron Burgundy and The Holiday, Kathryn is enjoying acting, Crossing Jordan, movies, motherhood... and life!

There is a lot more on the horizon for this talented, theatrically-trained actress. Without a doubt, we will be seeing a lot more of Kathryn Hahn in years to come.

How has becoming a mother changed your life?

It's heaven. They have been so good on the set. He's able to come to the set with me, which is just fantastic. Of course the crew has just fallen madly in love with him. Every Friday night they have a draw where we all put our names on a $5.00 bill and throw them in a pot and whoever's name gets drawn wins it. Leonard won the last pot, which was fantastic! So, he won $140.00 bucks and one of the crew members was having a big Super Bowl party, so we just said Leonard would buy the drinks. (laughs)

That's great! His first time being the big spender.

I know! Exactly!

Crossing Jordan is now in its sixth season and still going strong. What do you think it is about the show and the characters that keeps your fans coming back for more?

I think that as opposed to a lot of the other investigative shows – the procedural dramas – there is so much character involved in Crossing Jordan. It has a little bit of a soap opera and a little bit like a CSI or another procedural show. That kind of puts it in its own category. It's enough of a serial for people to come week to week and to look forward to the next week's episode. They are not such stand alone episodes like some of the other procedural shows on television. And I think that the characters are not often what you see on television – not so typical. Steve Valentine who plays Nigel and Ravi (Kapoor) who plays Bug and Jordan (Jill Hennessy) and Lily who I play – I think they are so unique. It's fun to kind of see these people in hero positions, which you rarely get a chance to.


That's very true. Now, I know you weren't on the last episode. Did you take off a while and miss a lot of episodes after having the baby?

Yes, I took off three months, so there were seven episodes I missed. They wrote my pregnancy into the show, which was just a dream. My husband – Ethan Sandler – he's been playing my character's lover for a while now, so that's been a joy to be able to go to work together. And to be pregnant actually, it'll be fun for my son to be able to watch these episodes and know he's in my belly.

Oh, that's great. Now, what's it like working together on the show?

It's been hysterical. We had worked together in theater about a decade ago, so we hadn't had it for a while. It's just been so funny. I mean he'd tell you that I am just as bossy on screen as I am off. (laughs) There's a lot of eye-rolling going on here by Ethan. It's just like vacation. I can't believe I can drive in together with him in the morning. It's so fun. Of course, both families are over the moon. Both families basically have viewing parties. They are so excited!

Was it weird leaving him at the altar last season?

Oh, that was horrible! It was horrible! I was pregnant then but no one knew yet because it was early on. So, my hormones were all over the map anyway. I had such morning sickness. When we shot that episode, the nausea of leaving him was as bad as the nausea of the pregnancy.

I really love Lily's character. She has a sweet, caring innocence to her but is strong and passionate about her beliefs. Do you enjoy playing this complex role?

I love it so much. I have loved it from the beginning. The storylines have been so rich and so unexpected. I mean with all of the stuff with her mother – Lesley Ann Warren. We have just been able to have so much fun together – the writers and I – figuring this girl out. I feel like because she's a supporting character in the show, we are able to take bigger risks, story-wise. So, I'm not always married to the "whodunit" storyline. It's been fun to kind of stretch my acting muscles in this part and not just have to say a lot of medical jargon.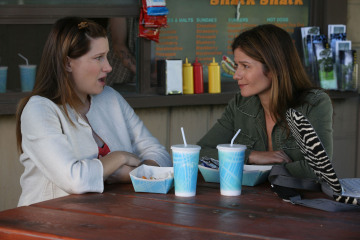 I had been playing the grief counselor for so long I was blessed with being able to have most of my scenes be across from these amazing guest actors who had to come in and mourn the loss of their loved ones. I was just constantly taken to school by these people who would come in and have one scene an episode in which they would have to find out that their daughter died or father died and these really difficult things. (They'd) come into a set that has been working together for five years and I have just been blown away. So, that's also been really fun. But, the storylines that I do have that have been involved in the "whodunit" have also been really fulfilling as an actor – just as a witness to other people's work.

Her job was a really intense one. Do you think you could do what she does as a grief counselor?

Umm… I think that you have to be really good at compartmentalizing, which I don't think Lily is. I think that's why inevitably she had to leave the morgue – because she feels things too deeply and couldn't shake it off. I don't know if I'd be able to do it. I mean, right now, while I'm such a hormonal mess, I'd be sobbing right alongside with them and probably be the worst therapist on the planet.
I really think it would be so difficult. I mean to work in the coroner's office or morgue anyway takes a particular type of human being. We were able to go into the LA County Coroner's Office when we first started shooting. I mean, I have been to an Irish Wake before and I thought I knew what it meant – but this was a completely different. I walked out with a cup of coffee and then had to sit in the parking lot for about twenty minutes before turning the ignition, because I couldn't believe what I had seen.
I must say that there was definitely a gallows humor between everyone who worked there. I think that is the only way you can get through it. Not in any way to be disrespectful to the bodies that are in there, but just with each other. There is so much ribbing going on and so much joke-telling. I think that's how they kind of go through it. Of course your social life becomes the people you work with, because of no one else will really, really understand how you could do that. It makes me laugh, because I understand when watching Crossing Jordan. I think – oh my God, they have no other life but these people. It's just their entire support system and it's just really realistic, I think. We have the visiting medical examiner, who comes to the set to help train our actors. He is married to another medical examiner as well. That's another indication as to how realistic Crossing Jordan really is in that department. This group of characters are each others' family.


Now, it seems to be gearing up for a serious love triangle between Lily, Bug and Jeffrey? What can we expect this season?

Lots of drama and lots of Lily. Lily is really interesting because she is a little dark. She's not as innocent or sweet as she once was. She really makes some interesting decisions that you don't expect. I think she is really thrown by being pregnant and really thrown between these two men and is just not sure what direction is up. Definitely in reading it myself – she did a lot of things that shocked me. I thought Lily, she did that? What happened to her? (laughs) She used to be such a sweet girl. I think it will be interesting. A lot of people are going to feel really bad for Bug, I have to say. Poor sweetie.

Really? Oh, no! But he's so sweet.

I know. He's the best. Isn't he the sweetest? I just love him.

I guess I have to wait until Sunday evenings to find out.

Yes, just don't hate me. Don't hate me. (laughs)

As far as with Woody (Jerry O'Connell) and Jordan (Jill Hennessy)… now that their love interests are both off the show, can we expect to see something happening between those two again?

Absolutely, I don't think that Jordie and Woody (laughs), I mean Jordan and Woody. Jordie???

No, I like Jordie. That's my little girl's name.

Is it really???? I love it!

Yes. I named her Jordan. Not after the show, of course. I just thought it was a great, powerful name for a girl.

It's a sweet name and a powerful name. And Jordie is a really cute nickname. I don't think that their relationship or their mishegas between them will ever be completely resolved. There is too much. I think they are too close to date but the tension is never going to dissipate. There are things in the season that definitely will happen that I think will shock you in terms of their relationship.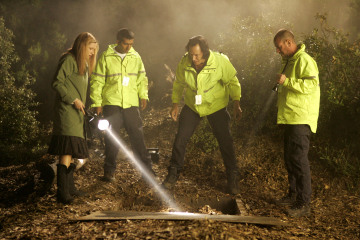 Now, it seems like they are also watching Dr. Macy's (Miguel Ferrer) character pretty closely. Is that going to be a big part of the season too?

Yeah. He goes through a lot as well. I mean Dr. Macy had a lot of drinking issues last season. He's still recovering and coping with that and with the potential loss of his job – there is a lot going on with Dr. Macy. I don't think Lily and Dr. Macy have ever been quite resolved either. They had a huge flirtation in the first couple of seasons. So, it will be interesting.

I remember the last scene in the one season where you guys were on top of a roof, I think and everyone wanted you to get together. People were really passionate about that.

It's true. People were so passionate about it. There is a lot of joking around on the set that Lily has become the "morgue slut!" (laughs) She's basically been with every person in the morgue except for maybe Woody.

And there is still time for that…

Right, maybe next season. (laughs)

But you're a Mom now so they might have to straighten her act up now…

That's right! Poor Lily!

I saw a quote from Jill where she said that Lu's (Leslie Bibb) death would make for wonderful television, but she wasn't sure why it had to happen. You've been a tight-knit cast of five from the beginning. How easy is it to let new characters in – like Leslie Bibb, Jennifer Finnegan and Charles Mesure?

You know what? I cannot imagine walking on a set with a cast that has been together for so long and that is this close. I mean five is very small but I think the casting directors are incredible. They pick not only incredible actors but really, really, really incredible personalities. So, everyone who has come in has been welcomed with open arms and we have all become really close friends with them. Like Brooke Smith is on this year and is just an incredible actress and such a great egg, a really good person. Leslie was the best and we all just adored her. There is always the core of us and some amazing actors who come and go and sometimes come back. In that regard, we have been really lucky with the guests and recurring performers.

How did all the work you did in theater prepare you for everyday life on a weekly TV drama?

Wow, man, I think that there is a work ethic that is imperative for working in the theater that boded really well for this kind of television. Because it's just so fast and you have to really trust your gut. It's like boot camp almost. There are a lot of things I had to let go of as a theater actor in terms of working on television. In the theater you are really in control of your own arc as a character. You know how the play ends and you work towards that last act. In Crossing Jordan and in television you have to give that up because you don't know where the character is going. The writers often don't let us in on the big picture, so you just have to dive in and have faith and commit to whatever is in front of you. It has been really fun to just let go as an actor. Just in terms of storytelling, the theater of course prepared me.

Do you miss acting on stage and are you planning more roles in the near future?

I do and I have been lucky enough to work in theater at least once a year since Crossing Jordan started – either back east or out here. Last year, I did something at the Ahmanson Theater (in LA); a play called Dead End, which I had also done in Boston before Crossing Jordan. I was able to do the show during the day and go to the theater at night. That was just heaven. So, yes, I absolutely am able to still do theater along side of Crossing Jordan. It's important to me.

Lately, you have been adding more and more movies to your resume. Your latest, The Last Mimzy, was just at Sundance. What kind of role did you play in that?

I played a little bit of a dilettante. She's a yoga instructor, lingerie saleswoman, Buddhist… She's kind of a new age chick, who dates a grade school math teacher played by Rainn Wilson. It was hilarious! We just had so much fun together. He's a hysterical human being. Through the course of the movie, he has been having these very strange dreams. I try to convince him that the dreams are telling him something and we kind of go on a hunt to find out what those dreams mean.

That sounds like a fun movie.

I haven't seen it yet, but I think it is going to be one of those good classic family films, like War Games.

In both How to Lose a Man in 10 Days and A Lot Like Love, you played the main character's best friend. What do you think it is about you that suggests "best friend" to casting directors?

I ask myself that all the time. (laughs) Yes, I should write a book called Best Friend. I know I am a character actress and I hope that one day I can be considered for leading material. But I have been so lucky because I think that sometimes the character parts are: A. Funnier, and B. Are able to have more flexibility in terms of character. I don't know. Maybe I complement gorgeous movie stars well. Maybe I'm the Ying to their Yang.


Is filmmaking something you would like to do more of?

Yeah absolutely, I can't wait. I really, really, really have loved making films and have been so lucky that Crossing Jordan has been flexible with movies that come up. Every hiatus, I have been able to do a movie. So it's been really fun and lots to knock on wood about. But nothing new since Last Mimzy on the horizon, but after Crossing Jordan wraps for the season, we'll see what happens. I love it and have been so blessed to be able to have been cast in those films. How to Lose A Guy in 10 Days was such an unexpected surprise in how well it did. We were like, "what?" It just seemed like a quiet romantic comedy and just took off. Of course, now I am kind of spoiled since that was my first film, so now I think… What it didn't make a hundred million...? Get serious! I was just incredibly, incredibly spoiled by that experience.

Do you have any desire to do what so many of your fellow actors have done and move to the other side of the camera?

You know what? I do. In a lot of different ways. I would love to try my hand at writing. And I would love to try my hand at directing at some point. That would be fantastic! You know, I worked with Nancy Meyers on The Holiday. She wrote, directed and produced. She was such an incredible role model. So, we'll see what happens. That would be fantastic.

So, what is on the horizon for you this year, besides being the best mommy around?

Definitely, being the best mommy and seeing this little boy go through his first year would be the best way to spend my time in the next couple of months. We'll see. There are a couple of things here and we'll see if anything works out. I think it will have to be something incredibly special this first year, because you never get this time back. Movies and TV are always going to be around. I mean the newborn is already gone and he's a little baby. I can't believe it. I just look at the pictures from when he came home from the hospital and think where did the newborn go already?
Email us Let us know what you think.
Features Return to the features page.

Photo Credits:
#1 © 2004 Chris

H

aston

. Courtesy of NBC Television. All rights reserved.
#2 © 2005 Chris

H

aston

. Courtesy of NBC Television. All rights reserved.
#3 © 2007

Dean Hendler

. Courtesy of NBC Television. All rights reserved.
#4 © 2007

Dean Hendler

. Courtesy of NBC Television. All rights reserved.
#5 © 2005 Chris

H

aston

. Courtesy of NBC Television. All rights reserved.
#6 © 2006 Mitch Haaseth. Courtesy of NBC Television. All rights reserved.
Copyright ©2007 PopEntertainment.com. All rights reserved. Posted: February 18, 2007.

Copyright ©2007 PopEntertainment.com. All rights reserved. Posted: February 18, 2007.