PopEntertainment.com > Feature Interviews - Actresses > Feature Interviews - Directors and Screenwriters > Feature Interviews - Music > Feature Interviews A to E > Julie Brown
Julie Brown

You Can Call Her Downtown...

by Ronald Sklar
Copyright ©2007 PopEntertainment.com. All rights reserved. Posted: August 14, 2007.
Before we delve head-first into Julie Brown's fabulousness, let's get the annoying and endlessly tedious part out of the way first:
This Julie Brown is not "Downtown" Julie Brown. She is the white Julie Brown. Ya feel me?
Our Julie Brown, the subject of this article, has come to terms with the endless confusion, which had been going on since both Browns hit it big at the exact same time in the eighties.
"When people are looking at me, they know that it's me and not her," Brown says, "but they don't know that 'Downtown' is not my nickname. We were both on MTV at the same time, but she hasn't been around lately. So this is my new idea: the other day, a woman was in the store and she asked me, 'are you Downtown Julie Brown?' and I go, 'yes, I am.' It doesn't really matter and I don't want to explain it anymore. It's so much easier. So that's my new deal."
Deal done. You can call her anything you want, but don't make her over. That she can do all by herself. She's only just begun, with a new project debuting soon on The Disney Channel called Camp Rock, which will be High School Musical set in a summer camp. And then there's always her live act, which cannot be missed, and more surprises in the queue.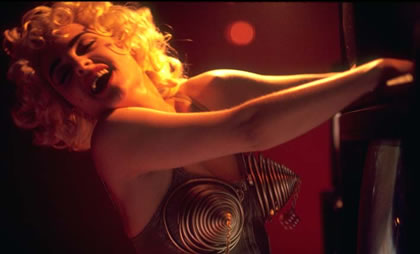 This Julie Brown you know from the classic MTV series Just Say Julie and the novelty tunes "Homecoming Queen's Got A Gun" and "I Like 'Em Big and Stupid," as well as for the cult-cable-classic Earth Girls Are Easy. She also starred in the Madonna: Truth or Dare spoof Medusa: Dare to Be Truthful, which had been featured on The Material Girl's blog of late.
Is the distinction becoming clearer now? And yet it had never been a problem for the gay community, who had given her the rarely handed out and hard-earned title of "gay icon." Of the gays who flock to her act and eat up her sense of humor she says, "Gay guys do [my act] better than me. When you're a gay icon, that's when you know you've arrived. I think they like when you're doing something bigger than life and I'm doing all these character-girl/women and making fun of being female. They just appreciate it. They appreciate comedy. They are amazing fans. They never get over it."
Nor has anyone who has seen her portray the dippy weathergirl Buffy Denver on Newhart ("see ya real real REAL real soon!") or one of the most memorable of Murphy Brown's long line of admins ("I played one of the last secretaries, and had a total mental breakdown and locked everybody out on the balcony.").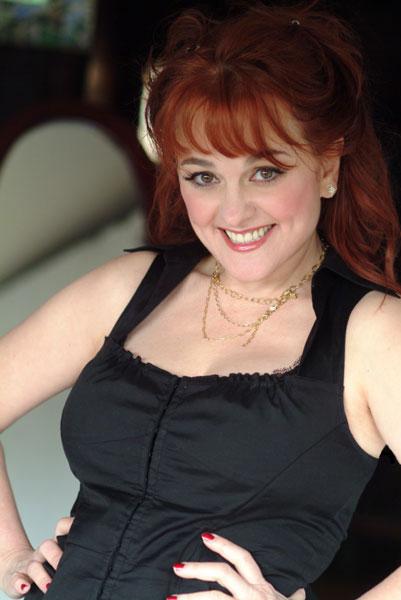 It's not easy being Homecoming Queen, but she keeps on keeping on. She says, "There's a couple things that people know me from instantly. They know the MTV show, Just Say Julie. They'll know the Madonna spoof, Medusa, and Earth Girls Are Easy and 'Homecoming Queen.' Those are the four things. Which is great, but it's also annoying too. You can't fight the initial thing that made people know you. You're happy people know that about you and like it, and sometimes it bugs you too."
She's working on it, though. Have patience. And she appreciates the love in the room.
"Even when I did my show this weekend," she says, "I had people go, your MTV show got me through high school. It meant so much to me. They're telling you that something you did really moved them during an important part of their life. For me to say, 'I just don't care about that anymore' is just retarded. You have to value that, in the big scheme of things."
That big scheme started humbly, when she was doing standup on the left coast. It was not long after that when she was discovered by a kindred spirit no less incredible than Lily Tomlin.
"I do love her," Brown says of Tomlin. "She is one of my idols. I had invited her to one of my first shows, and she showed up! And she says to me, 'if you ever come to LA, call me.' Then she was casting for The Incredible Shrinking Woman, and that's how I got my SAG card. It was my first job. At first I was horrified [at seeing myself on the big screen], but I was so grateful for somebody to do that for me, for her to bother to put that energy into me."
The energy continued to churn as she honed her Valley Girl character long before Frank Zappa and Moon Unit had brought the suburban Cali phenom to prominence.
She says, "I was doing the Valley Girl persona in nightclubs. And then suddenly, 'Valley Girl' the song comes out. And I got so depressed. I mean, that's my character! But then I thought, wait a minute. I can still do this. [The Zappas] don't own this. So that's when I started thinking that I can do music. So it really was an inspiration for 'Homecoming Queen.'"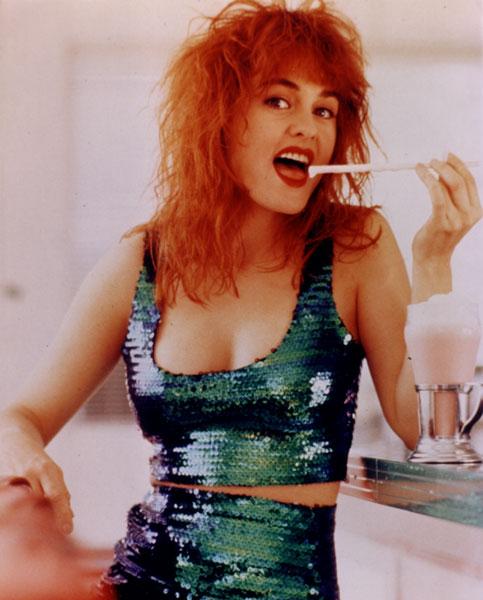 "Homecoming Queen's Got A Gun," a Mean-Girls-type play on the girly-girl persona, was her biggest hit and launched her into that small but cherished group of got-it-right parody artists, like "Weird Al" Yankovic.
For her, Valley Girls were as easy as Earth Girls.
"I grew up in the Valley," she says of San Fernando, home of the original Valley Girl lifestyle. "I'm third-generation Valley. My great-grandfather was an actor and he was in Citizen Kane and Reefer Madness. My grandmother was the voice of Minnie Mouse in Spanish, when they dubbed her."
As well as Tomlin, her influences include Jonathan Winters ("he did great, weird characters") and Monty Python ("I'm watching them and I'm like, this is pure genius."). However, the attitude and persona she longed to adopt was that of Ann Margaret in the opening number of Bye Bye Bird-heee, with the flying red hair and the twist-and-shout blouse and the va-va-voom.
In her own way, she nailed it, and eventually knocked it on its ass. And to prove that she is smart, she admits that she loves Lucy but, "honestly, I find Catherine O' Hara much funnier. I think she is completely brilliant."
Also completely brilliant is the new respect for the former so-so reception to Earth Girls Are Easy, which came and went in the theaters but found a firm home on cable over the last few decades. Of that film (she wrote the screenplay on a typewriter), she says, "It evolved into that [a cult classic]. People always come up to me and tell me how much they love that movie. Now, at this point, I let go of all the stuff that was involved in getting it made, and I'm fine with it. It's this thing in the world. It's its own thing. It's just out there now, being on cable."
Also out there now is her son, now thirteen, who has still yet to see most of her past work ("I'm showing it to him in little increments," she says).
Yes, Homecoming Queen's got an SUV. She says, "I have a whole side like that. I could have done more projects, but I wanted to be a good mom. He is the top priority in my life. I love being a mom to him so much that there are things you don't have because of it. When I would leave him, it would be like agony. I like reality shows, even though I know they're terrible and they put writers out of business. I guess I could do one, but my actual life isn't that weird. I would have to weird it up. It's exactly what Andy Warhol said: in the future, everybody will be famous for fifteen minutes. It did happen. It's exactly what he said. "
Yet please don't think of her as normal.
"The way I feel when I'm performing or writing," she says. "I know I couldn't exist not doing this. The feeling I get from it, there's nothing like it. I'm sort of stuck with this."
Lucky for us.
Email us Let us know what you think.
Features Return to the features page.

Copyright ©2007 PopEntertainment.com. All rights reserved. Posted: August 14, 2007.
Photo Credits:
#1 © 2007. Courtesy of JulieBrown.com. All rights reserved.
#2 © 1992. Courtesy of JulieBrown.com. All rights reserved.
#3 © 2007. Courtesy of JulieBrown.com. All rights reserved.
#4 © 2007. Courtesy of JulieBrown.com. All rights reserved.
#5 © 2007. Courtesy of JulieBrown.com. All rights reserved.