When Q102's Jingle Ball holiday concert rocked Philadelphia last night, some of music's big stars hit the stage in front of nearly nineteen thousand screaming fans. The star-studded lineup brought Bieber fever back to Philly with teen heartthrob Justin Bieber, as well as powerful acts like OneRepublic, The Wanted, Karmin, Cher Lloyd, Ed Sheeran, The Ready Set (aka Jordan Witzigreuter), Hot Chelle Rae, Psy, Ryan Beatty, Bridgit Mendler and Olly Murs.
It was a great night at the Wells Fargo Center (home to the Philadelphia Flyers and 76ers) and PopEntertainment.com was invited on the red carpet to speak to tonight's young talent before they hit the stage. As 2012 comes to a close, we discussed their careers, their plans for 2013 and what they'll be doing for the holiday season. Here's just a little of what they had to say and some shots of the red carpet fun.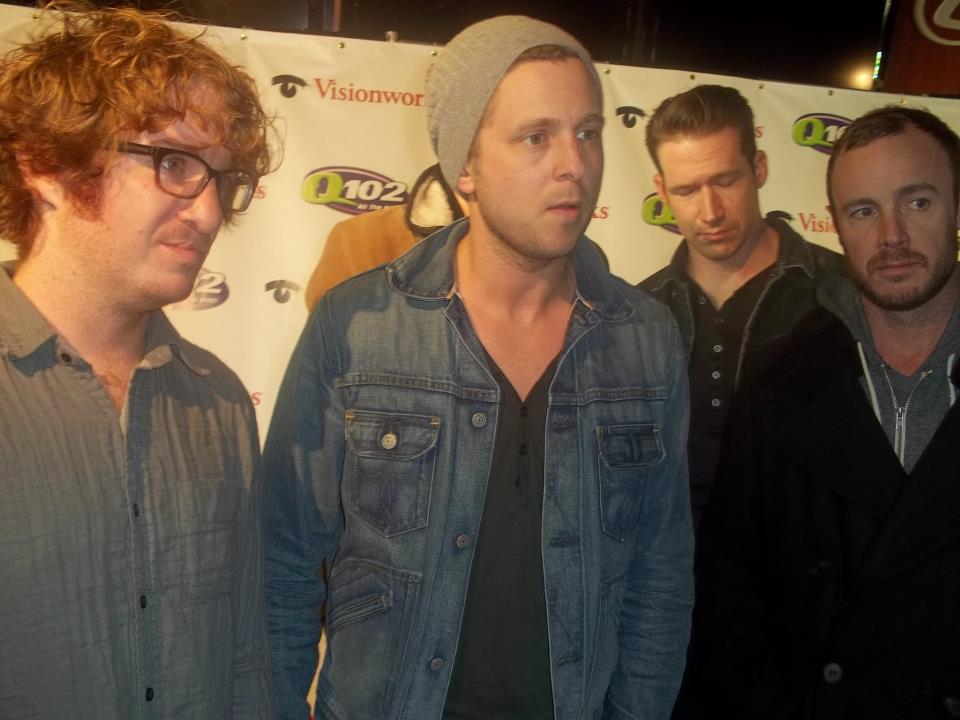 OneRepublic:
Colorado Springs' own OneRepublic features Drew Brown, Brent Kutzle, Eddie Fisher, Zach Filkins and singer, songwriter & award winning producer Ryan Tedder. OneRepublic became a huge success on MySpace even before being signed to a record label. Their hits include chart toppers like "Apologize" and Good life.
Their latest single Feel Again, which was pre-released from their new album, shows just how special this talented group of guys really are. Feel Again was inspired by the heartbeats of children in remote villages of Malawi and Guatemala and has been making a real difference for children in need around the world. Working with the Save the Children Foundation, OneRepublic is donating nearly $800,000 of the profits from the song to help children in need, around the world. For more information, visit EveryBeatMatters.org.
Looking back on your first single "Apologize" to your current single "Feel Again", how have your lives changed?
Ryan Tedder: Pretty much every way a life can change. As much as possible. I think we're for the most part the same people but we've been to fifty or so countries, five continents, we travel sometimes 300,000 miles in a year so certain things that you used to think would be weird like being in three cities in two days, well it happens.
Like the song "The Good Life?"
Ryan Tedder: Yeah, like "The Good Life." "The Good Life" is about our lives. That's really what it is. We're stoked. This is what we want to do. We are so grateful for our fans because they definitely brought us here.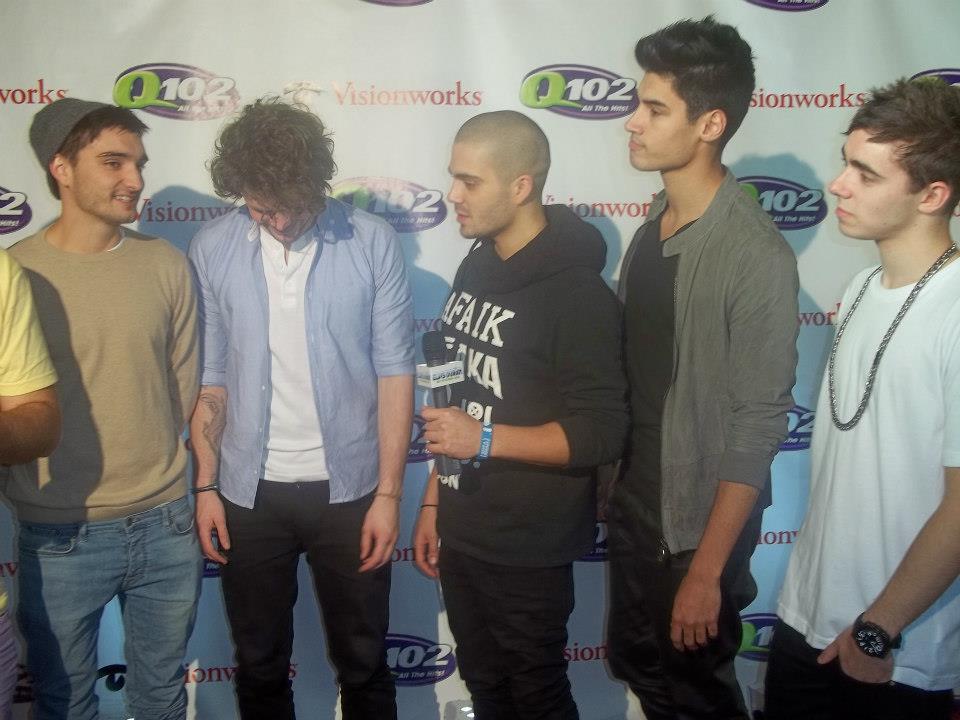 The Wanted:
UK's super group The Wanted has attained great success this year and includes a funny and talented group of Brits including Tom Parker, Siva Kaneswaran, Max George, Nathan Sykes and Jay McGuiness.
2012 was huge for them and they are definitely enjoying being part of the British invasion that is currently hitting the US. They told us they are working hard on writing some more upbeat songs for their new album due out in April. After a full schedule of touring, they are enjoying their time in the studio to sit back and just be creative.
What was it like collaborating with other artists lately?
Tom Parker: Ah, it's been great. We did a track with Rita Ora which turned out really good. We are supposed to be writing with Chris Brown in January, which ought to be cool. And we just did a song with PitBull for his album which was really cool. I think there may be a couple more. We'll see.
Karmin:
The engaged couple that make up Karmin are Amy Heidemann and Nick Noonan. They've enjoyed singing covers which is what people first knew them for, but they felt it was important to establish themselves for original music too. They're excited for what's to come in this new album and dedicate it to their amazing and loyal fans.
So guys… What came first? The music making or the love?
Amy Heidemann: Well, we went to college together and first came the relationship. After we were together we realized we sounded pretty good together. That's when we started the YouTube videos and it turned into this!
Bridgit Mendler
Actress and singer Bridgit Mendler is probably best known for her role as Teddy Duncan on the Disney Channels hit TV show - Good Luck Charlie. Music however, has always been a part of this busy twenty year olds life. With the recent release of her debut album, she tells us she's thrilled to have co-written the music on the album and that her fans are really loving it. Keeping her priorities in order, Bridgit will also be heading off to college shortly.
Are you going to pursue an acting career as well as a singing career, or just stick to one of the two?
Bridgit Mendler: Well typically Disney shows don't go past four seasons, so as for Good Luck Charlie, I don't think that will be an option for me much longer. I do hope to keep singing and acting in movies or any other TV shows that I get the chance to participate in.
Hot Chelle Rae
Hot Chelle Rae is Nashville's own pop band, born and raised right in the heart of country music. Best known for their hit singles "Tonight, Tonight" and "I Like It Like That," this group of four includes Nash Overstreet, Ryan Follese, Ian Keagy and Jamie Follese.
Their somewhat odd sounding name - Hot Chelle Rae actually came from the username of a girl they met on MySpace. It was unique and rare so they just went with it.
Hot Chelle Rae appreciates their fans and know they are where they are because of them. They've been on the road touring for most of 2012 and say they love meeting their fans after the shows, taking pictures with them and signing autographs. They also feel it's important to bring out a positive message and are committed to increase awareness about anti-bullying by taking part in many anti-bullying contests and campaigns.
What are some common misconceptions about being "famous"?
Nash Overstreet: People think we have so much money! We really don't have as much money as some people would assume. People also think we have so much free time to just do what we want but we really don't have that much time. A lot of it is spent working.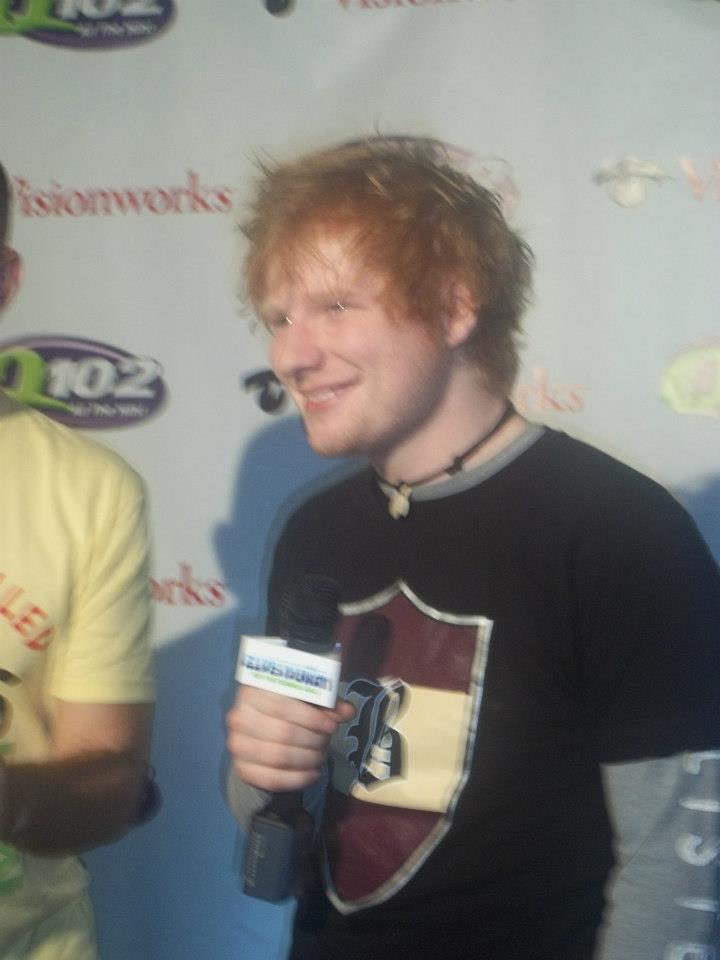 Ed Sheeran
Ed Sheeran, the talented English singer/songwriter has had an impressive 2012. But, it's believed that this is just the beginning for this down to earth performer who's star is expected to keep rising. He credits the internet for being a large part of his commercial success and growth over the last few years and he continues to strive to be the best singer/songwriter he can be.
Some highlights from Sheeran's wild ride in 2012 included playing at the Queens Diamond Jubilee alongside music legends like Elton John, Paul McCartney and Stevie Wonder and performing Pink Floyd's classic "Wish You Were Here" at the closing ceremonies of the London Olympics in front of billions of people worldwide. Not bad for a twenty one year old, huh?
Known for his acoustic style and deep, moving songwriting including his chart topping song "The A Team," Sheeran has a distinct style all his own. Volunteerism is also important to Sheeran and the haunting song and video for "The A Team" was inspired by and portrays the life of Angel, a drug addicted prostitute Sheeran met while volunteering at a homeless shelter.
What was it like collaborating with Taylor Swift and writing for One Direction?
Ed Sheeran: It was great to make music and write with someone so successful. Taylor and I had a lot of fun putting our ideas together. She's very similar to me, she comes from the songwriting world in Nashville, so it's like writing for myself. I would love to work with her again. And co-writing two of the songs with One Direction was great too.
Cher Lloyd
English recording artist Cher Lloyd rose to fame when she came in fourth on Britain's X Factor. Shortly after, Lloyd was signed by the show's producer and music mogul – Simon Cowell.
Her debut album Stick + Stones has been very successful for tiny and adorable young singer with a big voice. Her mega hit "Want U Back" has gone platinum and has sold over 2,000,000 copies in the US alone.
How was it being on tour for the very first time?
Cher Lloyd: It was definitely a lot different than I ever expected. I had so much fun and it was such an amazing experience. A lot different from X Factor but in a good way and I get to meet so many of my fans!
Olly Murs:
Like Cher Lloyd, Olly Murs got his start as a finalist on Britain's X Factor and credits Simon Cowell as one of his mentors. He's probably best known for his hit single "Heart Skips A Beat," but now with two successful albums under his belt, his third record titled Right Place Right Time was released recently in the UK and went straight to number one. It's US debut is slated for April 2013.
"Troublemaker," the first single from this latest album features vocals by Flo Rida and is currently moving up the charts worldwide. Murs says he is looking forward to 2013 and is enjoying the reception his music is getting in the US and at home.
Are you glad you were persistent with auditioning for X Factor?
Olly Murs: Yes, because if I wasn't persistent I would not have gotten to be here tonight performing.
What's your favorite holiday tradition?
Olly Murs: I can't wait for roasted chestnuts and marshmallows. I love all the traditional Christmas stuff.
CLICK HERE TO SEE WHAT ONEREPUBLIC HAD TO SAY TO US IN 2008!