How does James Blunt follow up a 2005 mega-monster hit, in a world with the attention span of a gnat and a recording industry in shambles and a pitbull cage full of critics trained to tear him apart?
"I didn't know which direction I wanted to go," he tells me about the long birth of his latest album, "but I knew I didn't want to repeat myself. And to make a third album of acoustic bass and melancholy songs wouldn't have been too fulfilling for me."
So with a screeching turn of about a hundred and eighty degrees, the resulting accomplishment is Some Kind Of Trouble [Atlantic Records]. The finished product, and its warm universal reception, has given him anything but trouble. With his goal to lighten it up, he's already knocked one out of the park with the happy hit, "Stay the Night."
"I took a bit of time out to hang out with my friends in London," he says, "and just let the well of inspiration slowly fill up. Then that moment came quickly and spontaneously when I met a man called Steve Robson [the famed British record producer and songwriter].
"I was just supposed to hook up for a beer. But instead, I wandered into his studio, where he was playing the piano. On his walls were all these electric guitars. I picked one up and we wrote a song then and there called 'Dangerous.' And it sounded naďve, like a teenager. I said to him immediately, 'This is the direction I want to head in.' So I came in the next day and recorded it as a demo. It sounded great. And those days turned into weeks and months, and over a year later, we made Some Kind of Trouble."
A far cry (more like a far laugh) from his sensitive-singer-songwriter debut album, Back To Bedlam, which slow-cooked its way to the top of the chart over the course of many months, even years. The eventual breakout hit, "You're Beautiful," became one of the signature songs of the oughties, and Blunt was on his way to having to outdo himself.
"It was definitely a surprise as to how big it became," he says of his initial worldwide hit. "I knew it was a song that people could connect with easily, even though 'Goodbye My Lover,' on my first album, is a much more personal song to me. And for many, many people, it's a much more personal song for them. But as far as radio goes, as far as the song that acts as a commercial for your album, I kind of knew that 'You're Beautiful' could be that one because it was crystal clear. And I think that's what radio is often about. But the amount that it hit around the world that was a surprise to me."
A surprise in a life of surprises for this man who has gone from a career in the military (in active duty for the British army, he's seen the hell of war in Kosovo) to performing the biggest concert venues in the world. Talk about some kind of trouble. Still, while serving his country, his muse was keeping him safe for a different kind of future.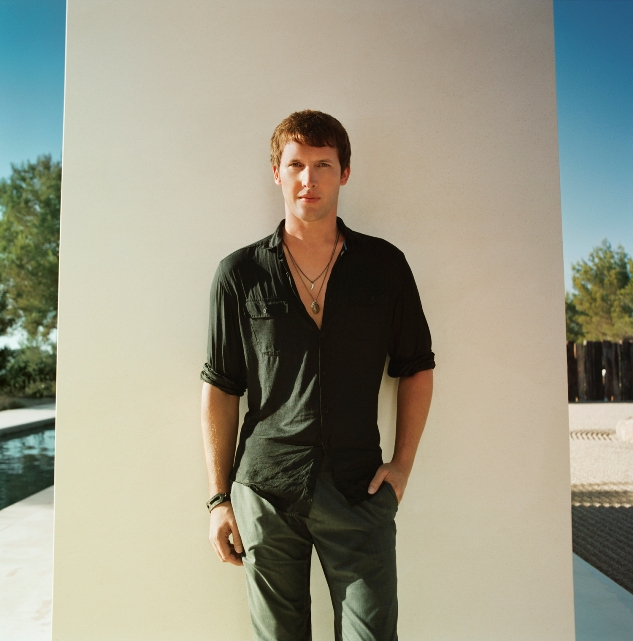 "When I first started writing songs and recording, I made that decision to fulfill the ambition of being a musician," he says. "I joined the army because they paid for my education. After I've done six years, I knew then that it was the moment to get out and do what I wanted to do."
He doesn't regret his decision to trade in his army rank (Captain) for pop superstar, but he also feels that his military career contributed greatly not only to his country and to world peace, but to the artist he eventually became.
"I think it was just a good education in the world," he says. "I went with people from all walks of life, all different backgrounds, and armies from different countries. You learn about the politics, and the psyche of different countries from their armies who go out and represent them. I was lucky enough to be educated into the problems that other people have in other countries that are not as safe as my own. Seeing life and death rolled out in front of you can put other, more banal things into perspective."
Although he is now a long way from the face of war, he still keeps a close eye on the desperate situation in Kosovo.
"It's desperately sad, really," he says. "The scars of war last for generations. It was a demonstration of how both people, Serb and Albanian, were wrong, simply for not being able to understand the other one's perspective. You have one side of the story, and it sounds absolutely right, but if you can't listen to and understand the other side of the story, then you are not open-minded enough. It was a sad demonstration of that."
Much of what he had seen and what he left behind can be witnessed in a 2006 documentary entitled James Blunt: Return to Kosovo, which chronicles his emotional return to the war-torn country and his intense reunion with those with whom he survived, and his mourning for those he had lost.
He says, "I went back there, actually, seven years after the war, and did that documentary. I saw the consequences of what we did. And I guess what I found sad is that we made many promises, but then at the moment, political will changed. Something else comes up, and we all just disappeared and headed off, in this case, to Afghanistan. We reneged on all the promises that we had made."
War, and serving in the military, had changed him, but nothing in his life so far prepared him for the war zone that was the record industry.
"I love what it is at its heart," he says of his the industry that fostered his career change, "and its heart is about music. I work with a band, with the thrill of playing on stage, and playing as one. To be able to express yourself is mind blowing. To play to an audience that has come on a journey with you is such a thrill, such a simple human communication. And I love that. The business itself in the media world is a different ballgame. It's taken me a bit of time to learn and understand. I'm a musician more than anything else."
Because critics cannot often be kind, and because audiences tastes are fickle and love can be short-lived, Blunt has learned to lean on those who allow him to lean long and deep.
"My friends, on the whole, are almost all the same, from school days and my time in the army," he says. "Is it difficult to make new friends? I'm kind of a bit older, I'm not fresh out of school, and I made a bunch of friends from the old days who I stick with for life, I hope. And I really rely on them. I still do make new friends along the way. My band mates have become the closest friends I could possibly have, maybe because I've been stuck on a tour bus with them for the last five years. But I do rely on my friends and family."
Family, a British military one who had been serving the Empire for centuries, is what first got him interested in music.
"Well, my parents had The Beach Boys and The Beatles," he says. "Then I went out and bought Pink Floyd's Wish You Were Here because I loved the cover. From school I heard Fleetwood Mac, lots of David Bowie, Led Zeppelin – I don't know if you can hear Led Zeppelin throughout my music, but it was what I was listening to.
"When I was in the army and I was traveling a lot, I could no longer really carry an amplifier and a guitar because there was no place to plug in my amp in my tank! I was more based on the acoustic guitar so I started to connect with a few singer-songwriters of the late Seventies, like Paul Simon, who I think is phenomenal; also, Neil Young, Lou Reed, Cat Stevens, and a pianist like Elton John. That's where my history's gone."
When not performing, which is becoming rarer, he makes his home in Ibiza, on the Spanish Mediterranean.
"It's like nothing else on the planet," he says. "I love to ski, to surf, to water ski, and to dive. I've gone out there as a kid, on family holidays. It was a time to make a home. The choice was either the rain and concrete of London versus the sunshine and the way of life of a Mediterranean island. It seemed to make sense."
Also making sense these days is the feeling he gets when he plays live, and the connection he makes with his growing legion of fans.
"I suppose it must be the same as a flasher in a park," he says. "It's the sense of exposing myself, and for people to be taken along and to connect and relate to me. Because I suppose the voice in your head is extremely lonely. No one else hears it other than you, all the arguments you may have and all the thoughts you have at night. I go through the same process as you in that. But when I get up on stage, and I sing songs that come from my heart, from myself, and I share those with people, and when other people say 'Yeah, I feel the same way too,' means that you're not as lonely. Or at least you're sticking your head outside the bars of your own mind's prison cell and other people can see that and go, 'Yeah, I'm here too.'"
A North American tour begins this April, after a leg in the U.K. Beyond that, even Blunt doesn't know what's next creatively. Until then, he can take comfort in friends and fans, even while he's on stage.
He says, "Sometimes, I forget the words and the audience will sing them to me."
Those are his fans again, keeping him out of some kind of trouble.
CHECK OUT JAMES BLUNT'S NEW VIDEO "STAY THE NIGHT"!
Email us Let us know what you think.