PopEntertainment.com > Feature Interviews - Actors > Features Interviews F to J > Emile Hirsch
Emile Hirsch

Takes Some Severe Steps Into the Wild

by Brad Balfour
Copyright ©2007 PopEntertainment.com. All rights reserved. Posted: December 26, 2007.

When youthful 22-year old actor Emile Hirsch got cast for Into The Wild, it was great career move for him, not just because he got to work with the actor's actor Sean Penn (in a directorial turn), but also because he was considerably challenged as an actor, and physically as well. In preparation for this demanding role, Hirsch had to lose a lot of weight and toughen himself up to endure some serious out-of-doors work in remote places like the Alaskan wilderness.

Based on a true story (and Jon Krakauer's bestselling book), the film details the life and death of Christopher McCandless (played by Hirsch). After graduating from Emory University in 1992, the top student and athlete abandoned his possessions, donated every penny of his $24,000 savings to charity, and hitched to Alaska to live in the wilderness – where he would encounter several life-changing characters. Unfortunately, McCandless pushed things to a fatal extreme.

The Los Angeles-born Hirsch has certainly been testing himself in the industry ever since he was a kid, playing both heroes and heavies in such films as "The Girl Next Door," The Lords of Dogtown and Alpha Dog. [Read our Alpha Dog interview at http://www.popentertainment.com/timberlake.htm] However, his lead role in Into The Wild has the potential for the young actor to be seen in a wholly different light.

Your character, Chris McCandless, completely left the comfort of wealth and privilege behind to live in the wilds of Alaska. How did you prepare for the role?

As much as the physical training of running and weightlifting and hiking was really important, there was also the mental exercise of reading a lot of hours. Always reading every day – whether it would be [novels such as Jack London's] Call of the Wild or reading [Henry David Thoreau's] Walden and getting into that whole world. That kind of mental discipline would turn out to be really important throughout the shoot. When you're reading about the world in a different way than you're accustomed to seeing it, it expands your mind. It definitely had me look at who I was in a different way and the world that I'm in, even the world of Los Angeles and Hollywood. When you're reading Thoreau you look at Hollywood differently, let me tell you.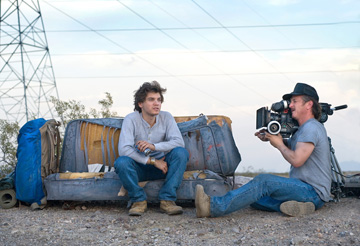 What were the challenges of shooting in the wild?

We were in all different types of climates. It would be really cold in Alaska and we'd be climbing a snowy mountain one day, snowmobiling around. On the first day, me and Sean [Penn] actually flew off of our snowmobile together. The whole crew was running up to us, "Are you OK?" and Sean was like, "That was cool how you jumped off and you were flying off [away from the snowmobile]. It's good that you lunged off; it's safe so it won't roll on you." And I was like, "So you're trying to turn our snowmobile wreck into a lesson on how to crash properly!" Everything was a challenge. We'd be in Lake Mead when it was like 120 degrees and everyone would just be hot. One of the guys got heat stroke and was vomiting, and had to quit. I really missed having a trailer. I would literally just lie on the mattress, the bed in the bus [that McCandless lived on in the film] for 45 minutes before the scene. I'd just pull up my sleeping bag – and just kind of shiver away.

By the end of the film you were almost skeletal. Did you need to lose a lot of weight?

I went from 160 to 115. So that was 41 pounds. I was 26 pounds overweight when I got the part, now I'm 130. So just to get into shape to play the part, I had to lose 26 pounds. It would look like I lost weight because I was 130 in the movie. So, I made it harder on myself by being heavier then Sean wanted me to be.

What were your diet secrets?

Just a willingness to punish one's self.

Did you not eat, or was it just from working out?

It was working out. Not eating is hard and you can't do anything else if you're not eating – and I had to do so much through this process. It was all about jumping on the treadmill for an hour a day.

Did this movie change your lifestyle?

Absolutely. It lit the spirit of adventure inside me, and I hope it never goes away. All the physical aspects stuck with me – I still run a lot, and I never ran before the film.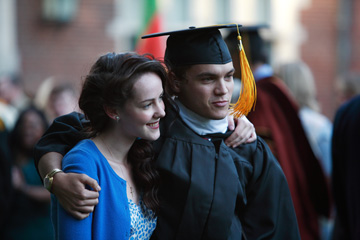 Did you think that the message at the end of the movie was that it didn't mean anything if you didn't go for it?

I think that it had changed him as a person. It would have made his questing different if he had done it differently.

What was it like being outdoors in such extremes?

It was cool. Another form of extremism in the real world. I like being in films that are different.

In the film, you helped a character go up a mountain, then there's a shot of light shining on you. What did you think that meant?

When you forgive, God loves. I think the film believes in humanity and love and forgiveness. Love is a truth.

Where you aware that this was the core message of film?

That was expressed when Ronald Franz gave Chris advice. Ronald had so much wisdom in life that Chris didn't have. The truth comes from Ronald in the film.

How did Chris McCandless inspire you?

When you combine that [sense of adventure] with a lot of pain and need to seek love, I know what wanting and craving adventure feels like. I can really relate to that. To me there weren't a lot of [thoughts about] "why did he do it?" I understood why he made the decision to do it. I like the adventure aspect of the unknown. I aspire to be more self-reliant. He's the guy who can find his own food and hunt and fish and take care of himself completely in the Alaskan wilderness. I'm in awe of that kind of resourcefulness. When I was physically making the shower and feathering the birds [in the film] I was like, "Wow, this guy worked a lot."
You probably know Chris as well as anyone who ever met him. What would he like and not like about this movie?

I think he would like the inspiration that people will draw from the movie – which hopefully they will. I think he would really like that. I hope they would appreciate that this was someone who wanted to change the world. Since high school, Chris would go downtown [to the] city of Washington, D.C., buy McDonald's and hand them out to homeless people to try to help them on his own on a Friday night. What I don't think he would like is seeing his parents and sister in so much pain onscreen; I don't think he would like that at all.


Though no one can say for sure what motivated McCandless, what was the driving force to your depiction of him?

It was a combination of the spirit of adventure that I've felt in my life; I know what wanting and craving adventure feels like – when you combine that with pain, you get a need to seek love. To me, there was not a lot of why did he do this and why that, even if I didn't agree with the decisions he made, I felt I understood.

Was it a restlessness that you had as well?

Yes. In one of the letters Chris wrote [to Ron Franz, played by Hal Holbrook] he said that the core of man's spirit comes from new experiences. He thrived off of those experiences. He was living his life going forward and continuously seeing new things.

Isn't that an actor's job as well?

I related to it a lot. I don't know what the future holds for me. What films I'm doing next. There is that whole kind of adventure aspect of the unknown. I love when they promote films that are about fighting other countries, that's the kind of stuff I love.

Do you remind Sean of himself?

I don't know, I kind of doubt it. I think he is his own guy, he definitely knows I'm my own guy, so he would probably say no. So I say no.

With that in mind, being an actor with his own mind, did he tell you things to do and things he didn't want to do?

He gave me so much freedom, more freedom making the film than I could ever imagine as an actor. That's the way he would want to be treated in that situation, and I think that's how he thinks you get the best work out of people also – particularly actors – is giving them a lot of freedom. So I was just overjoyed making the film, because it was a way I never worked before. It was awesome.

Would you work with him again?

I would love to!

Do you hope to do more films that convey a message?

I would love to work on more films that I'm passionate about – like this film.
Email us Let us know what you think.
Features Return to the features page.
Photo Credits:
#1 © 2007. Courtesy of Paramount Vantage. All rights reserved.
#2 © 2007. Courtesy of Paramount Vantage. All rights reserved.
#3 © 2007. Courtesy of Paramount Vantage. All rights reserved.
#4 © 2007. Courtesy of Paramount Vantage. All rights reserved.
Copyright ©2007 PopEntertainment.com. All rights reserved. Posted: December 26, 2007.


Copyright ©2007 PopEntertainment.com. All rights reserved. Posted: December 26, 2007.