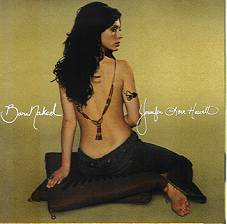 Jennifer Love Hewitt-BareNaked (Jive)
There is a stigma out there when actors release albums that they are usually bad vanity projects. And often, that is deserved (J.Lo, take a bow.) But sometimes, that is not the case. Sometimes, the star can actually sing and has something interesting to say. Jennifer Love Hewitt fits into this category quite well. First of all, Hewitt has been a singer for years... in fact this is her fourth album. But BareNaked is the first one in which Hewitt was in charge, the previous albums had producers trying to fit her into a teen pop tart mold.
Produced and mostly co-written by Meredith Brooks (the one-hit-wonder responsible for 1997's smash hit "Bitch") BareNaked is a surprisingly able step forward in Love's music. Despite it's winkingly naughty title, the song "BareNaked" is a terrific pop-folk single, exploring human vulnerability with surprising insight. "Can I Go Now?" would make a terrific single, too, it's a jubilant rock-funk confection. She bares her soul even more on the gorgeous love ballad "You." The funky celebration "Hey Everybody" and the alt-rock stunner "Where You Gonna Run To?" help to cement this CD's rock cred.
A bare-bones (only accompanied by conga drums) live-in-studio take of the Janis Joplin classic "Me & Bobby McGee" doesn't quite fit Hewitt as well as her originals, but she doesn't embarrass herself with it, either.
Jennifer Love Hewitt actually has a terrific singing voice and it turns out she's not a bad songwriter either. BareNaked is a rather pleasant surprise. It may not sell as many copies as an album by the OTHER actress/singer named Jennifer, but it is an infinitely better listening experience. (10/02)
Jay S. Jacobs
Copyright © 2002 PopEntertainment.com. All rights reserved, Revised: August 22, 2019.

RETURN TO RECORD REVIEWS MENU
Copyright © 2002 PopEntertainment.com. All rights reserved, Revised: August 22, 2019.