You couldn't tell it from watching her in concert – where Girl in a Coma lead singer Nina Diaz is a whirling dervish of energy, pogoing blissfully away with an electric guitar and living out her rock goddess fantasies – but Diaz is actually kind of shy. Kind, sweet, soft-spoken – you don't exactly expect that from the mind behind such shredding rockers as the songs "Empty Promise" and "Pleasure and Pain" on the band's critically acclaimed sophomore set Trio B.C.
However, listening to Girl in a Coma, you realize that they are all about smashing preconceptions. There is nothing predictable or formulaic about this San Antonio Mexican-American post-punk girl group. Their music encompasses rock, punk, tejano, rockbilly, alt-pop, girl group, country – an international jukebox of styles and tempos.
The band is made up of two half sisters – lead singer/guitarist Nina Diaz and drummer Phanie Diaz – and good friend Jenn Alva on bass. Phanie Diaz and Jenn Alva – who are several years older than Nina – had been trying to get a band off the ground for a while before giving a then-twelve-year-old Nina a shot to sing. They quickly realized they had found a diamond in the rough right beneath their noses.
"I've known I've wanted to be in a band since when I was six or seven," Nina Diaz recalls. "Phanie and Jenn were in bands when they were younger. Phanie would have her guitar lying around so I would pick it up and play with it whenever she wasn't home. Eventually I got my own and started playing. Starting the whole band was kind of fast, but I'm glad it happened when it happened."
When it happened, Girl in a Coma was hitting the vibrant San Antonio music scene with a thirteen year old front person. They built up a buzz quickly, though it was a bit of an education for Diaz.
"As I mentioned, Phanie and Jenn were in bands when they were younger, so she would go out," Diaz continues. "I didn't really get to experience the scene until I was starting to play shows, but I got to experience it at a young age. Thirteen was when we started to play in the city."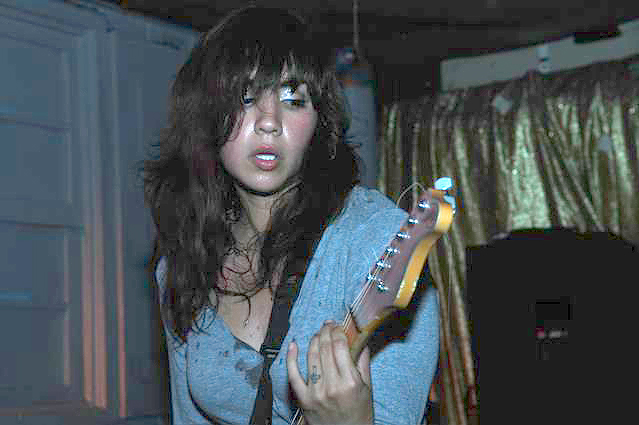 About a decade later the gamble has paid off – in spades. The group – named after the 1987 Smiths' single "Girlfriend in a Coma" – has exploded onto the indie scene. Only two albums into their career they have built up a base of fans and played in huge tours like the Warped Tour, the True Colors tour, opening for the Pogues, Tegan and Sarah, and yes, even former Smiths lead singer Morrissey.
"That whole thing felt very surreal. As soon as it happened, we just had to get into work mode. We think now, 'Oh shit, we've opened up for Morrissey.' But we know Boz Boorer, who is Morrissey's musical director. We met him a few years back. He helped record a demo for us. I remember I dropped out of junior year, it was before Christmas vacation. We were there [London] for a week. Since then, we kept in contact, so he's always known of us. We happened to be in New York when Morrissey was and he had just gotten rid of his original opening act [Kristeenyoung]. He needed an opening act, so they asked us if we'd like to do it. Of course, we jumped. We cancelled a show we had that night," she laughs, "and went down to see Morrissey."
Of course, before they got to go down to see Morrissey, Girl in a Coma had to be seen themselves.
Some of the band's earliest notice was when they were tapped for a cable TV documentary series called Jammin, which was focusing on upcoming Mexican American bands.
The Jammin crew still play a huge part in Girl in a Coma's career. It was created by Faith Radle – who is currently their manager – and shot by Jim Mendiola, who creates the group's music videos. The series also introduced the band to two of their mentors and biggest supporters.
"They're from San Antonio and they asked some friends, 'Is there any bands you could suggest for us to do this pilot episode on?' We were just starting out, so they told them to give us a listen. They liked us, so they came down to San Antonio. At the time, we were living with a friend and they followed us with a camera for a couple of weeks – which is kind of weird, because I'm usually really private. There are a lot of shots of my door shut," she laughs.
"There are some scenes of me in there, but like a lot of things, while they are happening you don't really think about it until after it's done. The whole thing was a lot of fun. Then, at the end, of course getting to meet Joan Jett and being able to sign on to Blackheart Records…"
Jett and Kenny Laguna – her long-time musical partner, were invited onto the show to meet the band at a New York showcase gig. The two took it one better – offering the band a record contract on the spot.
Despite the fact that most of Jett's big hits came out before Nina was born, Diaz was very familiar with the music of this pioneering woman rocker.
"Ma listened to Joan Jett and the Blackhearts and Phanie listened to the Runaways and Joan Jett and the Blackhearts, as well, so I knew of her," Diaz says.
Despite the fact that Blackheart Records is an indie label, Diaz is certain that the band has landed in the perfect situation with the imprint.
"It's like a big family," Diaz says. "They're very helpful. They give us great tour support. Any time we need advice, Joan's always there. Kenny Laguna is always there. It's like a big family. I wouldn't want to be on any other label at this time."
Diaz even felt comfortable enough with Jett to ask her to sing backing vocals with her on the song "Joannie in the City," which appears on the new Trio B.C. disk.
"Originally it was called 'Johnnie in the City,' but I had a fallout with that name and I didn't want to keep saying it," Diaz explains. "So the girls said 'Why don't you call it 'Joannie in the City?'' I hadn't finalized lyrics yet and I thought, well, yeah… It kind of makes sense, you know? It's a rocking song. It seems like something she might even like to play herself. So I just wrote the lyrics for her. When it came time to do the studio in New York, she was down to do whatever we needed. I suggested maybe she could sing in the background. Maybe we could do little harmonies here and there. She was totally down. Anything we needed to do. She's a lot of fun to work with. She's very blunt. She doesn't want to change anything. She's very raw. That's what makes her her – which is amazing."
Girl in a Coma's trail with Blackheart started with the 2007 release of their debut CD Both Before I'm Gone. The CD actually got a decent amount of airplay and buzz for an indie release. The band also filmed videos for the songs "Their Cell," "Road to Home," "Say" and "Clumsy Sky."
"I've yet to hear it on the radio," Diaz admits. "I've seen the video come out on Logo. Then even just watching the Jammin episode being shown on SiTV, it's a little weird, because you don't feel anything, really. You think like, 'Oh, cool, our video is up.' You hear people say, 'Oh, I found out about you guys by seeing Jammin' or 'I found out about you guys when your video popped up on Logo.' So it's cool to know the thing's growing. You're in your own world growing as well, with your own things. There's a lot of other things going on."
The growth continues with the recent release of the follow-up CD, Trio B.C. The album title is a little nod to Diaz' grandfather.
"My grandfather played the drums, he played the guitar, he played the accordion, violin and he sang" she says. "He was just in a little band called Trio B.C. Nothing big, they were just having fun – a bunch of guys drinking and playing cool music. I guess always, if anyone in your family is musically inclined, it gets passed on through generations. Like Phanie's real dad is a drummer – his name is David Garza. I guess that's where she gets her drumming from."
Even more than on the debut CD, Trio B.C. allows the band to stretch out stylistically. "BB" starts out with a flamenco flourish, "Static Mind" rocked, "In the Day" has a rockabilly feel, "Pink Lemonade" has a soft, dreamy feel, "Empty Promise" is more punkish, "El Monte" is a ballad that even had a bit of an old-fashioned feel.
"[The mix of styles] just kind of popped up," Diaz says. "There wasn't any real plan of 'this is how the album is going to sound.' Two of oldest songs on there, 'Trail' and 'Empty Promise,' we wrote years back and we wanted to put them on an album finally. The other songs I wrote on the road in the van because we were touring for Both Before I'm Gone and I was working already on the next album. Whenever we had time at home we'd practice it. At the time, I started really getting into Sonic Youth a lot and Nina Simone and Jeff Buckley. The girls were getting into their own things. It's like our different styles kind of crashed together."
Diaz writes much of the music for the band – and all of the lyrics – but she still considers it a completely collaborative process.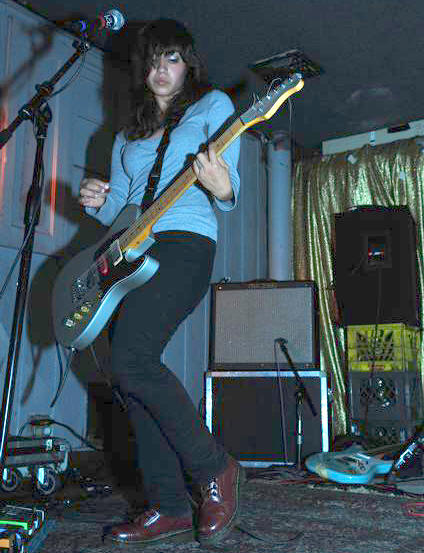 "It starts off with… I write the concrete of it," Diaz explains. "I write the main thing, the whole thing pretty much, and then the girls come and Jenn puts down her bassline and Phanie puts down her drums. Lyrics, I kind of free flow as I'm writing and I record what I sing on my garage band, then I listen back and I think if something caught my ears I write it down. I have many drafts of some songs. Some songs just came out naturally, like: Poof! There are the lyrics. Like 'Pink Lemonade,' I wrote that one – I was working at a calling center back at home and I wrote this song about lonely housewives and all they have to comfort them is pink lemonade. It was kind of a sad story for the lonely housewife."
Sometimes the stories are based in fact. Sometimes not so much… For example, there is no specific "Baby Boy" who inspired the song of that title.
"That one I was trying to play around with funky, fun lyrics. I was listening to a lot of Sonic Youth when I wrote 'Baby Boy.'"
The styles were also massaged by three interesting sets of producers. Jett and Laguna handled the boards on a few songs, as did Sparta/Sleepercar vet Gabe Gonzales and super-producer Greg Collins (U2, No Doubt).
"Greg Collins is a friend of our managers," Diaz says. "We met him a couple of years back. He came to a show. We kept in contact. She suggested that we should try him out to be one of the other producers. He's just amazing. He's really good to work with. He opened up our minds to try out new things. He talked to us in a nice way where we control – not locked in or anything. I'm very stubborn when it comes to trying out new things, but he made it with ease and in the end we were very happy to have been able to work with him and will hopefully work with him again soon."
The album closes with a rocking cover of a 60s Spanish rock nugget – "Ven Cerca" by Los Spitfires. Beyond the song being their first remake on one of their albums (though they did redo a couple of holiday classics on the compilation A Blackheart Christmas), "Ven Cerca" was also the first time that Girl in a Coma recorded in Spanish.
"We did a Mexican rock show two years back and we performed some songs in Spanish," Diaz recalls. "We do a handful of them. All of them are a lot of fun to do, but 'Ven Cerca' popped out a lot to us. It definitely paved the way for a path for our style of writing. The original version is very cool and Los Spitfires is a very cool band. Usually I like to sing along when I'm in the studio, but even more so when I was doing 'Ven Cerca,' because our manager knows Spanish very well and I knew she'd be picking at every word." She laughs at the memory. "At times I'd get frustrated, but at the end it came out sounding pretty good."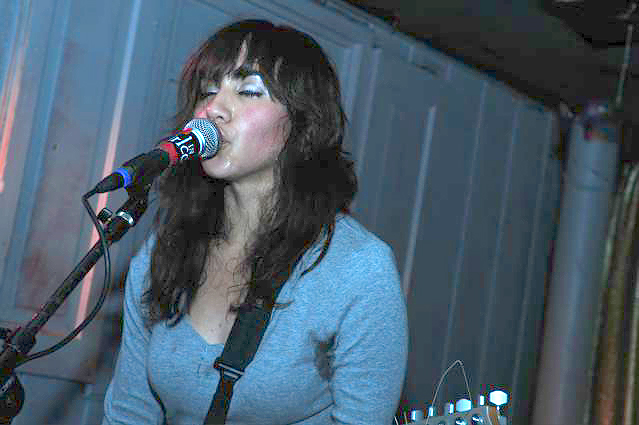 Now, with Trio B.C. renewing the critical acclaim and audience buzz, Girl in a Coma is at an interesting place in their career. They can take part in huge tours like Morrissey, the WARPED tour and the True Colors tour, but they also can play little club dates like a recent show at the Khyber in Philadelphia.
"I have come to enjoy everything," Diaz says. "There was a time when I just liked playing the smaller venues, but then when you play bigger ones… there's different vibes, but at the end of it, it's always great. It's always lots of energy. The other day we played a show and there was only like three people there, but we knew that those three people were really there to see us and enjoy themselves. Get away from their everyday thing and have fun. So we always give it our all – no matter if it's one person or a thousand people."
And what would Nina Diaz like to say to those people with her music?
"I'd like them to when they hear our music to get away from whatever is bothering them," Diaz sums up. "Or help them figure out what's bothering them. To be their answer and never cause them any more confusion."