In the 90s, Whit Stillman seemed to be the upcoming voice of indie comedy. His acclaimed and literate films Metropolitan, Barcelona and The Last Days of Disco were critical favorites and art-house smashes, giving the writer/director the deserved reputation as "the WASP Woody Allen." However, after the popular and critical acceptance of Disco with stars Kate Beckinsale and Chloe Savigny, Stillman seemed to fade away, never to be seen again in theaters. That is, until now. Well over a decade after his last movie, Stillman is back with the quirky romantic drama musical Damsels in Distress.
Not surprisingly, a group of hot young actors who were in elementary and middle school at the time of Stillman's first ascendance signed on the dotted line to help bring his offbeat vision back to theater screens. Front and center was Greta Gerwig, no stranger to eccentric brilliance herself. Less than a decade into her career, she has become something of the first lady of the mumblecore movement, appearing in intriguing indies like Baghead before breaking through with her terrific work as the female lead in Noah Baumbach's Greenberg with Ben Stiller. This led to some fun supporting roles in the Hollywood comedies Arthur (as Russell Brand's love interest) and No Strings Attached (as Natalie Portman's best friend.)
Gerwig plays her first lead role in Damsels, as Violet, a neurotic but opinionated student at the fictional Seven Oaks University. She heads up an anti-Heathers clique of gorgeous, well dressed girls (also including Analeigh Tipton, Megalyn Echikunwoke and Carrie MacLemore) whose main purpose is to save the college's students from their baser instincts with a diligent program of personal hygiene and tap dancing. She is always there with romantic and professional advice and runs the campus Suicide Prevention Center - whose sign keeps losing the Prevention. Violet argues against high expectations as the root to unhappiness, preferring the charitable feeling of settling for inferior boyfriends. She feels that the pinnacle of human experience would be to create an international dance craze. Yet, for a girl whose belief system is so strong, she is obsessively open to being corrected.
Damsels takes a look at the tightly wound group of girls out to save the college, and how they start to unravel when local guys (including Adam Brody, Hugo Becker, Ryan Metcalf and Billy Magnussen) start to romantically infiltrate their ranks.
Stillman and Gerwig recently sat down with us and a few other outlets at the Regency Hotel in New York to discuss the film and their careers.
It's been about fourteen years since The Last Days of Disco. What have you been up to? Why did you feel it was time to make another film?
Whit Stillman: I didn't intend to take twenty-four years off. (laughs) I decided for sure when my cash ran out. No, as Greta knows, I've often said, it was a purely putative failure as a producer, where I didn't go out, beat the bushes and find financing for the projects. I left that in other hands. I would turn from one script to another, so the positive side is, I worked on lots of scripts I like. But, I didn't really realize that nothing was going forward until it was too late.
What did making the film teach to you, if it taught you anything at all?
Whit Stillman: Luck is important.
Greta Gerwig: This is the biggest part I've ever had. When you come in to work every day, you'd get a call sheet. I was number one on the call sheet, which I've never been before – the first cast member. I think that, combined with Whit's dialogue and the story, it felt very much like a marathon run at the pace of a sprint, if that makes sense. Making a movie is like a marathon, but we didn't have a ton of time. It felt like endurance acting, in a way.
Whit Stillman: How many days would our shoot compare with, say an Arthur shoot? We were a 28-day shoot, how many days did Arthur shoot? Do you know overall, the total?
Greta Gerwig: Oh, probably like 42?
Whit Stillman: Is that all?
Greta Gerwig: Well, 42 plus like eight days of re-shoots. Like 50. Yes. In some ways, it's much more fun to do a shorter shoot. It's deadly moving at the pace of a page a day. That's a really... you can't believe how many times you have to do a scene and how many angles they are going to cover it with.
Whit Stillman: There's more variety in quicker?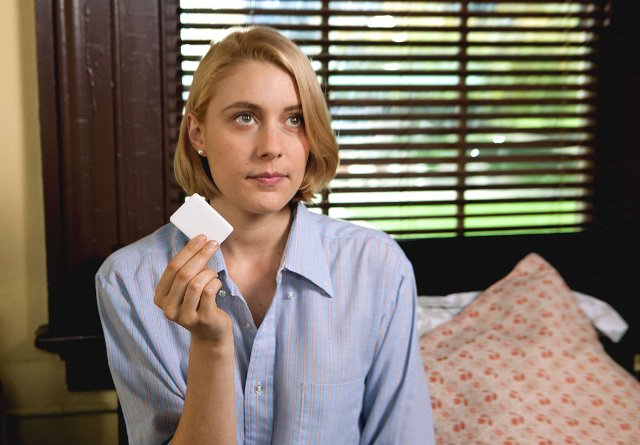 Greta Gerwig: Yeah. If you do it quicker, it's more fun. It's like doing a little play every day. There's more to do. So, I liked it like that. But I felt like I became a better actor at the end of it. I'm probably wrong.
I was a huge fan of Greenberg. You have a tendency to play sort of outsider types. Is this something you look for, or just the way it has gone so far?
Greta Gerwig: (laughs) I don't [look for that].
Whit Stillman: Violet is not an outsider. She's creating her own inside.
Or trying to...
Greta Gerwig: I've been tremendously lucky in the roles that I've gotten to do. In the span of a very short amount of time, between Greenberg and this role, those are two roles that are totally... you wait a long time to get roles that good. (laughs) I've gotten two already, which is pretty extraordinary. But, I don't have any particular kind of role I'm attracted to. I tend to just be very much interested in the writing. I'm interested in writing more than anything else. It's the way I connect with the characters. I get ideas from the writing. I don't often connect through. Some actors connect to the essence of a story or a character. Even if something is not well written, necessarily, they can say, "Oh, I find the story so compelling" or "There is something in the story that I really love." I have a lot of trouble with [that]. This is badly articulated, but I have trouble getting excited about it. Then they just devolve into [being] just generalized. They are not people. I have so much trouble when it's like that. I look for good writing, and that tends to be characters who are specific. In that way, I guess, outsiders.
How did you identify with Violet?
Greta Gerwig: I loved her. It's my favorite. She's my favorite character I've ever played. I identified with her passion and her idealism. I have that. I'm just a little less confident expressing it. But if I have a few drinks... (laughs) Anyway...
Did you like being in a big ensemble like this or do you prefer being more the lead?
Greta Gerwig: I like both, but I loved working in the ensemble. Also, the script is so great, that it really felt in the big group scenes like we were playing hot potato. We were passing. Nobody could drop it. Everybody had to keep picking up their cues and getting it. When we used to drive to set in the minivan in the morning, we would just speed through our lines the whole way there. It had that quality. We needed to be able to do it so fast that we weren't thinking about it, because otherwise if you stop for a second to think "What's my line?" the editing would kind of fall apart. (laughs) So it was really fun to have a group of people to play. It becomes like a team sport in that way, unlike an individual event.
You wanted to do a college comedy, but it is very different from the average college comedy. Could you tell us a bit about how you ended up with the script?
Whit Stillman: Seems like a college comedy to me. (laughs) I like things that are a little better – or at least funnier – than reality. I think college can be really quite dour and discouraging for people, even if should be great, they manage to get themselves discouraged. So we have our fantasy college, that is really quite third-rate. Seven Oaks University I don't think is a tip-top school. But it's managed to attract some tip-top girls who are there. I like the idea they are sort of comical utopians. They are going to create their utopia, but the utopia they know is what they imagine... the world of Grace Kelly and Audrey Hepburn and Diorissimo perfume. That's the utopia they are going to create. They find some willing victims, because I think that the guys are willing to go along with them.
You've been in Europe for several years now. How much did you know about the young actors here when it came to the casting?
Whit Stillman: I think that was good. I generally, when it comes to making the film, I come from a place of total ignorance. But, I've tried to make that work for our films. So, in this case, I didn't know anyone. I had no idea if anyone would be in the film. There are two really good casting teams involved in the film. One mostly based in Los Angeles, and then we knew we had to make it a New York film, based here in New York. It was just kind of a long process. We weren't really rushed. Actually, we were helped in the fact that Greta's agents asked if we could delay our production to go after Arthur, because we had expected to go during the summer. In a way that was a Godsend. We really weren't ready to film. So, we said, yes, we'll wait, even though I thought we might run into trouble shooting a college campus during the term. It allowed us enough time to find everyone in the cast. Priss [Caitlyn Fitzgerald] was a late discovery.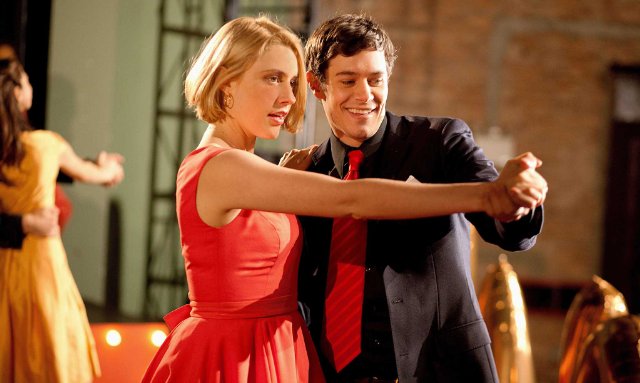 Greta Gerwig: I thought it was really sad when I thought it was going to go in the summer.
Whit Stillman: We were going to do it without you? No.
Greta Gerwig: Well, I didn't know. There was a moment that like...
Whit Stillman: Your agents were very good. I like Veronica [Gabriel], she was so nice.
Greta Gerwig: I would have not done Arthur to do this.
Whit Stillman: (surprised) Oh, really?
Greta Gerwig: Yeah. Totally.
Whit Stillman: Well Veronica called us, and she was so nice about it. Actually, I think I always like to delay things a little bit. Twelve years. (laughs) To work on it a little more and make it a little better. There's always some little change you can make.
It was nice to see you got a small role for Taylor Nichols. Did you think about trying to get some of the other old gang like Chris Eigeman for the film?
Whit Stillman: Oh... The unnamable Chris Eigeman? Oh yes, what a disappointment.
Greta Gerwig: He shunned us.
Whit Stillman: Chris Eigeman and Lena Dunham aren't in the film. They should have been. It's a bitter disappointment.
Greta Gerwig: Very bad.
Whit Stillman: He'll have to be punished. He was going to be Professor Ryan, talking about the dandy tradition of literature. He would have been a much bigger role. The actor [Doug Yasuda] did a very good job and it was a funny casting thing.
What kind of message did you want to make with a movie about this generation?
Whit Stillman: I like the journey of the messenger more than the message itself, so I wouldn't want to say message. I think there is a journey of the characters in the film. It is a journey coming up from a tailspin. It's important that Violet has her tailspin and we go down with her and then she has to sort of right the airplane and take off again. I just think it's that. It's the way you deal with a devastating blow, because she has no idea how devastating it is going to be, the breakup with this guy who is not very impressive. But he was very important for her.
You discuss depression a lot in the film. You have worked as a teacher. Do you think Violet's cure – tap dancing – is valid?
Whit Stillman: It's a real problem in university age people. I think some of it is just developmental. It's a time when people's body's aren't quite... the chemicals running through their bodies cause them to have crazy moods. If they can just keep on going and if they are tap dancing while they go, it will probably make it better.
Is there a difference between kids in the States and Europe?
Whit Stillman: I've seen really nice kids in both countries. I think it's a much nicer generation than mine was. There are different forms of politeness and consideration on both continents. I love young people in Europe, because there has been less mass culture pop culture influence, though you can see it there, too. I think a lot of that stuff I'm not seeing. I'm a bit prefatory as a teacher, so the bad behavior I'm spared. But the crew and the cast on this film are really wonderful.
You are everywhere right now. Are you surprised how big your career is getting?
Greta Gerwig: It's weird, I didn't really plan it this way. It's been wonderful, but I think you're a bit unaware of it while it is happening in terms of... people say at the end of the summer, you are actually going to be in a different place than you are right now. But, I don't know, all that stuff feels so strange. (laughs)
Whit Stillman: It depends on whether the Sambola! really takes off.
Greta Gerwig: Yes, totally, my future depends on the Sambola! dance craze.
Whit Stillman: If she succeeds in starting an international dance craze, then that's really something. That will get you in Wikipedia.
Greta Gerwig: My big fear is, I keep expecting someone to write "enough with this girl." (laughs hard)
Whit Stillman: You hope the backlash doesn't start for a while.
Greta Gerwig: I feel like there's been enough backlash within. I have a lot of backlash in myself. (laughs again) But, then, also you think, I and my career have thus far avoided – not on purpose, it's just the way it's worked out – I think a lot of actresses have that moment. They have that one film that just like (makes an explosion sound). Everybody says they are amazing and they are everywhere. It's insane. I feel like I've always had people saying, "I don't like her." (laughs more) I think that actually keeps the boat a little on an even keel.
Whit Stillman: Who said that?
Greta Gerwig: Oh, I could tell you. I have them all memorized.
Was it fun to do the musical number at the end?
Greta Gerwig: Yeah, that was the best. It was so much fun.
What kind of characters would you like to play in the future?
Greta Gerwig: Witches. Lots of witches. No, I want to perform and play really well-written characters. I'd like to play characters that seem like people I know.
Would you play sad roles?
Greta Gerwig: No. I don't think people really look at me and think tragedy. (laughs) I've really always thought of myself as more of a character-y actress. I really like just great [characters]. I say witches just jokingly, but you know, those eccentric crazy older women roles.
Would you make horror?
Greta Gerwig: No, I don't make horror films.
You were in House of the Devil...
Greta Gerwig: Yeah. I loved that. My head was blown off. It was fun.
Over twenty years of work, you mainly have focused on college students or young adults. Is there a reason you focus on that time of life?
Whit Stillman: Some of these things start as accidental happenstance. One of the things I've found, I was fortunate that I was writing later, because I find that it takes ten, fifteen or twenty years to process information. I knew a lot of first-time filmmakers in their twenties were making films about eight-year-old kids. That's really tough, commercially and dramatically. I thought that I was fortunate that at 37, I was making a thing about 18 year olds. So, it's the right time for processing the memory and all that. Then, I was doing different periods that I remembered, which were fairly young. I do have one script where there are people of different ages. A couple of scripts. But, I also have come to feel that it's really interesting for people, and also it lends itself to the fact that we are low-budget filmmakers. It's very exciting for us to have people who are young and starting out in their careers and don't have batteries of lawyers to negotiate with, who we really can't negotiate with. So, it's this sort of happenstance that's worked out to be very interesting. I think these are crossroads periods, too, when they are forming their identities, so there's a lot going on. For romantic stories, if people are young, it's that much nicer.
Email us Let us know what you think.