"Baby you a song, you make me wanna roll my windows down and cruise." These words from their #1 hit single "Cruise" have become an anthem for duo Florida Georgia Line. Even Taylor Swift has gotten these catchy lyrics stuck in her head. Need we say more? Oh why not? If it weren't enough that the duo is touring with Luke Bryan on his "Dirt Road Diaries" tour, Swift has just announced that Florida Georgia Line will be joining her as guest artists for select dates on her upcoming "Red" tour. It's all in a day's work for this hot new duo, also selling out venues on their own national tour.
Fresh off the ski slopes of Jack Frost Mountain in the Pennsylvania Poconos. we met with Florida Georgia Line's Brian Kelley and Tyler Hubbard. Kelley hails from Florida and Hubbard from Georgia – hence their unique moniker. These tall (well over our 5'8" frames), handsome Southern guys dominated the room with their youthful energy and charm.
You would never know they spent the morning on a tour bus, the afternoon skiing (well, Brian skied and Tyler snow boarded) and now were about to perform an acoustic show as the headliner for Philadelphia's WXTU ski day. There was a huge crowd of fans anxiously awaiting the show downstairs while we were with them upstairs overlooking the ski slopes with an impressive snow falling ("as big as frosted flakes" according to Hubbard).
They were so cool, totally laid back and quite witty. No rush, no worries but boy were they excited; excited to be doing what they love and just as excited to tell us all about it. Their infectious smiles, Southern accents, and boyish charm had us hooked just like their devoted fans, who we later learned during the show knew every lyric to every song.
They were elated to share with us their brand new video for "Get Your Shine On" which they just received and viewed for the first time that very day. We watched the video with them as they grinned from ear to ear, nudging each other while they were reliving their time filming in Cancun. You could just feel that they had a blast making that video. It was refreshing to see their thrill. You can tell that the fame has not gone to their heads. They humbly wanted to know what we thought of their video. Well, we thought it was great. You can now see it since it was officially released on February 25th.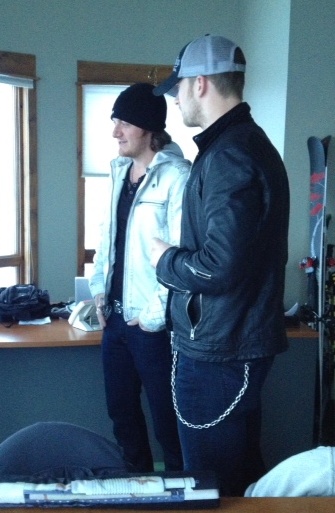 They are also stoked that they are nominated in three categories in the 48th American Country Music Awards: Vocal duo of the Year, New Vocal Duo or Group of the Year, and they already won the third category New Artist of the Year for Vocal Duo or Group. They are excited that they are touring with Luke Bryan (ACM male vocalist of the year nominee), and that they will be presenters at the 48th ACM Awards on Sunday April 7th. Quite a list of accomplishments for these newcomers.
These super nice guys have such a contagious energy and enthusiasm about them. And it doesn't hurt that they play some darn good, fun music so you just can't help but love 'em and be excited with 'em as they "Cruise" along an awesome highway.... Here's To the Good Times guys... we know there's a lot more to come!
Where do you guys get your inspiration for your songs?
Brian Kelley: From life. I mean everything that's going on. Everything that has happened or what we want to happen. From day one we made our album based on our lives. If you listen to our album from song one to song 12 – or 13 on the deluxe album – you get to know us pretty well. Were gonna sing about what we like.
How did you guys get involved in music? Did you always want to be singer/songwriters?
Tyler Hubbard: We both started out in church and learning to play guitars then we both got into songwriting in high school. We went to college, and just pursued it together.
When you guys went to college together, did you try to create a little duo or did it just happen that way?
Tyler Hubbard: It just happened that way. We never thought we would be doing that artist thing but over time it happened. We just kind of fell in love with it.
Cool so do you guys ever see yourselves doing something other than country?
Brian Kelley: Yeah, we're pretty open to whatever. We just like writing and doing what feels good to us. We grew up listening to hip-hop and country and all kinds of stuff so yeah were open to anything. We're not really in a box. We have some things coming down the chute that might surprise some people. It'll be really cool and we're excited!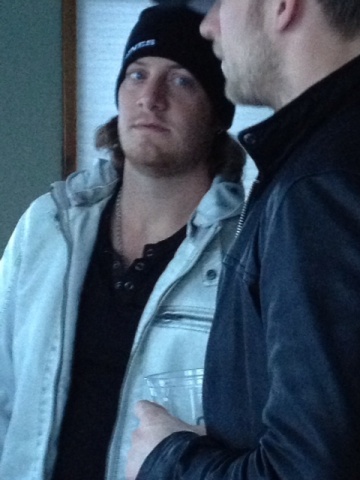 What is the coolest performance you have done so far?
Brian Kelley: My favorite was probably the Chili pepper cook off in Florida. There were people as far as you could see. To the back and to the sides. When you're performing its good to have your level of excitement as high as everyone there. It's very rare that you get a good crowd where you feel like you're one with everyone. It's really a special feeling.
Are there any performances you hope to do in the future in a certain state or venue or even with someone?
Brian Kelley: Well, we have some stadiums coming up this year that I'm personally really excited about. We're both pretty pumped that we can be in a big stadium and perform in front of thousands and thousands of people.
When you say you have exciting things coming up, is there anybody that you want to collaborate with?
Brian Kelley: We always talk about wanting to collaborate with Lil' Wayne and Wiz Khalifa. But yeah we have some stuff in the pop world coming up that's pretty exciting.
What is your favorite genre of music?
Brian Kelley: We're pretty all over the place. I mean, obviously country is our music at heart, but it depends on the day and the mood. After a show we're not going to get on the bus and blast country music. We're going to throw some things around and rock out. We find that's the case with our fans. They like it all too, which is why were kind of all over. [Just playing] The same thing after a while gets pretty old.
Is there anybody that you would want to hear cover one of your songs?
Tyler Hubbard: If [Justin] Bieber sang "Cruise" it would be crazy. His voice is insane!
Do you guys have any influences that you look up to for inspiration?
Brian Kelley: Yeah definitely! Luke Bryan, who we're on tour with now, he kind of sets the bar as a performer, a songwriter and a singer. It's been a couple of weeks since the tour started and his voice is amazing. The notes he can hit are amazing. I wouldn't be surprised if he is chosen as entertainer of the year. He's just a cool guy. He doesn't take himself too seriously but he knows when to lay down the law.
Were you expecting "Cruise" to go as high as it did?
Brian Kelley: Well, we knew it had something special. but it was hard to expect what happened. It was so cool to be part of something so unheard of.
Yeah "Get Your Shine On" is up there also. Its in the top 30.
Brian Kelley: Yeah the music video just got sent to us a couple of hours ago and were very excited to share that with the world!
Are there any misconceptions about being a musician?
Tyler Hubbard: Some people think you have more time than you really do and others think it's all fun and games. It's a lot of fun and games but it's also hard work. There are long hours and a lot of traveling. We love it but it's definitely still a job.