If you think of the term "cult artist," chances are you will picture Steve Earle. Earle broke out of Nashville in the late-1980s, releasing critically acclaimed and best-selling albums like Guitar Town and Copperhead Road. However, Earle was always a bit too rock and roll and a bit too intellectual to last for long as a Nashville cat, unwilling to do a long series of odes to bikinis, pickup trucks and beer. His more introspective form of songwriting, along with a whole bunch of other country stars who found themselves turfed out of their own genre, helped to create the whole AAA/Americana music genre.
Another artist whose career followed a similar track was his long-time friend Shawn Colvin. Colvin, who came from more of a folk-based background, also had a brief fling with pop stardom at about the same time as Earle was creating his Nashville buzz. Her 1997 single "Sunny Came Home" became a top ten smash (and won 1998 Grammys for Record of the Year and Song of the Year). Earlier in her career, Colvin had other smaller hits like "Round of Blues," "I Don't Know Why" and "Lost Soul," a duet with Bruce Hornsby and the Range. Like with Earle, she never quite scaled the popular heights of her breakthrough hit again, but she has put together a long and acclaimed career in which she still tours and records regularly.
It was one of those tours that connected Earle and Colvin again. They've known each other for over 30 years (when a then mostly-unknown Colvin opened for Earle). Colvin had even recorded Earle's tune "Someday" on her Cover Girl album. A few years ago she reached out to him and suggested they do a tour. While touring together with Colvin, Earle realized that they just connected musically. That led to them getting together to record the duet album Colvin and Earle, which was released earlier this summer. Previewed by the stark love song "You're Right (I'm Wrong)," the album has been well received by critics and fans of both artists.
Soon after he started his Colvin and Earle tour – and a few days after we checked the duo out performing at the 2016 annual XPoNential Fest in Camden, NJ, across the river from Philadelphia – we caught up with Earle to discuss the new album, his impressive career, the state of country music, Broadway musicals and even the 2016 Presidential race.
You've known Shawn for like 30 years now. Why did you two decide you wanted to work together on an album after all this time?
Well, it started with Shawn just coming up with the idea of us touring together. She's done that a few times. It's something I hadn't done. She's done tours with [Mary] Chapin [Carpenter]. She did tours with Three Girls and Their Buddy, playing with Emmy[lou Harris], Buddy Miller and Patty Griffin. It's like someone to hang out with and have to work, and the Buddy is about the same. You're still being sisters, you know? So we did a tour that was like that, where we came out. We did some songs together, we started out singing together, but we sang a lot of songs separately, too. The other person sat there in a chair and twiddled their thumbs in that part of it. It was fun, but the revelation was our singing together. We started doing "Someday" in harmony all the way through on that tour. That's what I wanted to do. It was my idea to make a record. It was about that, I wanted to write songs for that new group, those two voices. That's what it was all about.
Were you surprised how well your voice and Shawn's mix? The harmonies are amazing. What do you think it is about you as artists that you have that kind of natural connection?
I don't know. I'm surprised about me being a harmony singer at all. I've always thought of myself to be a shitty harmony singer. But with Shawn, for some reason the two of us find this thing. What we do is cross-harmony. It's like what The Everlys did. It's like what the Louvins did. We changed parts all the time. We switched parts. It's not like one person has the melody and one person has the fifth all the way through. Thirds we don't do, for the most part. Nobody ever discusses you sing this, you sing that. We just sing together and we switch parts naturally. It works. I'm not sure we sing them the same way every time we sing them. We kind of switch in different places sometimes I think. (laughs) I don't know. I just don't think about it too much, but so far it's worked soundly.
At the XPoNential Fest, you said on stage that at one point in your career you were in a really low place professionally, and then Shawn covering "Someday" really helped you to get back on track. What happened and how did you find out about her version?
Yeah. I was pretty much homeless and I heard from somebody who had recorded on Guitar Town that Shawn had recorded "Someday" [on her CD Cover Girl]. I don't think I found that out until after the fact. I think the record had been out for several months before I found out that she had recorded "Someday." It was just an idea... there was a tiny, little idea that maybe what I had done was worth something. It was maybe the beginning of me trying to figure out my way back.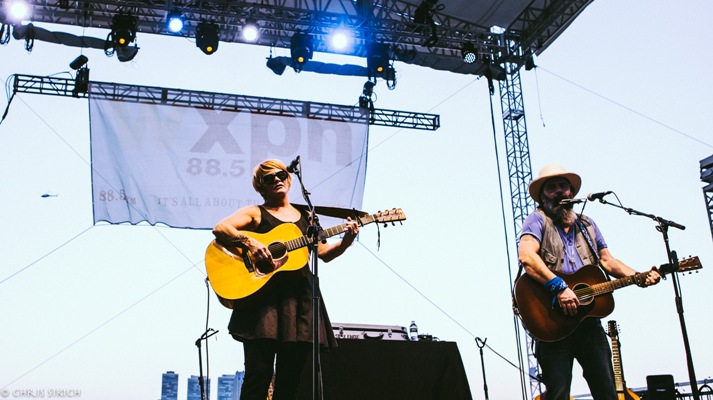 While Shawn has collaborated as a songwriter throughout her career, I believe you have mostly tended to work alone. How was working with her different? What kind of different energy did it add to the process?
Well, I co-wrote a lot at one point. In the late 70s, early 80s, around the time Justin was born. [ed note: Son Justin Townes Earle was born in 1982 and is now also a singer-songwriter, who also often plays in his father's band.] I was trying to get a lot of songs cut. I got a few cut and made a little bit of money, but not much. It wasn't a particularly fulfilling experience. The first couple of records have several co-written songs on them. After that, I just didn't do it very much. It's a strange thing. It's not what I came up doing. I got to Nashville before it was as big a deal as it is now. Things were just starting to happen when I got there in the mid-70s. Shawn co-wrote all along. I usually would co-write with people occasionally, sometimes production projects. Usually, I would feel like I wrote more of the song than the other person did, because I write pretty fast. I'd give them half the song and then I just wouldn't write with them again, that's what I usually did with it. With Shawn it was all pretty equal and pretty easy. These songs are all 50% hers. They were all like that, very equal and very natural. It worked.
It was really kind of nice to see how well the crowd at the XPoNential Fest knew and reacted to "You're Right (I'm Wrong)." After all this time as a musician, do you still think in terms of getting radio airplay and hit singles?
Well, it's nice when you do. That was the one show that was done on this tour that definitely we could tell there was a lot of radio airplay in the market for that song. We're at the beginning of the tour and XPN has played the song, and it shows. We talked to this one person, she talks about when we walked on the stage, I think the first thing out of her mouth was well, they know "You're Right (I'm Wrong)." It's one of those deals when it's validation. There's not any doubt about it. But you can't count on it at this point anymore. We get played where we played, and we do a lot for the radio stations that do play us. We try to get heard however we can get heard. We get out to the show and we pimp march because it pays the diesel fuel. The business has changed. We're trying to keep up with it, just like everybody else is. It's mostly about just going out and playing for people these days for us.
I love the last line of "You're Right (I'm Wrong)." It is so stark: "Maybe the truth is neither one of us ever loved anybody at all." The misunderstandings and distances between couples seem to be a running theme throughout the album. Obviously, with a pair of songwriters with a slightly checkered romantic past, how much of that kind of thing was autobiographical? How freeing was it to explore relationships with such clarity?
Shawn and I have some experiences in common. We have that in common, me more than her. We have other things in common that I can't really get into. You'd have to talk to her about [that]. It's just that we have a way of communicating. We are very, very different people. So much for western nostalgia, because our birthdays are ten days apart – truly they're a year apart, I'm a year older than she is. We're very, very different temperaments and we communicate differently. Almost everything. But artistically, we're pretty much on the same page. We do things really similarly, and for the same reasons. We do have this shorthand that has to do with common experience. So we don't have to talk that much. (laughs) It's just right out there.
Speaking of common experiences, not to get too personal, but both you and Shawn have had substance abuse problems in your past, and you were able to overcome them. Did that shared experience add a comfort and intimacy to the writing and recording process?
It's the same way. We do this the same way. It's basically songs. We have that in common.
Both you and Shawn are so well-known as songwriters, I was a little surprised by how many covers you did – "Ruby Tuesday," "Tobacco Road," "Raise the Dead" and my personal favorite "You Were on My Mind." Also, at the XPoNential fest you did "Wake Up Little Susie." Why did you two decide to do so many covers?
Yeah, there's four. The basic record is ten songs. Four of them are covers. It was just timing. If we had time to write the whole record, I think we would have. Contractually, we both have careers of our own. We had a deadline for when we could record the record and turn it in. It had to be released at a certain time, so we didn't have time.
How did you choose which ones would work best for you?
"You Were on My Mind," I brought in, and I brought in "Ruby Tuesday." Shawn brought in "Raise the Dead" and "Tobacco Road." It was fantasy camp. (laughs) That's what it was. Stuff we always wanted to sing.
Another interesting thing about seeing you live together was when you did her big hit "Sunny Came Home" you added a whole new dimension to the song. Is it fun playing songs that are really known for her rather than your own?
Well, she's also a great guitar player. On our stuff... on "Someday," the way the guitars work together I think is really cool. She's great on... did we do "The Galway Girl?" I'm trying to remember if we did it or not. It's just so weird when you have a show you do every night and then at a festival you shorten it.
I think you did...
Yeah, we did do "Copperhead Road" also, and she did great on that. Doing "Copperhead" in harmony, she didn't want to do that. She didn't want to sing on it. I kind of had to make her. I saw the first response and was thinking it's really cool harmonizing like that, I think. It lends itself to it.
Now that you've recorded and are touring together, do you see Colvin & Earle being a long-running side project where you may do some more albums and touring together?
We always intended it to be, yeah, yeah. We're going to start to write some songs while we're out, while we're together in one place, so we have a start [on a second album]. I've got another [solo] record two-thirds of the way written that I'm going to record probably in December. It will be out sometime next year. It can't come out until... it'll be next summer, probably.
You've collaborated with a lot of great singers for a song or two over the years – people like Emmylou and Patti Smith, Sheryl Crow and Indigo Girls, etc. Now that you have given the duo album and tour idea a try, are there any other musicians you think you'd like to collaborate with in a similar way?
There's always people out there. I want to get into a bluegrass record at some point before I die. Maybe a new bluegrass band. Maybe getting the players I've worked with before. Maybe a version of the Bluegrass Dukes [a variation of his normal band which he worked with in the late 90s], with Tim O'Brien and some other different players, because some of those other players weren't around anymore. I'm up for almost everything. Anything. The main thing that is next for me is Broadway, believe it or not. Musical theater. I'm working on a couple of musicals. One of my own, and one with David Simon. They're in development. They're years away from happening, but that's one of the reasons I moved to New York. That's kind of where I'm headed.
I remember about 10 years ago interviewing Rosanne Cash and she said that what is played on country radio wasn't country, it was pop music, and that your music and Lucinda Williams' was what should be played on country radio. What are your feelings on the country genre as it stands now?
I don't know. It's not up to me to define country music. I think country music is today's country music. That's what it's called. What it is, [it] is hip hop for people who are afraid of black people, by and large, from what I've heard. (laughs) When I listen to hip hop, I just go ahead and listen to Kendrick Lamar. That's just me. But there are some people that don't get that and they listen to country. Okay, that's fine.
Early albums like Guitar Town and Copperhead Road became huge critical and cult classics. When you were getting started, did you ever imagine that thirty years later you'd still be out there making music?
Yeah, I guess I thought of that. I thought I'd be doing that, or I'd be dead. You do what you do. You don't do what I do unless you were made to do it. So, yeah, I thought if I was on the planet that I'd be making records. Absolutely did.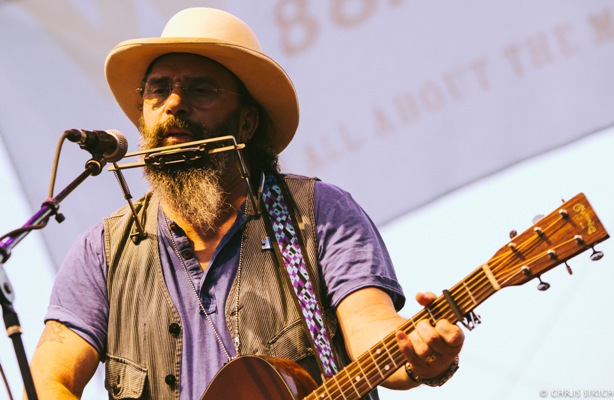 You've always been a writer who was not afraid to do politically edgy music, which you touch on a bit in the new album with "Tell Moses." So what do you think about the crazy goings on of the current election?
I'm just watching them, because it's like it's crazy. I'm going to have to get out and support... I'm definitely going to vote for Hillary Clinton. I supported Bernie [Sanders] until the end, but it's one of those things. Donald Trump could get elected if people stay home, or people decide to be purists about this. It just really, really would be fucked up. I don't even think he wants to be President.
I don't either. I think he wants to win the Presidency, but I don't think he's even thought beyond the Inaugural Ball.
Nah, he just doesn't do that. I don't think he's even thought that far. I think he keeps thinking that he'll create a lot of chaos and his brand will go up. And it did, because we're falling for it. If you don't think reality television is damaging, then just pay attention to what's going on right now. You'd have to think that Fox is news and reality television is real for this moment in history to be even be possible. Somebody out there evidently felt that, or we wouldn't be having this conversation.
Years ago you tried to put a human face of Middle East terrorism through "John Walker's Blues," which many people rejected without even hearing the song. With the amping up of horrific attacks by ISIS, do you see a possibility of reconciliation between cultures?
There has to be. I go to Israel every once in a while to work with a friend called David Broza, who is a very big deal. A big singer/songwriter there. He's kind of me, Bruce Springsteen and a bag of chips in Israel. I'm not afraid of Roger Waters, and I don't believe in the cultural boycott, so I go there. I produced David's last record there, with a half-Palestinian and half-Israeli band. We made a film about it, which is actually coming out on Netflix on the first of August. It's called East Jerusalem/West Jerusalem, which is also the title of the album. You should check it out, it's pretty cool. To me, politics and music are... I wrote way more songs about girls than I have about politics. I write about what I write about. That's the way I was taught to do the job, and that's the way I'll do it until I can't do it anymore.
The music business has changed so much in the years since you started. The old studio system is dying, there's piracy, there's low streaming fees, and all, yet in certain ways songwriters have more freedom and more ways to get their work out to an audience. How have the changes been positive, and how have they been negative?
Like you said, the good news is that anybody can make a record. The bad news is anybody can make a record. (laughs) It's changed, but I met [legendary songwriter] Townes Van Zandt when I was 17 years old. I always was determined to do this whether I made any money or not. I didn't make any money until I was 30. 31, really. I was 31 when Guitar Town came out. I was going to do it anyway, whatever. So I just find a way to make a living at it. I am grateful for being able to make a living at all doing something I love doing.
CHECK OUT COLVIN & EARLE PERFORMING "YOU'RE RIGHT (I'M WRONG)" LIVE AT WXPN'S NON COMM!
Email us Let us know what you think.