Jon Anderson is truly in a golden stretch of his amazing half-century plus arc in the musical world. Famous as the lead singer and front-man of YES – the progressive-rock giant of a band – Anderson has steadily toured, written and released music, and kept the art-rock flame burning these recent decades. The Rock & Roll Hall of Fame, will induct him and his YES bandmates into that long-awaited pantheon on April 7, 2017.
A celebrated lyricist and songwriter, Anderson is a master of bringing together world music, spirituality, and imagery into works that are still distinctly the creation those of an English art troubadour and rocker. He has had a hugely successful solo career, during and between working with different incarnations of the YES group.
YES began as an artsy London band, formed by Jon Anderson and Chris Squire, at the end of the 1960s. Since then, the evolving YES troupe has managed to fuse the vision and spirit of that era with abstract and progressive thinking and virtuosic playing to deliver a rich, heady catalogue of music, spanning five decades.
An affable and approachable guy with Yoda-like and shamanesque underpinnings, Anderson was New Age before there was New Age. (He sometimes travelled with a tent, set up in his dressing room, when touring with YES.)
Coming off the triumphant 2016 ARW U.S. tour, with former YES bandmates Trevor Rabin and Rick Wakeman, Anderson spoke to us recently from his home in the hills near San Luis Obispo. On this occasion, we pulled him out of his studio during the recent California storms – a rare rainy day in paradise – to reflect on all that's in the works for him in 2017: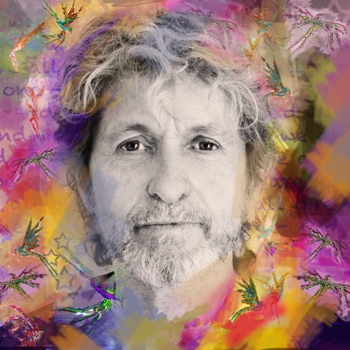 Your album Tour of the Universe was released late last year. It's the audio of the DVD performance that you recorded in the studios of XM Sirius Radio in 2004. The result is very pure, sparse, stripped-down tracks focused on your voice. It contains some of your best and most beloved melodies and some lesser-known songs – some drawn from YES music, some from your solo career, and other sources. What was the impetus behind this project?
Last year, we were going through material that we had currently on hand, reviewing what we might put out. We'd had requests for an album version of this DVD performance, so we thought, why not? This was a studio experience back in 2004 where it was just me before an audience, and, honestly, I needed to get past the fear of not being surrounded by a band of musicians. So, for accompaniment, I used pedals and keyboards. I had five petals that I could fade in and out, controlled through my MIDI guitar. It was a good challenge with a good result that was entertaining for people. I've always felt that music is a challenge and it should always be approached that way. If you are challenging yourself, you are entertaining people better. I try to take that approach when I'm performing live, whether solo or with other musicians.
The Anderson Rabin Wakeman (ARW) U.S. tour ran this fall and finished up in December. Tell us your impressions of it.
Well, the audiences loved it. And we enjoyed ourselves like crazy, everyone in the band. It evolved rather differently than I thought initially, when we were planning it. I assumed it would be a chance to do a lot of music that we wouldn't normally have a chance to perform, going deeper maybe into our various catalogues. But as we rehearsed, we found ourselves just naturally gravitating toward a fair amount of YES music. The more we worked on it, we realized, well, that's really who we are when we come together, so let's do it. And we did. We even included "Awaken" in the shows. Naturally it was great, also, to have a chance to do a lot of the 1980's YES material. With Trevor along, we were really glad to be able to do "Rhythm of Love," "Hold On," and of course "Owner of a Lonely Heart," which was YES' No. 1 hit.
You, Trevor Rabin, and Rick Wakeman all seemed in fine form. We were fortunate to catch the ARW performance in October at the Keswick Theater in Glenside, Pa., a standing-room only performance that was wildly received. Trevor and Rick felt comfortable that night taking to the audience, where they moved up the aisles doing a guitar and keytar duel. How do you feel about performing in smaller concert halls like that versus the huge arenas that you've played many times over the years? Which do you prefer?
Ha! Well, life is like that isn't it? One time you're performing before 20 thousand people and the next you're performing before 1,500, and back again. This was the first time we had toured as ARW and it was up to us to prove ourselves. To prove that we were a good band. To show that we could find an audience for what we were bringing. You can't assume what venues you ought to be playing these days. There are so many bands touring, as they have to today to make a go of it. We stuck with the smaller halls all through the tour, and it worked out well.
Now you will be taking the tour to Europe? With the same line up?
Yes, we will be touring Europe in March with the same band. Other great news is that, along the way, we've been making progress in writing music together. As for more touring later this year, it will probably include Canada, some places in South America, and also some locations that we didn't get to last year in the U.S.
You'll be back quickly from the March dates for YES' induction ceremony to the Rock & Roll Hall of Fame (April 7), then off to Japan for more ARW dates. How do you keep up the pace?
Well, I'm feeling very well. I'm 73 now and I keep healthy. We live in a wonderful place and exercise a lot. I'm constantly working – writing and keeping fit at the same time. I have a beautiful wife, who takes good care of me. And I stay young at heart.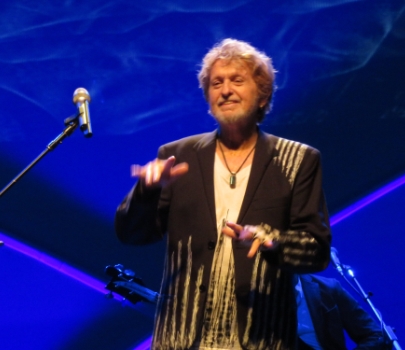 Let's talk some more about the Hall of Fame induction. How are you feeling about that?
I like it very much. Of course, I was pleasantly surprised when it finally happened. But everyone kept saying it would happen, so my thought was, "It will happen when it happens. And I won't lose sleep over it." The Hall of Fame people are very nice, very special people. I performed there before at a special story-telling and song program.
Many of your fans think this recognition for YES is sorely overdue, partly as a result of the music industry – and certain outlets in particular in it – never adequately recognizing YES over the years, either because YES was not pop oriented enough or they couldn't easily put a label on the music. Thoughts on this?
Well, sure, but I make the music I want to make. I always have. We were so grateful to have the tremendous audiences we had, for example in the 70s, during a time that the band I were pursuing invention. That's always been our goal and my goal, inspired by bands that did the same and that charted new ground a bit before us – the Beatles, Frank Zappa, the Beach Boys. I was a great fan of those artists and artists like them. We just wanted to continue that tradition of inventive, new music. Understandably, over the years, the Rock & Roll Hall of Fame has mostly been interested in enshrining what I would call the best of the norm in particular periods. YES was never the norm. But it's all worked out and we're encouraged and undaunted – and aiming to continue to invent in the YES-like mode. I can tell you that Trevor, Rick, and I are creating songs now and will continue – and hope to record them later this summer. What we're developing is in the YES style but very much 21st Century sounding. I'm very pleased with it.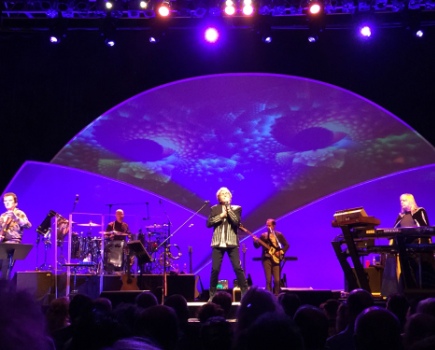 Your fans will be excited to hear that. At the Hall of Fame ceremony, Alex Lifeson and Geddy Lee from Rush will be inducting YES. What do you think about that selection? They are apparently big YES fans.
It's so nice. I know Rush and their music. It makes a difference having someone who understands you. (Laughs.) Someone who is of a mind of what building that type of music involves.
Will you perform with Steven Howe and Alan White that night?
Yes, we will play "Roundabout."
In that case, your fans won't let us get away without asking you if you think that will lead to other opportunities for you to perform with Steve and Alan [members of the core 1970s YES line-up].
Not really. I doubt it. I can't imagine going on the road with them at this point, given the different agendas that their band and ours have currently. I have my understanding of YES and they have theirs. We were brothers in it once, but… But you never know. If everyone were to get emotionally in the right place, you never know what might happen.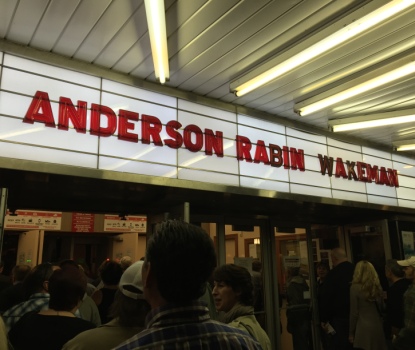 Have you felt any kind of resurgence in the YES following due to the hard work that different band members have put into touring recently? Or, over the past couple of years, due to Chris Squire's passing, reminding fans of the mortality of the music they love? Or, perhaps in the past few months because the kind of uplift your music provides is needed by American audiences these days, due to the political environment?
Yes. I would agree with all of that. There's been a resurgence in interest in progressive music, especially in Europe. There's lots of great music out there now that has nothing to do with the radio, more so than at any earlier time in rock and pop. Rick also says that if you keep going on stage long enough, eventually everyone will know who you are, so we keep on going. (Laughs.)
But do you think there's a hunger now for that message of . . . universality, so to speak, in your music?
Absolutely. Listen, people need something. I once wrote a lyric: "If we are one, Then we are refugees, We are the prisoners of our own design." ("We Agree," Magnification) There's no savior coming from heaven. No, instead love is everything. That's what everyone from the Beatles to Krishna were saying. I'm still a love messenger.
Thanks, Jon. Before we close, this interviewer just has to mention that he was fortunate in 1976 to be at the famous YES concert at JFK Stadium in Philadelphia, with 120,000 others – the largest arena event ever held in the region to this day. Peter Frampton warmed the crowd up for you, and YES were on stage that night with their capes flowing in the breeze behind them, as you sang, "How can the wind with some many around me?" as a full moon rose over the event. Just a quick thanks for that because it was a wonderful memory you gave to all of us.
It is for us too! I have a big picture of that concert hanging in my studio.
CHECK OUT JON ANDERSON'S "TOUR OF THE CENTURY" TRAILER!
Email us Let us know what you think.