Meet talented country singer Katie Armiger. I am glad I did. She's a very pretty, strong willed, girly girl currently touring to promote her fourth album Fall Into Me. This sweet young lady has a penchant for fancy dresses and old school country classics. She also has a variety of songs ranging from vulnerable ballads to edgy modern country tunes. It's just the way a lady should be… offering the right mix, just to keep you guessing.
"Safe" and "Okay Alone" are two beautiful ballads with delicate but strong, mature vocals. "Better in a Black Dress" and "Playin With Fire" are her singles – both a bit riskier and more contemporary. Then there is the fun and catchy "Black and White." These are just a few of the songs she's written (or co-written). Of her long repertoire she already has five singles that made the Billboard Hot Country Songs chart. But it's not only her music that's been noticed. Armiger also garnered the number one spot by her fans in Country Weekly's "Hottest Bachelorette" issue two years in a row.
This summer Armiger will be making the rounds of music festivals and country fairs. She will be joining the likes of Thompson Square, Florida Georgia Line, Eric Church, Big & Rich and many more.
Not only will she be busy performing across the country, Armiger is also busy promoting Pastry as their newest brand ambassador. Pastry is a lifestyle line of apparel, accessories and footwear for junior girls. Katie is the first country singer to be chosen as a face for Pastry, joining the current celebrity lineup of Cody Simpson, Alli Simpson, Madison Pettis, Jessica Jarrell, Coco Jones and others. I had the privilege of spending the day with Armiger on the set of a Pastry photo shoot for their 2013 fall campaign. She was gracious and kind to all during the long, hot day in Topanga Canyon above Malibu. Armiger struck me as a very feminine and nice young woman that would be a great role model for her fans.
Armiger graciously took the time to speak with me again last week, while she had a brief stop at home in Nashville. Then she was off on the road again to continue her tour.
How did you get involved with Pastry Shoes?
It was through my manager and then Laura from CAA. They just kept talking. I know that Pastry kept talking to them and they're like let's take her – meaning me – to New York and have her meet the whole crew and see if it would be a good fit. It was. Everybody there is so incredible and great.
So you are going to be their brand ambassador for their Academy Sports Stores?
That's what the goal is. We are hoping we can work something like that out.
I notice that you seem to dress very elegantly, in gowns both at the Pastry photo shoot and on your Fall Into Me album cover. Is that a theme you want to have?
My manager probably wishes that it wasn't the thing that I always chose but I am a total girly girl. I just love stuff like that, so whenever somebody goes "Hey you do you think that maybe you'd like to wear a gown?" I'm like yes.
I thought you looked so nice at the Pastry shoot in a gown and wondered if that was your style or if they selected the dress for you.
Honestly I had no clue what the wardrobe was going to be. They told me they were picking everything out. When I got there they were like: "Hope you don't mind some of these things we picked out. If you don't like it of course let us know." But yeah, I love it.
How long have you been singing?
Oh gosh, I've been singing for twelve, thirteen years. I was adding it all up in my head.
Is singing something that came naturally or did you one day say "I'd like to do that?"
I've always loved singing. It's always been what I've wanted to do. I'd always tell my mom that I want to sing. I want to sing. I grew up in a suburb of Houston and nobody sang. You played sports, that's what you did. Or you could be in the band, but you didn't sing. So I kept telling my mom that's what I wanted to do. Finally she's like "Okay." We started looking in the newspaper and listening to the radio [to] find festivals or things that would be in town. We would send them my CD – or back then we would actually send them a mix tape. That's how I started.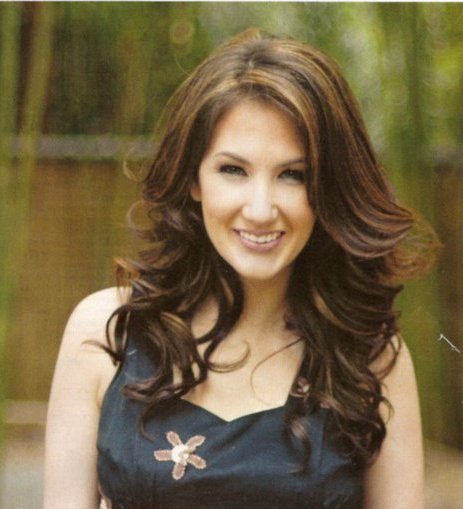 Was the CD you were sending original music or was it covers?
They were covers. They were like Dolly [Parton], Patsy Cline, Martina McBride... they were definitely covers.
So the traditional country female vocalist songs?
Oh yeah. I always loved listening to the old school stuff. That's what I try to incorporate, even into my stuff now.
Did you start writing music at an early age?
I write most of my songs. On my last album I wrote all the songs. I have always written stuff, even from when I first started singing. When you first start writing you are so self conscious. I would sing it for my mom and that was about it. Eventually they were like "No, it's good, it's good. You should be more confident. It sounds great." So I would start to play it out. That's how it all started.
Do you play any instruments with your singing?
I do for songwriting. If it's just me. That's typically how it happens. If I am going into a session with somebody, I'll have something recorded down that I want to write. I don't play in front of a lot of people, but I do play guitar.
So you don't play guitar on stage?
No, just for songwriting.
What type of environment inspires you when writing music?
I would say definitely quiet areas. The best for me is when I'm alone. It's typically like three AM and I'll want to be going to sleep. I'll be in bed and something will come to me. I know if I don't get up now, I'm going to forget it and it's going to be gone.
So what do you do, hop out of bed and jot it down?
I do, I do.
Have you studied music professionally?
I've done different vocal lessons. I was in high school varsity choir. Then the last two years of high school, I was home schooled. I would do music courses online and then study. Actually those last two years, I studied more classical music.
Do you have musicians in your family?
Nope. I am actually the only person that sings.
Are they impressed by your talent then?
I think they're like: I don't know where you got that. It's not from us.
What is your bigger strength in writing: the lyrics or music?
I would say lyrics are what I really love to do. Even when I finish a song I will still work on it for weeks. I'll go back and change words.
Are you working on another album?
No other album right now. Just touring. It's so busy, traveling around still promoting the new album that came out at the end of January.
Is there anything that you would like to change, or where you see room for improvement?
I would say that there's always room for improvement. As an artist I feel like your writing can improve, your performance can always improve. As soon as you think you're really great at something, then you shouldn't do it anymore. You should constantly feel like you can grow.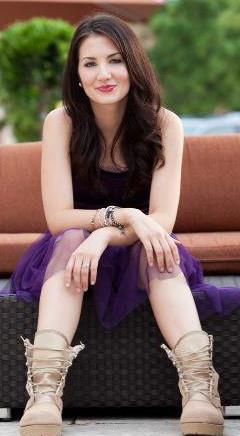 Is there anyone that you'd like to collaborate with?
That's a really great question. I would love to write with... there are so many writers... definitely Jeffrey Steele would be one of them. He's a Nashville songwriter. I haven't been able to hook up with him yet. I'm always game for writing with another artist. That's always really fun. Especially when you go in you don't know who's going to sing the song that you wrote – like which one of us is going to sing it.
Is there anyone that you would want to perform your music?
Oh wow, I don't think it would really matter the level of artist. Just that someone wanted to cover my music would be an honor.
What advice would you give young people that have the same dreams and musical aspirations as you?
I would say to just keep at it. Regardless of which genre of music you sing. It's a tough industry and there are so many talented people that are around you. So just keep at it and don't give up. And don't doubt yourself. I would never discourage anyone from going out there and doing something that they like. I would definitely say to stay in school and make sure that you get an education. That was always one of those things that my parents said. You are going to finish school. You are not going to get a GED, you are going to finish it. Then we can worry about an online college later. But you will at least finish high school.
Did anyone try to discourage you along the way?
I never had anybody in my family say that. There have definitely been people that you meet. You go to so many meetings and there are always those people that tell you stuff like that. But you can't buy into it.
What's you favorite song on this album?
Oh no, don't do that.
I have a favorite so I'll tell you if you tell me.
Oh that's the hardest thing. When you ask me to pick, it's like oh crap.
Well, are there any songs that are more meaningful to you?
I would say "Black and White" or "Safe" would probably be my favorites.
I like "Black and White" a lot but I love "Okay Alone." What song do you think is received the best at your shows? What do people request when you're on stage?
I'd say "Safe" or "Better in a Black Dress." "Better in a Black Dress" was the last single and "Playing with Fire" is a new one. People don't quite know it as well as "Better in a Black Dress." That's the one: all the girls are always like "The Black Dress song."
Do you want to stick with country or do you have thoughts of doing other genres?
Just country. That's it. I love listening to other genres. I'm very eclectic, but I wouldn't want to sing anything else.
What's your favorite music to listen to?
I would say the music that I find myself listening to would be country or in my car it would be a mixture. There are a lot of really great singer/songwriters in Nashville. It's kind of like acoustic easy listening music. That's what I'll listen to in my free time.
Who's your favorite country music singer?
Of all time?
Well, what about contemporary, current?
I listen to a lot of old school stuff. I am trying to think of what I have downloaded recently on my phone. Probably Martina McBride.
So what about old school favorites?
Definitely Patsy Cline. Love Dolly, Tammy Wynette. But I would say Patsy is definitely my favorite.
I saw on YouTube a video of you performing "Help Me Make It Through the Night" which was great.
Ah, the Kris Kristofferson song. Thank you.
Martina McBride does a great rendition of that song. Since you like her I wonder if you've heard it?
Yes, I have.
Are you touring right now?
Yes, we are. It's summer season so it's not a set tour but it's quite a bit of touring. I just got back from St. Louis like an hour ago and I am leaving for Detroit tonight.
What do you like to do during your downtime on tour?
If we have time I just walk around and explore. Exploring is one of my absolute favorite things to do. Finding cute boutiques and things that have character. I love doing that.
Has your career affected your friendships and your social life?
I would say a little bit, just for the fact that I'm not in Texas where I grew up right now. A lot of the people that I grew up with I don't see. I talk to my best friends and that's who you stay friends with. But I feel like that's with anybody. If you go to college or go somewhere that is not where you grew up, the people that you talk to are those really great friends.
So you are living in Nashville now?
Yes.
How long have you lived in Nashville?
I've been here for four years.
Did your family move to Nashville with you?
My family helped me move to Nashville.
Is it easy to have a boyfriend with your music career?
(Laughs) It is definitely not an easy thing. But if that is what you want you will figure it out. If you really like somebody you will figure out a way to make it possible.
What's your favorite city that you have visited?
I really like New York. I've performed there. NY is one of my favorite places. I love California. Los Angels is nice, but some of the surrounding cities are beautiful. And Seattle. Seattle is really beautiful and is one of my favorite cities as well.
Do you go to California a lot?
Not very often. But when I do it is very eye opening because it is so different from Nashville.
CHECK OUT THE MUSIC VIDEO FOR KATIE ARMIGER'S "PLAYIN' WITH FIRE!"
Email us Let us know what you think.