English-language movies documenting society's underbelly include such classics as the hard-nosed Last Exit To Brooklyn or the comparatively benign West Side Story. There's a body of work that's emerged out of England's rock subcultures from the '50s on up. But fewer films detail Europe's gritty youth subcultures, though that's been changing — witness a French film like La Haine (Hate).
Now a youthful director from Amsterdam, Sam de Jong, adds to the canon with his debut feature, Prince. The film is a richly detailed, off-kilter portrait of a teen trying to navigate his way around the pitfalls of the projects he has grown up in, without losing his sense of self or family. A peculiar movie for a peculiar age, it is both a gang saga and a teen angst tale of desire — full of dead ends, but also of beginnings.
Viewed through the 29-year-old de Jong's surreal lens, 17-year-old Ayoub lives on the cusp of Amsterdam's projects, hanging out with his three buds — two other Moroccan expats and a Dutch kid, Franky (Jorik Scholten), the younger brother of Ronnie (Peter Douma), ringleader of a trio of local toughs.
Coping with junkie father Mo (Chaib Massaoudi), lonely divorcι mother Saskia (veteran actress Elsie de Brauw), and lovely half-sister Demi (Olivia Lonsdale) — whose budding sexuality disturbs him as she falls for his best friend — Ayoub has a lot on his mind. Then there's his crush on local bombshell Laura (newcomer Sigrid ten Napel), who seems attached to a tattooed skinhead buddy one of the gangsta wanna-be trio who ride ATVs around town like they're hardcore Harley-bikers, committing petty crime and drug infractions.
Haunted by his father's decrepit state, Ayoub lacks a role model. He does, however, win the favor of violent, eccentric, purple Lamborghini-driving, sociopathic local crime boss Kalpa (Freddy Tratlehner). Falling in with him, Ayoub tries to stretch his status (and wallet) enough to win Laura over, but soon finds that this life is much more than he bargained for. While Ayoub fights for her heart, he realizes that before he becomes a prince he has to learn to be a man.
Though being such a novice — born in August, 1986, de Jong has directed documentaries, music videos, commercials and dramas — his work has won awards, and been screened at A-list festivals like Sundance, the Berlinale and AFI Fest. Prince made it into the 2015 Berlinale where it got the Honorary Mention: Crystal Bear for Best First Feature.
Raised in Amsterdam's suburban outskirts by his therapist parents, he was came to understand something of himself earlier than most. Before graduating from the Netherlands Film Academy in 2012, he and his younger brother traveled the world, informing both this feature and his shorts. After making his thesis film, Magnesium, he followed it with critically recognized shorts — "Marc Jacobs" and "Malaguti Phantom" — before developing this feature. In addition he has made music videos, as well as performing in the award-winning Parachute Band.
Employing an impressive array of cinematic techniques, Prince is a self-assured, sure-handed debut with some simple but well-drawn characters potent enough that it got a boost from producing partners 100% Halal and Vice Magazine's production division.
In anticipation of de Jong's birthday, and of Prince's brief theatrical run, this exclusive one-on-one was conducted over Skype in order to encourage its viewing on VOD platforms.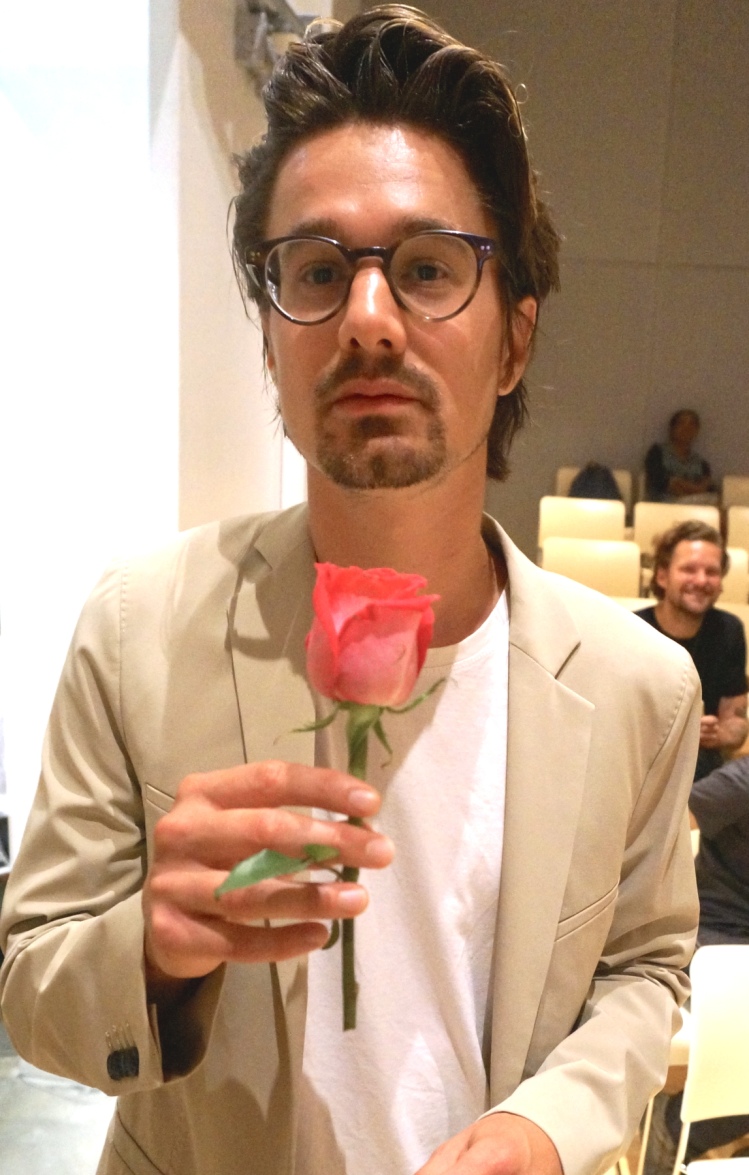 Here in the States, we have an image of Amsterdam with its quaint canals and cafes and such, but we don't see this dark side, of a disenfranchised immigrant population — much like other communities in the rest of Europe. What motivated you to tell this story of a punk side of Amsterdam?
I wasn't trying to show a part of the Netherlands that no one knows. I just made this film because I grew up in this world. To me, the Red Light District [is] just iconography for the outside world, it's not real life. This neighborhood is one from where I grew up, and the kids in the film, the Moroccans, are very integrated in our society. It's similar to Mexicans.
But they're disenfranchised, too.
They are, and it's a problem. There are many right-wing parties and lots of xenophobia. But to be completely honest, when I set out to cast the roles, I didn't really look for ethnicity. I looked for Ayoub as a guy who is vulnerable yet aggressive, and I found him to be just that guy. I also saw Caucasian people for that role, so it wasn't about finding a certain ethnicity per se.
Your background isn't as dark as the kids in this movie. So why this story?
It's a combination of things. I did several short films starring the same kids from Prince and [based on] many of the stories they told me. One of the kids I worked with had a similar parental situation to Ayoub in the movie. I felt there was more to it than a short film, so I started writing a feature. The streets where we shot the movie are the streets where I grew up as well — although I lived in a more rural place, this is where I used to spend my teenage years. I'm 28 now [at the time of this interview]. Looking ten years back, lots of the things I cared about — growing up with divorced parents, longing for unattainable girls — that quest was something I was obsessed with at that age. It's a combination of autobiography and documentary.
The drug dealer/criminal character takes on a mythic quality. What was the idea in that?
I was really inspired by [Federico] Fellini, the way he has the balls to make his characters larger than life and theatrical when he needs to. When you're that age and you think about older guys, they always have a mythical quality about them. They seem untouchable and spark your imagination. I wanted that character to not be a real person, but a mythical bad boy that the main character looks up to. Also a metaphor to represent the Devil. It's pretty bold and obvious with his Lamborghini Diablo, but I just wanted it to be as bold as that.
How hard was it to get to use one of those Lamborghinis?
Very hard, because I wrote in a purple Lamborghini but didn't realize that purple Lamborghinis are very rare. There are only 80 in the world. This Lamborghini just sold for six hundred [thousand]. They're very expensive. It was terrible. It takes a lot of time to move it around. When you start the engine you have to drive with ear protection. We broke the window on the second day of shooting.
You broke the window? That must have cost you thousands.
It did. There was only one window left somewhere in a forgotten village in Italy and we had to get it over [to Amsterdam]. It was a hassle.
Those Lamborghinis are almost impossible to get out of. One of the actors seemed to struggle with it in a scene.
You're right, it's very hard to get out.
Do you see this film as having a moral statement?
There's a strong moral to me, that you shouldn't chase a consumerist-driven dream or externalize your problem like Ayoub is doing. [He] thinks that if you change your identity you'll change your spot in life. Luckily, he finds out by not wearing those shoes he got from Kalpa and just being who he is, accepting where he comes from, will make him more happy and he gets the girl he's longing for. In a way there's a fairytale moral to the film.
Did being raised in the Netherlands give you a strong moral backbone, so you are fighting against the hypocrisy?
I think I'm reacting to white hypocrisy a little bit. I grew up with strong cultural awareness. My dad is a trans-cultural psychiatrist and my mom is a psychologist. My father had an NGO and at an early age he took us to Uganda into post-conflict areas because he helped people out with PTSD. I came from that, but at the same time I grew up super-liberal in Amsterdam with a lot of freedom and possibilities. I wasn't always so socially aware as I am now. For a long time, I just wanted the fastest scooter at school and stuff like that. I try to talk about that within the parameters of Prince.
How much of the story is drawn from these boys?
I did all of it. There's hardly any improvisation.
Did they give you any suggestions?
With the actors, I just had to control them and damage-manage them and make sure they were on the set and in the shot. With the actors I did have creative conversation, but not an equal creator conversation.
You restrained yourself from being too violent, and none of the characters were all that bad.
It's about being in between. It's about teenagers growing up. In that case, I do like The Breakfast Club.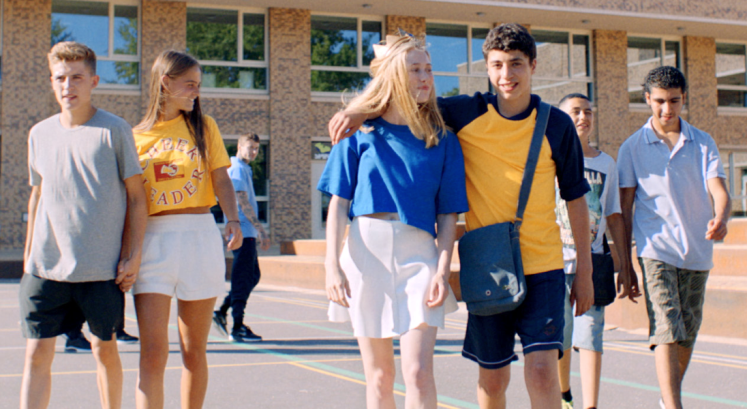 So you're making a John Hughes film for the modern age?
Yeah, a little bit.
Do they all stay friends after they choose not to kill the other guys?
I think a week from the ending of the movie, Ayoub is left by Laura because she finds out [he has nothing] after all and shit hits the fan.
She starts modeling and meets a nice rich businessman. Where did you find the actresses?
The girls are [more professional] than the guys. The girl playing Laura [Sigrid ten Napel] is pretty well known in the Netherlands. When I went to film school she was in theater school, so we knew each other and it made sense to cast her. Olivia [Lonsdale], who plays his sister... My girlfriend introduced her to me and she's fabulous. This was her debut role as well, but she's doing lots of stuff now so she's growing into an actress. All the boys, they're not interested in acting, they're back on the street and not getting into acting.
What are they hoping to do or become? Hopefully not dead?
I think they're going to become like Kalpa and realize their inner gangster. [laughs]
What made them want to do this film? Their ego? It couldn't have been the pay.
I think it was the pay. This was a low-budget movie, so we paid them fairly less [than some films...] But they're used to working in a supermarket or delivering pizzas. Now they're offered 25 days of shooting with some money per day. A mother even called me and said, "Is this money for real?" because it was so much. He was 17 at the time and for a month's work it was a lot of money. We had a lot of struggles on the set. They would walk off. What kept [them] coming back was they constantly said the reason they were doing it was for me. We were working on more projects in the course of two years, so we really built a relationship together. We did it hand in hand and decided to do this. I guess that was a big part of their motivation.
Because he finessed his character so well I assumed that the guy who plays Kalpa, Freddy Tratlehner, is an established actor...
He's a big rapper, one of the biggest rappers in the Netherlands.
Is his music in the film?
No, because it's hip hop. He's a friend of mine. We talked about the film once; he said he wanted to be in it, so I wrote him this part. It's his first part ever. It was fun working with a friend.
Your soundtrack has both a retro and contemporary quality. What does that say about you?
I grew up in the '90s, so it's partly my own childhood; there's a nostalgia aspect in me using this soundtrack. It also helps because my short films used to be rooted in social realism and in this one I wanted to create my own environment, so finding music that was contemporary but also had an idiosyncratic quality really helped in making it like a fairytale, in a way. It would be obvious to just use what's popular and what the kids listen to. I wanted it to be our world — the world of the film — and not necessarily their world.
Email

us
Let us know what you

think.