You've been seeing a whole lot of Mexican actor Demián Bichir in the movies and on TV these days. While Bichir has been a well-known actor in his native land for well over a decade, and even had some show-stopping turns in Hollywood projects like Stephen Soderbergh's Che and the hit Showtime series Weeds, he knows that one name is probably most responsible for his ascendance in Hollywood.
"God bless Chris Weitz's heart," Bichir told me recently at the Crosby Street Hotel in New York's SoHo section.
Bichir was sitting down with me to discuss his latest film, Dom Hemingway, but he also wanted to share his gratitude for the director who cast him in A Better Life. That 2011 film earned Bichir an Oscar Nomination for Best Actor. In the movie Bichir played a Mexican gardener who was living in Los Angeles without a green card, trying against great odds to build an American dream for himself and his teenaged son.
The movie was a bit of a departure for director Weitz, who was known mostly for bigger Hollywood fare like American Pie, About a Boy and Twilight: New Moon. This small film about the undocumented aliens living in LA was a total labor of love for the director.
Weitz discovered his leading man while watching Che. He was impressed by Bichir's performance as ruthless dictator Fidel Castro. But could the actor who played this powerful demagogue also play a humble father searching desperately for the American dream? Weitz believed that he could.
"That's what we actors hope for," Bichir said. "That someone would have the eye to see you playing some other type of character. I don't see any resemblance between Fidel Castro and Carlos Galindo from A Better Life. Those two human beings are so different. The fact that Chris Weitz thought that the same actor could play a completely different type of role, it's a blessing. You don't find that very often."
The director's faith in his star was well founded. Though it was a little movie, Bichir's work and the film in general generated raves from critics and the audiences who stumbled upon it. Then the Motion Picture Academy made it official by giving Bichir one of the five nominations for Best Actor of 2012.
However, Bichir was not so much happy about the nomination for personal reasons. On a much more basic level, he hoped the nomination would get more people to watch the film.
"I think we were all happy that our film got that attention," Bichir recalled. "Our film, being a very small film, quote-unquote. A film that didn't do good at the box office. It did great afterwards in DVD and Video On Demand and this and that. On Netflix and iTunes. Airplanes," he laughed.
"It was a reward for all of us who made the film that we got that attention," Bichir continued. "I personally believe that we deserved a lot more attention than that, because Javier Aguirresarobe's work on the photography is fantastic. The writing [by Eric Eason] is incredible. The story is fantastic. Let alone Chris Weitz's direction. And of course Alexandre Desplat's music. We had a really, really good film."
And, yes, it was nice to have his work be acknowledged by his peers.
"It was incredible that we got that [nomination]," Bichir acknowledged. "Of course, you never think about it. You never wake up in the morning going to set to shoot a film thinking: oh, I'm going to win an Oscar, or I'm going to have a nomination. That comes after that. That's totally out of your hands. You only hope that you're going to make the best film possible. Everything else is secondary."
That nomination also set up a two-year hot streak for Bichir in which he has starred in a hit movie (The Heat with Sandra Bullock and Melissa McCarthy) and a buzz-worthy TV series (FX's border drama The Bridge.)
Now, Bichir is co-starring with Jude Law and Richard E. Grant in the acclaimed British crime comedy/drama Dom Hemingway. In the film, Law plays a hard living and hard-fighting former safecracker who returns to London after twelve years in jail for taking the rap for his boss.
Bichir plays that boss, the suave, sophisticated and understatedly brutal Russian gangster Anatolievich Fontanov... who has anglicized his name to make it Mr. Fontaine. Mr. Fontaine appreciates Dom Hemingway's sacrifice and is planning to make it up to him, until Hemingway's big mouth almost ruins his chance.
From the second he read the script, Bichir knew he had to do the film.
"It intrigued me and fascinated me and made me very excited," Bichir said. "It was a script like nothing I've read before."
Dom Hemingway was written and directed by Richard Shepard, who had also helmed the acclaimed crime caper The Matador with Pierce Brosnan and Greg Kinnear.
"I had seen The Matador way back," Bichir recalled. "Of course I remembered the film, but I didn't have Richard Shepard's name very present [in my mind]. He was very kind to have invited me to this adventure. When he invited me to be a part of the project, I thought it was a fantastic opportunity to explore many different things. The fact that Jude Law was going to play Dom Hemingway, that was a big, big, big asset. A big plus."
Law is receiving raves for his performance as Hemingway, an out-of-control force of nature who is as often screwed by his big mouth as he is bad luck. Law put on 20 pounds for the role, added a deep facial scar, an ugly mutton-chop beard and a quickly receding hairline to play the character. However, for as much of a loose cannon Hemingway might be, he is also a hugely literate and pithy man and a man of great passions and great hungers.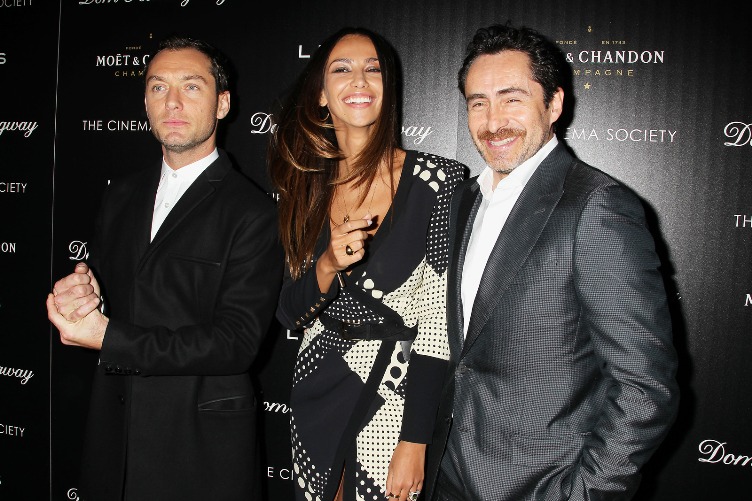 Upon release from jail, Hemingway indulges in a three-day bender with drugs, alcohol and prostitutes. Then his best friend Dickie – played by Richard E. Grant – who is also Mr. Fontaine's second in command, takes Dom on a train to the boss' private compound on the south of France.
Upon arriving there, Hemingway continues imbibing copious amounts of drugs and alcohol while he openly leers at Mr. Fontaine's girlfriend Paolina – played by Madalina Ghenea, a Romanian fashion model-turned actress. He also has a surprisingly soulful conversation with a local party girl named Melody – played by Irish actress Kerry Condon – who strangely may eventually become Dom's salvation.
This leads to a corker of a scene in which Hemingway, drunk and in a rage, gets completely in his former boss' face – telling him off in a way that may have been cathartic, but may also have been suicidal. Bichir smiles when remembering the filming.
"I'm glad Mr. Fontaine... Mr. Anatolievich Fontanov... was supposed to be this powerful man, so I could be standing there without breaking down." Bichir chuckled. "It's overwhelming. That happens with great actors, you know? They have this power. It's like a force of nature that overcomes everything. It was really, really fantastic to have that ping pong game with him and Richard Grant. And of course Madalina Ghenea and Kerry Condon. Because you need that from your fellow actors in order for you to play better. The level of your game grows a lot when you have a good actor in front of you."
Of course, the sheer power of Mr. Fontaine also made him an intriguing character. Mr. Fontaine is friendly and good natured – to a point – but if you cross him it should be understood that you will end up dead. He was a guy who was totally under control and extremely dangerous, but very understated about his power, which made playing him a treat for Bichir.
"It's a lot of fun playing it," Bichir said. "I play vulnerable characters some of the times. When you step into this power type of territory, it's very interesting, because it allows you to do less. It allows you to play subtle, too."
Of course, it doesn't hurt to play in the middle of a huge, glamorous compound in the south of France. It's not always been this way for Bichir, though he has been acting for years now. However, despite the fact that he has gone from working on films in Mexico to Hollywood... and now Europe... he admits there is not all that much difference. A movie is a movie, no matter who makes it.
"Most of my life I've worked in independent films, if you call an independent film a low-budget kind of film," Bichir said. "If you think about the fact that independent films in the US are ten-million dollar films, we can make ten films with that money. But, basically, movie-making is the same anywhere. The only thing that changes and varies a lot is the budget. That has to do with how many more weeks can you make your film. Or, if it's going to be a shorter shooting. Or, probably, there is a big difference between one trailer versus another." Bichir laughs. "But it's pretty much the same."
Bichir is learning that lesson first hand, because he has recently finished filming his first movie in which he took on the role of writer/director. The film, Refugio, co-stars Bichir with actress Eva Longoria. The film takes a look at a man's search for his one true love over a long swath of his life. Bichir plays the title character as an adult (other actors play him as a child and young adult) and Longoria and actresses Stefanie Sherk, Ana Claudia Talancon, Arcelia Ramirez and Ludwika Paleta portray some of the potential love matches.
Bichir is enthused by directing, and planning to make it a habit throughout the rest of his career.
"We just finished shooting that. Three weeks in Mexico and three weeks in New Orleans. It was fantastic. All I can say is that I want to do it again and again, because it was so fulfilling. Being able to command so many different talents, it's really truly a fantastic journey. I think there is a director in every actor. Not all of us want to take that step, but once you do it, you're fucked for good," Bichir laughed.
Bichir's future work as a director will have to be spaced around his gig as a TV series star, though. Last year, Bichir took on the role of a detective from Juarez, Mexico – the murder capitol of the world – in the acclaimed FX drama The Bridge. In that dark drama about a serial killer working both sides of the Mexican border, Bichir's Det. Marco Ruiz must team up with an eccentric US Marshall based out of El Paso (played by Diane Krueger) to track down the killer.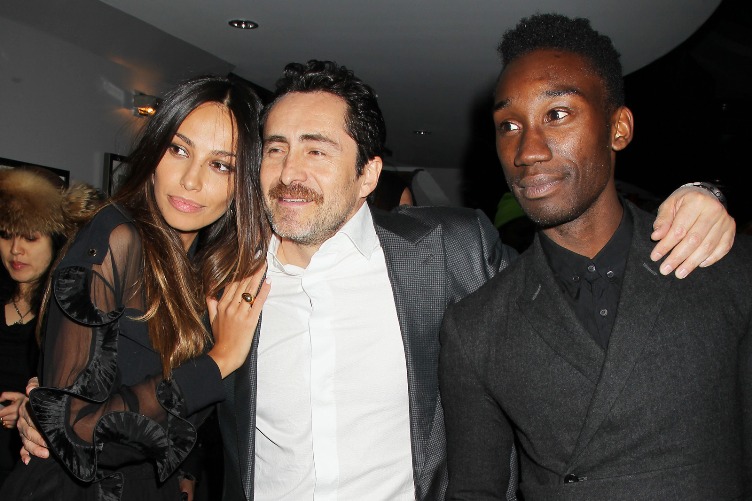 "We just began shooting the second season last week," Bichir said, proudly.
Once again, Bichir was thankful for the opportunity to do good work, though he was not sure how long the job would last. He was happy to find that the first series caught on and gained buzz as a dark, off-beat drama.
"When they called me to shoot the pilot, people were already crossing fingers for the show to be picked up and do a first season," Bichir said. "I was only thinking about making that pilot. For me, everything had to do with those 30 days that we shot the pilot. Then one day when they ordered the season, I was really, really happy. People were already thinking about a second season and I was only thinking about those 13 episodes. For me, that was that. Right now we have the second season, so I go step by step. I never expect anything else than that. I work really, really hard to make that thing really good.
"We were all happy because the numbers were really good. Not only the numbers, but the reactions of all kinds of audiences – in Mexico and many other parts of the world – have been tremendous. Very, very inspiring. We are all very happy and inspired by everyone's reaction to the show. Now there is a new challenge, because we won't tell the story based on anything, like the first season [which was based on a Scandinavian series called Bron]. Everything is from scratch, from zero. We will begin telling all these new stories that happen at the border of El Paso [Texas] into Juarez [Mexico]. There are some great stories coming up. I'm really, really grateful and honored and grateful to be a part of that cast."
Off his off time – as if Bichir has any off time – he starred in the smash hit comedy The Heat with Sandra Bullock and Melissa McCarthy. It was a nice change for Bichir, who hasn't gotten enough opportunities to do straight comedy lately. He admitted he would love to do more funny work.
"It was fantastic," Bichir admitted. "I'm a clown. I'm always jumping around, so it was great. It was great working with... most of my scenes were with Sandra. I got the invitation by [director] Paul Feig to be part of the project and I thought, well, if all this is happening because of that [Oscar] nomination, well yeah, let's get another nomination."
Bichir smiled, good-naturedly. "Three, four, 16 more..."
CLICK HERE TO SEE WHAT DEMIÁN BICHIR HAD TO SAY TO US IN 2015!
CLICK HERE TO SEE OUR INTERVIEW WITH DEMIÁN BICHIR!
Features Return to the features page