PopEntertainment.com > Feature Interviews - Music > Features Interviews F to J > Fastball
FASTBALL
FLIP THEIR WIG
BY SHEILA LUSSIER
Copyright ©2004 PopEntertainment.com. All rights reserved. Posted: July 19, 2004.
Miles Zuniga and fellow singer/songwriter Tony Scalzo founded the Austin, TX-based band Fastball nearly a decade ago. They have had much success with five studio albums under their belts and such hit singles as "The Way" and "Out of My Head" (both from their breakthrough 1998 album All the Pain Money Can Buy.) Fastball has just put out their first album in four years.
For once, LA traffic allowed me to actually get where I was going on time. Of course, my drive to interview Fastball's singer/songwriter and guitarist Miles Zuniga, wasn't completely devoid of troubles: The venue, Spaceland, wasn't even open yet, and the band had only just arrived a moment before I did. After a quick introduction and one of the most frightening jaywalks in LA history, we settled down at a coffee shop and began discussing the band's career and their new album, Keep Your Wig On.
Your last album (The Harsh Light of Day) was made in the year 2000. What have you been doing since?
Well, I moved to Nashville to write country songs, and I even got a few cuts. The very first song I wrote when I came to Nashville got cut and I thought, 'Wow, this is easy.' I thought, 'this is going to be like shooting fish in a barrel,' but of course, that wasn't the case. I just got lucky.
Who was your cut for?
Phil Vassar. He's a nice guy. I was lucky to write with some of the biggest songwriters there: Jeff Steel, Bob De Piero, Clay Wiseman and Al Anderson. If you look on the country charts their songs are all over it. I was writing with those people, but they write hundreds of songs a year, and only something like ten percent of their songs get cut. Even maybe smaller than that, and they're huge songwriters! A guy like me, you know, I wasn't writing a hundred songs, but I was writing a lot more than I [had] and that was a very valuable thing. I started thinking about song writing as a vocation. Before I would just write songs if we had to make a new record or when the mood struck me.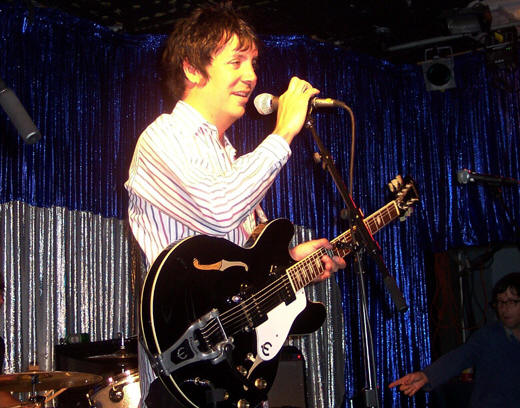 Did you become friends with other entertainers that moved to Nashville?
I became friends with all the pop rock crowd. Like the guy from Tonic, the band Sixpence None the Richer live there, and Bobby Bare, Jr.
Did any of the guys in your band move to Nashville?
No, they all stayed in Texas. I lived in LA before that. I get bored staying in one spot.
How did you come up with the title Keep Your Wig On?
I thought all of our other records had really long titles and really serious-sounding titles, like All the Pain Money Could Buy or The Harsh Light of Day. I thought we were perceived as a little more serious than we really are, so I wanted to make sure that at least the title of the record reflected that we have a sense of humor.
I noticed that Tony Scalzo also sings lead vocals. How do you decide who is going to sing which song?
I think he is a better singer than me--or at least he is a better singer for certain kinds of material. I am good for a song like, "Perfect World" or a song like "Red Light." There are songs he does that I can't do, like the song "I Get High." He sings really beautifully on that song. I think he is definitely like a showcase singer when we started writing songs together. Before we wrote our own songs: I wrote my songs, he wrote his. So it was only natural that I sang my songs and he sang his.
Does the drummer, Joey Shuffield, write any of the songs?
No. (Laughs)
What is one of your favorite songs on your new CD?
Oh that's easy. I like "'Til I Get it Right" the best because it's kind of crazy. It is definitely the most let-your-hair-down type of song. The ending is real exciting.
Who would you say some of your musical influences are?
Well it's easy to hear The Beatles, but we also like Bob Dylan, Willie Nelson, Lucinda Williams, lots of English music like The Cure, The Clash. Well, heavy metal... I'm not sure if it is an influence, but we all listen to a lot of it.
So what kind of CD's do you currently listen to?
Right now?
Yeah, what's in your car?
Well, I recently bought the Franz Ferdinand record, and the new Los Lobos. It is really good, but I also like listening to stuff that is not rock music, like Edith Piaf.
Do you guys think you're more of a live band?
No, I think they are totally different worlds. Live shows... well, you could record a live show and it might not really sound all that good, we probably could because we can sing and stuff, but it's just a different realm when you're trying to entertain people, so it's a different job. When you're making a record you're trying to bring things to life for the first time.
What do you think your band's biggest strengths are?
Well, we can sing, I think we write pretty good songs, and we are a rockin' little band.
Later that night, I headed back to Spaceland to see the band perform. The show was a little club gig to prepare for the band's upcoming tour, which starts in Boston in August. They did most of their new songs and some of their old hits, of course burning down the house with "Out Of My Head" and "The Way." They did another older single, "She Comes 'Round" which they wrote for the movie The Other Sister. The band did the song in honor of it being Ringo Starr's birthday. Miles jokingly said, "If John and George could hear, they'd be rolling in their graves." Having big shoes to fill, I think they did a wonderful job. When Tony and Miles sing together they harmonize beautifully, the show was both upbeat and melodic. You could definitely hear the Beatles influences, as well as a little country and a little blues. It's good to have Fastball back.
Email us Let us know what you think.
Features Return to the features page

Photo Credits:
#1 © 2004 Sheila Lussier.
#2 © 2004 Sheila Lussier.
#3 © 2004 Sheila Lussier.
Copyright ©2004 PopEntertainment.com. All rights reserved. Posted: July 19, 2004.