Eve Plumb is not your go-to Brady for back-in-the-day. With a nation still aching for any crumb, any plumb of trivia regarding the 1969-74 series, she is not biting. Not her problem.
Although she has no visible gripes with the show that made her a pop culture icon, she is not going there, so don't ask. She is living for today, and what a sunshine day it is.
Even though she continues to act and audition, her true passion lies on the canvas, not the small screen. Her recent exhibit of oil paintings appeared in February 2010 at the Gallery of International Naďve Art (GINA). This was her New York art-world debut – a solo exhibition at that – in the gallery's 2,000-square-foot space on the Upper West Side.
Her series of paintings, entitled "Bistro," display her keen, detail-oriented eye on simple table-top scenes in cafes, restaurants and coffee houses.
"I decided a few years ago to focus on the small, intimate moments of my life, which meant still life," she tells me on the night of her debut. "I was all over the board with landscapes and dogs and other things. So I decided to focus on still life and that really brought forth the creativity. Those little moments where you happen to look aside or you see an interesting setting."
All images moody and dusky and void of human beings, her work received some serious attention from the art world. Most of its patrons quite possibly have not even seen an episode of The Brady Bunch (or admit to it), and the elegant, articulate, still strikingly beautiful Plumb does not use that seventies show as her calling card.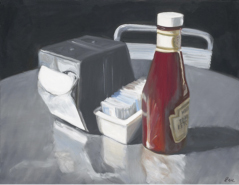 Self-taught, she has been focusing on the quiet rewards of art for some time now.
"I started painting about 20-25 years ago," she says, "and finally got to where I could stand to look at it on the wall myself. Then, other people started liking it. It was something I had always done for myself, something I was always working on, trying to get better at."
Her striving was always a factor, first apparent when she appeared in the ground-breaking TV movie Dawn: Portrait of A Teenage Runway in 1976. Gritty and bold, Dawn was a to-die-for role which left Jan Brady in the dust, but not for good. Since then, her relationship with the Brady legacy has been firmly love/hate.
She picks and chooses her Brady reunion projects (infamous for declining the horrendous Brady Bunch Variety Hour, in which actress Geri Reichl filled in for her and gained the permanent nickname "Fake Jan"). Still, Plumb is perennially a good sport, gracious to fans and generally okay with our national obsession with her.
In fact, coinciding with her gallery debut is her appearance with her TV mom, Florence Henderson, in a one-night-only engagement for Broadway Backwards (to benefit Broadway Cares/Equity Fights AIDS and The Lesbian, Gay, Bisexual and Transgender Community Center. This took place on February 8, 2010 at the Vivian Beaumont Theater.).
When asked about Henderson, Plumb was pleasant but not forthcoming: "She's doing well. I keep in touch with her, off and on, sure do."
Next question. And that's all folks. The Brady reminiscing ends there.
She has her art to keep her warm.
She says, "I paint every day if I can, but life often interferes. I wind up painting about three days a week, and it usually winds up being about four hours a day spread out over eight hours. I'm not very good at portraits, but I think I would really like to try to paint architecture. I really admire architecture painters. And I do take photographs before I paint. I travel a lot to the galleries that I go to, and I travel with my husband for pleasure or for work, and that's where I get a lot of my subject matter."
Does she have a lifestyle preference between a life in art and a life on screen?
"You don't have to get dressed up as much being an artist," she says.

For a closer look at Plumb's art, go to: http://www.eveplumb.tv/
For more information about GINA, go to: ginagallerynyc.com
For more information on Broadway Backwards, go to www.BroadwayCares.org
Email us Let us know what you think.