PopEntertainment.com > Feature Interviews - Music > Feature Interviews A to E > Melissa Etheridge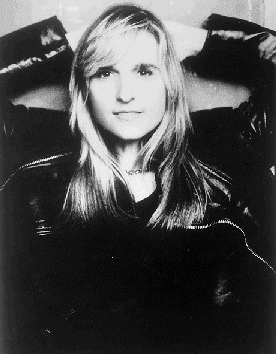 Melissa Etheridge

by Jay S. Jacobs POP ENTERTAINMENT.COM ARCHIVES

June 1994-This interview took place soon after Melissa Etheridge released what was soon to be her biggest album ever, Yes I Am.

Copyright ©1994 PopEntertainment.com. All rights reserved.

The idea of the guitar God is one that has always seemed fall on the right side of the Y chromosome. Men are supposed to be the ones that love the chiming power chords and surging rock melodies. Women have tended to be seen as taking up the more fragile guitar sensibilities of folk, balladry and pop.

This idea is one that has always confused Melissa Etheridge. She loves the rock and blues riffs that the boys like, and she doesn't care who knows it. She wants to be a rocker, and damn the person who tells her she can't just because she's a woman. Still, Etheridge does acknowledge that this idea is out there, and it has made her music stand out amongst female solo artists. But she thinks other women are starting to come around to her way of thinking.

"What you're seeing now is the women that are doing rock & roll, they're in groups," Etheridge explains. "Like Belly, the Breeders and L7. Those are rocking women. They're doing great stuff, alternative stuff. You don't see a lot of solo women that are singing and writing and doing the AOR over the pop/rock kind of stuff."

At this point, Etheridge is becoming a figurehead for the women's rock movement. You wouldn't have guessed it from her upbringing. She was just a normal small town Kansas girl, straight out of the early scenes of The Wizard of Oz. Basically her inspiration was television and radio. There was not anyone who Etheridge knew that was involved in music at all, no one around her or in her family. "Then when I was eight years old and my dad bought me a guitar. I started playing and writing and joined a band when I was like thirteen. I went solo when I was eighteen. I finally got to California and got signed when I was twenty-five. And on and on and on..."

She blasted out of nowhere to prominence with her million-selling 1988 self-titled debut, which spawned the singles "Similar Features," "Bring Me Some Water" and "Like The Way I Do." The record's success did not surprise Etheridge, though. "I don't know how other people are, but I certainly had all the hopes and dreams in the world for the first album. Looking back, I realize it did do very well for a debut. Now that I know the business more I know things come and go overnight. But, I really had a lot of people that were dedicated and believed in it and made it happen. I'm very proud of that first album."

It first really hit Etheridge that she had hit in Victoria Station in London, of all places. She and the band were racing to catch a train. In fact, they were about to miss it. They were running there, hearts beating, wondering are we going to get the train? Will it take off before we get there? The radio was on the public address system, and "Similar Features" came on. Melissa stopped cold, thinking I know that song. What song is that? When she finally realized it was her song, Etheridge just burst into tears; the emotion was so high.

Etheridge followed that debut in 1989 with Brave And Crazy, which also promptly went platinum and housed the hit "No Souvenirs." In 1992, she released Never Enough. This album's single "Ain't It Heavy" won Etheridge her first Grammy after four earlier nominations. "I'll be the first to say that I like winning better than not, you know?" Etheridge laughs. "It's nice to be recognized."

Etheridge's newest disk is Yes I Am. It's getting heavy airplay for the songs "I'm The Only One" and "Come To My Window," which is shaping up to be Etheridge's biggest hit yet. The album has been steadily picking up steam in sales, but its release was almost overshadowed in the press by Etheridge's personal life. Her decision to admit her homosexuality at the Triangle inaugural ball has put Etheridge in the unfamiliar confines of the gossip columns.

Etheridge has taken the fuss over her admitting to being a lesbian with a sense of humor and the inevitable. "I knew when I came out it would be a story," she admits. "I was prepared for that. I also feel after this album, this round of interviews, it will subside. Everyone will be okay and we'll get back on to the music. That's okay with me."

Yes I Am is an album in which Melissa Etheridge is more in touch with the world around her. The album looks at more topical and interpersonal relationships than ever before. She wrote "Silent Legacy" about a man who told her about throwing his daughter out of home when he found her having sex. "All American Girl" touches on political hot potatoes like abortion and AIDS.

She is proud of how Yes I Am turned out, saying, "I think its a wider range of writing for me. I think it's the best sounding album I've made, working with Hugh Padgham. Other than that I think it's just right on track."

Etheridge says her songs are written in response to what she sees and feels around her. She's becoming more aware of the tendency to write about the world around her as she gets older. Those are the things that bring up conflict and passion in her, all the intolerance and confusion in the world. These are things that she's very passionate about. So, she's starting to write about it.

Etheridge still dabbles in love songs, of course. And her love songs are often about couples in trouble. "I look for the reality in relationships," she says. "The reality is it's going to be up and down. If you want it to work, you have to work at it. It's not going to be all roses and fun. There's going to be some downtime, and I write that. I write about those conflicts."

When growing up in Kansas, Etheridge used to listen to A.M. pop stations that played all types of music, from rock to pop, from country to rhythm & blues. Radio stations where you had Led Zeppelin, and then they would play Bobby Sherman. This was where Etheridge first learned to appreciate a variety of music. She loved Steppenwolf, but she loved the Supremes just as much. So its perhaps unfortunate that by the time she had a music career, this type of station was no longer an option.

"You have to fit into a box of the moment, you know?" Etheridge says. "(They tell you) you are alternative. Boom! That's what you are now. You're there and you're only there. Unfortunately then, when tastes change, you fall to the wayside. I've tried to stay out of the boxes. I haven't had any huge hits or been the trend of the moment. But, I'm around, and thriving, and doing well.

Creating music is essential to her. Not that it's simple, Etheridge has to admit. "My easiest talent, the one that's a real natural gift, that is just there, is the singing. I have to work at the writing, and the performing has just been over the years, getting used to it, allowing myself to open it up. That was cultivated over time. The voice was natural."

"I've evaded a label, but I've also never been really supported by one genre of music. It gets sort of lonely. I love being able to put this hat on, and write that song. I've never thought, gee, I can't sing something like '2001' and then do 'I Will Never Be The Same.' Those are both me. It's all the music that I love to create."

So, it doesn't surprise her that women in rock are evolving around her all the time. With bands like Seven Year Bitch, L7 and Bikini Kill and the rest of the so-called Riot Grrrrls picking up fans around the world, Etheridge's music doesn't seem so revolutionary. Etheridge is a giant fan of these groups. "It's great. They make me look kind of normal," Etheridge laughs. "I'm not such a feminist militant after that. I think it's fabulous. It's great for young women in that adolescent, crazy, all-fired-up stage. I love watching them."

Meanwhile Etheridge is being embraced in the rock and roll scene. She recently did the Walden Woods benefit with Don Henley, Elton John, Aerosmith and Sting. "Me and the boys," she laughs. Sting is also fit her into his plans with Etheridge opening for the former Policeman's latest tour. Henley's 70s supergroup, the Eagles, have now tabbed Etheridge for a coveted opening spot on their long-awaited reunion tour.

Etheridge says her biggest hope is that people will see and appreciate the whole spectrum of her work without having to put all sorts of labels on it. "I think some people just listen to a couple of my albums and draw the conclusion that I'm just some sad, depressed, songwriter. That's not true. It's so far beyond that. There's a lot of hope in my work. I can be a happy girl."

Email us Let us know what you think.

Features Return to the features page

Copyright ©1994 PopEntertainment.com. All rights reserved.