PopEntertainment.com > Feature Interviews - Literature > Feature Interviews A to E > Nathan Englander
Nathan Englander

On Special Cases

by Ronald Sklar
Copyright ©2007 PopEntertainment.com. All rights reserved. Posted: May 26, 2007.
Nathan Englander's first novel, The Ministry of Special Cases (Knopf) is a shattering experience, told in a deceptively simple manner. In it, a Jewish family in 1970s' Buenos Aires is torn apart when their college-age son is taken away by the government, along with thousands of others, for reasons that are not given.
Like that, he is "disappeared," as it is called, almost as if he never existed at all.
The emotional and bureaucratic nightmare that ensues spirals you down through the seven circles of Hell. In trying to track him down, get him back, persuade government officials – or even neighbors and friends – to talk or give the slightest clue of his fate – tests the resolve of the boys' parents on every level, from psychological to financial.
These humble but strong people stop at nothing – not even the threat on their own lives – to find their son and bring him home.
Fiction? Hardly. This particular account is indeed fictional, but it is set against the dark chapter of Argentina's so-called Dirty War (1976-1983). During that time, thousands of citizens were "disappeared," most likely in the name of a paranoid right-wing government desperately afraid of revolution and trying to keep control.
Most of the disappeared have never been recovered, and their whereabouts remain a mystery. This tragedy has left behind a grieving living mass of destroyed families in Argentina and even beyond, in neighboring countries. These relatives will never feel whole again, will never know closure; they still demand answers, all these many years later. Even today, with DNA testing and a sympathetic media focused on the event, resolution is all-too slow in coming.
To add salt to the wound, the government officials allegedly responsible for these crimes have been mysteriously pardoned by the succeeding government. And it has been recently discovered that Washington gave The Dirty War its blessing. Even Secretary of State Henry Kissinger encouraged the actions in 1976 (warning the Argentines doing the abducting that they should act fast, before the American Congress is back in session).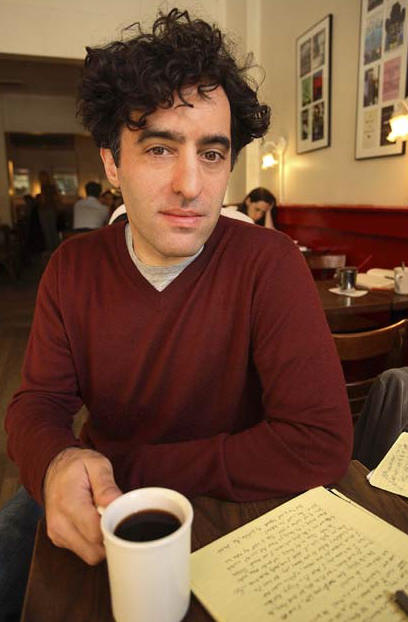 Nathan Englander – this being his first novel despite being far from the action – pulls off quite a feat. Raised on suburban Long Island as an Orthodox Jew and now living in Manhattan as "radically secular," he makes the sweaty nightmare feel unbearably real.
He first drew attention to his honest and boldly told stories in The Atlantic Monthly and The New Yorker, as well as The Best American Short Stories and The O. Henry Prize Stories. These stories were collected in his well-received For The Relief of Unbearable Urges.
On a beautiful spring morning at the Hungarian Pastry Shop near Columbia University, we discuss the book and the fact that history can repeat itself; that, as we have learned from the war in Iraq, even the most perverse actions of a government can become ordinary and matter of course.
You are not from Argentina and do not have any direct association with The Dirty War, and yet your novel makes the reader feel like you've experienced it first-hand. How did you pull this off?
I like a pressurized story, this idea of a family unit being forced to have these growing pains together.
I also wanted to look at a community where certain people pretend that other people are pariahs. Yet the community can't actually exist without these so-called pariahs. They pretend they have this great shame of them, but [the community] wouldn't know who it was without them.
I like to write "distant." I feel safe at a distance. I partly attribute it to these Argentine friends I have who grew up in this period. I heard stories from them and I also didn't hear stories. It was what they weren't saying that was interesting to me. Years later, I would be sitting in the car with my [Argentinian] friend, and he would start to talk, and then it would be three hours later.
You depict the atmosphere as cold and threatening. Trust no one.
As a paranoid myself, I like paranoid stories. It's the age-old joke: just because you're paranoid doesn't mean somebody's not going to get you. Was Pato [the young character in the book who goes missing] really a revolutionary, or was it that he just smoked some reefer or he learned some ideas in school that he spouts? The government then says, "you want to be a revolutionary? We'll treat you like one."
There is also the nightmare of government bureaucracy, no matter who is in power.
It's the frustration of trying to get stuff done. When I moved to Jerusalem, I had a very similar experience [with government bureaucracy]. It could be so overwhelming. I'm not even talking about government oppression. I'm talking about getting that parking sticker, or just signing up for that bank account. So I became interested in what it would be like to live in that kind of world.
The book address relationships on so many levels, from deeply personal family bonds to community prejudices to how a government treats its people.
The book is so many different things to me. I was just getting yelled at by someone who said that the book is really about fathers and sons [and not a political story]. I wasn't writing a warning book. I wasn't writing a political book. I was telling this story that takes place during The Dirty War, but hopefully all of those other things feed in.
The story takes place in the not-too-distant past, where it's rather shocking – in a modern day and age – that such fascist tactics can be applied to a contemporary people.
The book is really about time, a continuum. How much do we use hindsight? Everything is history. Even the Holocaust happened under the most modern circumstances for the time.
People [in North America] tend to think of [people in South America] as so distant and so foreign, but they have a functioning middle class there. In that story is the element of the need to "move up." You need that option – that dream – of getting somewhere.
How did you manage to put such a complicated story together and tell it in such a clear and concise way?
I wanted to build my story first, and then I have this very strange process where I research after the fact.
For instance, I had a character kicking a can of soda down the street, and in my research, I discovered that they hadn't had canned soda in Argentina until 1983 or something like that. I don't want to spend ten years on a book and then bum an Argentine reader on page five about something that should have been knowable and do-able [to me]. I feel that is the writer's obligation.
Anything I make up I make up and anything I alter I alter. I want to know if it's right. This book is all about what it is to love a city, and I want it to be right.
This is a fictional account of a frighteningly real event. The legacy of the Dirty War in Argentina presents grieving families still looking for relatives who had disappeared decades ago.
That's the horror of all of this. It's the way they talk about Iraq now. That's when you understand when you have chaos. The numbers of missing could be anywhere between four (thousand) and thirty-thousand people. I mean, what is it? Give or take twenty thousand? It's insane. They are still finding stuff. They are still digging. They are still doing DNA testing. They are still looking. It doesn't end. I just went down there two months ago and wrote an essay about it. It's shocking to me that there are people still looking for their kids and grandkids.
After ten years of working on this project, how does it feel to finally have the book in print?
Strange. It's like having a new identity for just this period. That's all. It's like building another version of me for a little while.
Email us Let us know what you think.
Features Return to the features page.

Copyright ©2007 PopEntertainment.com. All rights reserved. Posted: May 26, 2007.
Photo Credit:
#1 © 2007 Elena Seibert. Alfred A. Knopf & Company. All rights reserved.
#2 © 2007 Elena Seibert. Alfred A. Knopf & Company. All rights reserved.
#3 © 2007 Elena Seibert. Alfred A. Knopf & Company. All rights reserved.
#4 © 2007 Alfred A. Knopf & Company. All rights reserved.