Carnegie Hall is one of the most renowned musical venues in the world, so it says something about a young performer when he gets his first performance there at merely 20. However, this is where Swedish-born, New York-educated opera singer Charles Eliasch finds himself. He will be making his Carnegie Hall debut on March 31, 2013 at the Weill Recital Hall.
What are your earliest musical memories?
My earliest memory is singing in choirs. Really the one which is significant I can't particularly remember. When I was two years old, my mother [British director Amanda Eliasch] took me to the opera to see Don Giovanni by Mozart. She thought at intermission I'd be fed up, so she decided to leave. When I realized that, apparently I made a huge scene and insisted that we stay for the whole thing.
When did you first decide you wanted to be a singer?
I would say when I was about 13. My grandmother [Caroline Brown] was an opera singer. It was also when one of my mother's friends showed me a film called Farinelli. There was something about that film, which was about an opera singer in the 18th century. I don't know, it just inspired me to become an opera singer. Also, there are a lot of musicians in my family, so that has been an instrument. But it was that film that started it all.
Your mother is a filmmaker and your grandmother was also an opera singer. Do you think artistic tendencies can be passed down in families?
Definitely. I think the majority of the time that's the case. I mean, there are lots of cases where [artists] have no musical people in the family, but I think, yeah, definitely. My cousin is Stefan Solyom, the director of the Staatskapelle Weimar Opera House. There are quite a few pianists, not professional pianists, but there are quite a few of them [in my family]. My great grandfather was a film director as well.
You mentioned watching Farinelli. Who are some of the artists who inspired you to become a singer?
This is a really hard question. I would say Maria Callas, Franco Corelli. Jussi Björling, who is Swedish. I'm Swedish, so he is very close to me. The list could go on. In the past there have been so many incredible singers. Nowadays, the two singers that I love most are Joseph Calleja and Joyce DiDonato.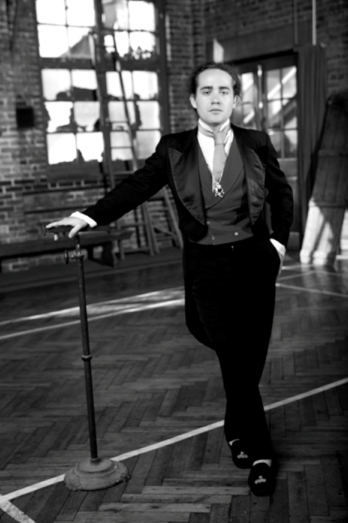 You are only 20 and making your Carnegie Hall debut – how exciting is that? How does that make you feel?
It's... (chuckles) It's quite daunting. It's now only two weeks left and the days are creeping up. I'm rehearsing every single day. (laughs) The nerves are starting to creep in. Which is a good thing. But apart from that, it's really exciting. It's a platform to spring out from.
Now that you are playing a legendary venue like Carnegie Hall, what are some of the other opera houses you would most like to perform at?
My absolute dream would be The Royal Opera House in London, at Covent Gardens.
You have a very dramatic look and fashion sense, almost like from another time. How do you come about your stylistic choices?
I've always had this love of the past. When I was little I would walk down the street and I would imagine that I would see a horse and carriage go by. (chuckles) I did have, and still do if I want to, an extensive imagination, where I can change what I want to see. On top of that, I went to Harrow School in England, which is the rival of Eton. One of the uniforms is one of the 19th century uniforms. There was something about this. Lord Byron went to my school as well. It all became entwined. I just always have felt a closeness to the past. I don't feel like I'm in this time. (laughs) I feel like I'm someone from the past in this century.
Most people your age in the current day, when they look at going into music and singing, they don't necessarily gravitate towards opera. Do you think it is surprising that more young people aren't really in that world?
I actually do. I think the view of opera has almost become closed off, like that's a really exclusive thing which not many people can see. I'm really against that. I believe that it's for everybody. For me, and I'm sure for a lot of others, it's the highest form of art, because in that art you have singers who are acting. On top of that you also have speech. There is vocal theater in opera. Then there is the art side, where you have the stage sets and everything. Then you have fashion with the costumes. It's all connected with the music. A lot of opera, like Mozart, is still popular today. Every week there is Mozart being played somewhere. This is 300 years after the composer, which says a lot. Mozart is set to help people when they are revising and you have it playing in the background, it helps you. I've heard that they've done studies on this. So, I really encourage that people go to the opera. It's fundamental, because we're stuck with all the music of today. The foundations of that is either in African music or in classical music. One or the other. We're very familiar with African music. It's the foundation of western music, which is what we call... I hate this term... classical music, because it's too generalized a term. Even in there, there are different points, different styles. I think we should have the knowledge of the past to create the future. Really, if we don't, we lose our foundation.
What other types of music intrigue you?
I love jazz. I really do. Especially early jazz. Even jazz today, there is some wisdom, because it's created in a form which is where the blues meets with classical music. Those are very strong ties. The way that you sing it is very similar to how opera singers approach their music. Of course, we're singing it in a completely different way, but there are similarities in how it is approached. We're meant to be gentle. The range is very large in jazz. It's not just a small range like very much it is in pop music today, where most singers keep to an octave, which is just eight notes. But, yeah, I just love jazz. I love music up to really the 60s. There is something in it which really wants to make you move.
You are from Europe, but I believe you went to school in New York.
Yes, I went to Mannes College of Music, which I finished in December. At the moment, I'm sort of in between. I'm going to be going to the Royal Welsh College of Music in September.
Are you enjoying staying in New York leading up to the show?
Yes, I have been. What Europeans don't realize is that it's very much a working city. Everybody is working. It's very exciting and there are loads of opportunities. And there are things here which they have different outlooks. Things are much more officious. There are different outlooks into how things work, which I find very interesting.
What would people be most surprised to know about you?
I don't know. When I meet people, people assume that I'm aloof. I'm not at all. I'm shy, that's my problem. (laughs) I'm very shy. When I get to know people, I'm actually a lot of fun and quite funny. (laughs again) I'm not talking from my own experience, I'm talking from other people's experience. I never judge a book by its cover. That's what I encourage other people to do.