PopEntertainment.com > Feature Interviews - Actresses > Feature Interviews A to E > Aubrey Dollar
Aubrey Dollar

Joins the Club

by Jay S. Jacobs
Copyright ©2007 PopEntertainment.com. All rights reserved. Posted: December 2, 2007.
"Laura and I were hanging out the other day, because we live in the same neighborhood," Aubrey Dollar says, laughing. "We were kind of joking around about that…."
The Laura she is referring to is Laura Harris, who is one of Dollar's co-stars in the popular new ABC detective series Women's Murder Club. The series is based on James Patterson's series of mystery bestsellers about San Francisco cop Lindsay Boxer (Angie Harmon), who works together with her best friends – a DA (Harris), a medical examiner (Paula Newsome) and a reporter (Dollar) in order to solve some of the most violent crimes in the city.
The joke Dollar and Harris were sharing was about going out together to solve a crime, just like the women that they play. As much fun as it may sound, in real life Dollar prefers to do her detective work on the small screen.
Dollar's character of Cindy Thomas is the fresh-faced newest member of this law-enforcement sorority, a young journalist who is able to insert herself into the close-knit group of women – through intelligence and daring – despite the others' initial reluctance to work with her.
Dollar has found no such resistance in real life, though, slipping quickly and comfortably into a tight ensemble. Like the younger character she plays, Dollar hasn't had quite as much experience as her co-horts. Yet from the beginning, she has felt welcome.
"We've been working together now for six months," Dollar recalls as the show is about to air its eighth episode. "We all get along really great. There is kind of a natural chemistry between the four of us – onset and offset – a playful thing that happens. I think we're all pretty like-minded."
In this case, this strong cast features Harmon, who is well known for her many years as the Assistant DA in the venerable series Law & Order. Harris also has done lots of TV work, starring in the popular series 24 and the cult Showtime comic-drama Dead Like Me. Newsome has had a steady diet of recurring and guest work on series like NYPD Blue, Chicago Hope, Ally McBeal, CSI, Law & Order and The Lyon's Den.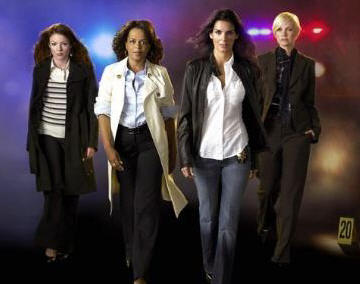 Dollar has also done some work before in series television – she had a recurring role on the popular series Dawson's Creek and also starred in the short-lived FOX series Point Pleasant. She enjoyed the series experience immensely and regrets it didn't last longer.
"Yeah, it's hard," she acknowledges. "You know, particularly these hour-long series – they take up a tremendous amount of time and you're very, very involved with them. The cast and the crew that you're working with – it all becomes very familial. So it's really sad anytime one of those shows ends. Fortunately, being back in Los Angeles now, I still see all of those people, so it's nice."
She has done supporting roles in films like Failure to Launch, Save the Last Dance 2 and Prime. Also, previously to Women's Murder Club, Dollar was known for her stint as Marina Cooper on the long-running soap opera Guiding Light.
"I think daytime actors can get kind of a bad rap," Dollar says. "It's unfair. There's something about it – for me at least – that it almost felt like theater. You only do things one time and they shoot it from all angles at once. You're on a Proscenium. I think for young actors, particularly… it was really great for me, because it kind of forces you to get out of your head. You have to show up every day. There's really no time to be nervous or to second-guess yourself. You just have to be there and go for it and hope for the best. I learned a lot when I was there. I'm very grateful for the experience."
She is relishing her new breakout role in Women's Murder Club, though, and is opening eyes. It's doubly fun for her because she knew James Patterson's series of Lindsay Boxer mysteries even before she got the role.
"I was living in New York at the time and it was one of the first pilots that I read last year," Dollar says. "I was already familiar with the books. I really loved it and connected with it. I loved the idea that it was very female-centric and driven by these strong, intelligent women.
"I had read the first and part of the second beforehand," she continues. "Then, through the pilot and after the pilot I read the rest."
Though she is a fan of the books, she stresses that the series is a completely different animal. While the people making the show are trying to stay faithful to the feel and character of the books, these stories are not bound to the conventions set in print.
For example, in the book 3rd Degree, one of the club members was killed. ("Yeah, it was Jill," Dollar acknowledges.) But Harris – who plays Jill on the series – doesn't have to start looking for a job quite so soon.
"I think the characters are somewhat faithful to the books – they were definitely drawn from the books," Dollar says. "But I know none of the stories in the books are in the series. So many people have read the books. They wanted to bring something fresh to it, you know? James Patterson is one of our executive producers. He's very involved. But it's definitely a departure from the books. I don't think the goal was to bring the book to life, I think it was more to bring the spirit of the book series and translate that into television."
Cindy brings a young, fresh perspective to this crew of grizzled crime veterans. Dollar hopes that despite the fact that her character is being exposed to death and darkness on such a regular basis that she does not lose her sunny disposition.
"I think that Cindy… there's a kind of relentless positivity about her," Dollar says. "There's a real passion for getting in there and observing people. Yeah, sure, it gets hard. I think there are certain cases as we go on that touch each of the women personally and are more difficult for them – but not yet it hasn't [hardened her]. So, I certainly hope she doesn't get into a downward spiral."
It wasn't all that hard for Dollar to flip open Cindy's reporter's notebook, though. (Okay, now more reporters use blackberries…). She feels a kindred spirit with her alter-ego and even though she has never worked as a reporter, she has captured the feel of the lifestyle and seems to have the character down.
"I really love to write," Dollar says. "I'm kind of a writer. I like non-fiction writing. I did sort of research into reporters' relationships with police officers and law enforcement and stuff like that, but I didn't go and sit down in an office or anything."
So let's test Dollar's journalism acumen, then – shall we? I mention to her that I am also supposed to be talking with co-star Angie Harmon about the series in the not-to-distant future. So putting on Cindy's reporter's cap; what does she think is something I should ask Harmon?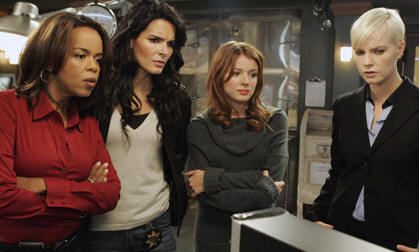 "Maybe you should ask her about the Electric Slide," she says pleasantly... and just a touch cryptically.
However, for all the friendship and camaraderie – both on the set and in the scripts – one can't forget that the stories – despite the fact that they are often humorous or sexy – do deal with tragic events in people's lives. The club has pooled their individual talents to capture the murderers of such diverse characters as an investigative journalist and a poor illegal immigrant, or finding a missing pregnant woman.
Plus, there is always a dark undercurrent swirling in the background. The scripts have hinted a lot over the episodes about the killer who is Lindsay's nemesis – known as Kiss Me Not Killer – but the early stories have not been specifically about him. Is the story going to simmer over the entire season or are they going to deal with it more directly soon?
"I know that it resurfaces at some point, but I don't know much beyond that," Dollar admits.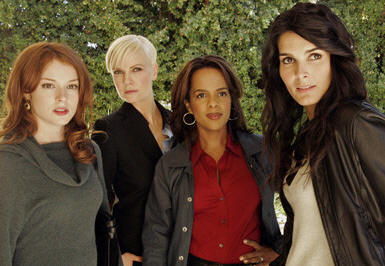 Work and crime is one thing for the club, but they are also there for each other to help each other through tumultuous personal lives. The women of the club have had some dramatic romantic problems in the first episodes. Lindsay has a fling with her about-to-be-remarried ex-husband – who also happens to be her new boss. Jill is in the midst of moving in with her lover, yet at the same time can't quite break out of a torrid relationship with a fellow lawyer. Claire and her husband are trying to deal with their changing relationship now that he is wheelchair bound.
Yet, for now at least, Cindy has not had any of these scenes. Not that she is a cat lady quite yet, she obviously has been attracted to some men and jokes about her mother's probing questions about her personal life. Yet, so far, that social life is under wraps.
Which brings up a question. Will the writers ever let Cindy date?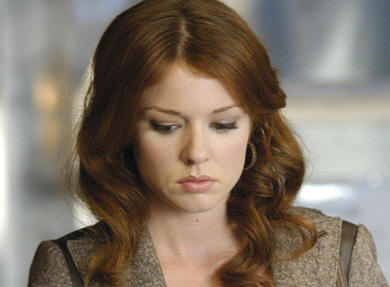 "It would be nice," Dollar laughs. "I feel that she's very married to her work, so I don't think she's dating yet. But I hope it happens – I think it would be really fun."
It's undoubtedly only a matter of time. The series promises to continue to dig deeper into the crime and relationships of the foursome and flesh out the bonds even more. However, the show – like all scripted series on television – has an unexpected and unwanted break due to the Writer's Guild strike. So, for now, Dollar is in as much limbo about where her character is going as the viewers.
"I believe we only have two more [episodes filmed]. One of them is a wedding. The other is kind of the aftershock of that."
The day I spoke with Dollar, in fact, was the last day on set before the series shut down because of the ongoing labor dispute. However, despite interrupting the buzz that the series has generated and giving her an unexpected sabbatical, Dollar is trying to keep a positive attitude about the whole thing – much like Cindy undoubtedly would.
"We're all having such a great time right now, it's really kind of sad to have to stop for a little while," Dollar says. "I know we're all hoping it's not going to be too long and they are going to resolve everything quickly. I certainly hope it won't hurt any momentum. I hope it's going make us stronger. We'll come back and all be really rested and put out some really great shows."
In the end, like the old theatrical saying goes: the show is the thing. Now over a decade into her career, Dollar has had the opportunity to find projects that interested her in television, film and theater. She hopes that she will always be able to take advantage of this kind of variety.
Yet, even more important to her than the format is the content. There, she hopes that she will always find roles that are "versatile and varied. I'm drawn to actresses' careers – like I love Mary-Louise Parker and people like that. I love doing a lot of theater and really great independent film. That's sort of the path I want to go on.
"I think, ideally a balance between them is good," Dollar says. "Usually when I'm doing TV, I will say I like theater the best. When I'm doing theater, I'll say I like TV and film. They are all good for different reasons. For me it's really important that I keep doing theater, because if you get out of practice doing that, I start to feel itchy. It feels like you haven't been to the gym in a long time. Theater, that's kind of my roots – that's where I started – and that's kind of my favorite. But it's all kind of the same animal."
Email us Let us know what you think.
Features Return to the features page.
Photo Credits:
#1 © 2007. Courtesy of ABC Television. All rights reserved.
#2 © 2007. Courtesy of ABC Television. All rights reserved.
#3 © 2007. Courtesy of ABC Television. All rights reserved.
#4 © 2007. Courtesy of ABC Television. All rights reserved.
#5 © 2007. Courtesy of ABC Television. All rights reserved.
#6 © 2007. Courtesy of ABC Television. All rights reserved.
#7 © 2007. Courtesy of ABC Television. All rights reserved.
Copyright ©2007 PopEntertainment.com. All rights reserved. Posted: December 2, 2007.