PopEntertainment.com > Feature Interviews - Music > Feature Interviews A to E > Dishwalla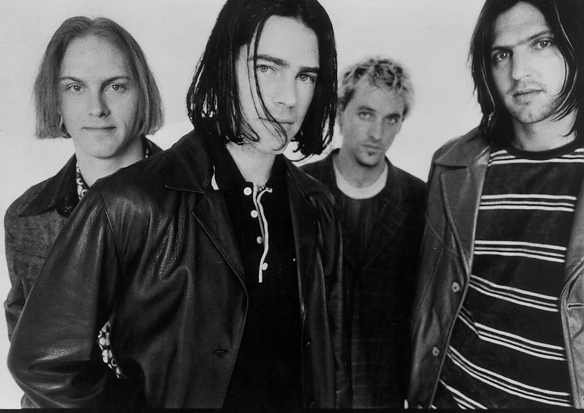 Dishwalla
What Life's About
by Jay S. Jacobs
Copyright ©1998 PopEntertainment.com. All rights reserved. Revised: August 29, 2021.
Rodney Browning, lead guitarist and co-founder of Dishwalla, just got married. On his honeymoon, he and his new bride met a few other couples who were married on the same day. Browning was surprised and amused that when the other couples found out that he was with the band, it caused strife. All the women went on and on about "Counting Blue Cars," the group's smash hit about a young boy's religious curiosity. The guys insisted Dishwalla only wrote that crap to get chicks.
"It was just funny listening to that, because I think a lot of guys might think we're one way and a lot of women might think we're an effeminate band, I don't know. A lot of people think we're a religious band and that's very far from the truth. That's the one subject we've never been able agree on," Browning laughs.
"Counting Blue Cars" has been a blessing and a curse to Dishwalla for just that reason. The song, which Billboard magazine named the most played alternative rock song of 1996 (which sounds like something of an oxymoron in itself) has made the band famous and made them a lot of money. But, truthfully, it's not really what Dishwalla is about.
When Dishwalla – which is made up of Browning, lead singer J.R. Richard, bassist Scot Alexander, drummer George Pendergrast and keyboardist Jim Wood – was putting together its debut album, Pet Your Friends, the group made two lists. An "A" list was of songs that had a good shot of catching on and a "B" list of songs more likely to be less heard album tracks. "Counting Blue Cars" was firmly entrenched in the "B" list.
"We thought other songs were going to rule," Browning admits, "and it turned out those didn't and 'Counting Blue Cars' did. I don't want to sound negative by calling it an uphill battle, but it has been, just because it doesn't represent us very well. Not only that, we never toured when we made the record, so we released it and within two or three weeks on the road playing big shows, we became a different band. More of a rock band. We learned to play differently."
As the group was waiting for Pet Your Friends to be released in 1995, as a lark, they agreed to be on an all-star tribute to the Carpenters. Even though Dishwalla was the only unknown band on the tribute, it was the 'Walla's version of "It's Going To Take Some Time" that became the album's single. This kind of worried the band. They weren't sure this was the first impression they wanted to make. When Pet Your Friends was released it didn't make too much of a dent. But slowly, steadily, a buzz built up. Then they had the hit single, a year after the record reached the racks. At the time, the band was in the middle of two-year tour. When they finally got off the road, they began work on the next album.
Now Dishwalla have released the follow-up album, And You Think You Know What Life Is About. As with the last album, they previewed it with a tribute album. Dishwalla performed Depeche Mode's "Policy Of Truth" on the new For The Masses album. And You Think... definitely shows the band stretching its legs a little, venturing out into different musical areas that interest them. They feel as comfortable with the metallic muscle of "5 Star Day" as with the mysterious psychedelic electronica of "Truth Serum" and the punk thrash of "Pop Guru" and the industrial thud of "Stay Awake." Browning feels the strength of the new album was the band's ability to experiment. They now had their own studio so they were able to fool around with a song until they were comfortable with it and not have to worry about studio costs adding up.
"With this record, we did certain songs three, four, five different ways in the studio. Realized the chords and the melodies and the words in different ways. We really dug deeper, I think. Everything that's on the record is there, because we know that's the exactly way it should be. We know because we tried about fifty ways," Browning laughs. "Some of them we knew right away, but there were certain songs that gave us trouble. They didn't translate from playing live in a room to going on a tape. Weird little thing that happens when you press record."
The new album again tackles some weighty topics. The band puts its hopes, dreams and insecurities out for public view. Touching on the need to escape the daily grind in "Until I Wake Up," the dissing of self-help media whores like Tony Robbins and Susan Powter in "Pop Guru." "Bottom Of The Floor" is sort of a rejection of the young hopefulness of the debut. Still, optimistic songs like "The Bridge Song" leave open a belief that things can get better.
Browning says taking on big subjects is just something the band has always felt a need to do. "One of the things that we get comments on is our fans really dig that part of us. I've heard other people who aren't believers in the 'Walla say that maybe we're preachy or something. Which is not how we're trying to come off."
"It's satisfying to get the respect of people to acknowledge that what you are doing is good. We think that what we do is really good, so when people join the team, it's great. Obviously, we can't be everyone's everything. So, we just kind of do what we do, and see what happens."
While Dishwalla would be happy if one of the new songs catches on with the public like "Counting Blue Cars," the group isn't going to worry about it. "If you want to immerse yourself in the business side it would be depressing," Browning feels. "That's why I always urge bands if you love to play, do it, but if you don't love it, it probably won't be worth it. These days it's definitely not friendlier for a band to exist, shall we say. Playlists are harder to get on, for one. There's more information available now. MTV, now there's the internet, and the radio stations are playing less songs more. Overall it just takes away the exploration. I mean it shortens the expiration of a band, the lifespan."

Email us Let us know what you think.
Features Return to the features page
Copyright ©1998 PopEntertainment.com. All rights reserved. Revised: August 29, 2021.