PopEntertainment.com > Feature Interviews - Actresses > Feature Interviews A to E > Rosemarie DeWitt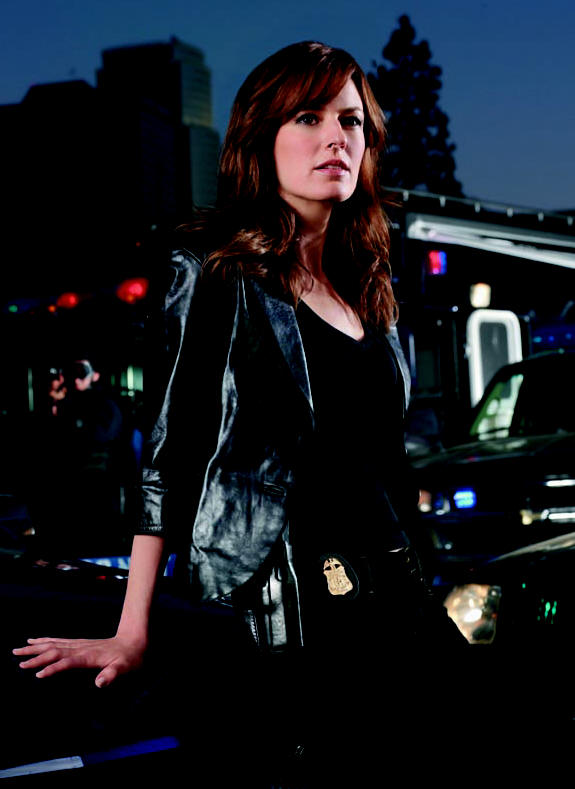 Rosemarie DeWitt
Not Standing Still
by Jay S. Jacobs
Copyright ©2006 PopEntertainment.com. All rights reserved. Posted: October 30, 2006.
In every new TV season, there are breakout stars who make viewers sit back and take notice – Who is that??? What have I seen her in? Why haven't I seen her more often?
Rosemarie DeWitt – a New York-based stage and TV performer – is getting this kind of buzz for her role as a smart and beautiful hostage negotiator on the series Standoff.
Previously, DeWitt has been active in the Broadway scene, doing acclaimed turns in Danny and the Deep Blue Sea and Small Tragedies. She has also appeared in the movies The Great New Wonderful, Buy It Now and Shut Up & Sing. DeWitt has done a lot of TV – guest-starring on series like Denis Leary's Rescue Me, Sex and the City, Love Monkey and Law & Order: SVU.
In 2005, DeWitt got an amazing opportunity – to play a major supporting role in a movie about her own grandfather, boxer Jim Braddock, in the Russell Crowe/Renée Zellweger film Cinderella Man. DeWitt played Sara Wilson, the wife of Braddock's doomed best friend in the film.
Now DeWitt is star of one of the big buzz shows of the 2006 season – FOX's hostage crisis drama Standoff, co-starring Ron Livingston (Sex and the City, Office Space). DeWitt has gotten a lot of the breakout buzz about the series, with Entertainment Weekly singling her out recently with this comment: "DeWitt is the find of the season. Sarcastic and smart, her Emily Lehman seems like a good woman to share a beer with."
Like all FOX shows, Standoff was off the air for a few weeks during the baseball playoffs and World Series. In the week leading up to the show's return, DeWitt gave us a call to chat about her burgeoning career and her series.
How did you first get involved in acting?
I don't know. I did all the school plays and played like… I think "The Feel" and "The Circus" in first grade. Then the parts just started getting better. I did musicals. I tried to talk myself out of it by the time I got to college. I thought if there was anything else that I could possibly do with my life that would make me happy, I should do it. Because I knew that it would be a grind. But I saw a production of Streetcar Named Desire with Frances McDormand and Blythe Danner (in 1988, also starring Aidan Quinn) that made me, when I was in high school, have to do it. And another one, I saw Angels in America when I was in college. I was like, that's it. I have to do it.
You've done a lot of plays, like Danny and the Deep Blue Sea and Small Tragedies. How different is it to perform on stage as compared to on camera?
The main difference is you play out someone's story every night in its entirety. When you watch an episode of Standoff, we shoot that over eight days or nine days. [In theater] you play the whole thing every night. That's great. That's fun. You get the immediate reaction from the audience. That's completely exhilarating and exciting. Then at the same time, if you have a huge funeral scene, you can't lose your mind, because you have to do it again seven more times that week. On camera, you can sometimes go a little bit deeper. Although, TV is a fast medium. It's sort of like paint by numbers rather than make a Monet. (laughs) We work super fast.
Last year you got an opportunity that very few people ever have – you were able to play a significant supporting role in a movie about your own grandfather. How weird was that? How close were you with him? Did they know who you were?
Yes. (laughs) It was so surreal. It was honestly the best. It was one of my favorite experiences I've ever had as an actor. They did know who I was going in. I think that's why they agreed to see me, because I don't know that my New York theater credits were registering on Ron Howard's radar so much, you know? It was a really big movie. Ron wasn't going to do anyone any favors by giving them a part in a movie. I've heard him do interviews about it. I think the phrase he used was that it was a courtesy on his part to see me. Then we got to talking and I was telling him some stories. He said, let's read. After I read for him, I think he literally said, "Oh, you're good." I think he was surprised. He thought I was a hair dresser and I was pretending I was an actor or something. So then we read another scene and I came back in another time. Then I waited a long time while they cast Paddy Considine. We had to match up and it had to be a believable couple. It was just odd. It was the best ever – such a thrill to help tell that story.
You've done a lot of TV and movies over recent years – in fact you did a couple of episodes of one of my favorite shows, Rescue Me. What was that show like to work on?
One of my favorite shows, too. I love that show. It's so much fun. Now that I'm on this show I really realize, it's so easy! I don't know why it's so, so easy to work on that show. They deal with heavy stuff. They really get in there, but there is something about those boys that they just have fun. You know what I mean? They know how to have fun. They go play street hockey in the morning before they go, then they go to work. They're telling jokes and they're making changes. Peter Tolan directed the episodes that I did and he's just fast and wonderful to work with. It's just – I don't know, it's really easy. That's the only thing I can really say. And, you know, it's kind of hard to be around all those cute boys… (laughs)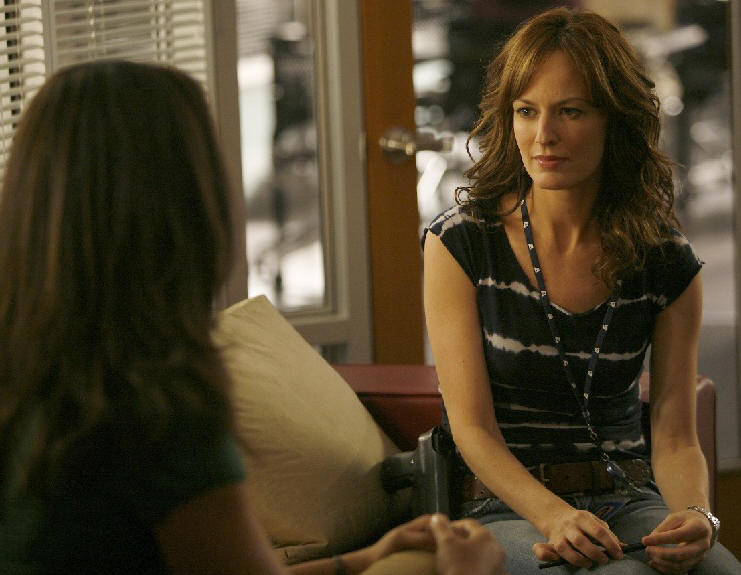 I saw in an article that you auditioned for Standoff on a whim during an LA visit. How surreal was it that you actually got the role?
I don't know. It's so funny, I don't know who said that. But I don't know if it was a whim…
Oh, okay, I saw that in a story from Variety.
Yeah, I think that… I don't know. I guess somehow I conveyed that to them. I was here for pilot season. I was doing the mad feeding frenzy that New York actors do when they come out here. You don't necessarily expect to book anything. It's more just to see if you can test. I think the big shock for me was that it actually got picked up. Not that I didn't think it was great, because I really thought the writing was awesome and Ron Livingston's amazing. But you just don't really ever expect those things to work out. Once it got picked up it was, oh my gosh, I have to move to LA and make this TV show.
What was it about the idea of Standoff that attracted you?
It's funny, because the show has been… It's like a work in progress, so we're forever finding it and forever changing. Initially, I think what I liked was that I felt that this is a woman who was sort of on a level playing field with a man. It wasn't a girlfriend or a wife part. It was someone who had a lot of substance in her own right. That's so much more fun as an actor. If you're going to put me on screen with Ron Livingston, let's be able to roll up our sleeves and really wrestle with each other. That really attracted me to it.
Most of the time on shows when there is a sexual attraction between co-workers it is something that is teased but not actually acted on. Emily and Matt are actually involved – how do you think that opens up story opportunities?
I wonder. It's funny, because you read all different things. Different people have their opinions on whether it helps us or hurts us, what the writers chose to do. A lot of our relationship unfolds as the crises unfold. So it will be interesting to see how deep we can go within it. There is so much meat there, though. I just think people are so afraid of each other. (laughs) It's as scary to fall in love with somebody as it is – in a way, or metaphorically – as it is have somebody's life in your hands. That's what it feels like, falling in love. There is a lot of meat there, and a lot to mine, in terms of the relationship. If we fight for it. If the writers keep coming up with interesting ways in, which they been. The next couple [of episodes] – we're going to start airing again next week – I feel like they've been doing a really good job.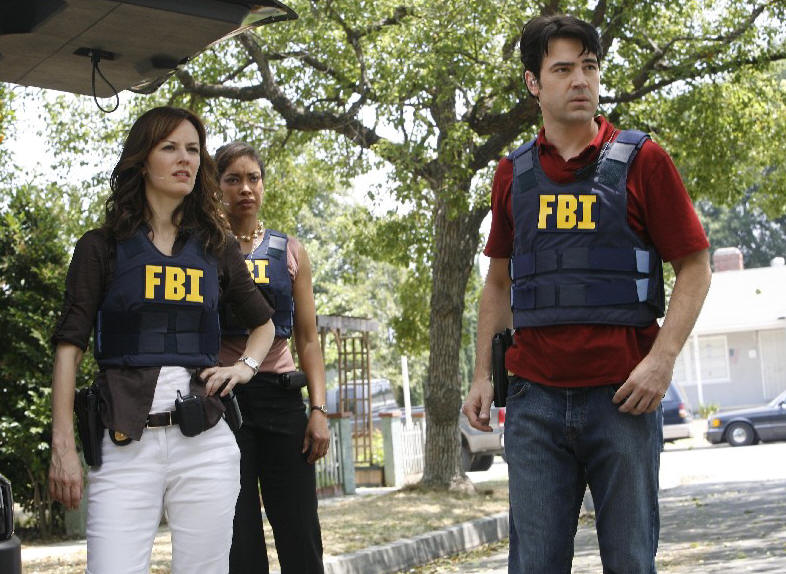 It is a fine line because Emily and Matt are in such a vital, life or death job. Do you think it may be foolish on their part because it can the relationship put others in harm's way? Like, for example, the episode when the couple was robbing banks and the woman kidnapped your character, Ron broke protocol and could have endangered himself and others just to save your life…How much do you think that dichotomy will play out in the upcoming episodes?
I think more and more so. The ones we've shot since… that was number four, we're on ten now… we've explored that a lot more. The stakes seem to be getting higher every episode, which is good. But then it's a fine line to figure out how can they banter and play with each other when the scale of the hostage situation is epic. So, yeah, they do break the rules. The more we do that and the more we create our own heightened sense of what's real, the better the show has a chance of being its own fitting and having people watch it.
In the first episode, Matt used as a negotiating ploy the fact that he could get fired for being involved with a fellow negotiator. The cat is out of the bag, and you both still have your jobs. Do you think it will be a complication later?
Yeah. I think it will keep coming into play. You know, what I mean? Like when they crossed the line, and who crosses the line and who's in too deep. Because the stakes are high, at a certain point, if it's going to have a really bad outcome then someone's going to have to… they're going to have to stop being partners or stop being lovers. So I guess they'll keep asking those questions.
Ron Livingston has done a lot of TV and movies over the years. What is he like to work with?
He's great. He's so fun. The hardest thing about working with him is that they have to yell "Cut!" a lot, because we're cracking up. (laughs) We're supposed to be serious and we get so silly at work. But it's good, because you're working crazy hours. You have to laugh at that kind of stuff. He's such a good actor.
Does the cast and crew ever tease him that he should wear more flair or file things in triplicate?
You know what they do? We have these desks in the bullpen where Matt and Emily sit next to each other and there's always post-it notes from Sex and the City. All the background actors are always thinking they're clever, but it's always the same one. They don't realize that the background actors two days ago left the same note. It's funny, though.
Standoff is your first starring role in a series. After being a guest a lot, what is that experience like; to get up every day and work on a show which is relying totally on you and Ron?
It's good. It's good to feel used up at the end of the day – like you're working hard. It's hard sometimes to wear all the different hats. Because you're trying to keep on top of the writing and make sure that you feel like the writers are serving Emily. You're trying to flesh her out. You want her to be a three-dimensional character. Ron and I will get together and try to work on the Matt and Emily scenes, sometimes, in between takes or on our lunch break. The hardest thing about it… because it's great, there's really no way to complain about it because it's a great job… is that it's hard to make it good. It's a new show. It really has to figure out what it wants to be. Everyone has to let that happen, but at the same time work really hard.
I know it's just the way it is on FOX, but the show was really building momentum and then the baseball playoffs and World Series come and suddenly the show is off the air for a month. How frustrating is that when you are trying to build a series?
Well, I'll let you know next week, because we haven't stopped working. Just because they went to baseball, we just kept shooting at the same pace, working the same schedule. I don't know what it will do in terms of ratings and people watching the show. I'm sitting in a hotel right now getting ready to do some press and it feels like we're re-launching the show. We're doing what we did four weeks ago, six weeks ago when it started. So, I don't know, it'll be interesting to see how much we have to build back up and if the commercials running during the playoffs helped. How much they helped and if people watch us, you know?
I've only seen the first few episodes, so obviously you're ahead of me as far as the storyline goes… Without giving up any real secrets, what can we expect for the rest of the season?
Well, I feel like you can definitely expect to learn more about the characters. Their point of view. Where they're coming from. What makes them tick. Why they are how they are. Especially the one [episode] back – I think it's called "Life Support" – we learn a lot about Ron's character. I feel like they're doing a real good job. The episodes keep getting bigger and bigger – and I think that's a good thing – in terms of reveals and twists and turns and just the general scope of it. Which gives us a lot more to worry about. You read the scripts going, "Holy, cow, is that really what they're going to do? How are they going to shoot that?" It's very action-y, too. It's getting very dramatic, but hopefully at the same time we'll be able to inject it with a lot of fun.
Do you have any ideas for the show that you'd love to see them do – either about Emily's character or more generally for the show?
In general, I'm just really always excited when I get a script and there a lot of what I call "Matt and Emily" in there, because those are the fun scenes to play. Ron and I do have a fun time working off each other. The deeper it goes in that realm is always fun. A lot of shows have a big crisis – all the procedurals and the action shows, but the thing I really think could make our show different is if we really explore the relationship between the two of them.
As a life-long New Yorker who just moved west for the show, are you getting used to the LA lifestyle?
(laughs) No. Not at all. It's such culture shock. I never get used to it. I mean, I totally like it. I'm all about the hikes and nature and going down to the beach on the weekends. But there's nothing like New York, you know? For me, anyway.
CLICK HERE TO SEE WHAT ROSEMARIE DeWITT HAD TO SAY TO US IN 2015!
Features Return to the features page

Photo Credits:
#1 © 2006. Courtesy of FOX Television. All rights reserved.
#2 © 2006. Courtesy of FOX Television. All rights reserved.
#3 © 2006. Courtesy of FOX Television. All rights reserved.
#4 © 2006. Courtesy of FOX Television. All rights reserved.
#5 © 2006. Courtesy of FOX Television. All rights reserved.
#6 © 2006. Courtesy of FOX Television. All rights reserved.
Copyright ©2006 PopEntertainment.com. All rights reserved. Posted: October 30, 2006.