PopEntertainment.com > Feature Interviews - Actresses > Feature Interviews A to E > Cécile DeFrance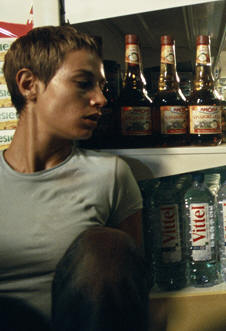 CÉCILE DE FRANCE
IN A TENSE MOMENT
By Brad Balfour
Copyright ©2005 PopEntertainment.com. All rights reserved. Posted: June 12, 2005.
With high cheek bones and rich full lips, 30 year old actress Cécile De France has been dubbed one of the next big things to come out of France recently. The character she plays in the just released slasher/psycho killer flick High Tension might shock people into believing that. Though she first came to international attention as one of the leads in Cedric Klapisch's college comedy L'Auberge espagnole, this film will implant a very different image of her in the minds of many young men in America after they see this film. Be very afraid if she gets to run around in a sequel.

Obviously, this is a very different movie for you from Klapisch's comedy, how did you get involved?

They proposed it to me some four years ago and we shot this three years ago; they gave me the script and I went back home, and I read it in one [sitting]. I devoured it and got scared. It's like reading a good book that you don't want to end, because it gives you a real thrill. Also, it was the first time that a director proposed to me a role that was so violent and because I like this kind of film and am from the theatre then perhaps I'm used to working with my character at first with my body. And of course, in this kind of film, you speak more with your body than with your head. That's why I was attracted to this kind of character.

Did you have any trepidation about doing a film like this?

No, I liked the script so it was okay.

What interested you in horror films and what horror films have you seen?

Because Alexandre [Aja-the director] is a huge fan of this kind of film, he knows each scene, every detail, and so he asked me to see a lot of films [like the ones he had in mind]. So I discovered great films like The Hitcher, Duel, and of course, classics like Alien 2, The Shining and Rosemary's Baby - especially for the crazy part. For me, was cool to discover this kind of film again, because I saw them when I was a teenager, and perhaps, I changed the channel, sometimes, so I was rediscovering these films.

This movie is more like a 70's B horror flick like Texas Chainsaw Massacre. Did you see that?

Yes, yes, I saw it.


Are these movies popular in France?

Yes, they are, but not like here [in The United States]; it's more part of the culture but in France, it's not really in the culture, so it's a part of the audience who are used to this kind of film.

You watched many American horror movies for this film. What was your favorite?

The Hitcher [which starred Rutger Hauer]. Because they had no money [when they made the film, they had] to be very clever. You have to work your mind a lot to think, "how can I scare the audience with nothing, with no explosions, and digital effects." It's only about tension. It shows what you can do with a little image and a little acting.

Were you having fun on the set or was it very grim? This had a lot of very physical shoots.

It was low budget film, so it was [made under] very hard conditions-shooting only at night, in the cold; we were dirty and barefoot. We had to be fast. It was very tough. We shot in Romania, but most of the budget went into Giannetto DeRossi's budget. He's a master of special effects and make-up, a real craftsman. He did the make up for Dune, Once Upon a Time in America and Luchio Visconti's films and so, most of the budget went to him because he's great! He did all of these scars by his hands. I was very [excited to learn about] this part of this kind of film-the blood, and how he did it. Yeah, it was cool!

You trained as a boxer?

Yeah, [I did] two months of training every day every day every day to learn how to pass my limits. It was very interesting. I did physical work with a Thai boxing champion because Alexandre wanted me to build up my stamina; he knew that the film would be hard [for me to do under] these conditions. And we did it in order for me to lose my too-healthy side and change my face to be something more angular, so [I could] feel the dark part of my mind, and her craziness.

Being so young, did that give Alexandre an advantage in directing this film?

Not an advantage but perhaps because he's part of this of generation that's interested in horror movies he knows each scene and dialogue very well, and this film and moment, so he has a huge culture of this kind of film.

There have been a lot of French films recently that incorporate violence like Irreversible. Have you seen and of them and do you think this film is in the same vein?

No, we knew that this film is more like a '70s film-that's why the car is an old American car of the '70s, and the gas station [has an old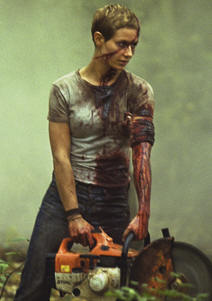 design]; it's like an hommage to this kind of film. A film like Irreversible is much different.

Were some of the news stories about the Belgian serial killers who had captured girls and kept them imprisoned in the basement?

No, this film was not made to be a morality lesson or to talk about homosexuality. It's only about the thrills and the about tension, about this attraction and repulsion that we have for things that terrify us. That's all. It's not about the psychological [implications]. It's only for people who enjoy this kind of film.

After Lions Gate picked it up, they decided to dub certain parts. Was the English version different from the French version?

I didn't see [the English-dubbed version] yet but there wasn't another script. They decided [to change the story so that] Marie goes [to stay with] Alex's family to learn English, [so they had] all of Alex's family members speaking in English, but when I speak to the police, or to the gas station man, it's in French. That's it, no? I haven't see the English version yet. I went to the studio and they gave me the new lines in English and I said... "okay, let's do it." I don't know if Alexandre had a look at this translation. I trust Lions Gate.

Did you insist on doing your own dubbing?

No, they proposed it to me so I was very proud of that. It was better that it was me and I liked to play [the part] in English, because it was more dynamic [as well].

Some people have a problem with the twist at the end of the movie.

I had so much to do with my character I couldn't think about all the keys and stuff. I had confidence in Alexandre and let him do what he had to do. For me, it was more interesting to play this twist because that means my character is very crazy. It's very interesting to play the schizophrenia and to play the dark part of my character. I liked doing that.
Did you find this role as hard as doing comedy?

I was a bit nervous about acting the fear, the confrontation with evil, because it's a feeling I had never experienced. Of course I wanted it to be as close to the reality as much as possible. I wanted people to identify with me. It was very important to play the fear in a strong way. Mentally it was hard to concentrate on this but [the American comedy starring Jackie Chan] Around the World in 80 Days [in which she has a supporting role] is comedic and that's hard too because it's about rhythm.

Since you did High Tension three years ago, what are the films have you done since, especially the sequel to L'Auberge espagnole.

I don't remember everything! I did a film with Etienne Chatiliez, La Confiance Regne. And then I did a film with Daniele Thompson, Fauteuils d'orchestre with Sydney Pollack in a small role. I did the sequel to L'Auberge espagnole. with the same cast of characters, five years later called Russian Dolls and will go out in France in a few days.


Having played a couple of lesbian roles [such as your character in L'Auberge espagnole] are you concerned that you will be typecast?

In America I hope not. In France I am a very lucky actress. The journalists always say that I am used to play so different characters. I don't know what happens here, I am not calculating something but I am so happy and proud that High Tension will come out here. I don't think about what's happening in the future.

In The Spanish Apartment, the comedy there was very ironic. Was it similar in Russian Dolls?

Yes! In Russian Dolls you will see a very difficult scene because I had to play my character playing a very posh girl, and have to pretend to be the fiancée of my friend Xavier. Having shown it in France, audiences laugh very much.

How was it to return to that role [which was] such a break out for you?

It was three years in shooting, but it's five years in the story. I just watched L'Auberge espagnol again; we did a lot of improvisation and a lot of work together. It was a preparation, for me to work with Cedric Klapisch who is a huge director for actors.

Speaking of sequels, would you come back for a High Tension 2?

It depends on a lot of things. It depends on the script, my character, the director, but because this was a low budget film, and Alexandre was very young, and I was not famous, a lot of elements might change. It's like when you do cooking and gasp! Something happens. If we do a sequel though it would have to be with more money, I would like that.
Features Return to the features page

Photo Credits:
#1 © 2005 Courtesy of Lion's Gate Films

.

All rights reserved.
#2 © 2005 Courtesy of Lion's Gate Films

.

All rights reserved.
#3 © 2005 Courtesy of Lion's Gate Films

.

All rights reserved.
#4 © 2005 Courtesy of Lion's Gate Films

.

All rights reserved.

Copyright ©2005 PopEntertainment.com. All rights reserved. Posted: June 12, 2005.